One family owned Thing since new (purchased new on August 10, 1973 from Clarke-Hayn Motors in Cuyahoga Falls, OH, copy of original title available)!
This Thing was taken down to bare metal, new floor pans installed, etc.; primed and then repainted it's original color (see restoration photos below). It has a new top, new side windows and floormats; the lights, gauges, wipers, electrical all functioning. It runs, stops, shifts and drives very well.
Overall, it is a very good Thing! JUST SOLD – THANK YOU
The Thing is a 2WD, four door, convertible VW (Type 181). They were built from 1968 to 1983 and were imported to, and sold in, the U.S. for just two years (1973-74). Like most Things sold here, this one was built in the Puebla, Mexico plant.
The origins of the Thing were the Type 82 Kubelwagen built for the German military in WW II. Later, over 50,000 Type 181 Things were used by NATO forces as patrol vehicles between 1968 & 1979.
Things are rugged, simple, dependable and easy to maintain; a "throwback" vehicle for sure. As it shares most all of the same components as the Beetle, parts are relatively inexpensive and easy to find; you can do most all maintenance and service yourself plus any VW shop working on air cooled VW's can service it as well. There are also online parts and accessories shops dedicated to the Thing.
The top, side windows (all new on this one) and doors are easily removed; the windshield also folds down to provide a very fun, open air driving experience! Things are a blast to drive with either the top up or down.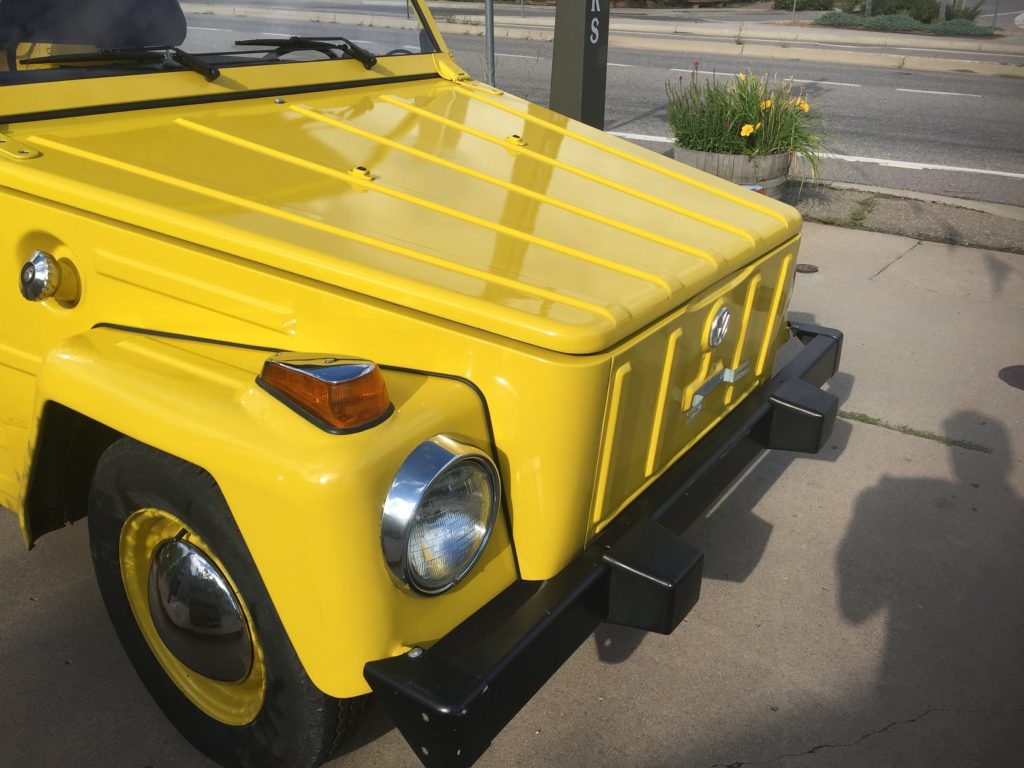 The next group of photos show the car with the deluxe side curtain windows installed. These are new (as is the the top) and when removed can be stored in the front trunk in their heavy duty, felt lined, vinyl storage pouches (2 per pouch with center dividers to protect the clear vinyl).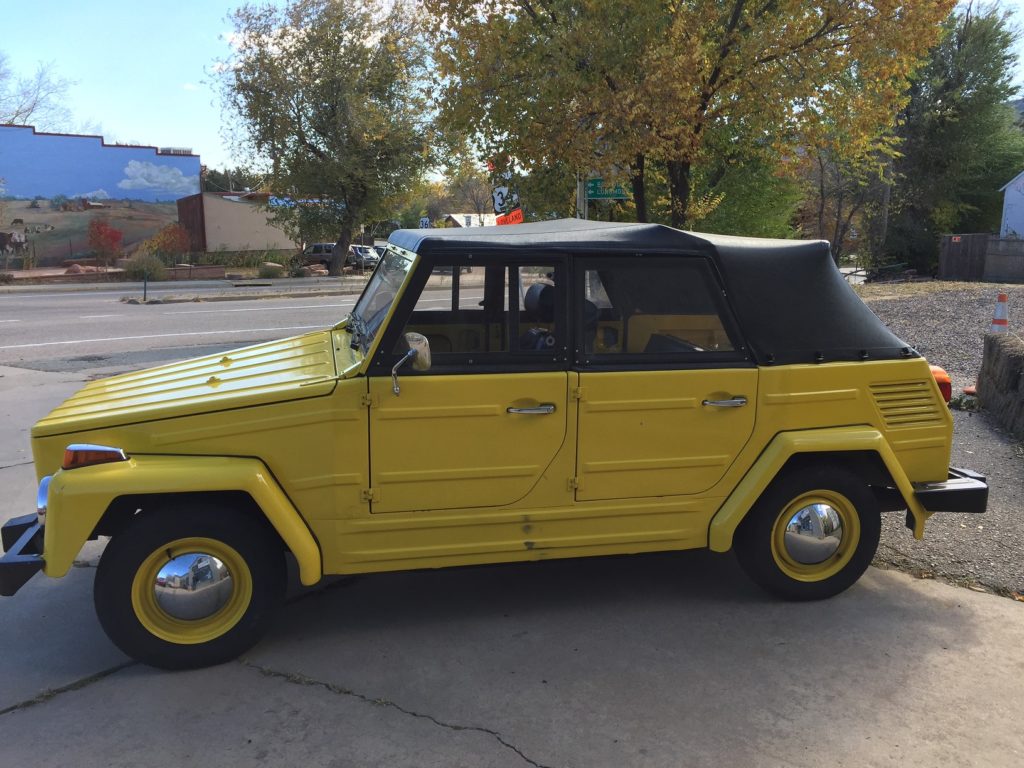 All the clear plastic in the side windows and the rear window in the top is crack free and clear.
Note the opening sections of the front windows for ventilation & reach through access.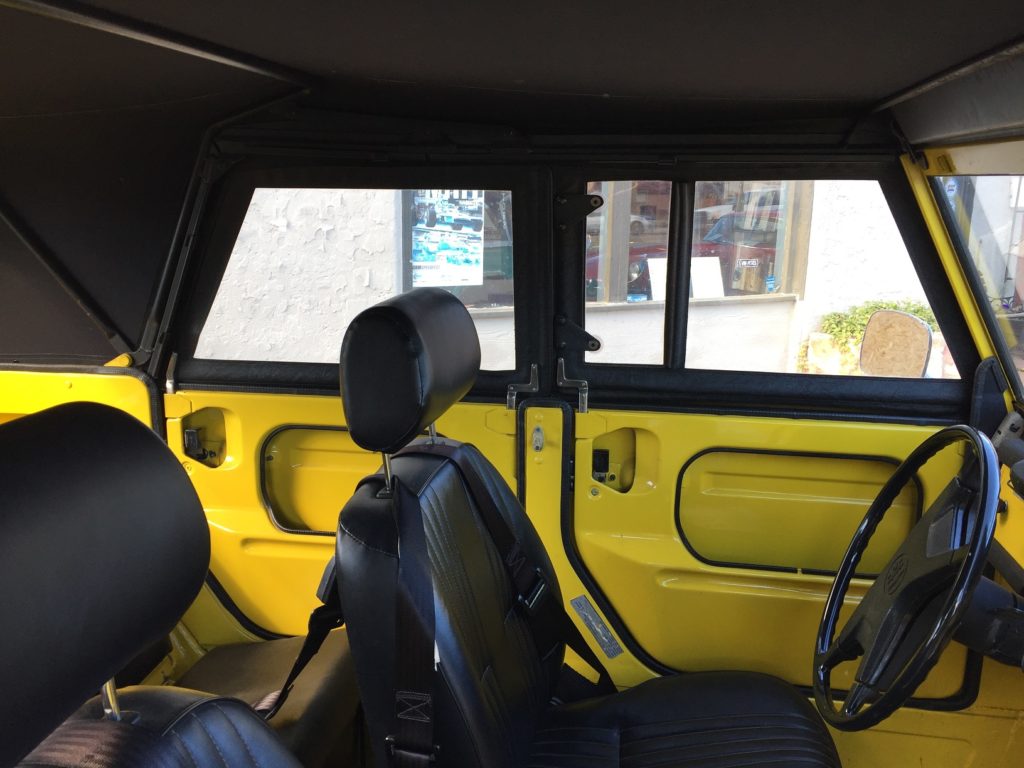 The seats, dash, etc. are all in very good shape. All the rubber seals and moldings were replaced with new when it was restored and remain in good condition.  The odometer shows 44,005 but cannot be verified as original as the speedometer was repaired at some point. However, like all vintage cars, it is condition, more than mileage, that is most important and this one is  in very good condition.
Combination speedometer and fuel gauge.
Rear seats fold flat for more cargo space.
Photos showing topsides of new floorpans; has new rubber mats front and back too.
The engine is the stock, single port 1600cc air cooled VW. Other than some added chrome trim/air cleaner housing (from when engine was rebuilt as part of its restoration), it is a factory stock unit. It starts and runs very well, no smoke, no big drips.
Front trunk; all metal and fuel tank in good shape. You may see that the original gas heater was removed as these were not all that efficient or used often; most owners did not care for a gas flame heater next to the fuel tank! (original type heaters are available if one wanted to re-install).
Vin Tag shows Chassis # 1832652561E which matches its clear Colorado title.
Here are some photos from the restoration in 2006 when it was stripped to bare metal, new pans installed, primed, and re-painted its original color (Sunshine Yellow L-11E).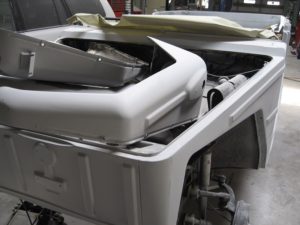 Today, the body and metal remain very good (all doors, front trunk and engine compartment lid have good gaps and close/open/latch well) with the exception of some cracking in the filler and paint at the right rear corner where it had been damaged. This was the only part of the car that required any body repair other than replacing the pans. The damaged metal in this area was repaired and as was typical, filler was applied to produce a smooth surface at the corner contours. Over the years the filler has cracked (see photos below). This is the only area of the car where we find any evidence of prior body damage.