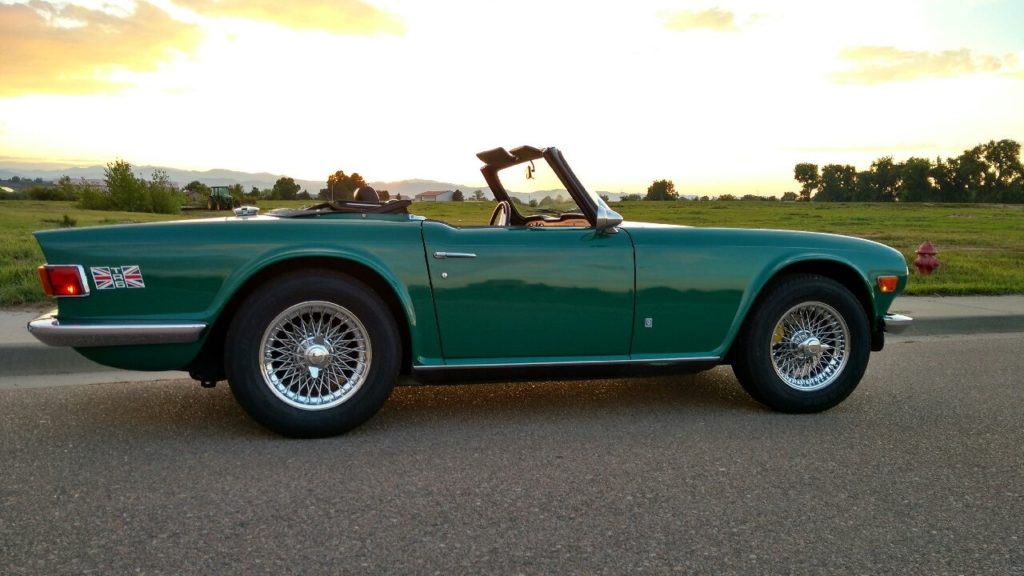 With its timeless styling, sturdy build and throaty six cylinder engine, the TR6 remains among Triumphs most famous creations (and many say its best driving sports car).
We currently have this excellent example for sale. This is TR6 # CF2427OU and was built in July 1974 and sold new by Continental Motors in Wichita, Kansas on November 5, 1974. This car has always been very well cared for and is sold with a clear Colorado actual mileage title (car has but 56,220 original miles). It has been professionally maintained and serviced (all records present) over the past six years by The Motorway in Ft. Collins, CO., one of the nation's best British sports car specialty shops. It is a sheer joy to drive and runs and drives beautifully. If you're looking for an excellent condition, dependable, no issues TR6 you may well consider this car. JUST SOLD – THANK YOU
Finished in its original # 65 Emerald Green paint with contrasting black (# 11) interior and trim, the car exudes classic British sports car! The interior, wood dash, soft top (note original reflective taping), top boot and tonneau are in excellent condition. Proper Triumph rubber floor mats protect the cars black carpets.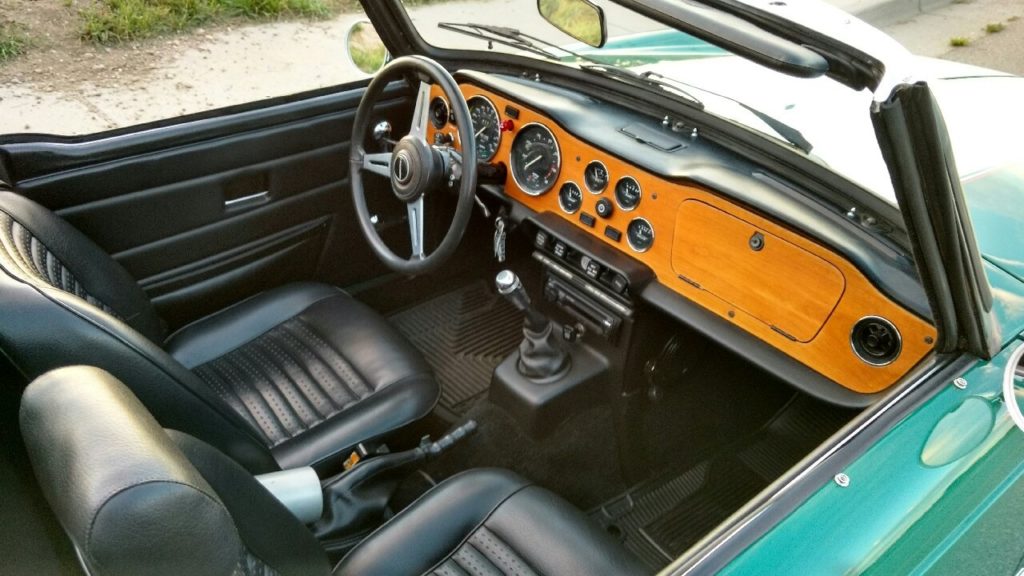 The car is set off very nicely set by 15″ x 5.5″ 72 spoke chrome wire wheels (5th chrome wire wheel spare as well) with true 2 eared knock offs shod with Dunlop Signature II 205 70R15 radial tires.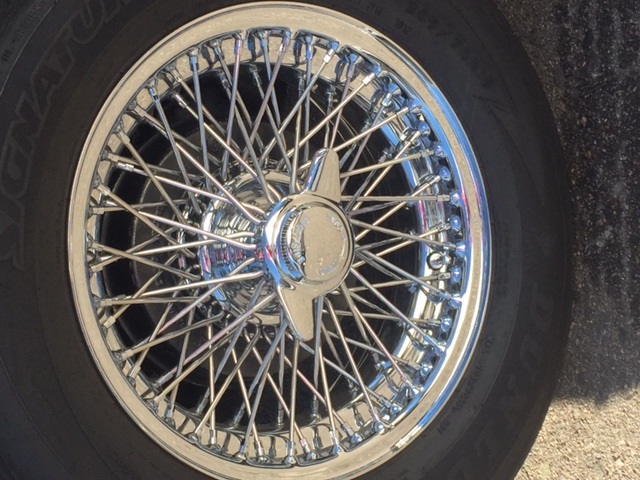 Aside from its chrome wire wheels, there are dual white racing stripes painted on the top surfaces of the bonnet (hood) and boot (trunk). These are professionally done and we feel look quite good on the car and give it a period correct, racy look. The car has been fitted with a modern stereo unit (without cutting the dash) and the original British Leyland radio it replaced is with the car.
The body of the car is straight with no evidence of any prior accident damage. It is rust free and much of the original factory undercoating remains underneath. The paint shows very well and appears to be original as well.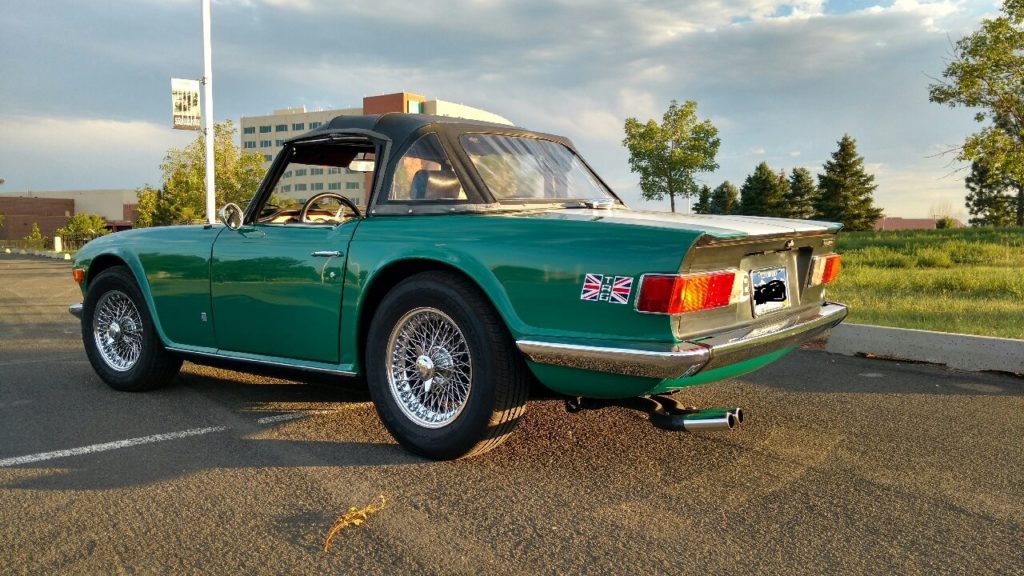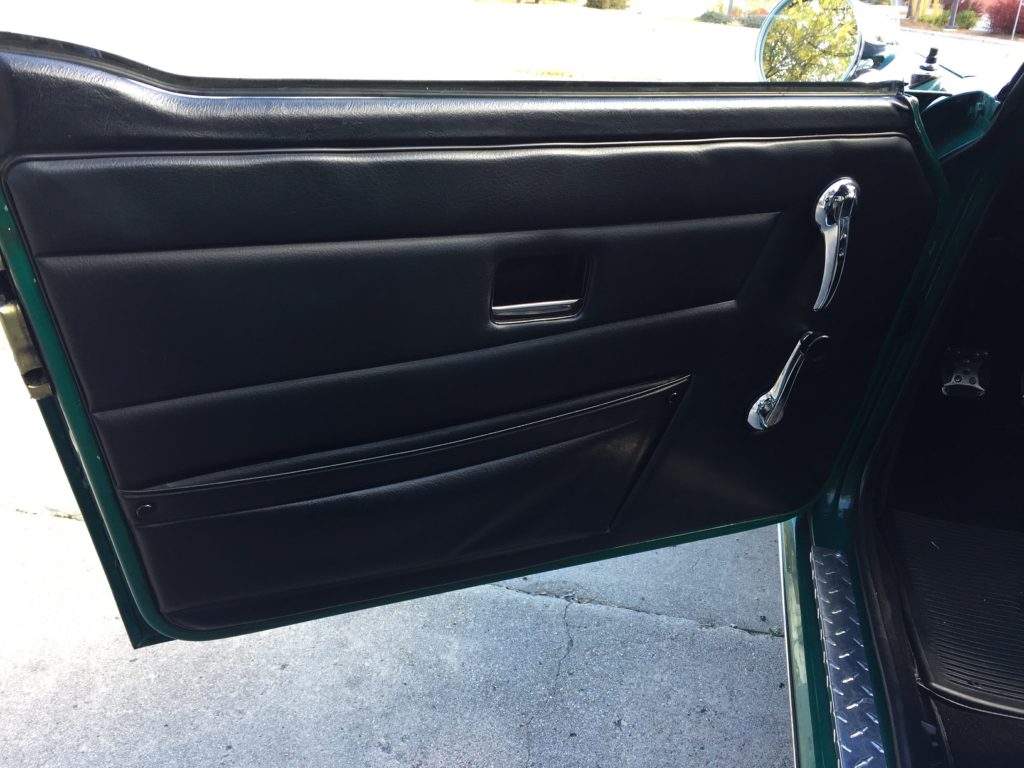 Both door panels, seats, and rear storage area interior surfaces are all in excellent shape; no rips/tears.
The classic wood dash and dash cap and surround are blem and crack free.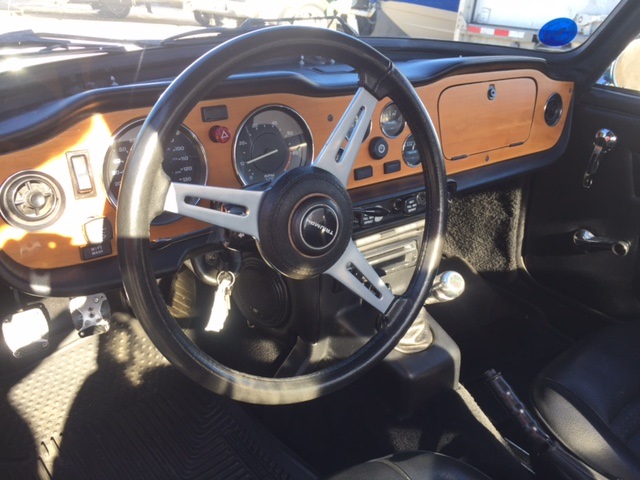 Most recent services included lube, oil, filter; installation of new solid steering rack mounts and new poly steering rack bushings; replacement of rear differential mounts and seals; differential gear oil change. New shocks, suspension components, brakes, etc. have been installed per past service records.
Odometer showing 56, 133 original miles; now 56, 220.
The engine is the 2,498 cc / 2.5 litre overhead-valve straight-six (74.7 x 95mm bore and stroke) with twin Stromberg carbs (single choke 175CDSEs), 8.5:1 compression ratio produced 104hp at 4,500 rpm and 143 ft lbs torque at 3,000 rpm. This car has its original engine No. CF 24572UE. Performance air cleaner filters have been added but the originals are with the car. Spin off oil filter and electronic ignition are practical upgrades. Zero to 60 mph acceleration is 8.2 seconds in a car weighing 2,491 lbs.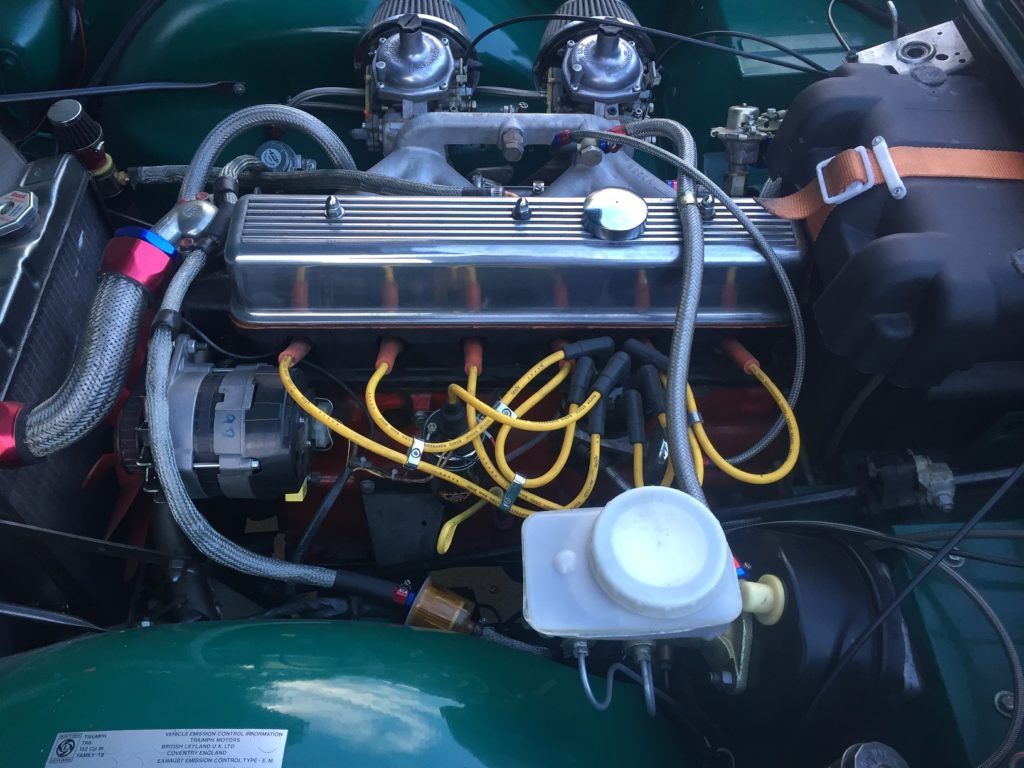 This is the original window sticker for the car; also with the car are the original owner dealer delivery warranty and maintenance cards and booklet showing the name/address of the original owner, delivery date, dealer service; etc..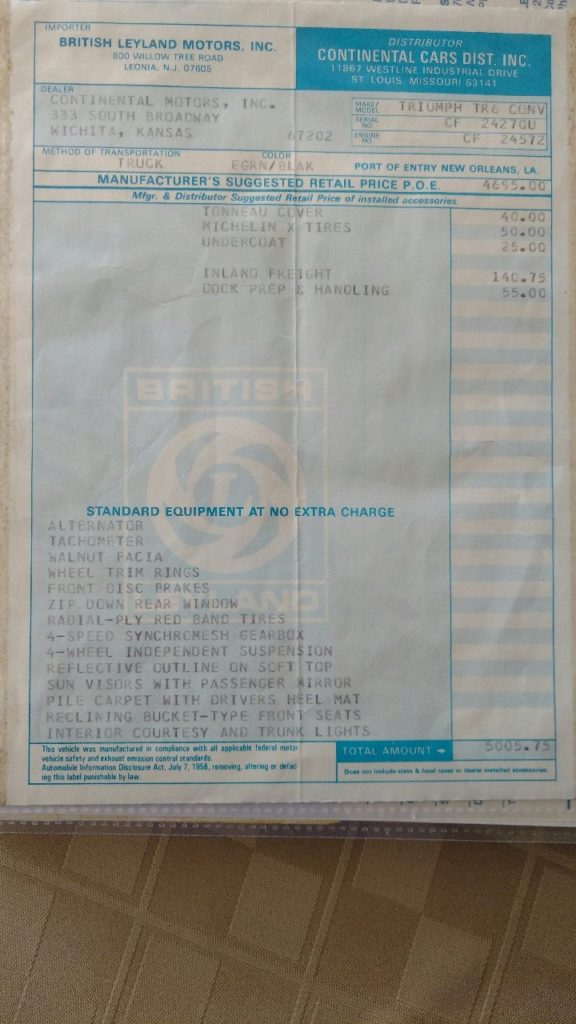 VIN Plate on left side B Post; shows month of manufacture and paint and interior trim color numbers.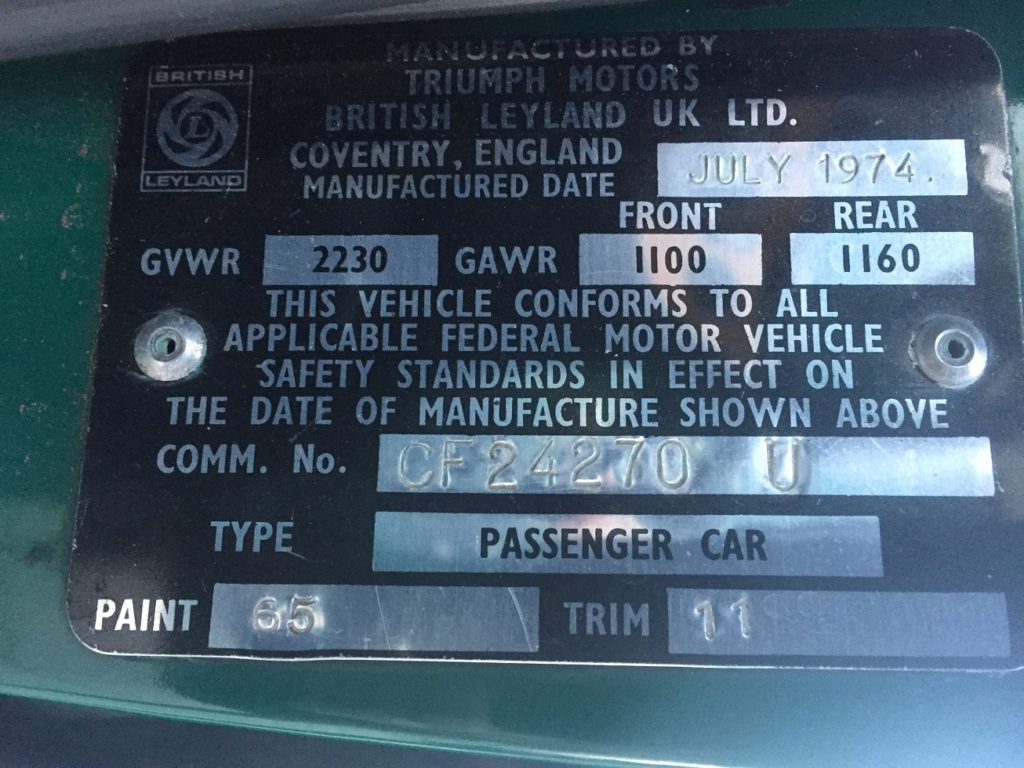 The car is completely matching numbers car: Commission # T23579CF; Body # 23779G.
Car also comes with its original owners manual, a factory luggage rack and a fitted cover.
History and General Specifications:
The TR6 was the successor to the TR250 and was manufactured from November 1968 until July 1976. The TR250 shared the same Michelotti styled body as the TR4 – TR4A cars but the TR6 received a clever and comprehensive facelift by the German firm Karmann. Karmann reshaped the front and rear ends of the car which resulted in a wider looking and more integrated modern style. Front disc brakes and rear drums were behind the new, wider 15 x 5.5 wheels giving the car a more brawny and muscular stance.
There were a total of 94,619 TR6's built (8,370 for the "home" UK market and 86,249 for the export market). This car is one of 11,440 manufactured in 1974.
Semi-trailing arm independent rear suspension, rack and pinon steering, and full instrumentation were other features. The transmission is the all synchromesh 4 speed.
Wheelbase: 88″
Length: 12′ 11 1/2″
Width: 5′ 1″
Height: 4′ 2″
Weight: 2,491 lbs.