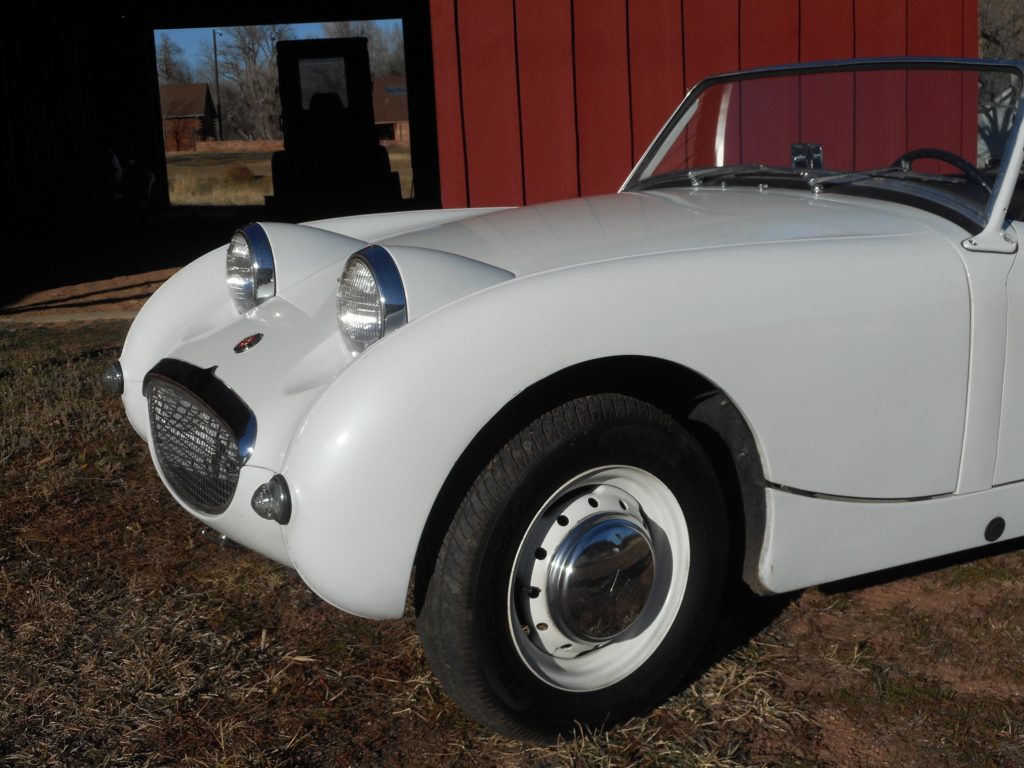 1960 Austin Healey Bugeye Sprite. Very good condition Sprite. Not rusty, excellent mechanicals and interior; new top, tonneau and side curtains. Pearl White with Black interior. Very good running and driving Sprite; ready to enjoy. JUST SOLD – THANK YOU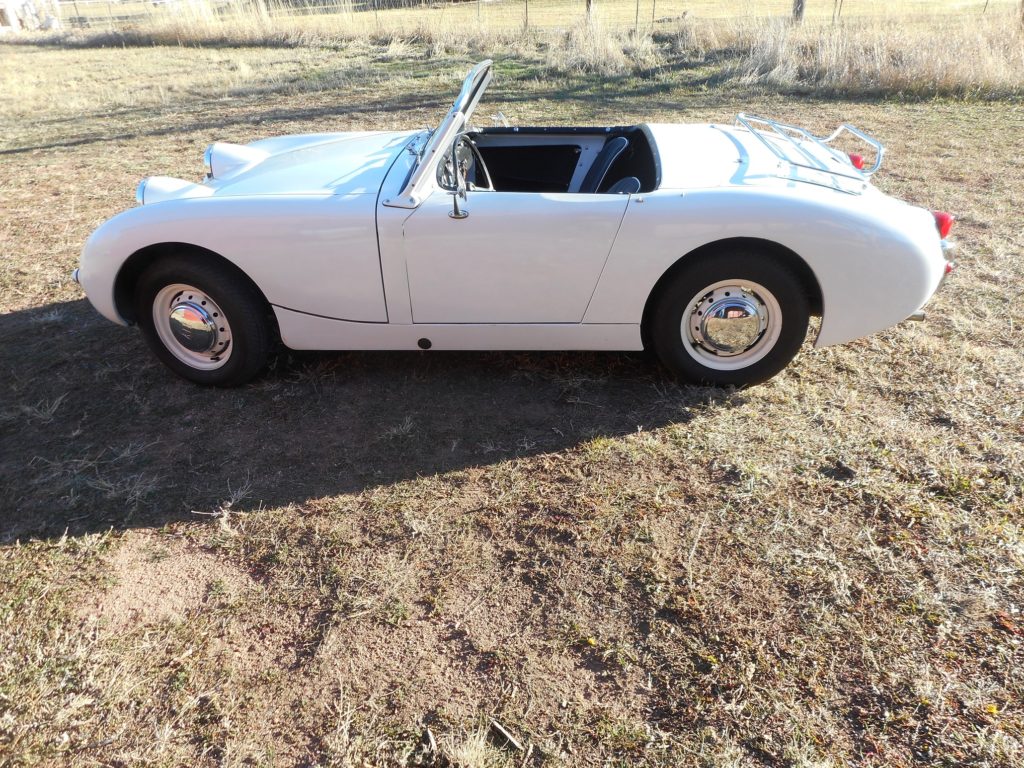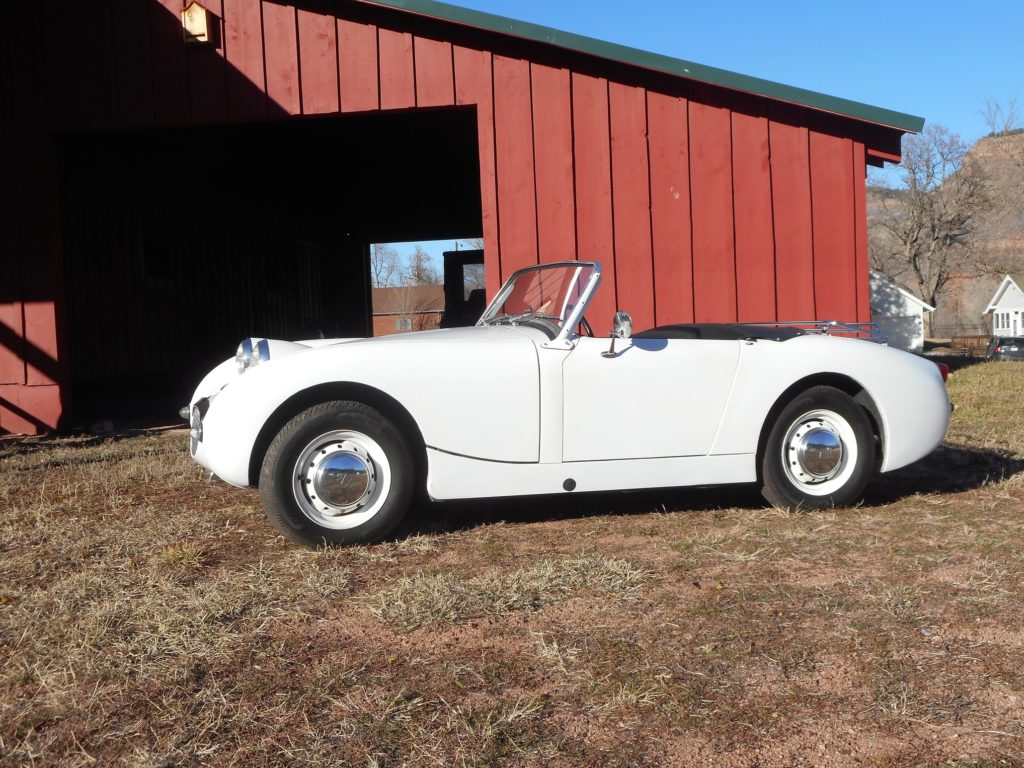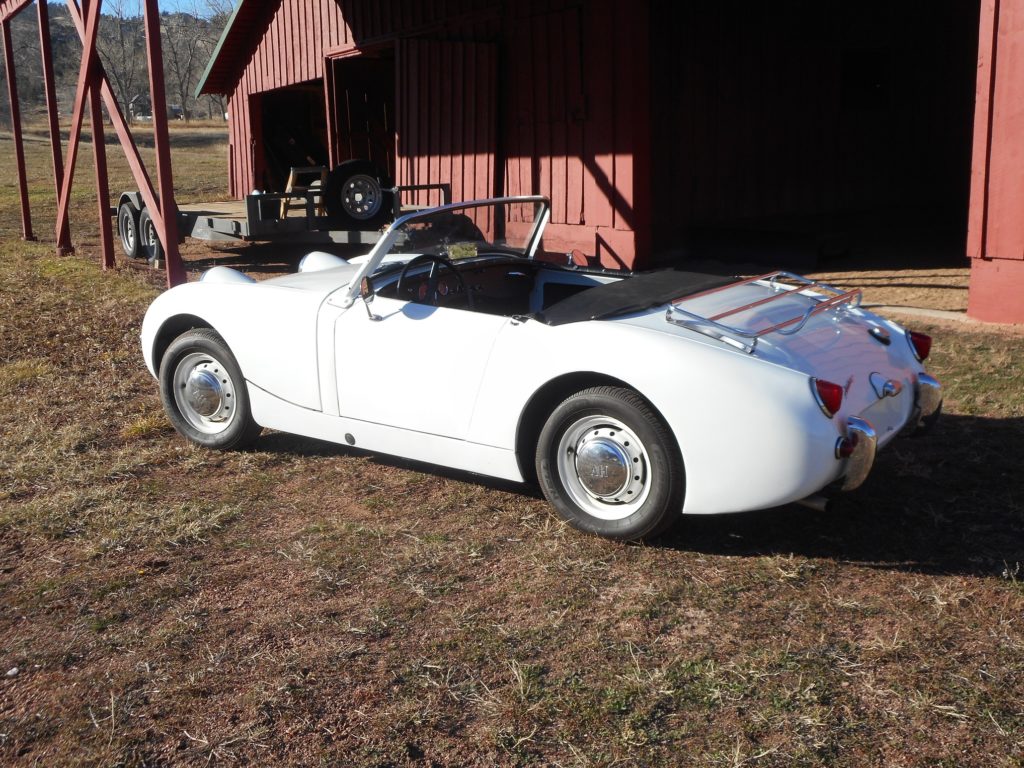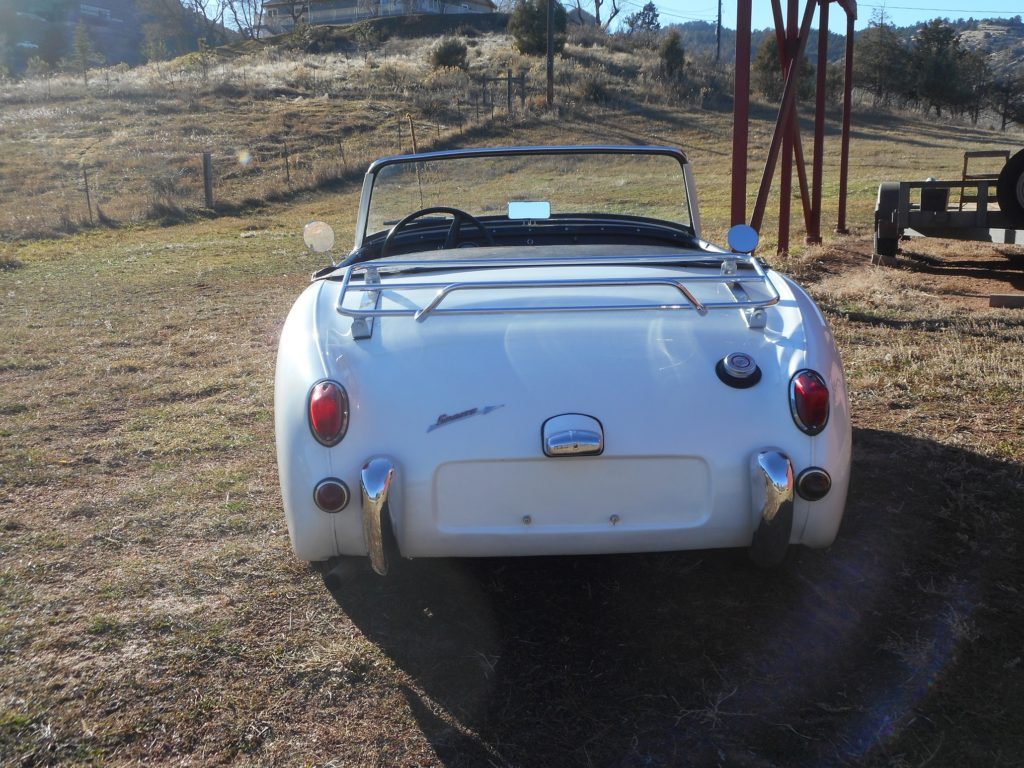 Overall paint quality is good with a few chips showing from use. Lack of rust is really a plus.
We really like the interior of this Bugeye. The dash is uncut and original. The seat upholstery has been updated with very tasteful cloth inserts while keeping the black with white piping scheme of the original all vinyl seats. The cloth seats make for a much more comfortable and friendly seating surface. The door panels, carpets and cockpit coaming are also all in very good condition.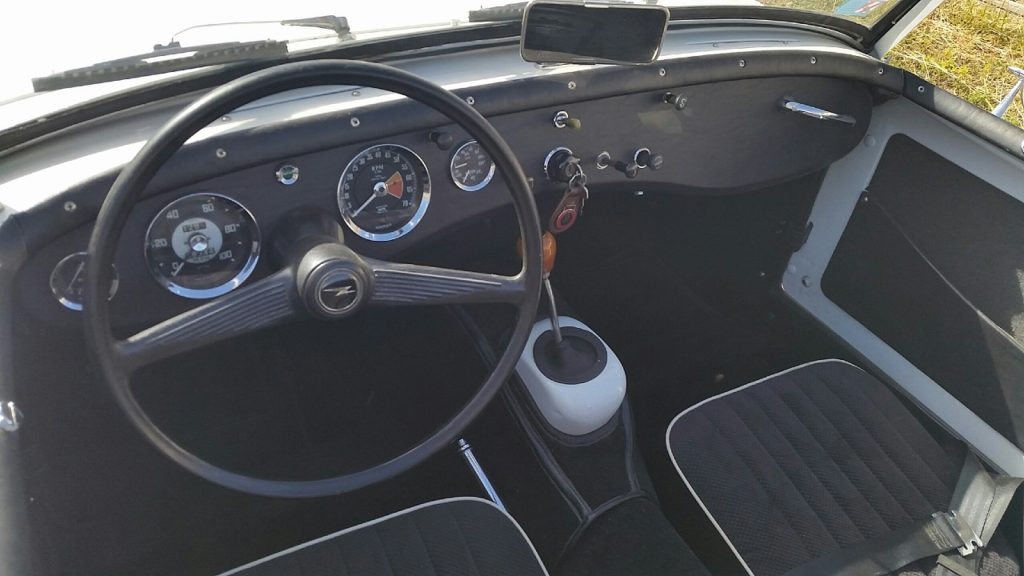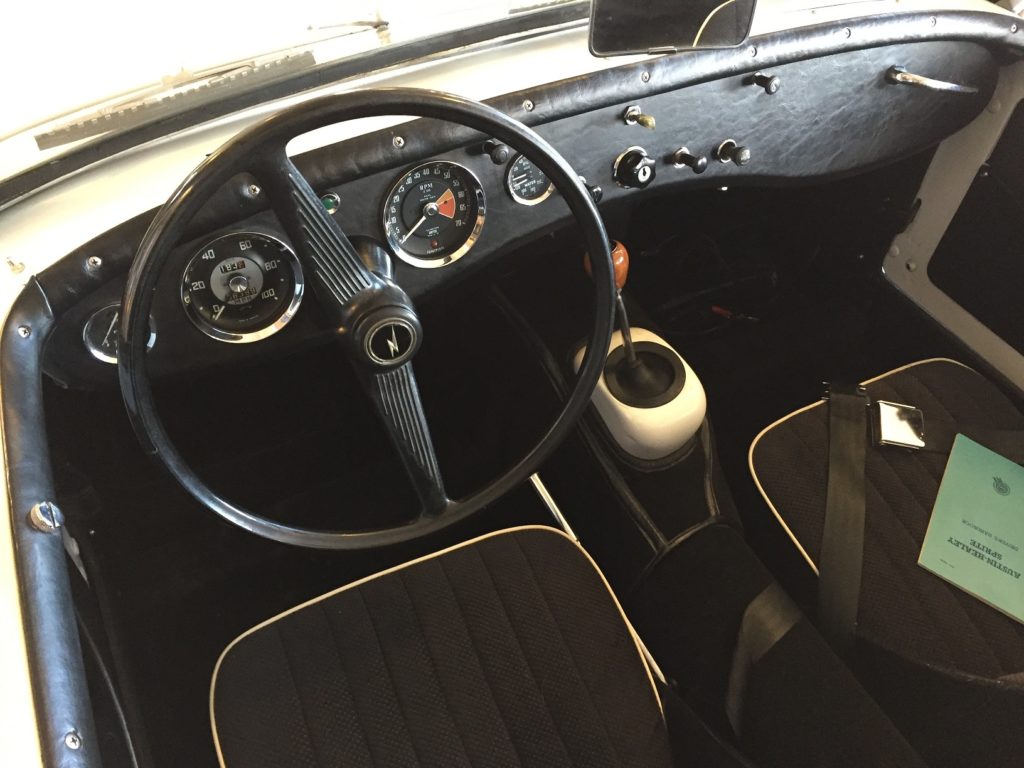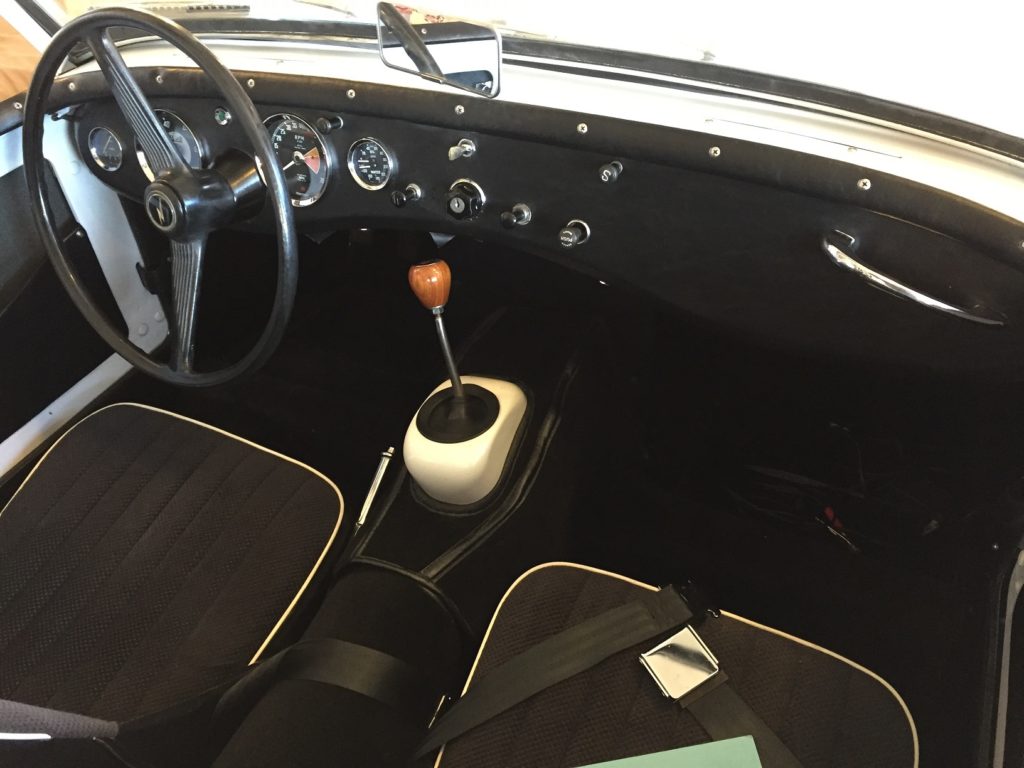 Original steering wheel and Owners Handbook. Lap seat belts added.
This is MK1 Sprite AN5L 37898; the L denotes Left Hand Drive; the VIN# indicates the car was built at the Abbingdon plant in April of 1960.
Austin Healey decided not to give Bugeyes an opening boot or trunk to keep the car more economical. I think it improved the aesthetic of the car and as result Bugeyes look great both coming and going. The boot storage is accessed by folding the seats forward; room for the top, tonneau and side curtains as well as the spare. This Bugeye has a nice luggage rack for your duffel or grip.
Original Jack; lug wrenches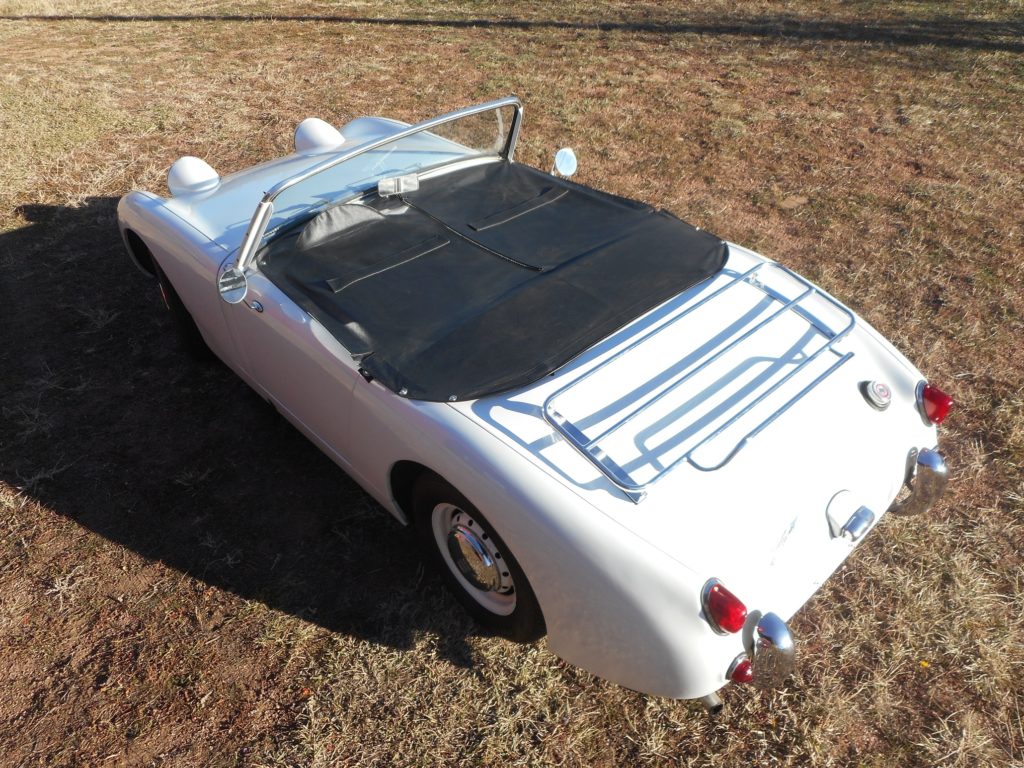 New full tonneau cover; new top (frame is like new as well) and side curtains.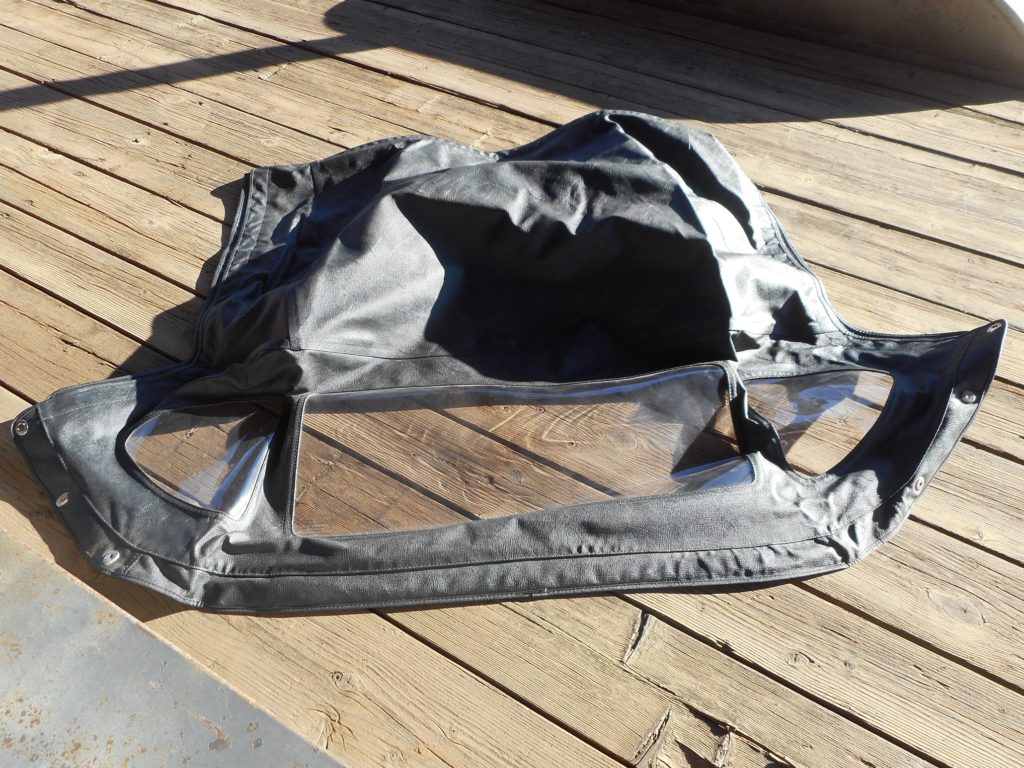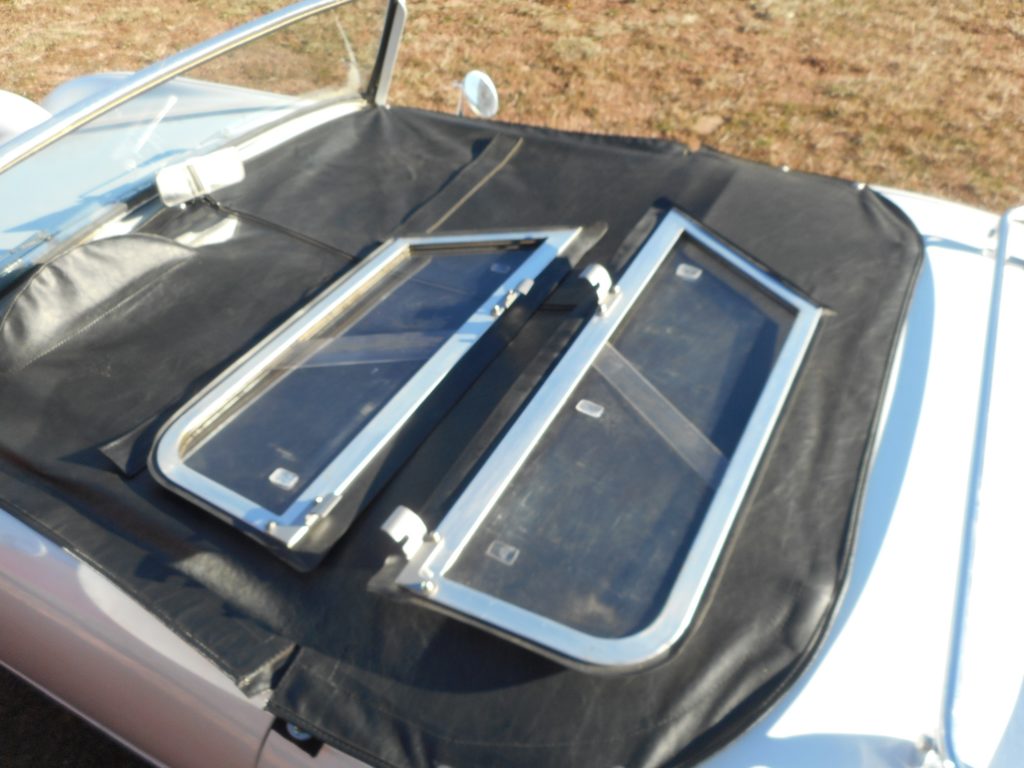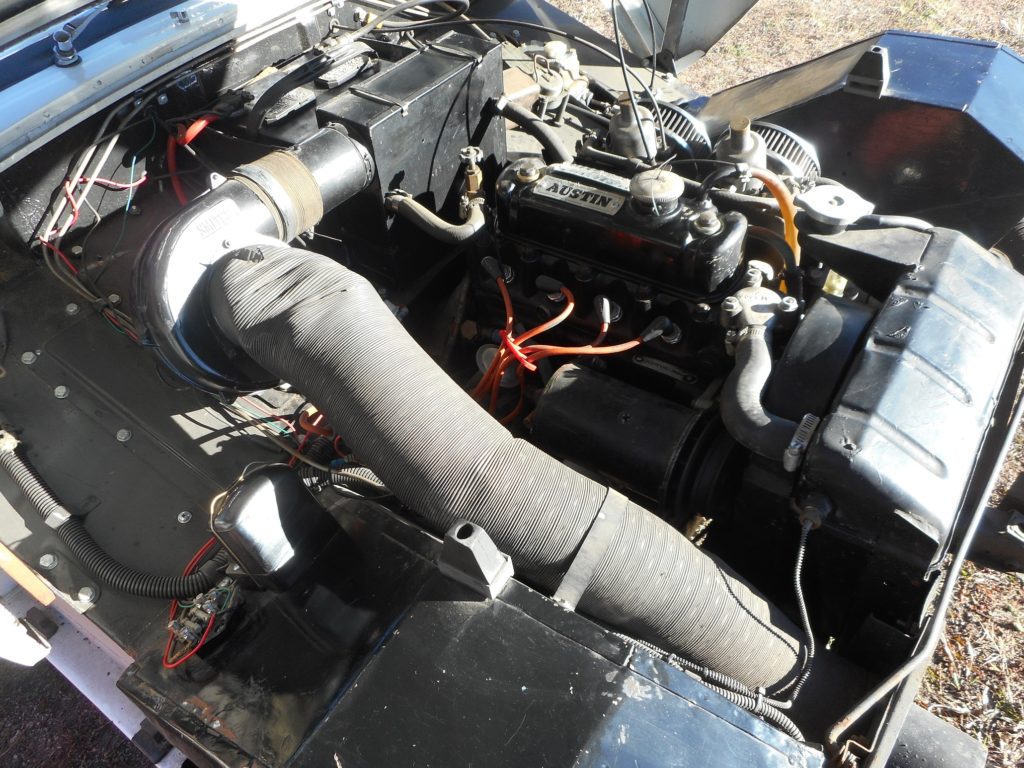 For just under one liter (948 cc) Bugeyes are peppy drivers. Equipped with twin 1 1/8″ SU carbs the A Series inline 4 engine produces 43 hp in a car that weighs but 1,433 lbs..  They also average 36 mpg too!
If zero to 60 times (20.5 seconds) and top end speed (83 mph) are your thing you're looking at the wrong car; but if you want something that is a blast to drive and pretty much handles like a go cart you're there. Just be prepared to have your wave hand at the ready as everyone will wave at you when you're driving it!
Engine # 9CG-DA-H 31100; the 9CG denotes it as an original 948cc engine; the H denotes it as a high compression engine (both Low and High Compression engines were produced). Engine is coupled to the much preferred rib case transmission.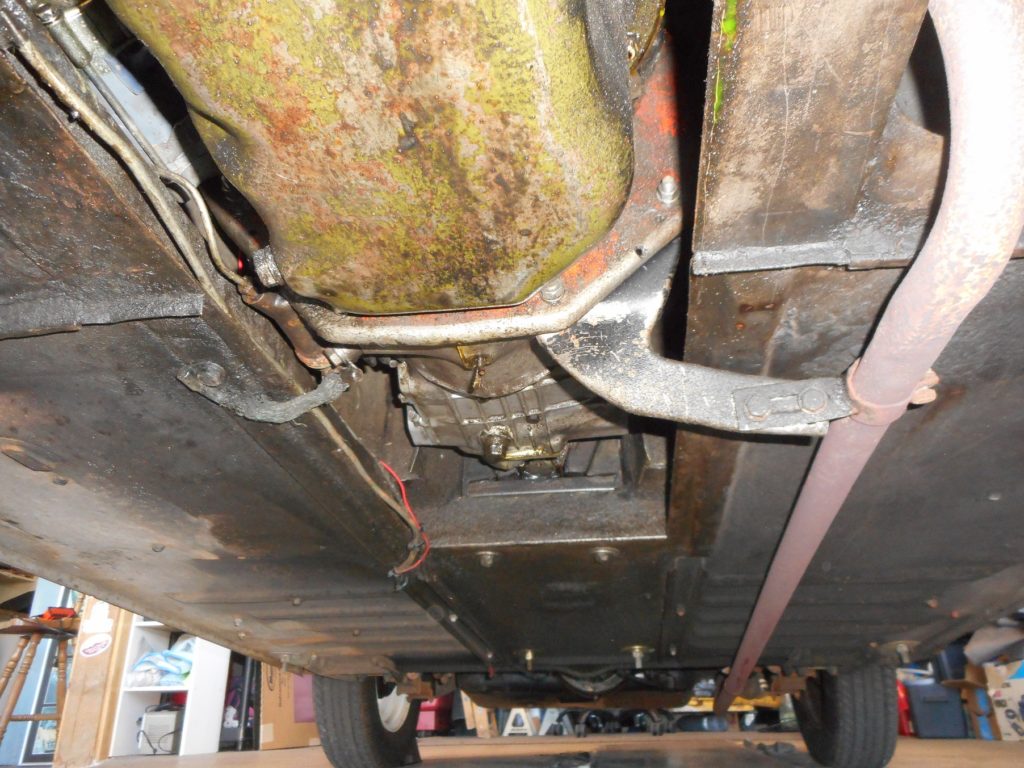 Undercarriage straight and rust free as are chassis rails, floors and rockers.
Probably the most critical areas for rust on a Bugeye are the rear leaf spring supports; commonly referred to as the "spring boxes". We've included photos of the front plates and inner wheel well sections of these and they are in great shape – no rust!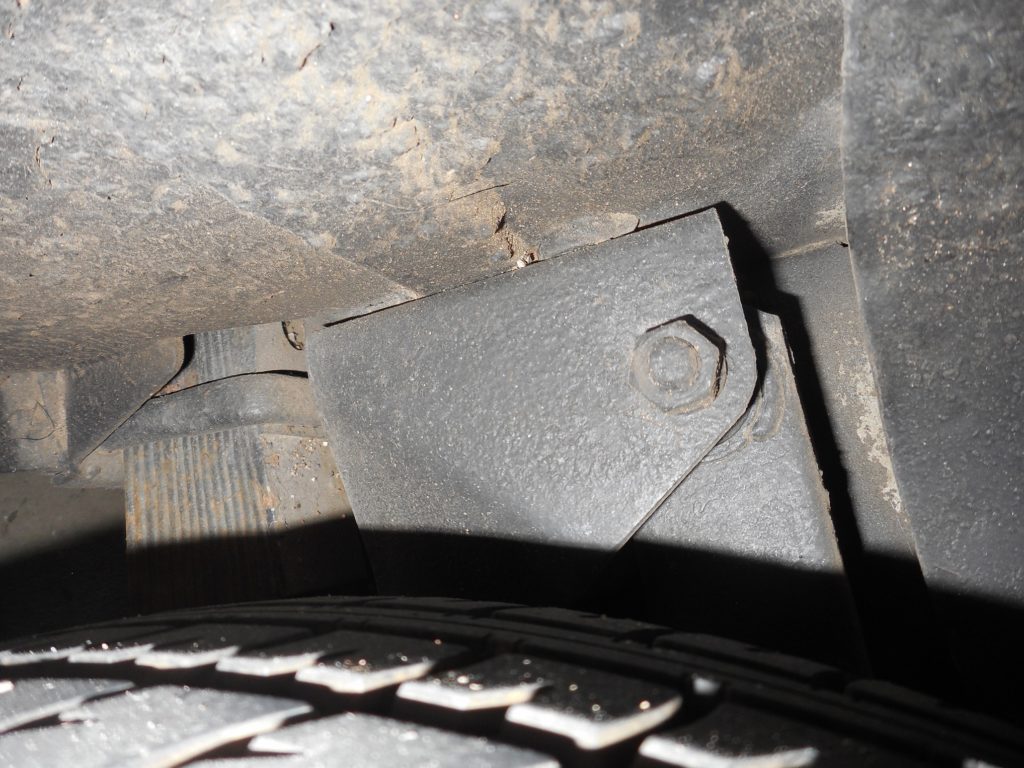 A new fuel tank was added in the recent past along with new brakes (wheel cylinders, shoes, drums).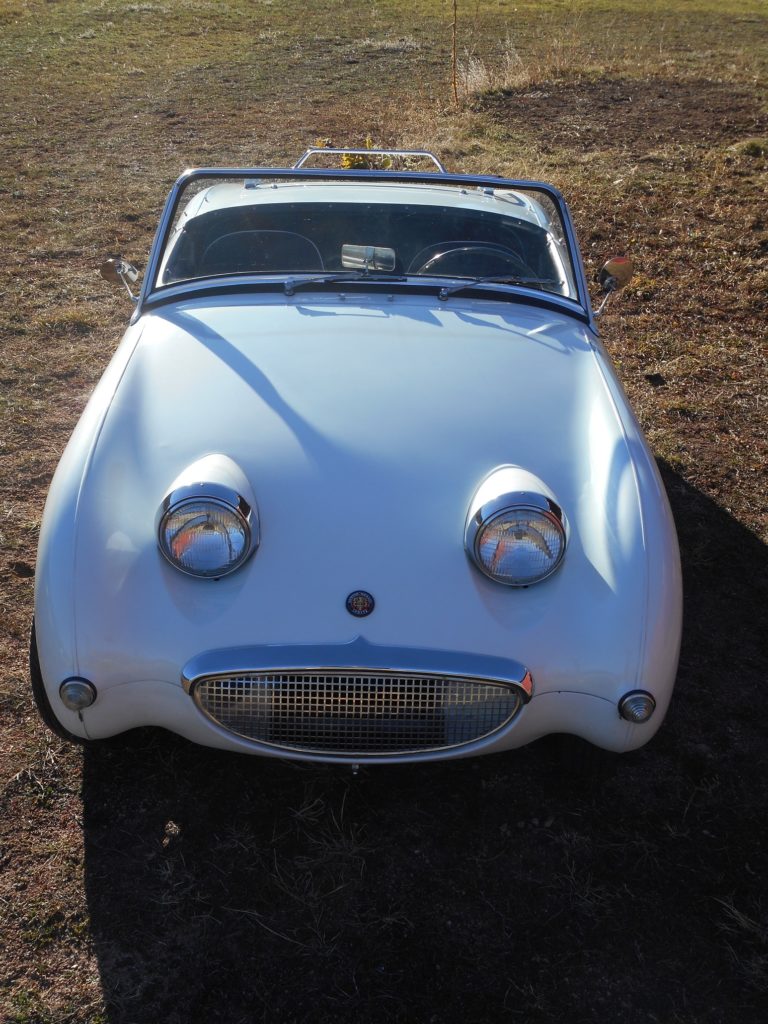 Car is but 11'5″ in length; 4′ 5″ wide and just under 4′ high. Yet, like many British sports cars that are small on the outside it fits two adults reasonably comfortably (after all I believe Peter Egan and his wife drove theirs from Wisconsin to Southern Cal and I understand are still married!!).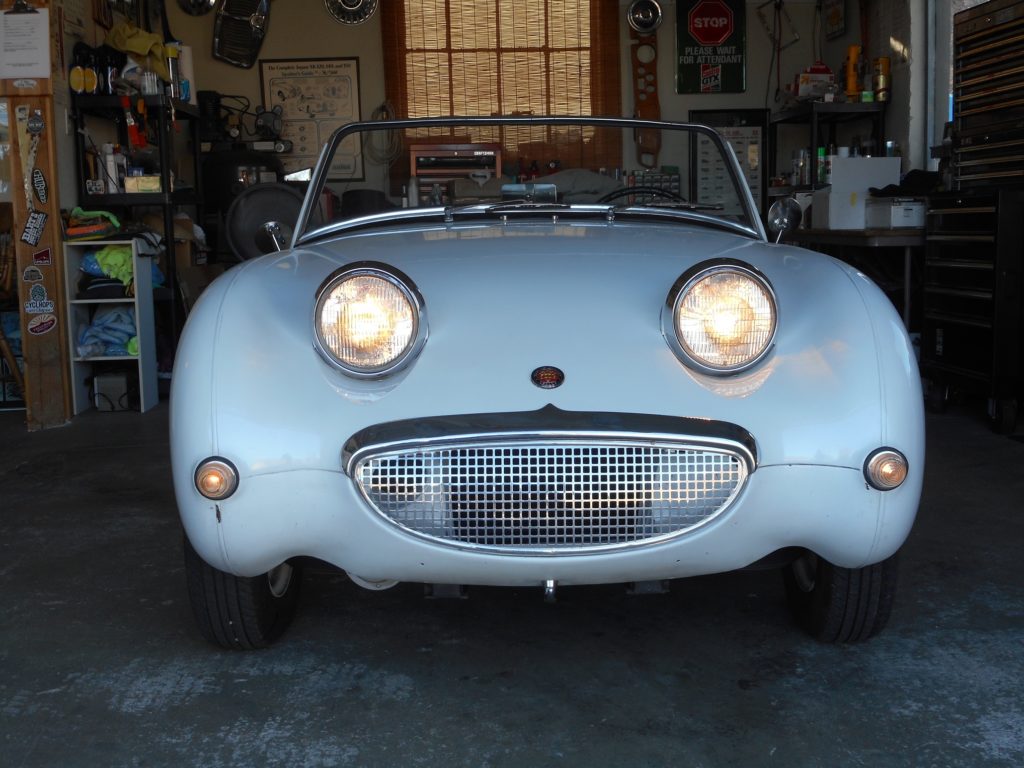 Just under 49,000 Mark 1 Sprites were produced between 1958 and 1961.