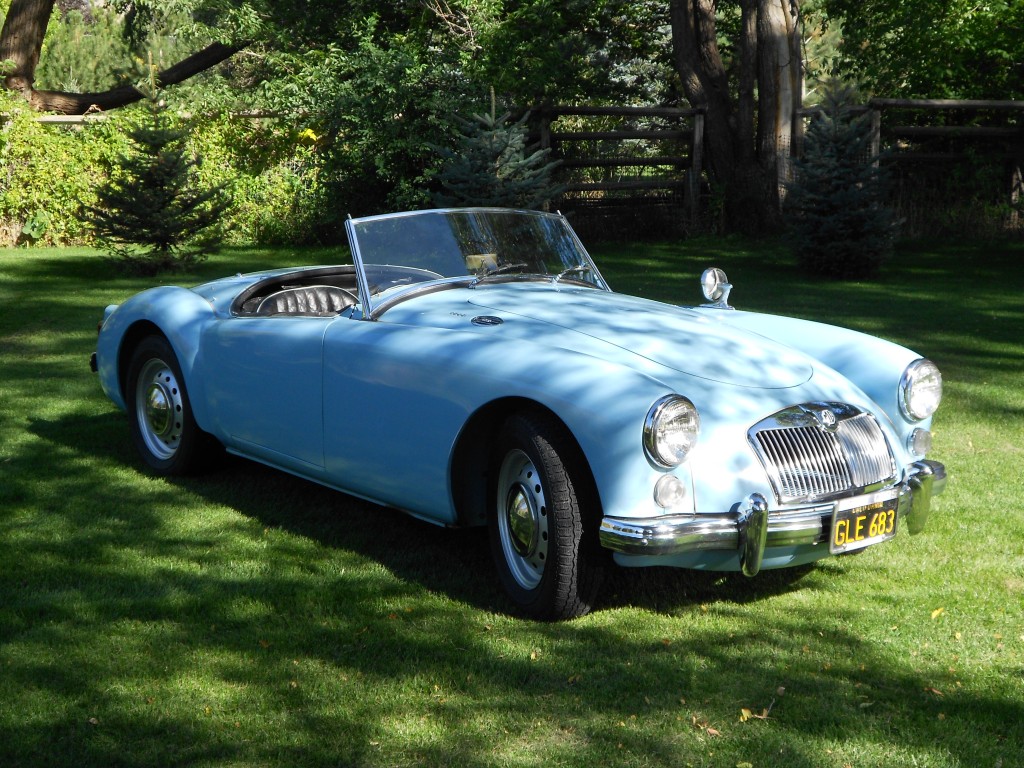 They are only original once! Car No. GHNL88968. 36,000 Original Miles !
JUST SOLD – THANK YOU
A lovely car wearing much of it's original 55 year old Iris Blue paint!
Some of you may recognize this MGA from being posted on our site a few years ago. We had then sold the car and it is now For Sale once again. Our friend and client has decided to part with this very special MGA and another of his collector cars to make room for some new purchases.
There is now a rare opportunity to purchase a very special, original condition, MGA!
Given the winter weather (yes, the car is safely inside and on display in our "showroom"!), I am reluctant to take it out now for updated photographs. Rather, I will add notes here and to these previous photos to bring things current:
# 1: We cannot find any rust whatsoever on the car anywhere; as a result of it having spent most of it's life from new, garaged (when not being driven) in the high desert of California near Palm Springs.
# 2: We have documents on the car from new as to its provenance. The car was purchased new in 1961 by Mrs. Erma Dons of Indio, CA from Stan & Kenny Holmes with Consolidated Motors in Long Beach, CA.  The Dons had retired to Palm Springs and Mr. Dons wanted a fun, sports car for his wife. In 1980, Mrs. Dons sold the car to a gentleman in California who was a friend and neighbor of Mrs. Dons sister. He brought the car to Colorado when he moved here in 1996. We purchased the car from him in 2010 and sold it in 2012. The next owner of the car will be its 4th.
# 3: The mileage on the car, 36,009, is the Original Mileage on the car from new (documented of course) and will be sold with a clear Colorado, Actual Mileage, Title.
# 4: The car comes with a British Motor Industry Heritage Trust Certificate (# 2011/23020) which verifies it as a matching numbers, original color and trim factory equipped car.
# 5: The car has its original California Black License Plates dating back to when first issued to its original owner. Also with the car are its original Drivers Handbook, Jack, Hand Crank, Lug Wrench and Hub Cap Spanner.
# 6: In 2012, nearly $ 8,000 was expended (all receipts included) for professional service at one the nation's leading MG specialty shops which included replacing the foam in the seats; A arm bushings, front shocks, kingpin seals; clutch slave and master cylinders; differential pinon seal; rear shocks, limiter straps and shackle bushings; fuel sender; coolant hoses; carburetor seals; radiator fan shroud; installation of new clutch; rebuild transmission to replace worn 2nd gear synchro. The left side non original fender mirror was removed and NOS original fender mirrors were installed; the paint was custom matched so that an area atop the left rear fender where the original paint had been worn to primer could be refinished. We very much like and appreciate that only this area was re-finished; and not every blem and "age spot" as the original paint on the car exudes a wonderful patina.
The car is riding on new (2012, less than 2,000 miles ago) proper size 165 HR15 Vredestein Sprint Classic radial tires; a great improvement in ride and handling over bias ply tires! (See below for other work done to car in 2010).
The total result is a car that runs, drives, handles, shifts and stops like new, if not better.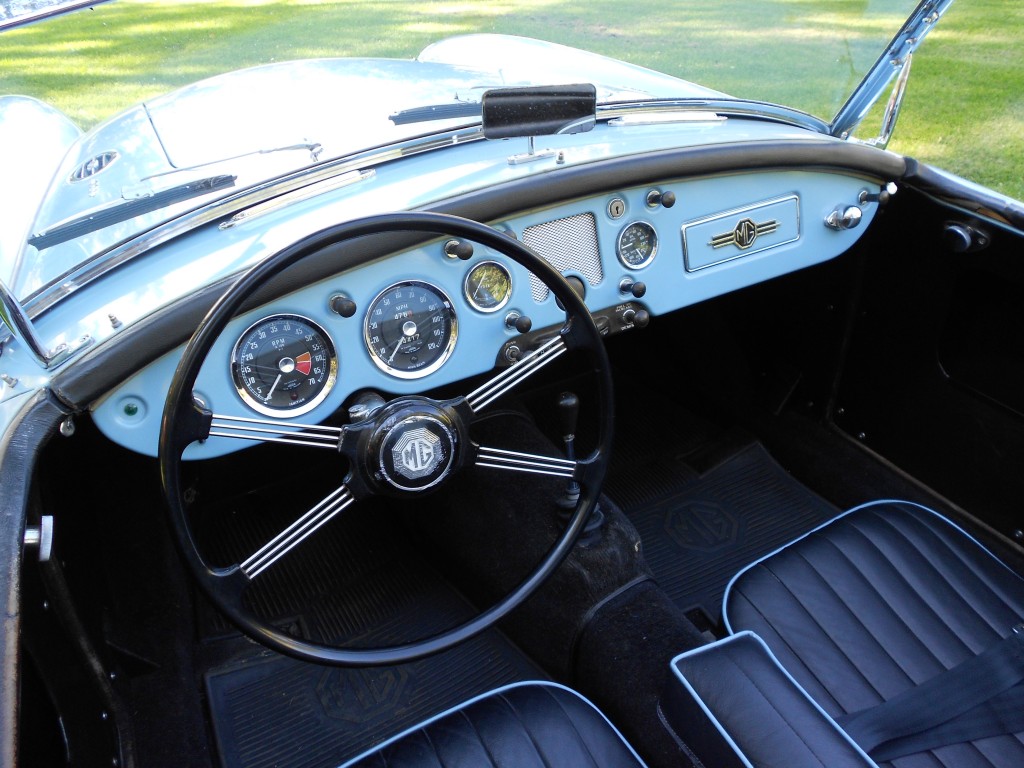 Seat leather replaced with factory correct matching upholstery as per original (black with blue piping); not including the passenger seat back which was not split and is still in the car. We saved all the original leather seat upholstery too, just because………..! Look how beautiful the dash is.
The welting on the entire car between the fenders and body and around the grille, etc. is in incredibly nice shape.
Whomever designed the stylish MGA logo and integrated it into the cowl vents is to be commended; Thank You!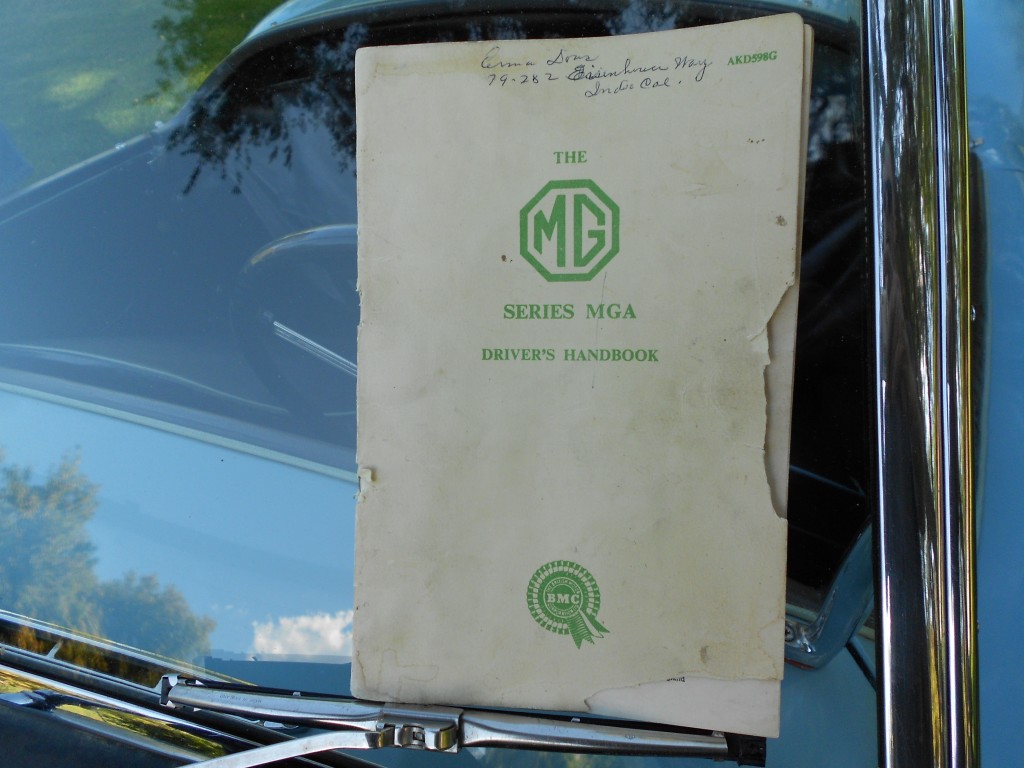 Original MGA Driver's Handbook that came with car when new, the California selling dealers information and original purchasers name and address are written on it.
Engine No. 16GA-U-20214.  You may note the alternator installed replacing the original generator for drive-ability. However, we have the original generator from the car if one wishes to go back. The car is also now a single 12v battery as the original configuration was twin 6 volt batteries. Again, the carrier for the additional six volt battery was left in place and the single 12v resides in the other. This could be reconfigured back easily as well.  You may also have noticed the "15" cast into the rear of the head. What's this?! I thought this was supposed to be an original 1600 engine. We researched this and found that quite a few of the early 1600 engines used the 1500 ("15") heads; these heads were machined for the larger valves and affixed to the 1600 blocks (cast with "1600" on the left front side of the blocks) – as found on this engine.  Not unusual for MG or other Brit car builders when switching assemblies for new models (and after reading of the number of assembly locations that were used to manufacture each and every Bug Eye or Frog Eye Sprite I can even better understand this!)
The car drives and runs very well. We had the front disc brakes and front hubs redone (with original type MGA not MGB parts which is done quite often on these cars);  new clutch slave cylinder and brake hoses, fuel lines to carbs installed recently to keep the car in top operating condition (Note: this work done in 2010).  Receipts with car of course. All work done by The Motorway in Ft. Collins, CO; nationally recognized MG specialists.
Side curtains in pouch behind seats. These are in like new condition; most likely rarely ever on the car. Both the top and frame are in excellent condition as well. There is also the original full leather tonneau cover for the car. It is in good shape with a small tear in it that has been neatly sewn/repaired. We feel that it should not be replaced as the repair is good and appears to have been done quite some time ago and the tonneau itself has a wonderful feel and suppleness to it as only old leather can provide; unlike today's vinyl tonneaus.  There is also a custom fitted indoor dust cover to come with the car.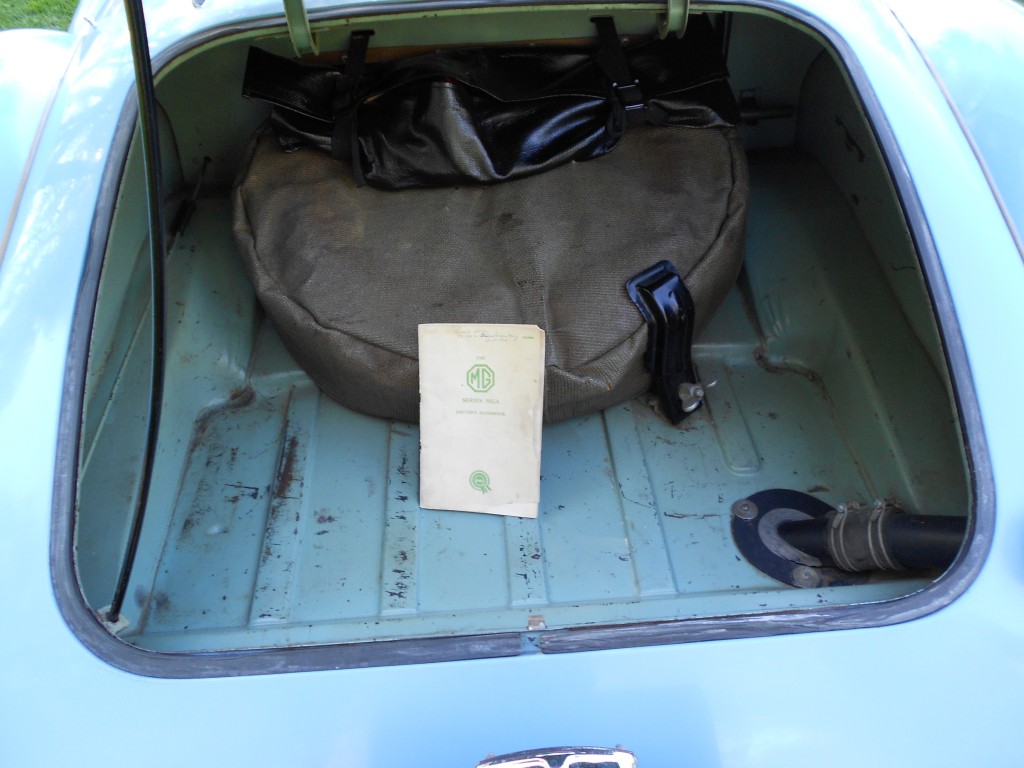 The interior of the boot. Note the body color paint inside it. The starting crank  is mounted above the spare tire which has its original material covering. The tools and jack are in the black wrap bags. All the original strapping; holding plate for the spare and tool wrap are in place.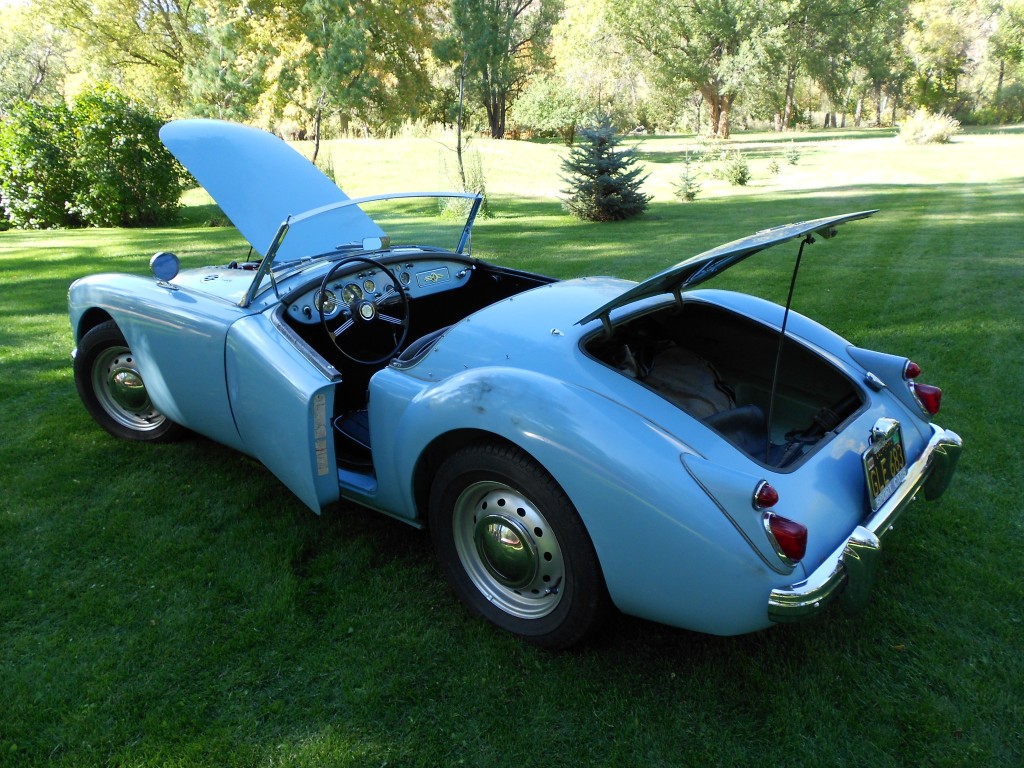 Body No. B21354.  You may note the rub mark thru the paint on top of the left rear fender; this area has since been refinished (see opening notes). The non factory fender mirror has also been replaced with factory correct fender mirrors (both sides).
The distinctive 1600 Mark 1 tail lights.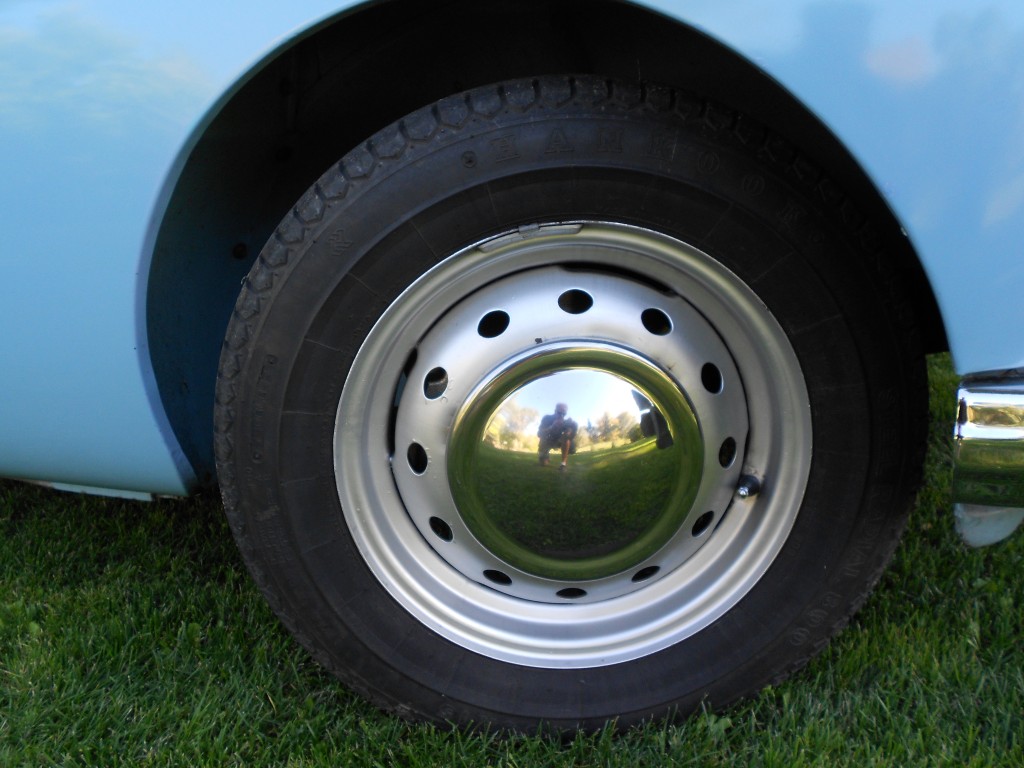 Original fitted disc wheels per the Heritage Trust Certificate. The other feature noted as included with the car was the heater (not all had them).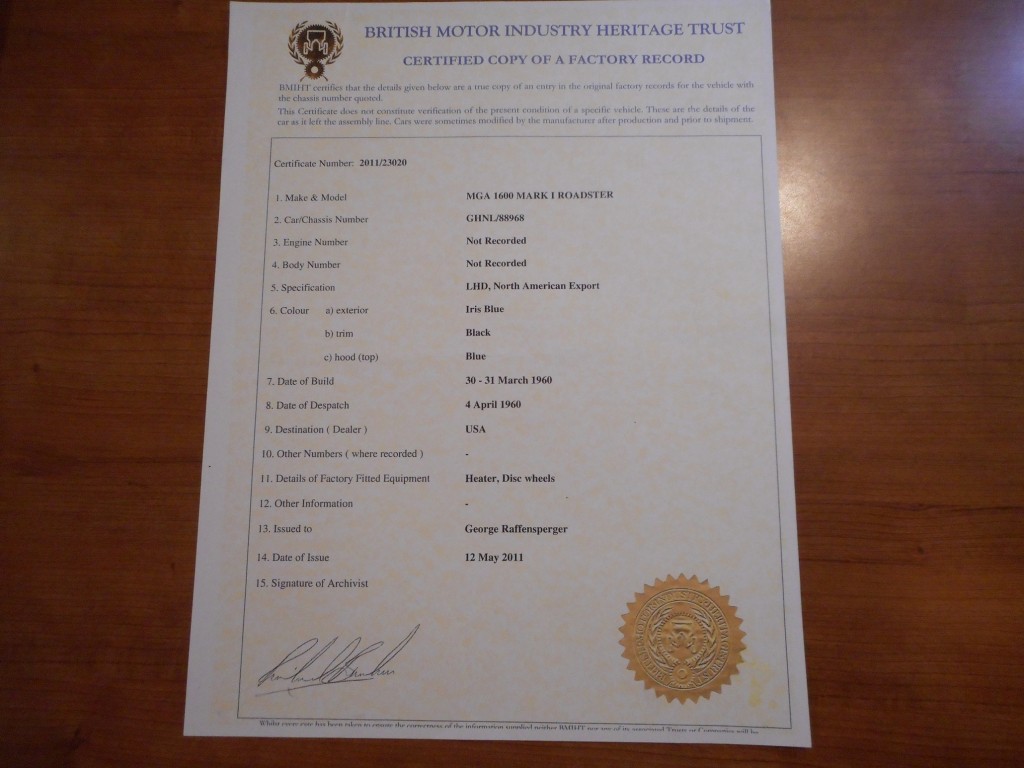 We look forward to meeting the next fortunate owner of this very special MGA. Please contact me as to any further details, information. Thank You.