1968 Triumph MK3 Spitfire For Sale. This is a one owner, very original car. Excellent restoration candidate, complete but currently not running. Is straight, solid, and not rusty.  Sold with clear, Colorado title. SALE PENDING
These early (1962-1969) Michelotti designed round tail Spits are the best of the marque. Attractive, easy to maintain and fun to drive.
This car was purchased new in Germany in 1968 while the owner was stationed there in the military. He had the car shipped home to Colorado in 1969 where it has resided since.  The car will need restored as it hasn't been driven in years (last plate had 1985 expiration) but was garaged (parked inside when brakes needed work) and then as it was their 2nd, "fun" car, it sat. The body is straight with no signs of any prior accident damage, filler, etc.; rockers, floorpans and undercarriage are all solid, not rusty. The paint is either largely original or resprayed at some point with excellent color match (all door jambs, under boot and bonnet match nicely) and the car was white when new (see VIN Tag below). Chrome and stainless trim in good condition. The engine turns freely.
New top was installed in 2012; windshield and door glass in good shape. Needs rear light lenses, other cosmetics (interior, hubcaps, etc.). All parts readily available from Spit Bits and Moss.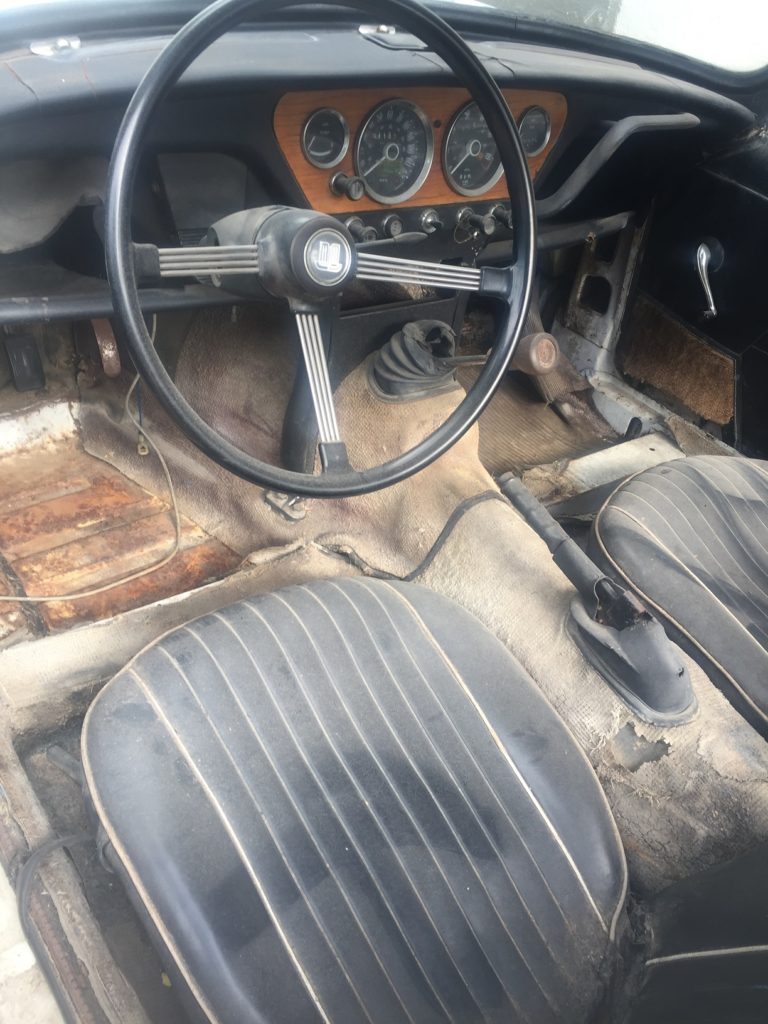 Interior intact, needing renewed, carpets gone.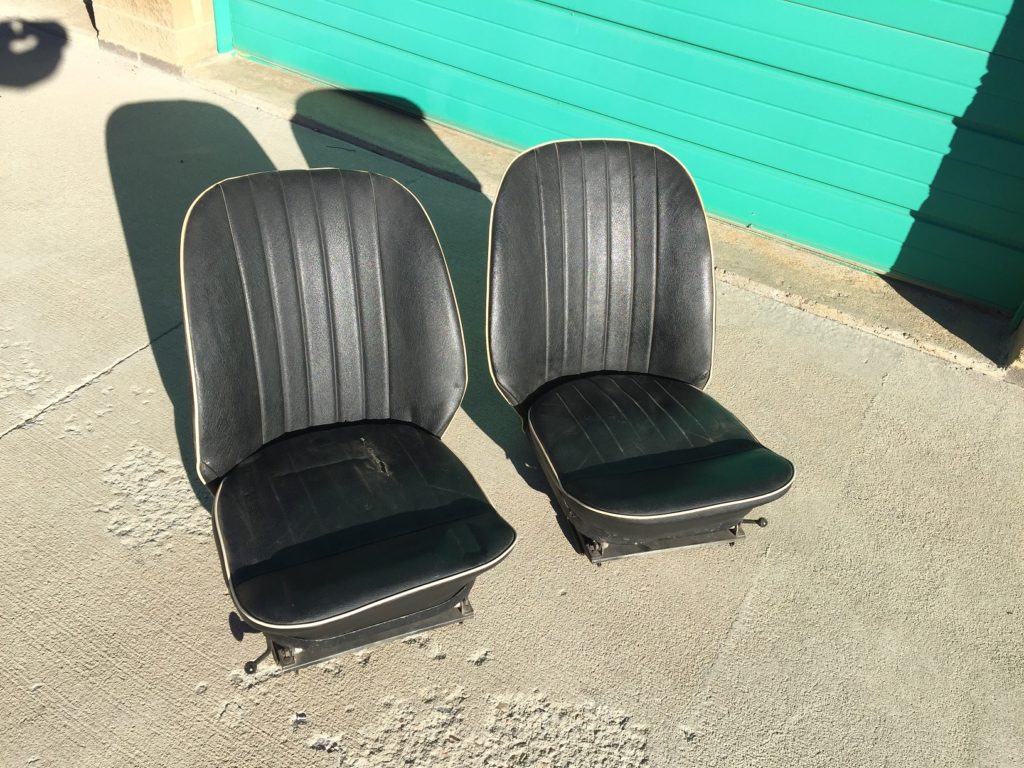 Included are a second pair of seats from our parts bin. Other misc. parts from car included as well (see last photo).
Inline 4 cylinder 1300cc engine with twin SU HS2 carbs; 9.0:1 compression ratio. Engine produces 75 hp at 6,000 rpm; 900 ft lbs torque at 4,000 rpm. 12v, negative earth electrical. Four speed (non overdrive) transmission; non- synchro 1st. Stock 13″ wheels; tires hold air, is rollable. Brakes: 9″ discs in front, 7″ drums rear.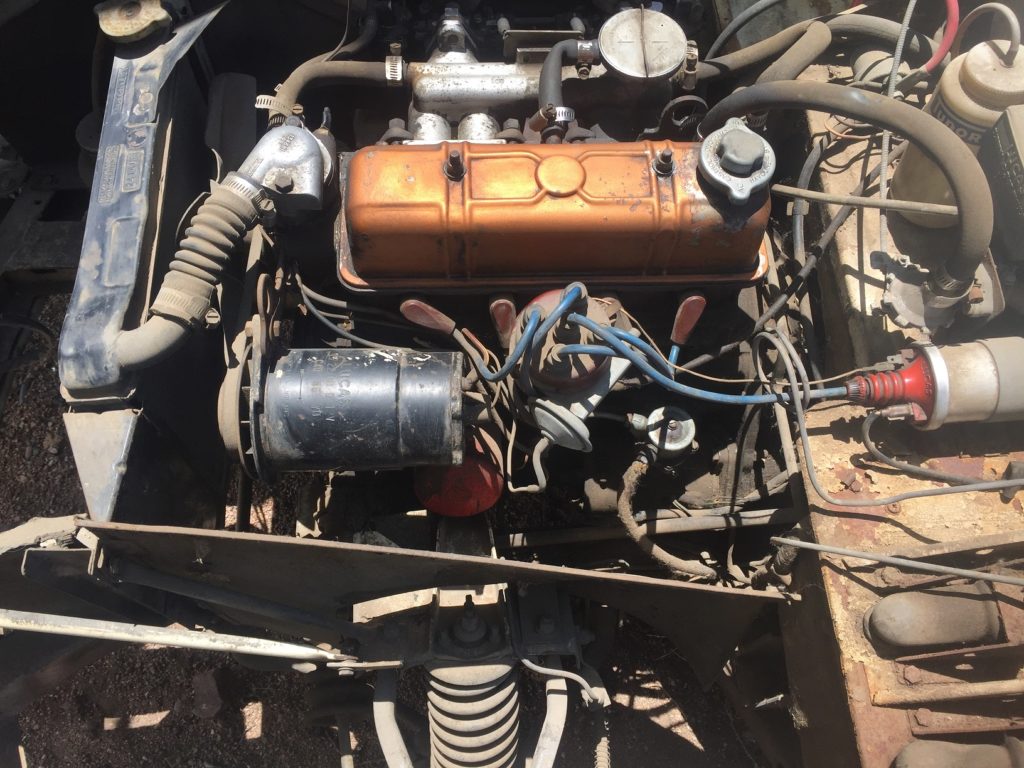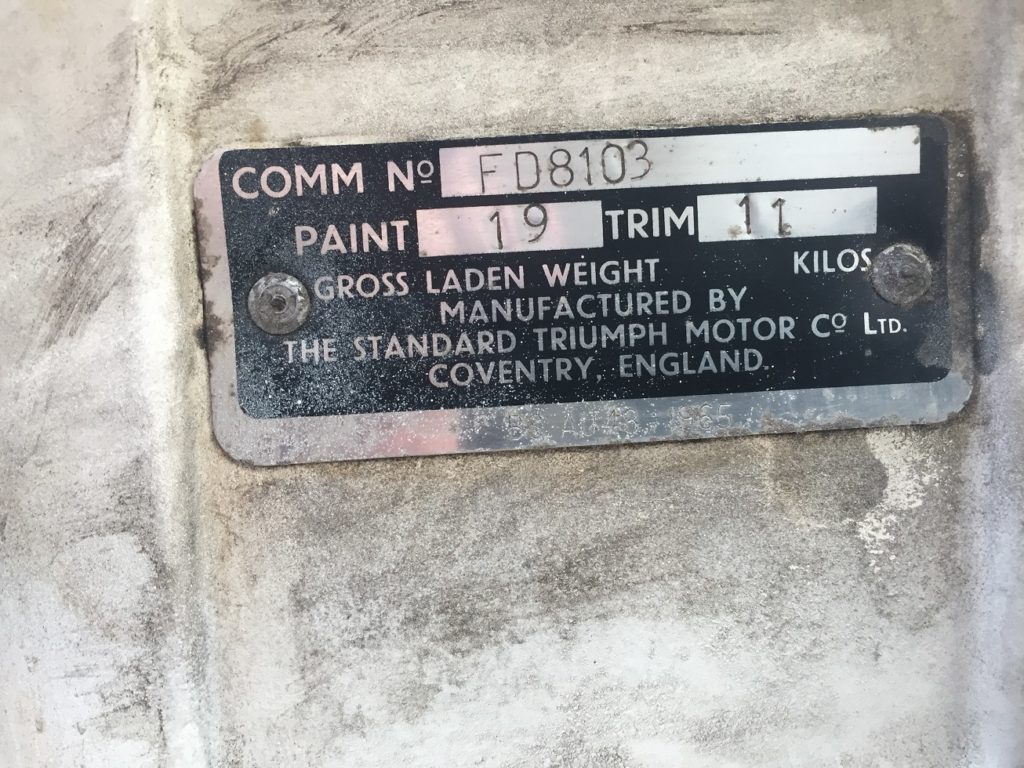 VIN Plate: FD8103. Note: If the car had been exported to the U.S., rather than to Germany where it was sold new, there would be the letter "U" after the "FD". Built 1967; titled as a '68 (typical). Paint # 19 Triumph "New (Pure) White"; Interior Trim # 11 (Black). 69,330 miles shown on odometer.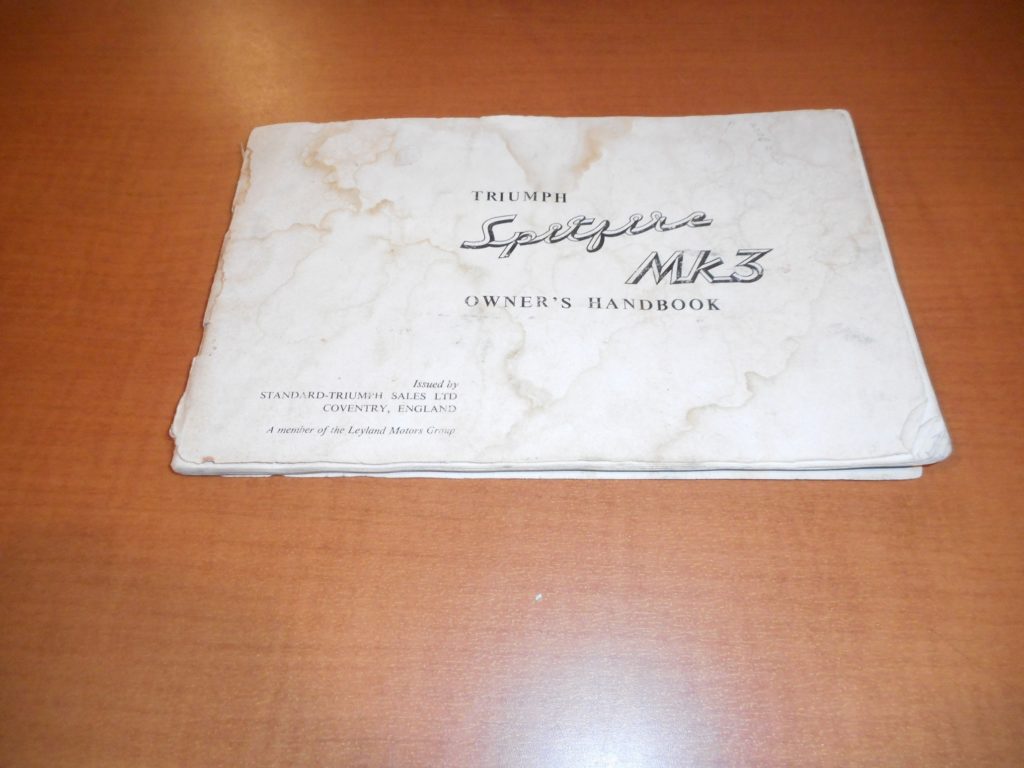 Original Owners Manual with car. Some of the misc. bits with car shown below.