1976 Triumph TR6 For Sale. The last of the traditional TR sports cars and a true survivor TR6 in very good condition. Purchased in Denver, CO by its past owner nearly 36 years ago. It has just over 46,400 original miles and still wears its original paint (Triumph White #19) which is in very good condition, especially for a 42 year old car!
The body is straight with the exception of a crease in the lower rear valance panel below the rear bumper; no other accident damage; no repairs/filler, etc.. The car is rust free with the exception of some minor surface rust around the battery.
This TR6 (# CF56449U) benefits from a thorough professional mechanical refurbishment completed just this past fall (details below). It runs, drives, shifts, stops and handles pretty much as new. It has a new top, new top boot cover, new red line tires, new clutch, Petronix, spin-off oil filter, etc.. The engine is noise and smoke free with excellent oil pressure.
Classic and brawny styling remains timeless.  Many consider the TR6 to be the best running and driving of the Triumph marque and this one furthers that belief by providing a wonderful open British roadster driving experience without issues.
I do believe one would be hard pressed to find a better condition, lower mileage, original paint TR6 at this price. Please know that we have installed some new items since we photographed the car: replaced lower right dash crash pad; new left side window crank; new clutch pedal pad; and new trunk carpet.
JUST SOLD – THANK YOU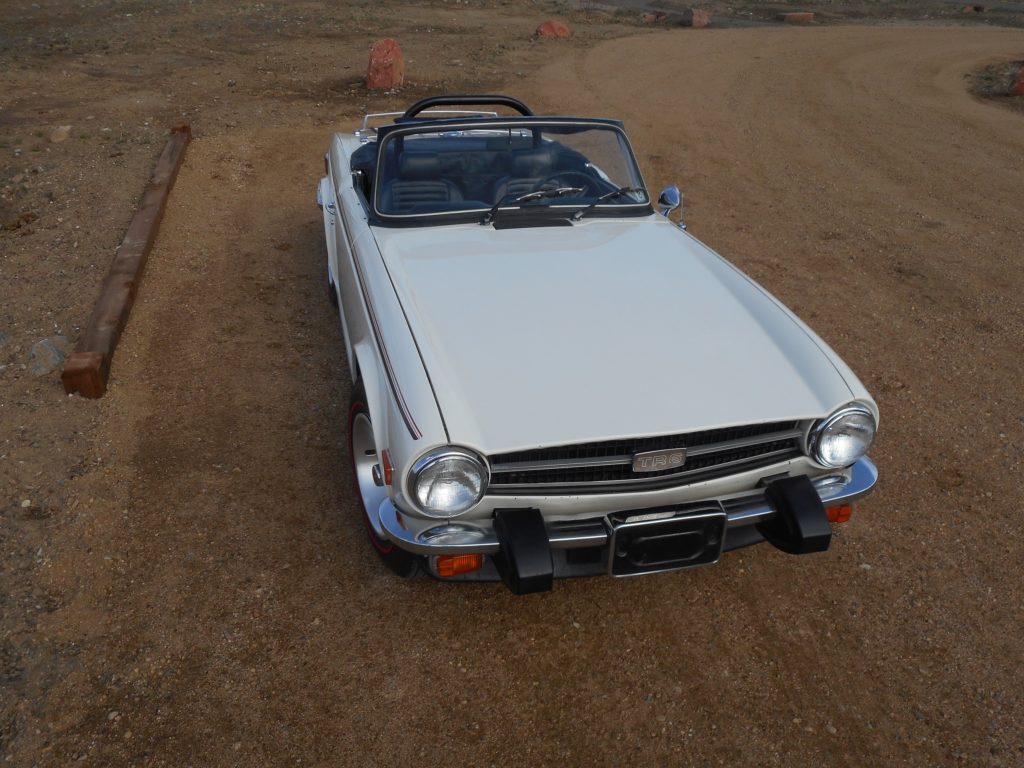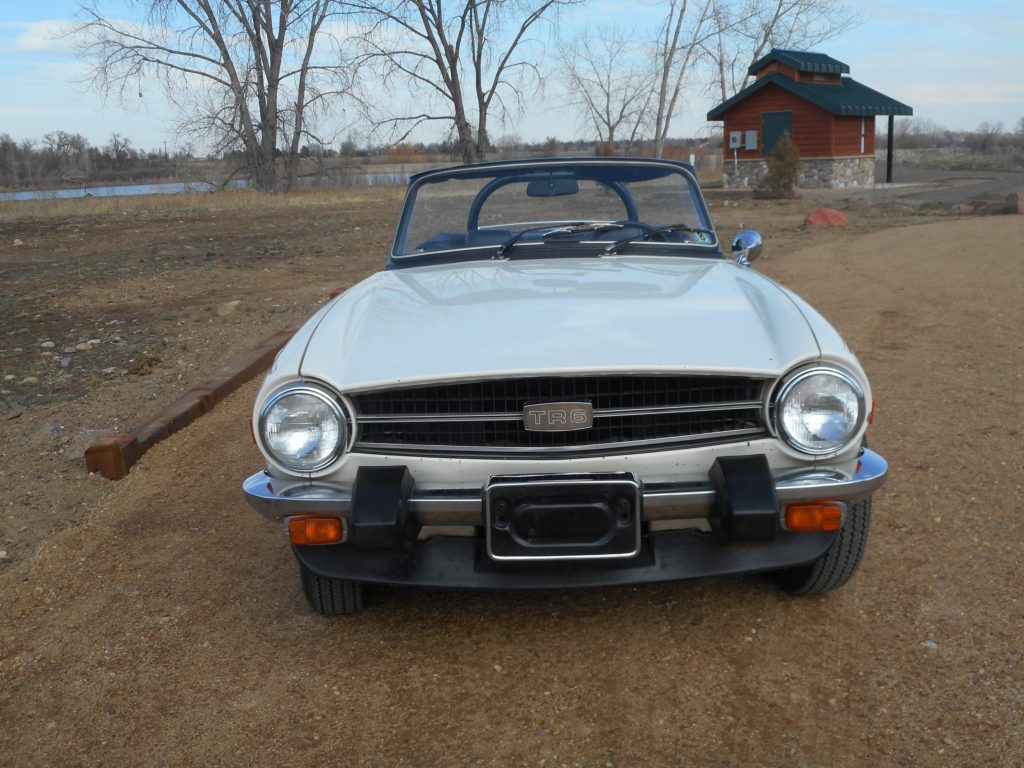 The original paint on the car shows normal rock chips and wearing of the paint at the lower edges of the wheel wells but overall is in very good condition. The side stripes on the car were dealer applied when new (are decals, not painted on) and different styles of these are commonly found on TR6's. All chrome trim intact and in good condition.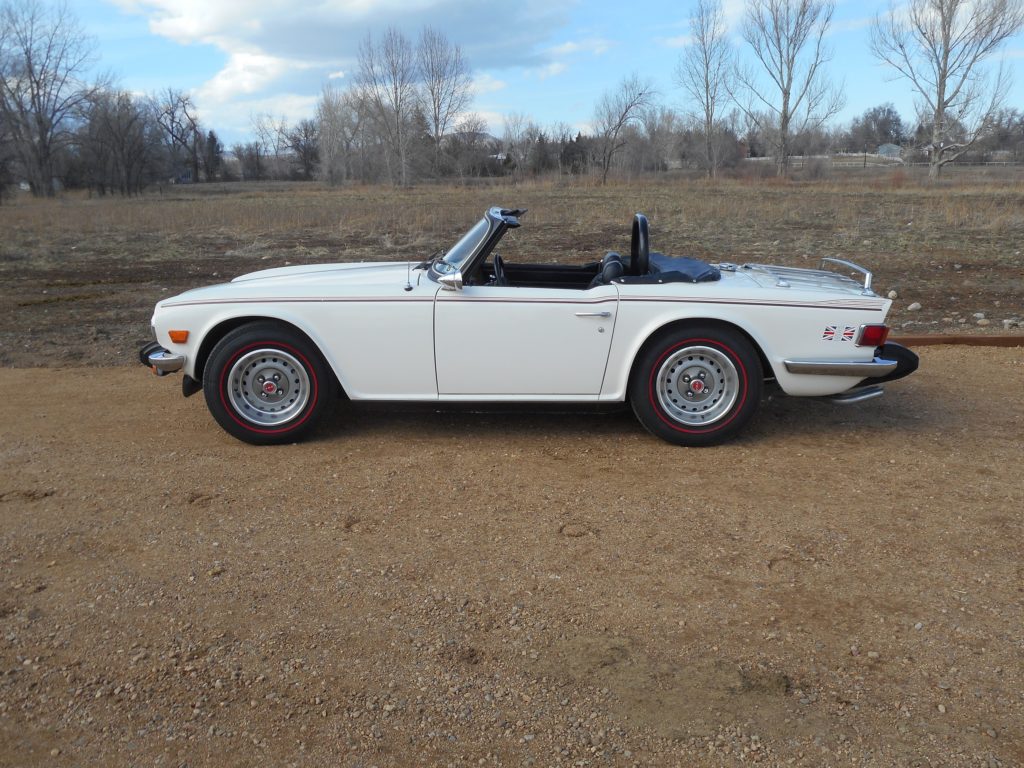 The well made roll bar is a bolt-in installation so could be removed per the owners want. It does not interfere with the operation of the top. Both the top boot (cover) and the top are new.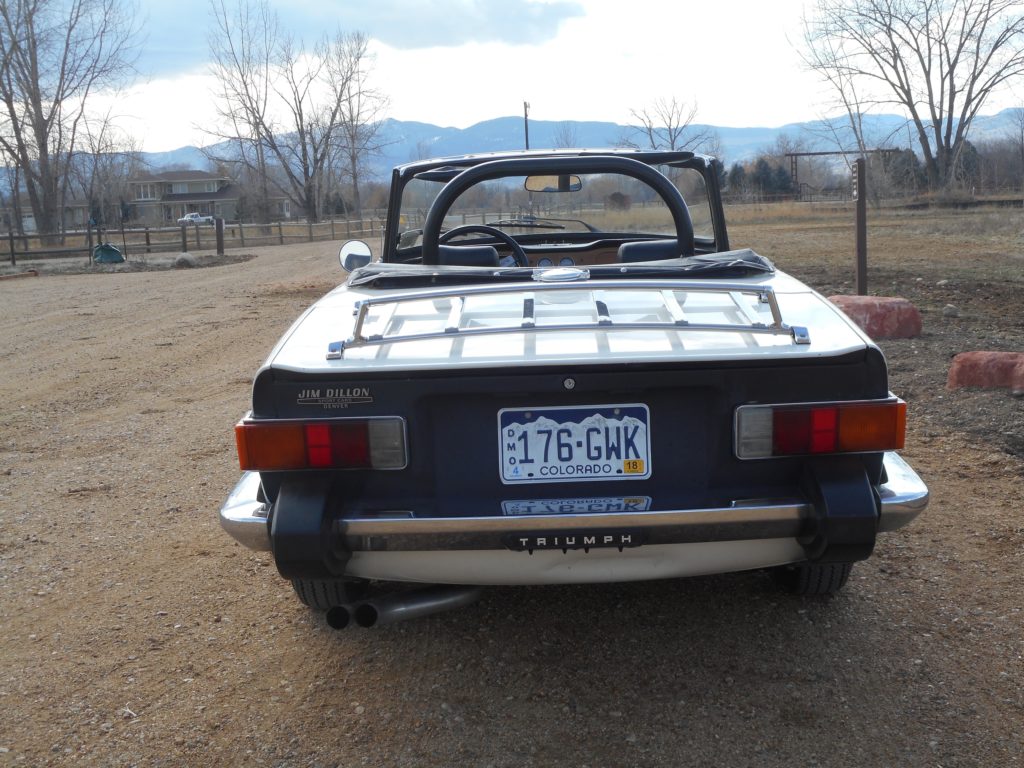 The only sizable crease or dent on the body is visible above on the rear valance beneath the rear bumper. Any competent body shop would be able to correct this fairly easily if desired.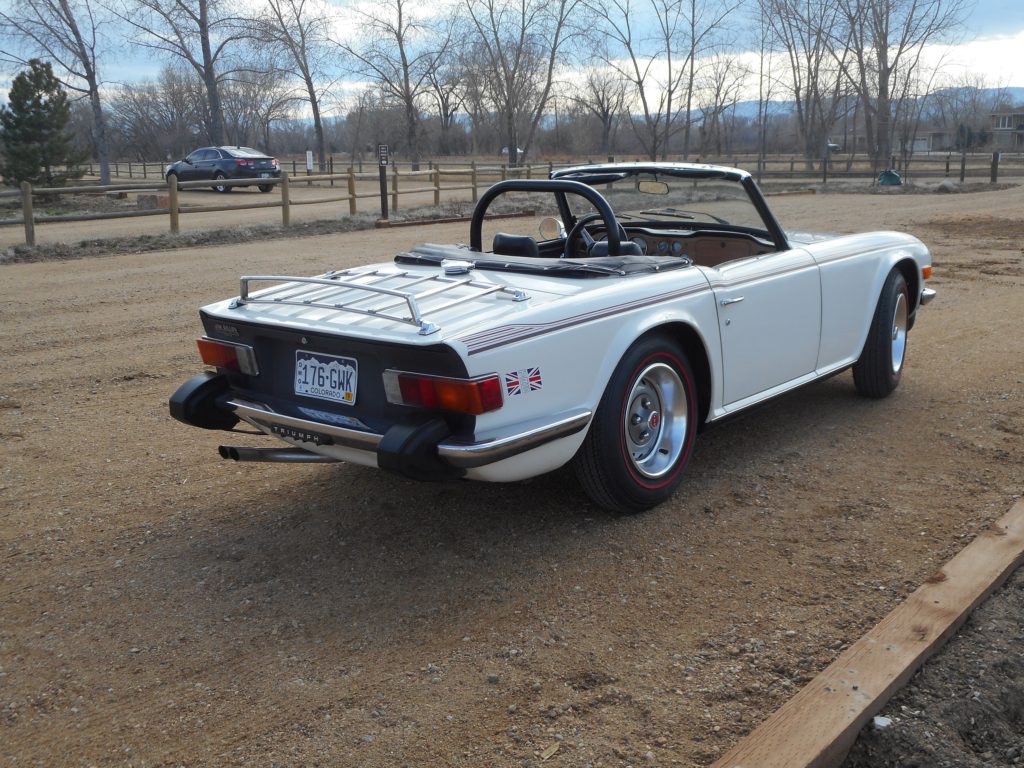 The car received a recent professional mechanical refurbishment (receipts with car) to bring it into top shape which included:
New rear brake cylinders.
Rebuild carbs.
New front bearings; new bearings for IRS hubs
New pinon seal.
Front suspension rebuilt with new components; new shock mount rubbers; new sway bar links; new steering rack bushings.
New clutch and release bearing; new clutch slave cylinder; new master cylinder.
All new hoses (heater, radiator, intake manifold); new clamps; new thermostat; new radiator cap.
New heater control valve.
New gaskets (oil pan, valve cover, hypoid housing).
New fan and air pump belts.
New water pump and pulley.
New ignition rotor; new Petronix Electronic Ignition.
Tune up; new plugs; plug wires.
Replace all fluids (engine, transmission, rear differential, coolant).
New oil filter with spin off conversion.
Rebuild alternator.
New turn signal switch; new top release handle.
New muffler and exhaust.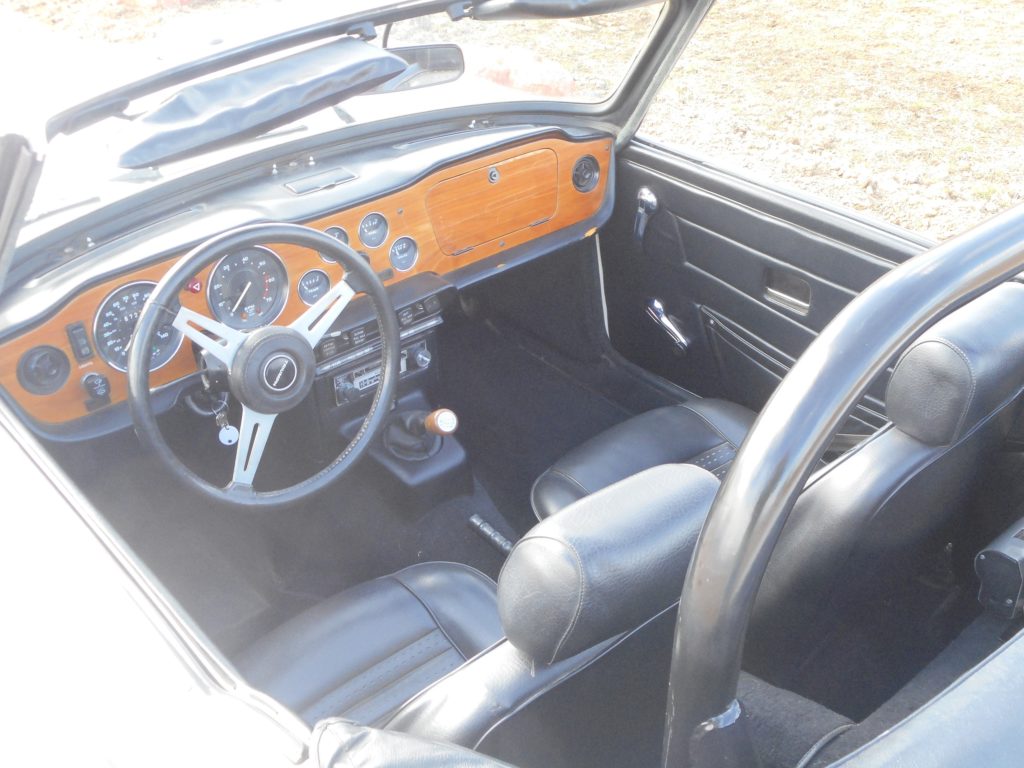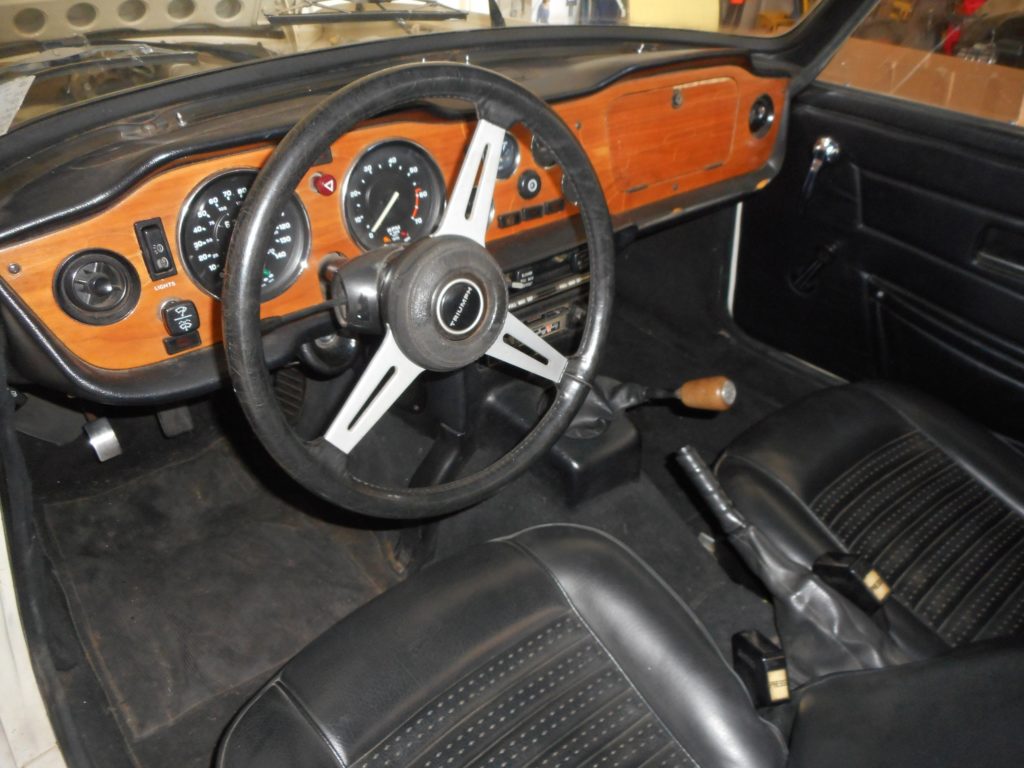 The interior is in very good condition (original seat upholstery without any tears/splits, door panels, carpets, etc.) in # 11 Triumph Black. We have installed a new clutch pedal pad; a new lower right dash pad;  new left door window crank handle and new trunk carpet since these photographs were taken. The wood dash does show some cracks in the finish veneer (new original type wood dashes are readily available for the car;$ 350.00 from The Roadster Factory (our favorite TR parts supplier). All gauges, horn, lights (including interior and glove box lights) working.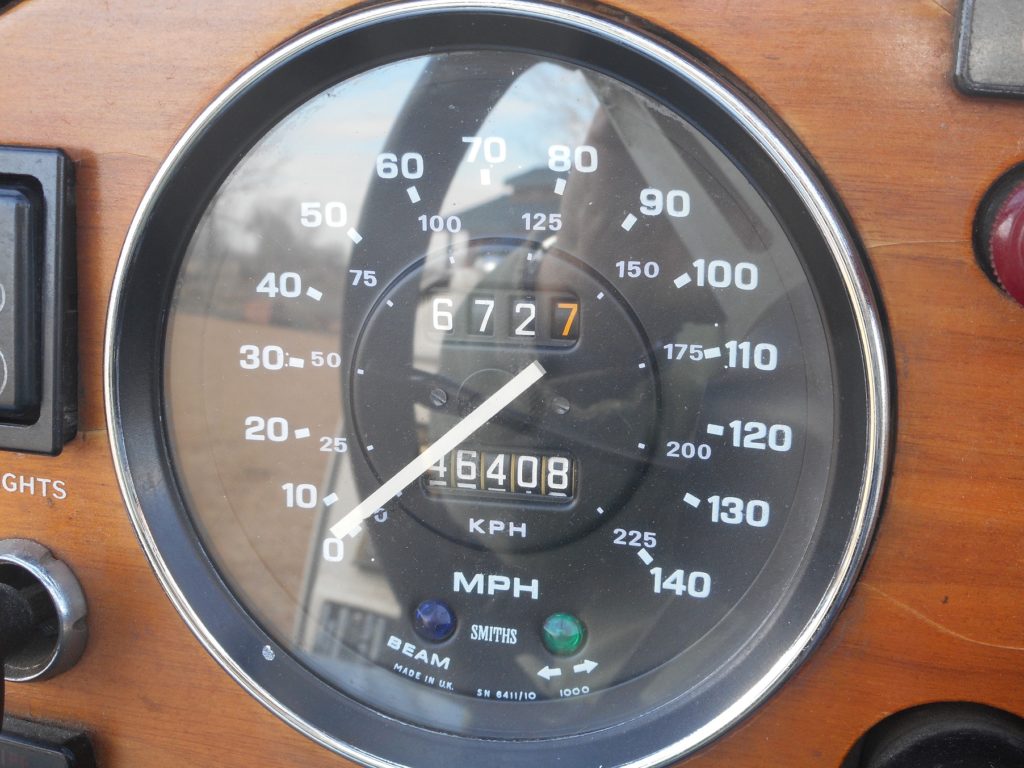 Given the car's long time single family ownership and its condition, we believe the mileage shown on the odometer is the original mileage on car.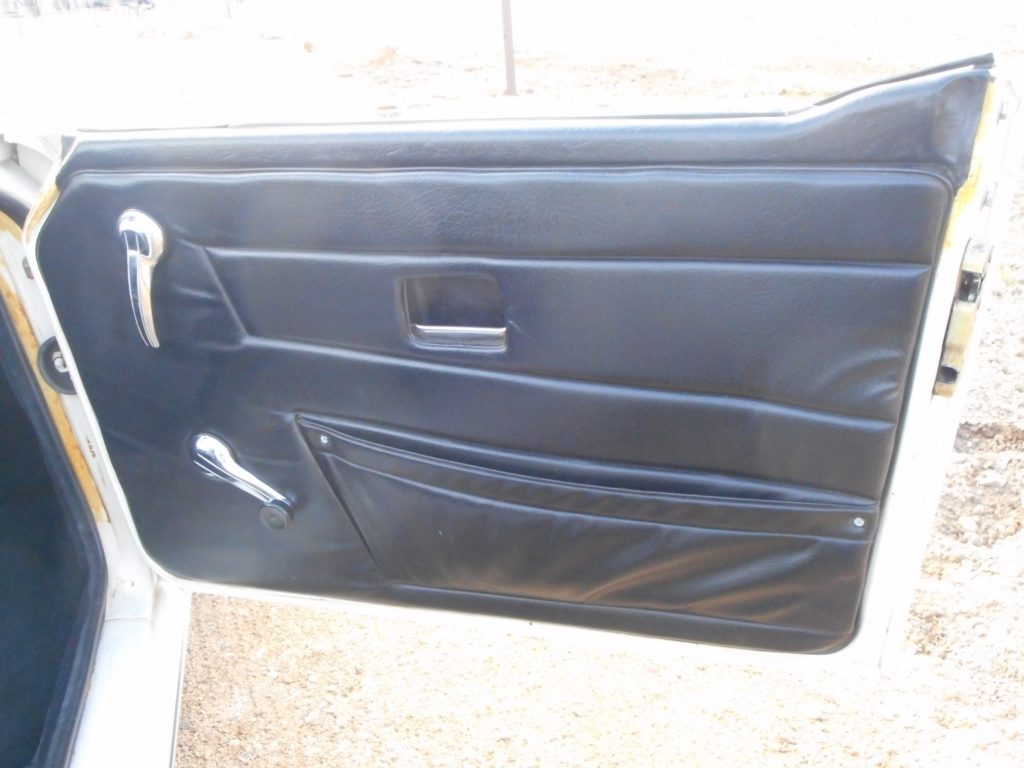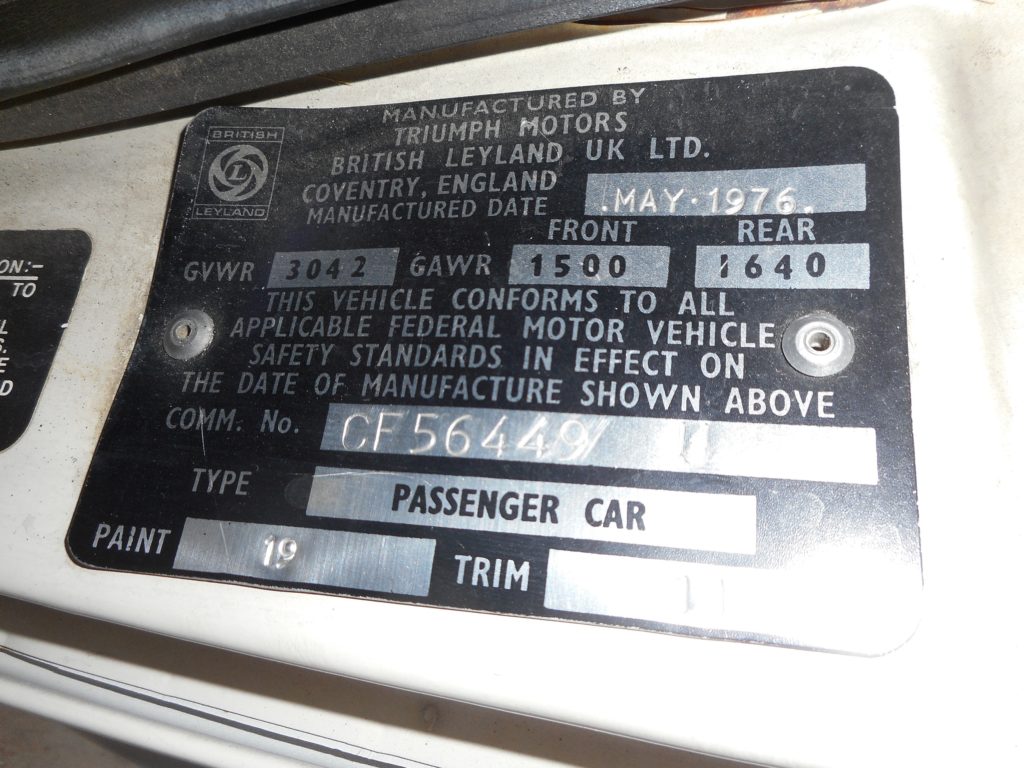 May 1976 production date (last year for the TR6); one of but 6,083 US spec. TR6s produced in '76.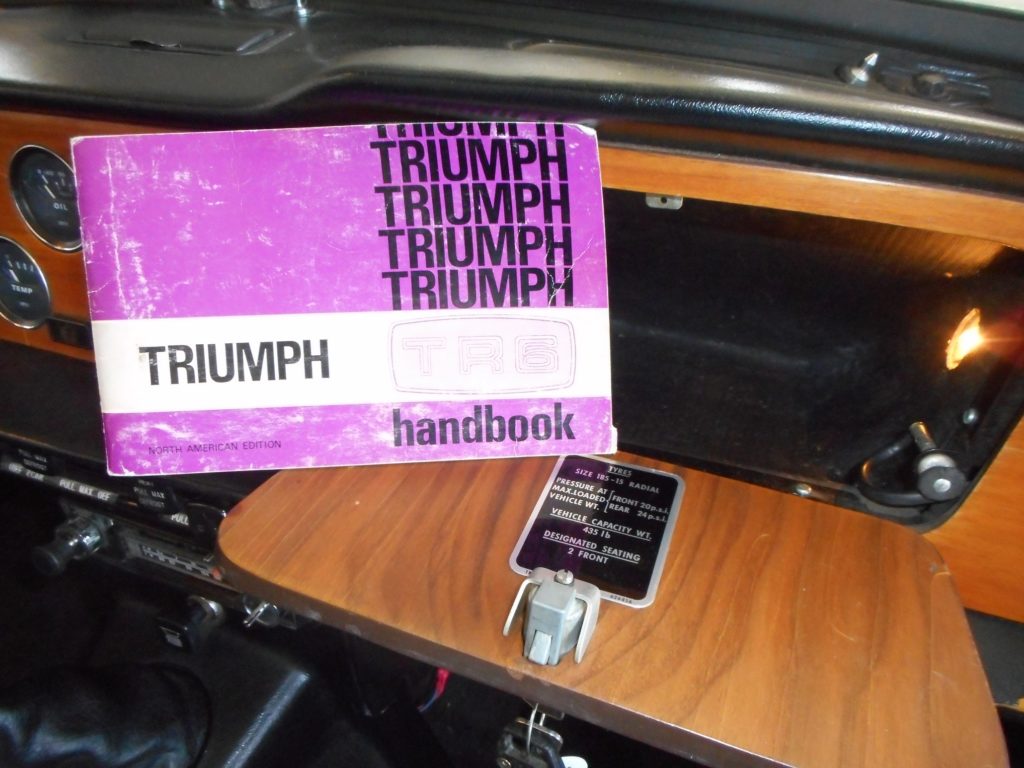 Original jack and handle in good working condition.
No rust in trunk pan or elsewhere except surface rust around battery.
Throaty sounding and torquey 2.5 litre straight six with twin Stromberg carbs produced 104 hp; is  coupled to a very smooth shifting four speed all synchromesh transmission.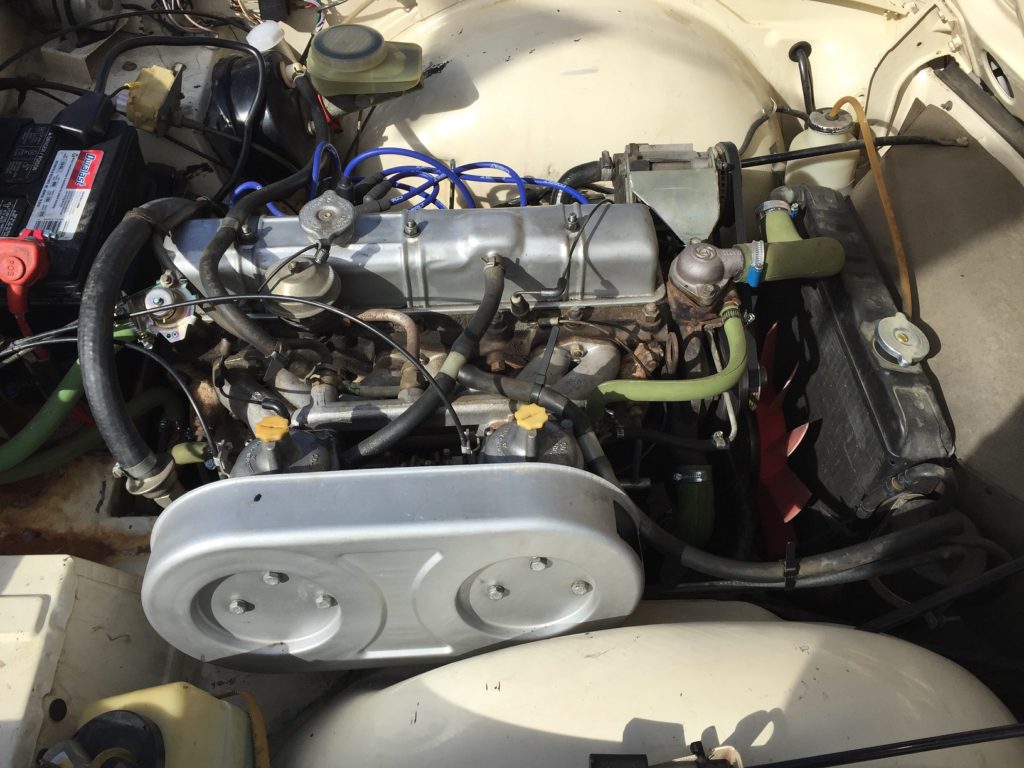 Engine No.: CF46632UE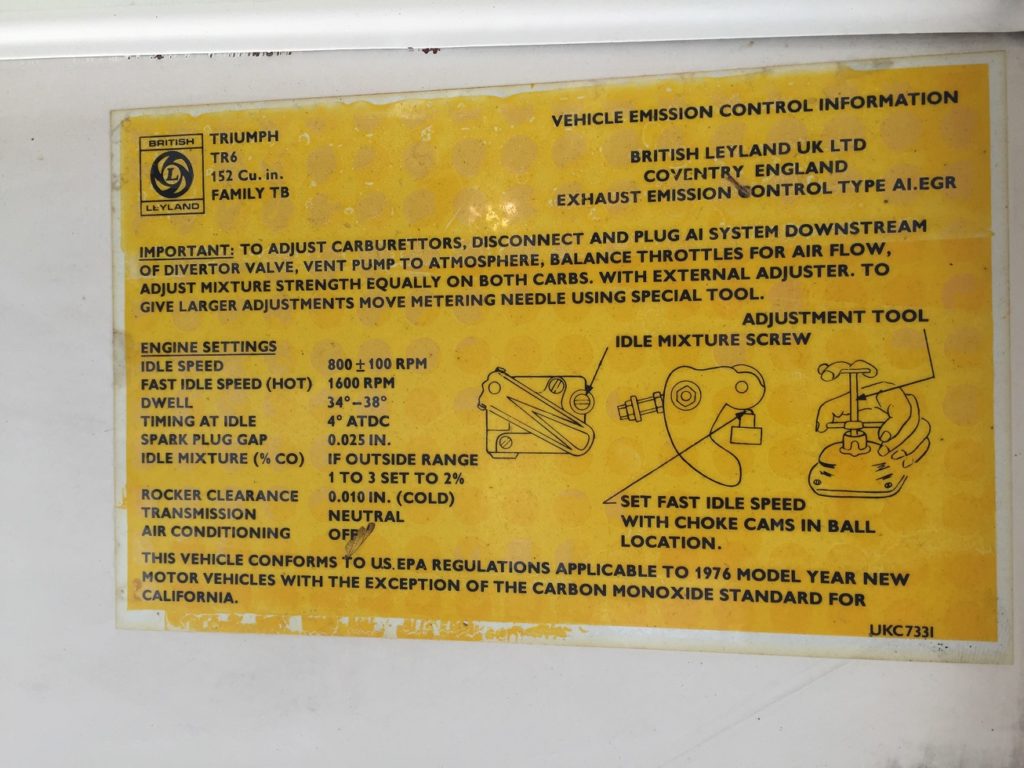 Decal under hood; very basice emissions controls. The car passed Colorado emissions testing.
Classic fuel filler cap.
Photo above shows new top with new clear rear windows (center section zips down which adds more top up ventilation). All other glass (windshield, side windows) on the car is very good.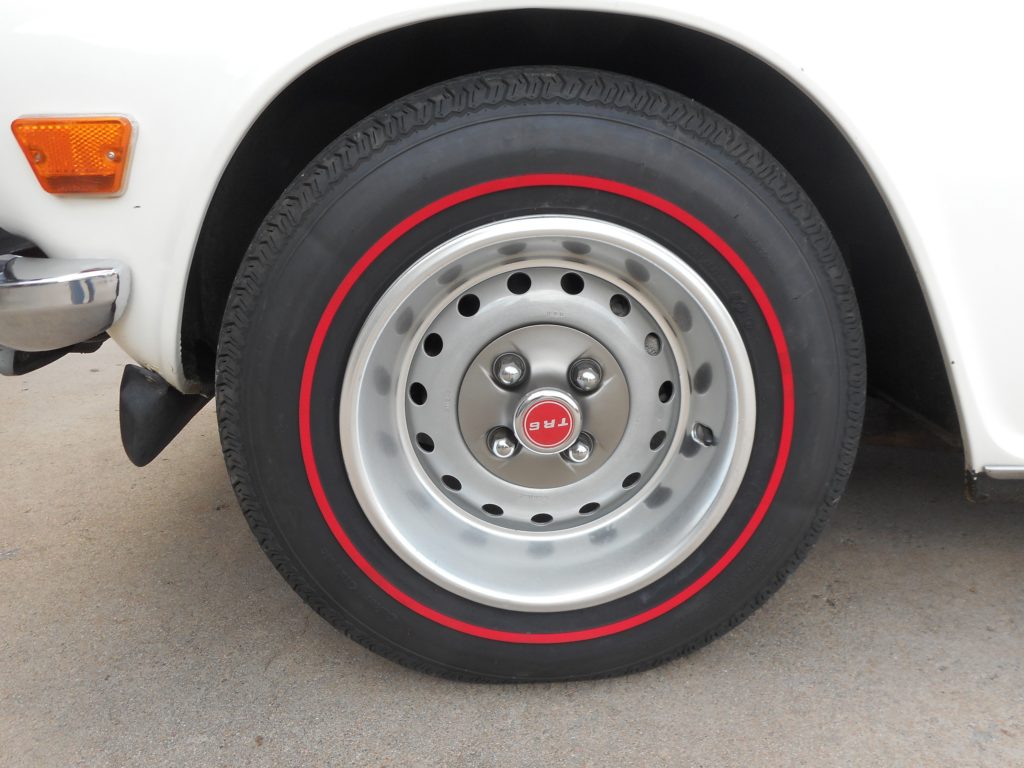 New Coker Classic Red Line 185 R15 tires. Wheels freshly powder coated.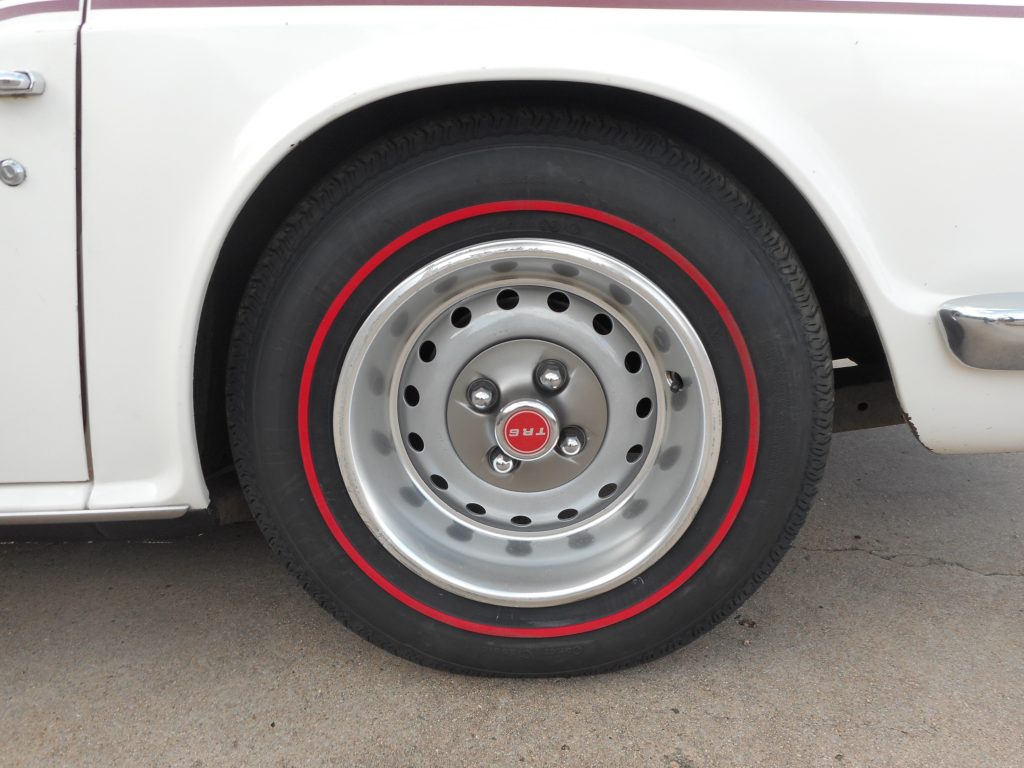 Note very good door gaps in these rear wheel photos.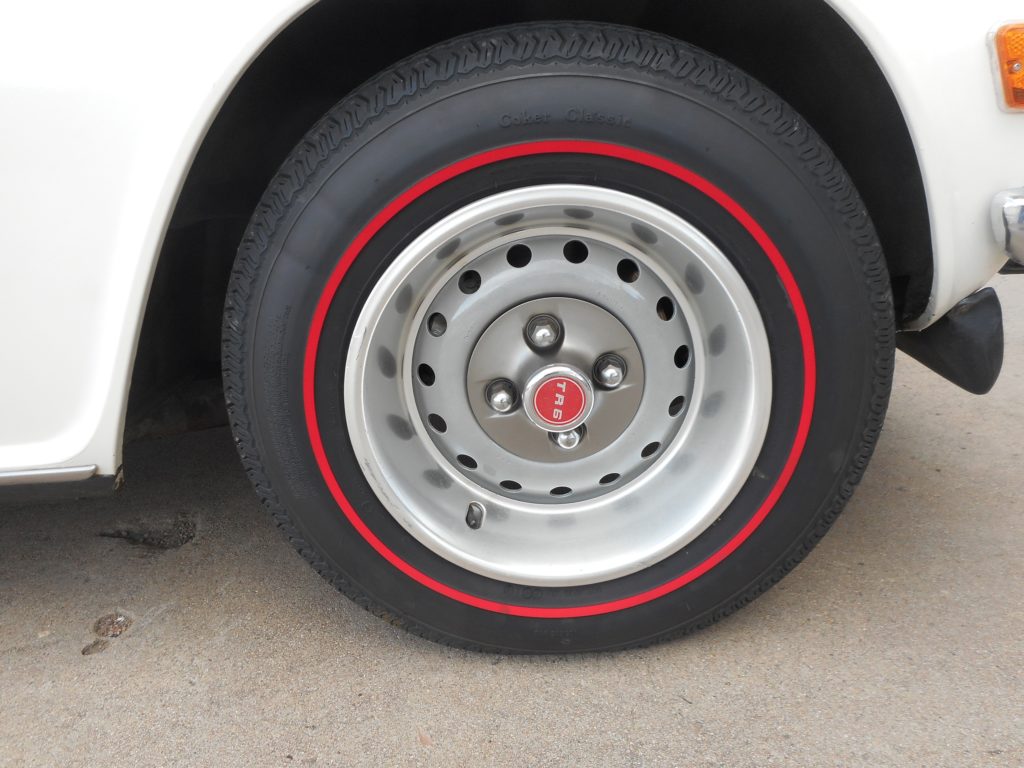 Under carriage is straight and rust free. Inner and outer rockers, chassis and pans all very good.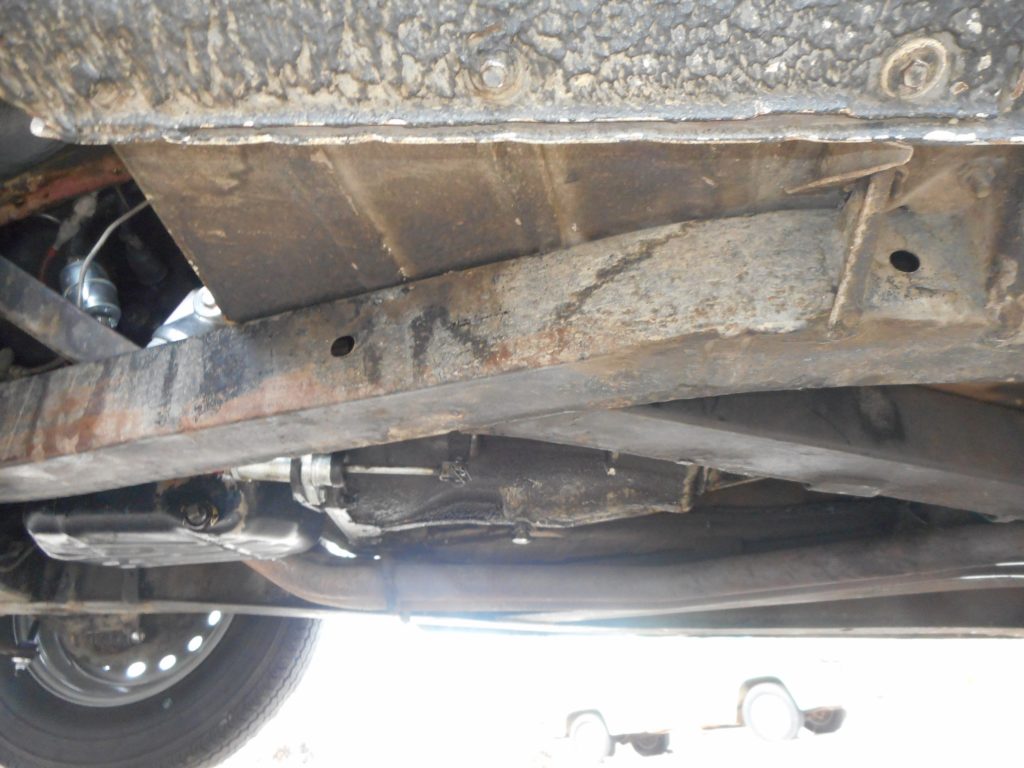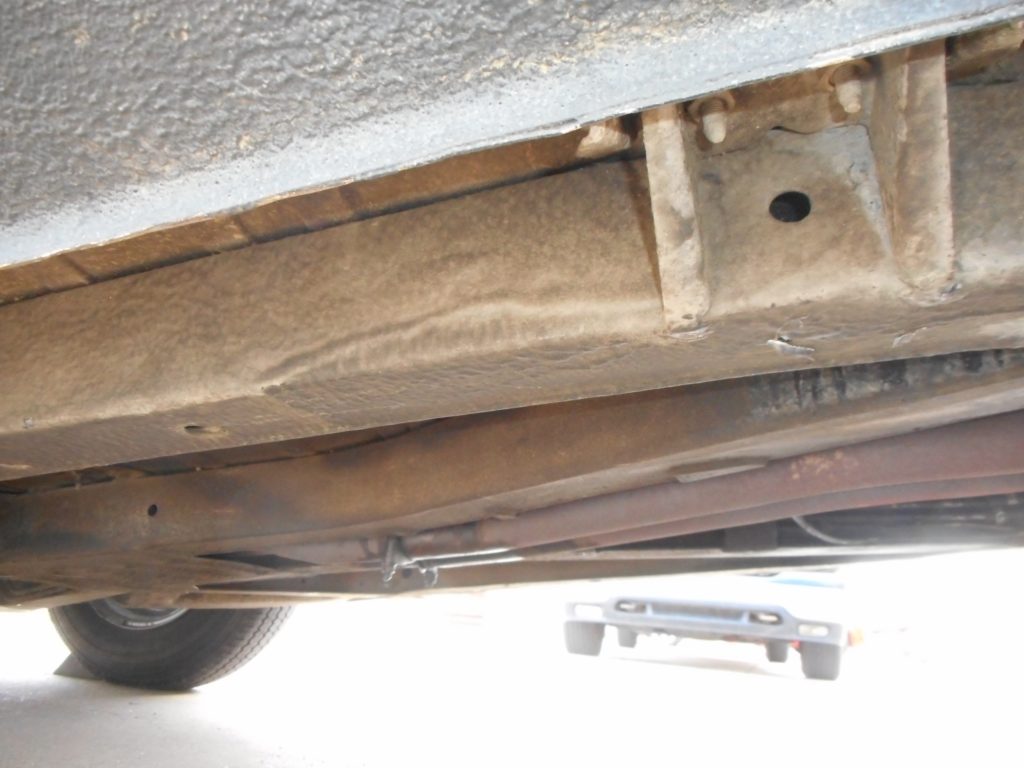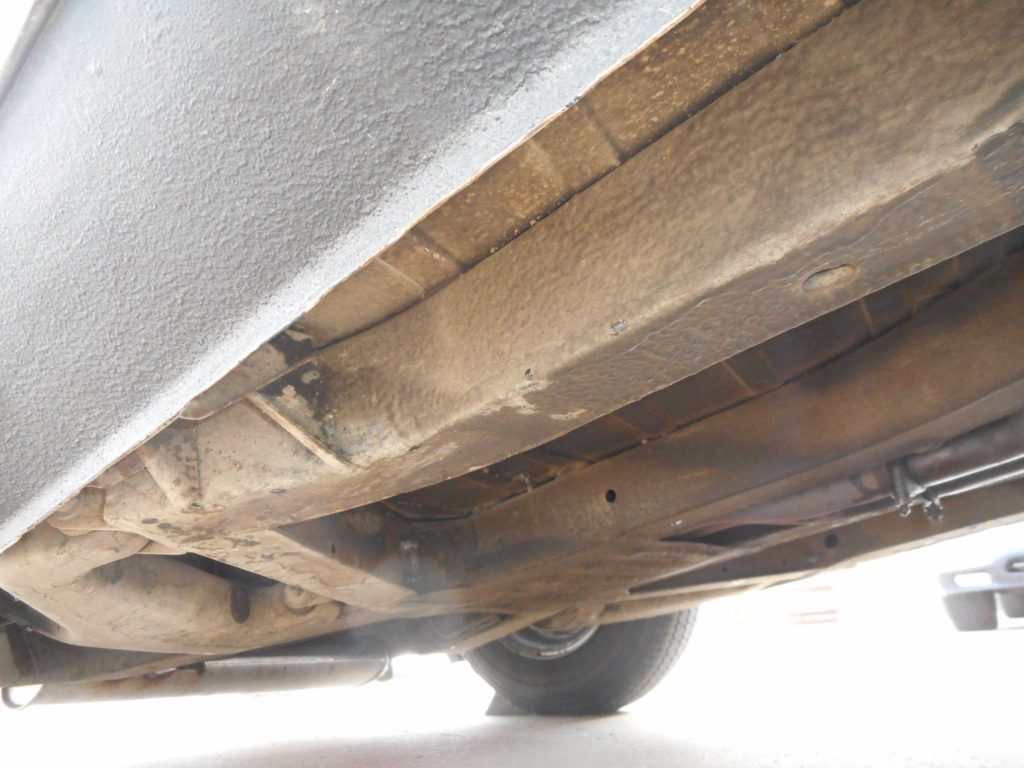 New muffler and tail pipes.
TR6 mufflers are made for both left and right hand drive versions.