1973 Porsche 914 For Sale We are very pleased to offer this beautiful, excellent condition 914 for sale. This is the best example of a 914 I've seen since my friend bought a new one in 1969! Truly a very original jewel of a car.
This is Porsche 914 # 4732909455. It is finished in Olympic Blue (L51P) and is sold with a clear, actual mileage Colorado title having but 65,186 miles. The car was purchased from its original owner just this past year. If you're looking for one of the finest examples of a Porsche 914 for your collection and driving pleasure please contact me about this one! Thanks.
JUST SOLD – THANK YOU
This 914 was purchased new on May 16, 1973 at Alpine Porsche Audi in Colorado Springs, CO as a gift for their daughter of Arvada, CO.  All of the original purchase and sales documents, along with the original window sticker, are with the car.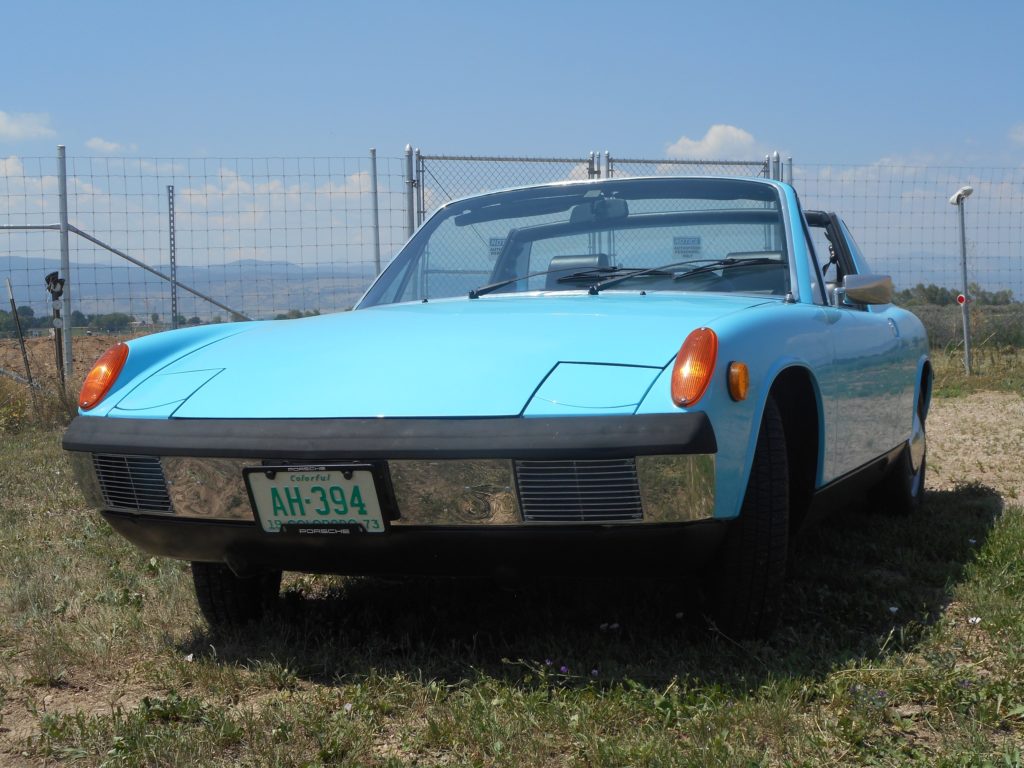 The original owner was a student at the University of Colorado in Boulder at the time . There is a rallye plaque on the dash from the University of Colorado Sports Car Club dated April 1974.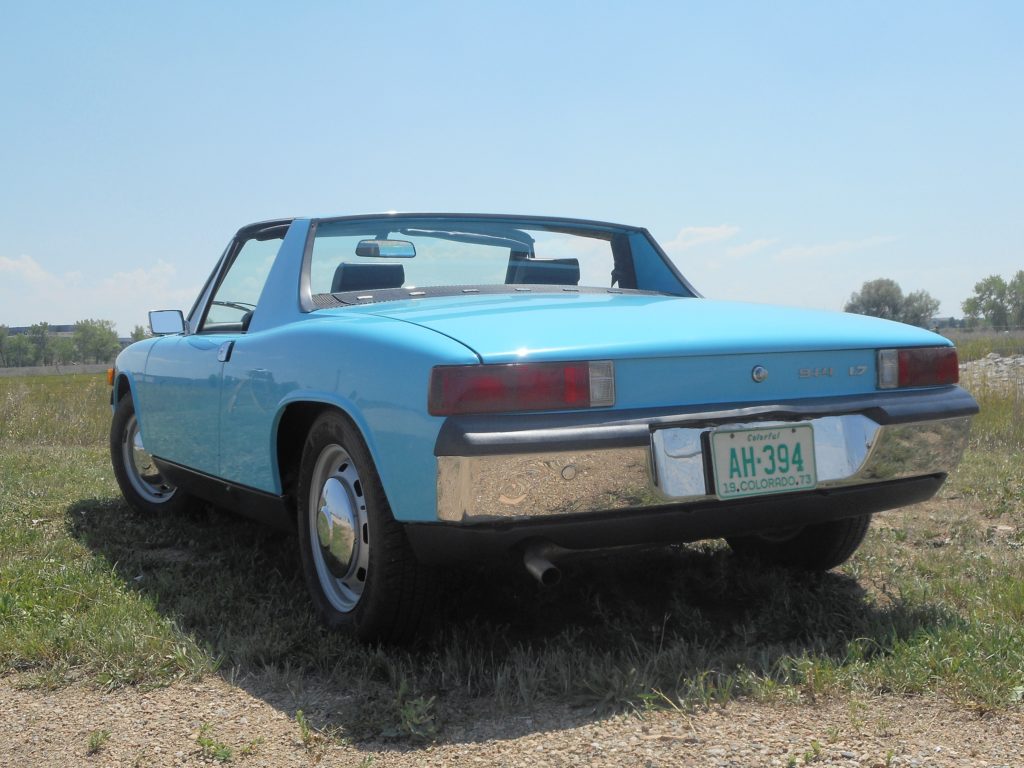 The body (all original metal panels) and paint on the car are excellent. The body is absolutely straight with no evidence of prior accident damage/repairs and there is NO rust on the car. The car received a very high quality, trim off/glass out, exterior re-paint in 2010.  A slight amount of metal flake was added to the original paint mix which provides a nice subtle gleam.  Many cars look better in photos than in person; this car looks better in person!
The car was recently serviced by one of the area's best Porsche shops (receipts with car) which included installation of new springs and shocks; complete tune up; new push rod tube(s) and oil cooler seals; new Optima battery. Also new Coco mats and leather wrap of the steering wheel.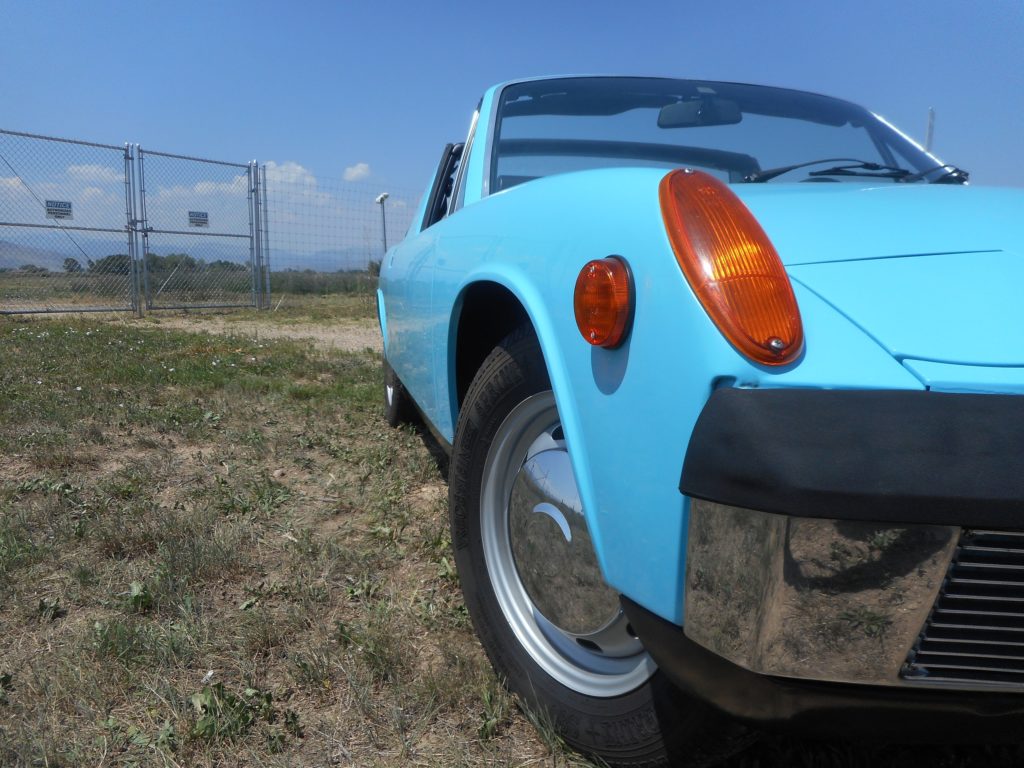 The car drives and runs like new. This is a "side-shift" shift linkage, five speed car vs the earlier and problematic "tail shift" editions.  It starts readily and comes to idle quickly; it accelerates, shifts and stops extremely well. As one of the closest to 50/50 weight distribution Porsches its handling is remarkable.  Cruising at 90 mph in fifth gear is achieved at just 4,000 RPM. The removable targa top makes for comfortable open air driving without the wind buffeting found with many convertibles. It is an absolute blast to drive and provides a very modern and spacious driving experience unlike many sports cars of the early '70's.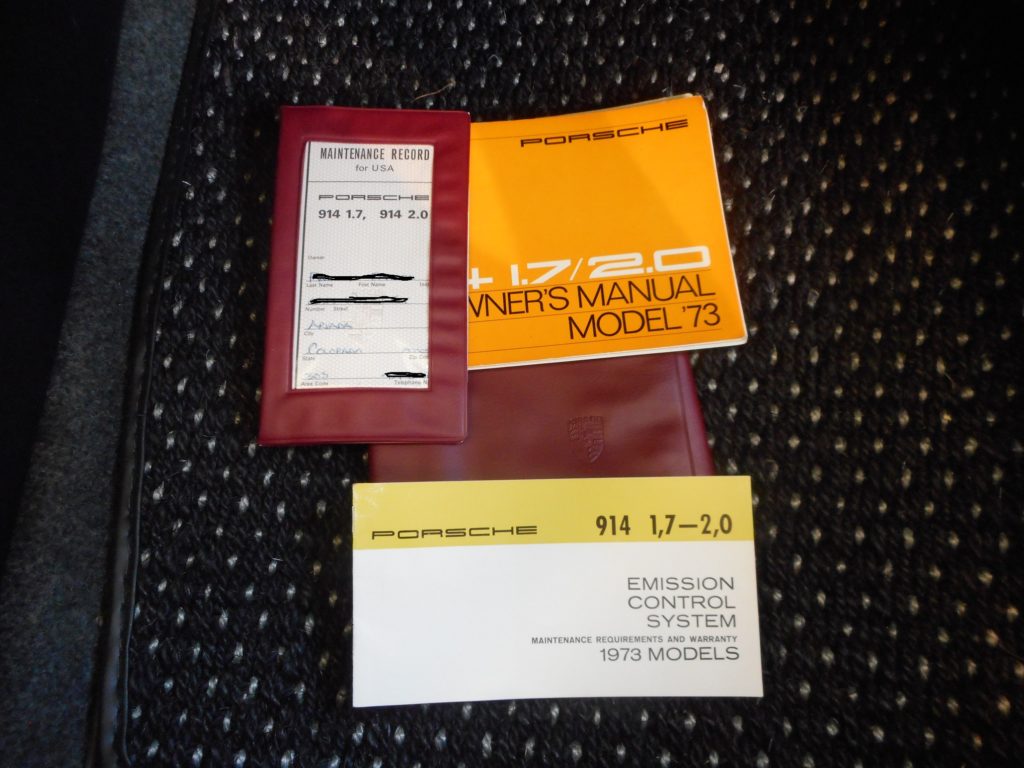 Complete glovebox literature as when sold new: Owners manual; Maintenance Record booklet, and Emissions booklet in original Porsche logo'd pouch (note: "black out" of original owner identification above for photo purposes only). Original jack; tool kit with tow hook with car as well.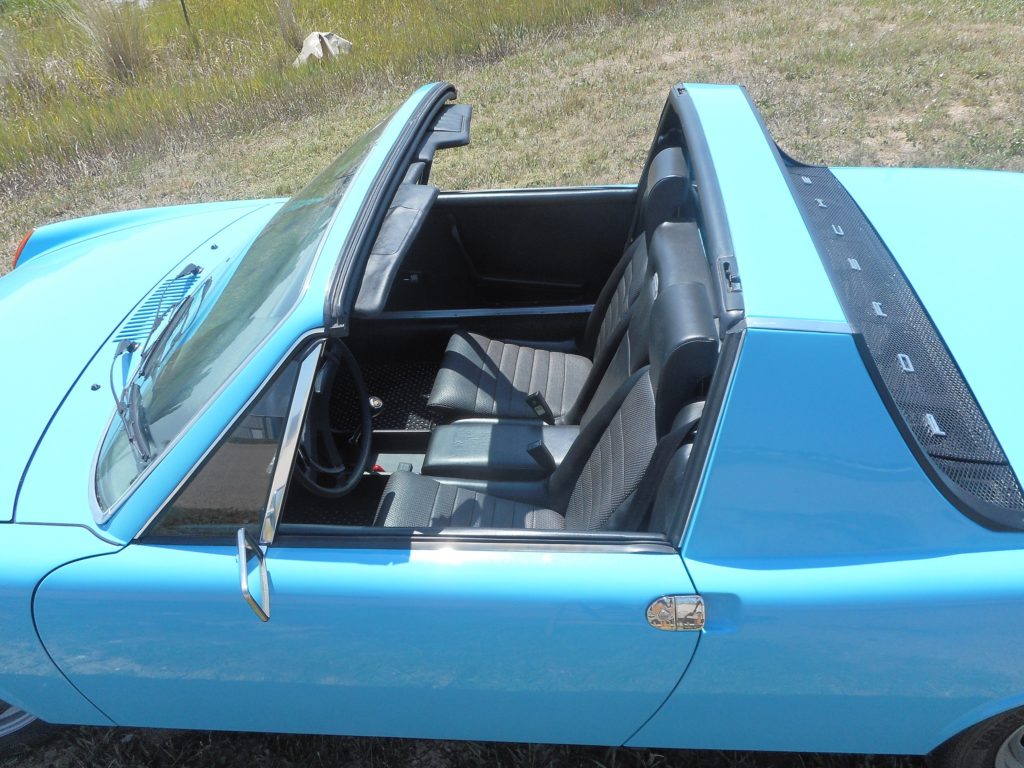 The interior of the car is in excellent condition as well with original upholstery. We found but two small blems; the dash top pad vinyl has a small crinkle/tear and the cosmetic seal that adjoins the base of the windshield and covers the front edge of the vinyl pad is slightly deteriorated at the left side defroster vent; both a new dash top vinyl pad and a new seal are included with the car.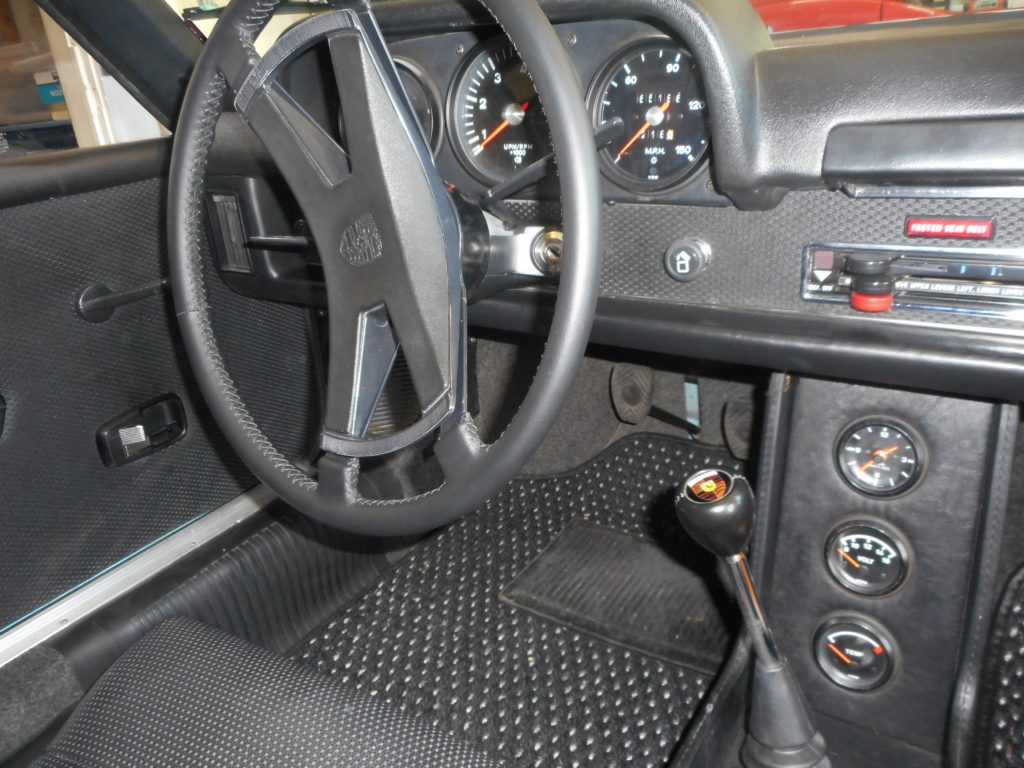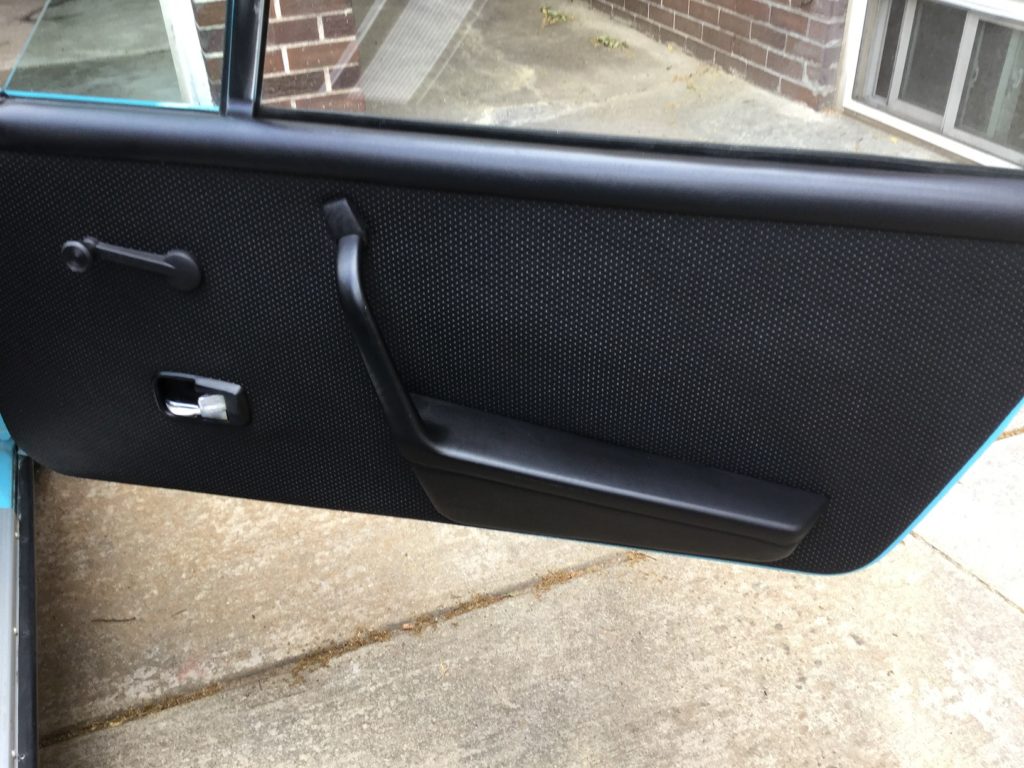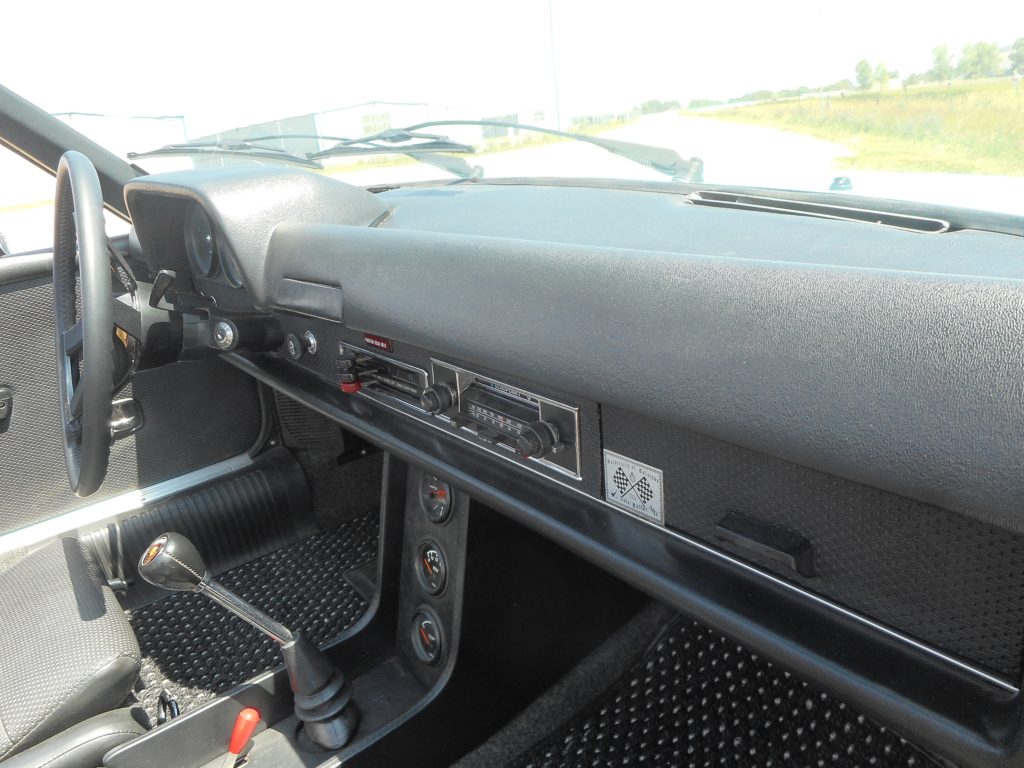 The car is completely matching numbers; never modified, with its original drivetrain. We understand that HO sticker on the car from Porsche shown above means that the fuel lines, clamps, fuel injector gaskets, battery cover and straps were replaced to factory specifications as part of a servicing recall in 1977.
The body # stamping on the right rear trunk floor matches the Karosserie plate on the left A pillar.  This car was built in December 1972 at the Porsche/VW plant in Onsabruck, West Germany.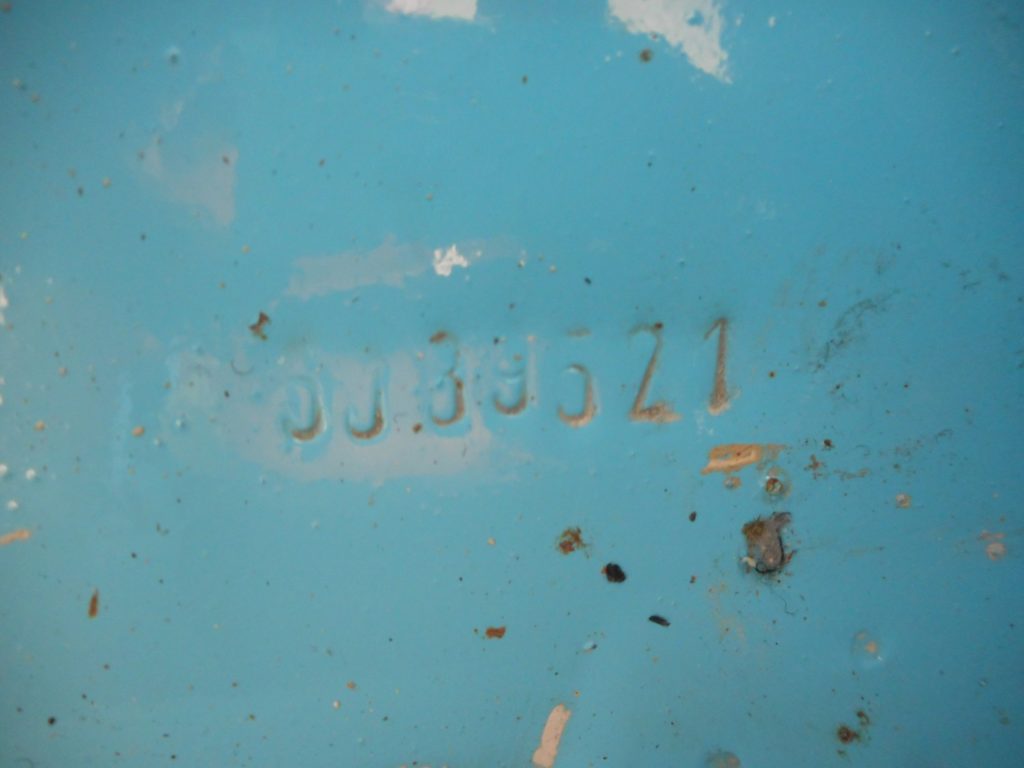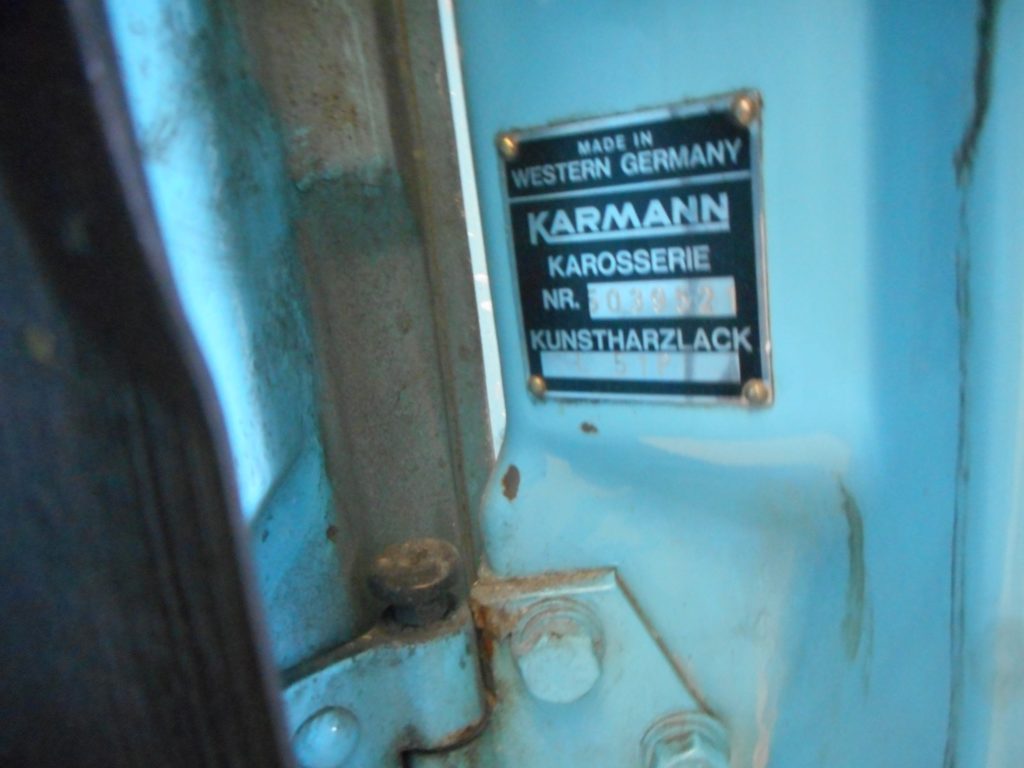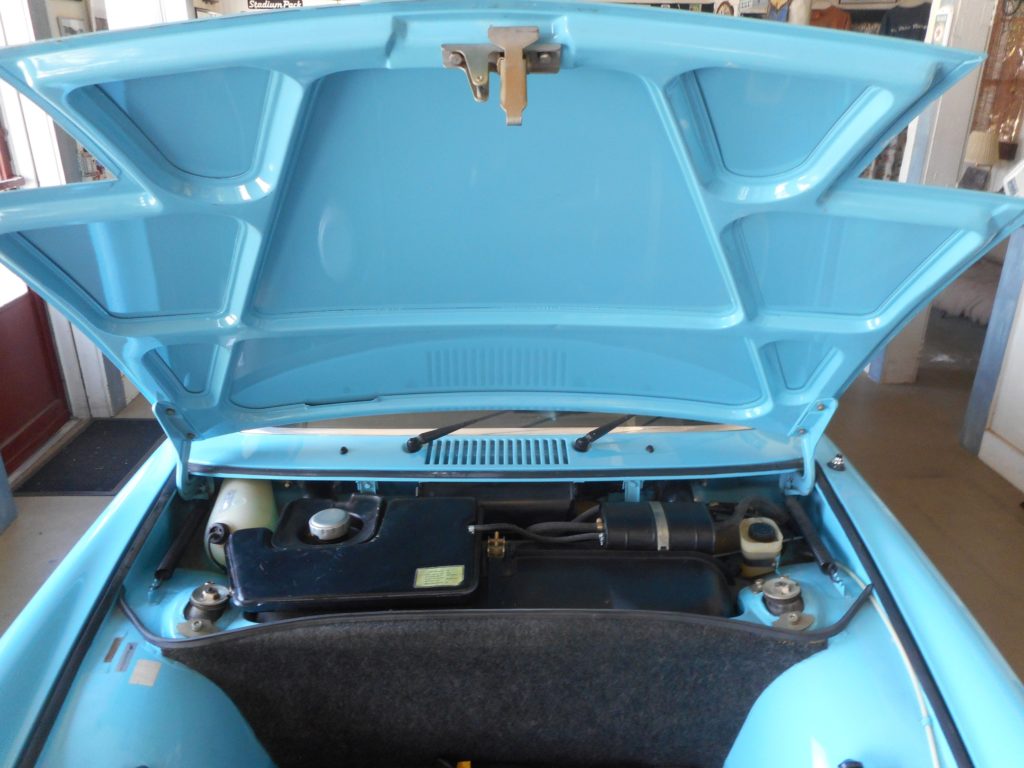 All original paint and carpets inside both trunks.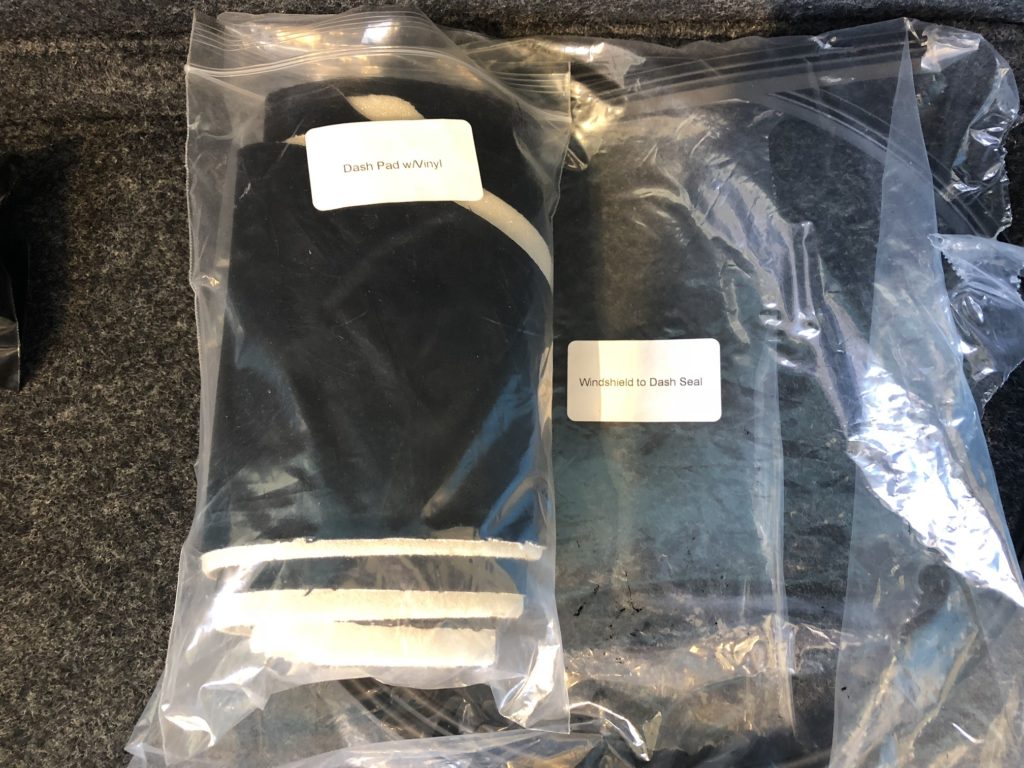 New dash top vinyl pad and seal included (minor blems on originals).
Original tool kit.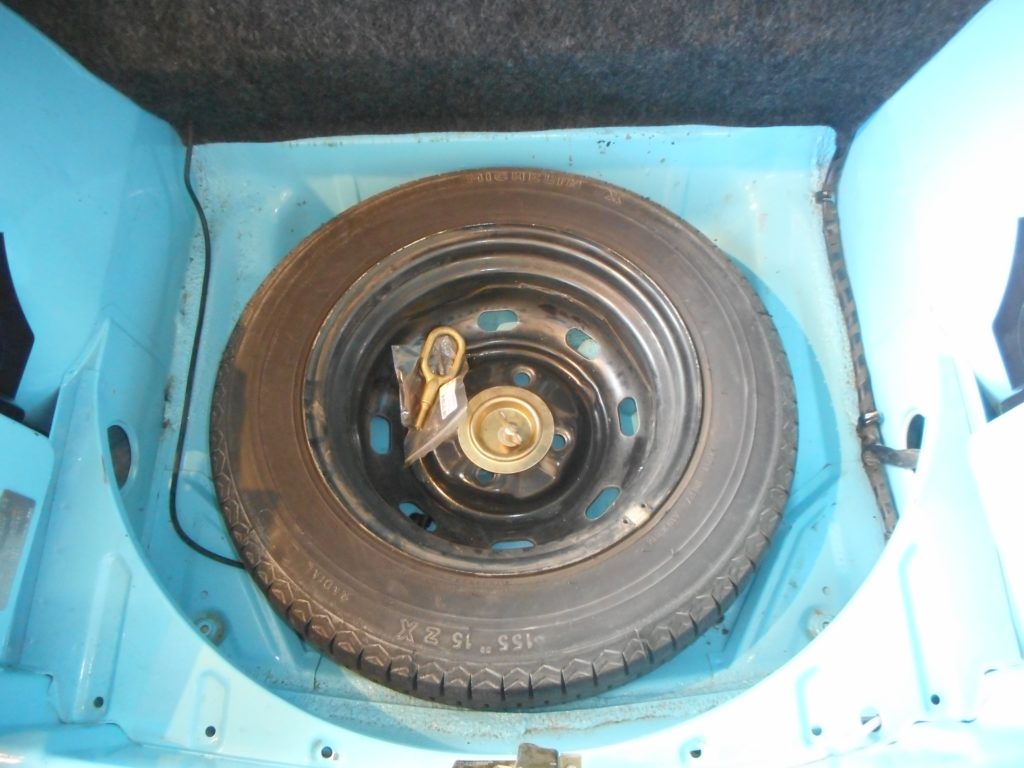 Note original vinyl padding (see above) found below original rear trunk carpet. Original jack in place with straps.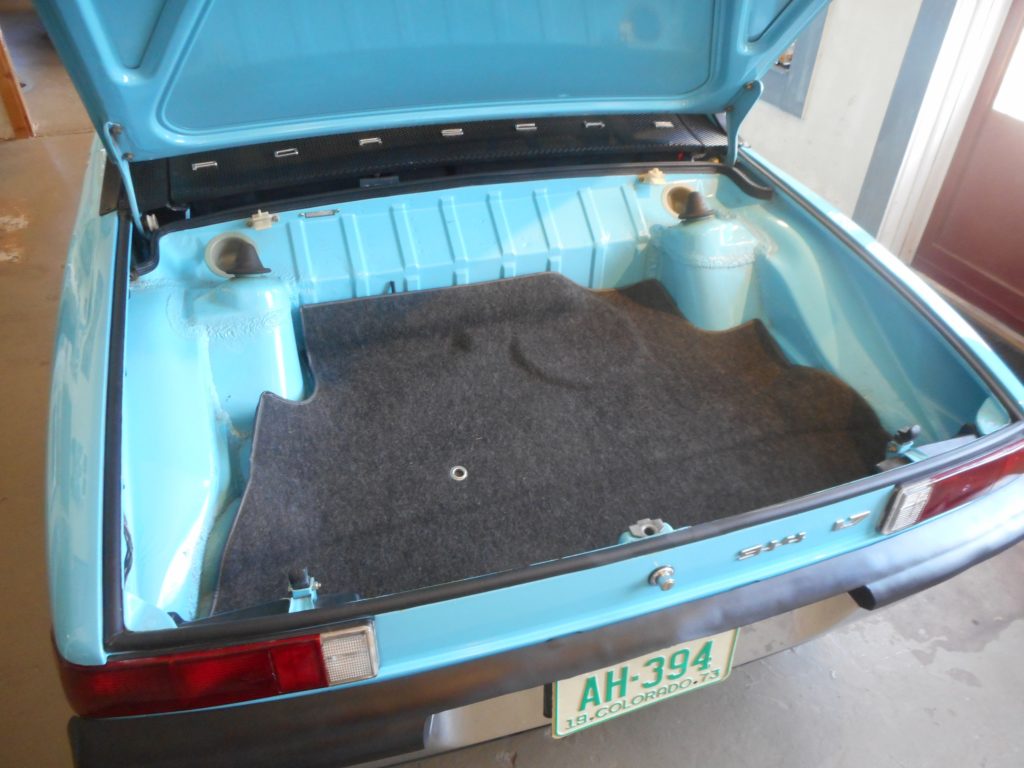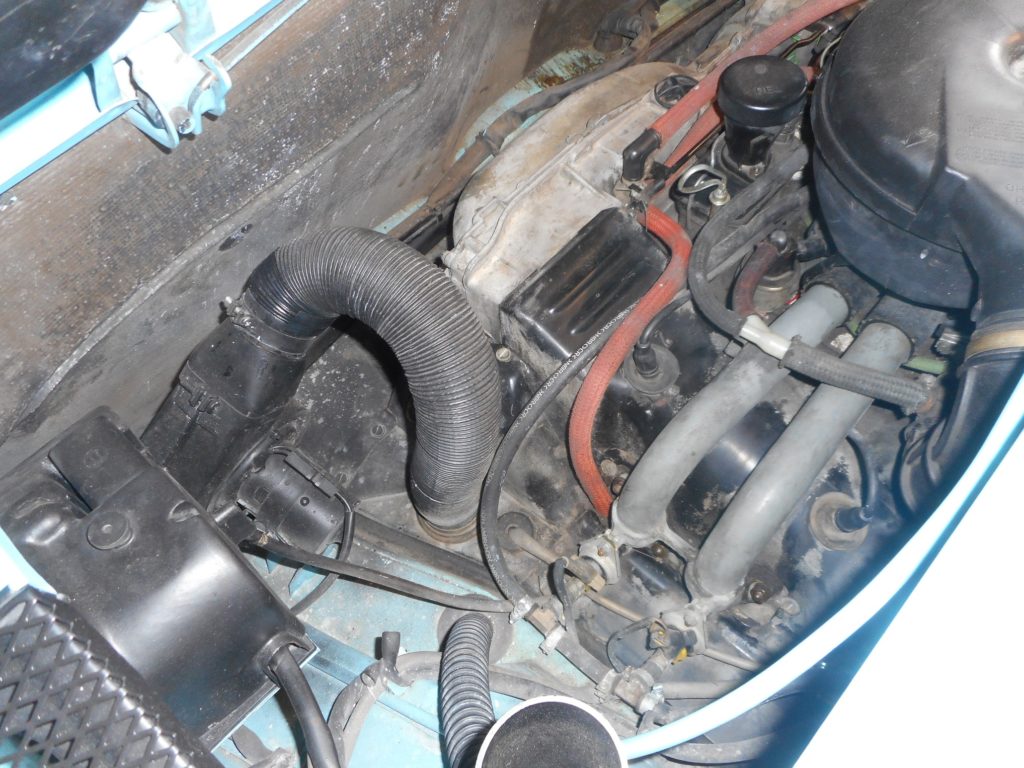 Original 1.7 litre, fuel injected, flat 4 cylinder engine produces 80 hp; in a car that weighs just over 2,000 lbs. While certainly not providing neck snapping acceleration, it moves out very nicely (0-60 mph in 13.3 seconds) especially when compared to British 4 cylinder sports cars of its time.  It very much feels faster than it is when driving and cruises easily at high speed (75 mph+); top speed of 116 mph.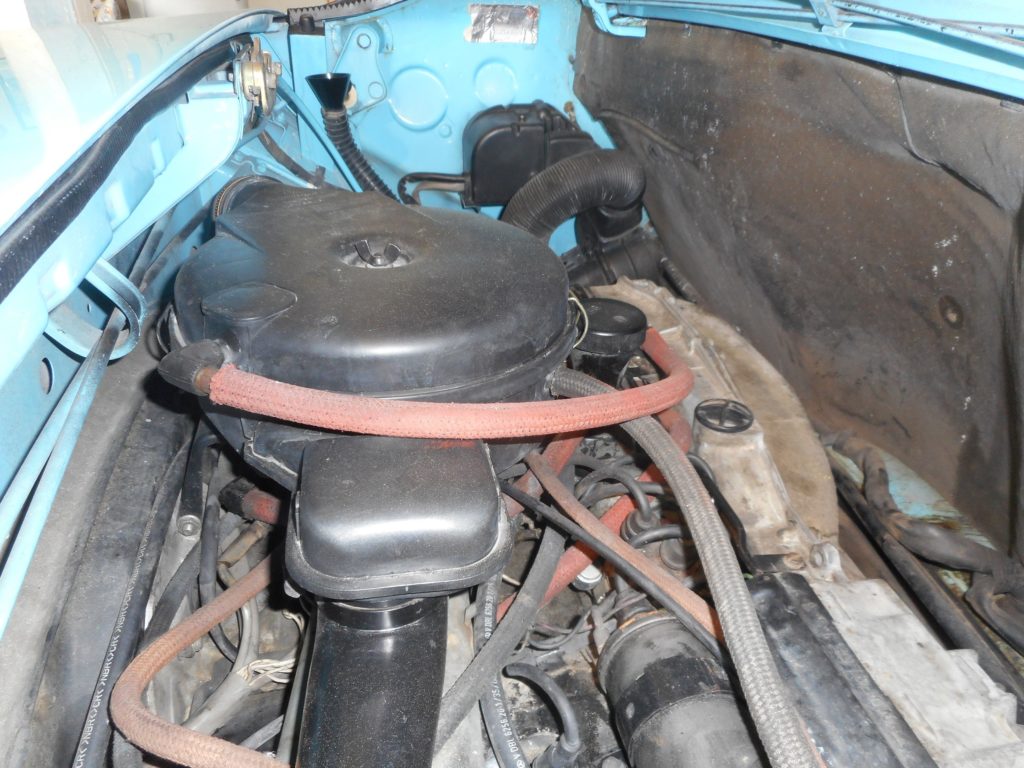 Note original sticker on left side engine bay.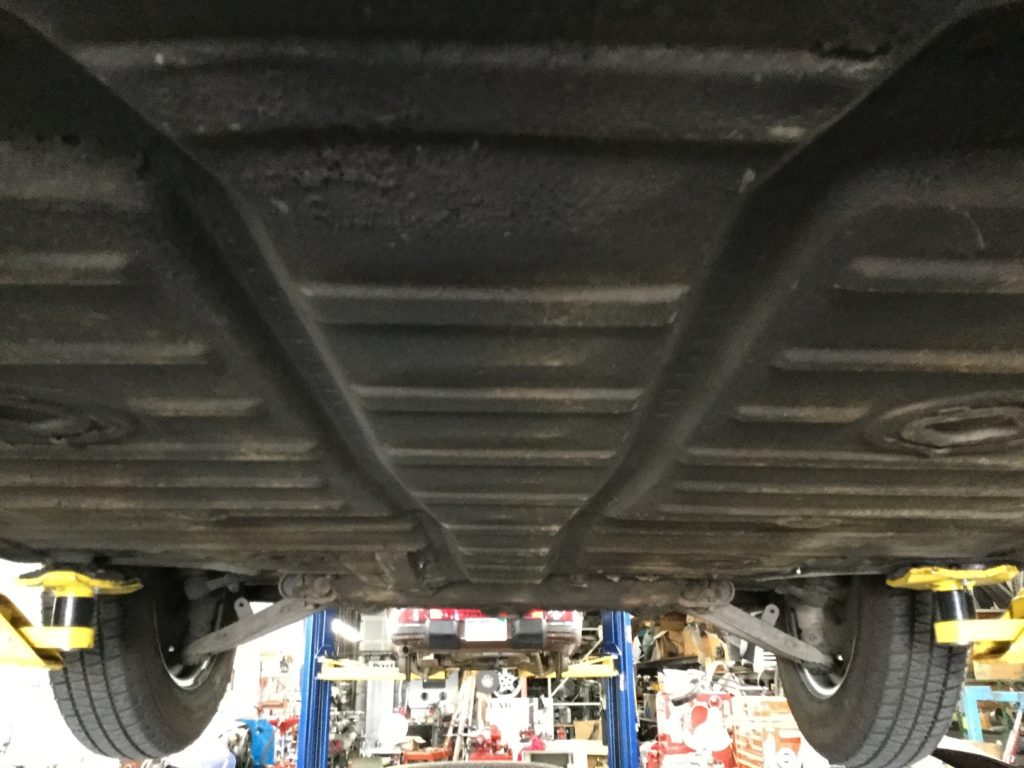 Undercarriage of car is very straight and rust free.