Contact Us
Phone: 303-931-5280
Email: vintagemotorslyons@gmail.com
Physical Address:
602 5th Avenue
Lyons, CO 80540
You can't miss us at the West end of Main Street!
Mailing Address:
Vintage Motors
P.O. Box 1045
Lyons, CO 80540
We Are OPEN By Appointment Monday through Friday (9 Am – 5 PM ) and Saturdays (when I'm typically at the shop from 10 AM – 5 PM; Drop ins welcome on Saturdays). We are Closed on Sundays.
Well we hope that the worst of the Covid Pandemic is over. We certainly respect anyone wishing to wear a mask (I may do so when indoors with several folks at once) and maintain social distancing; we also have hand sanitizer available and are disinfecting frequently touched surfaces, ie: door handles, etc.). We want to do our best to see that you, myself and anyone else we may be in contact with stay healthy! I appreciate your understanding and cooperation during this time.
Online: We are, of course, able to continue to make sales online to anyone, local or not, just as we have for our numerous out of state and foreign buyers over the past 13+ years. Please go to the Cars We've Sold page of this site and to Vintage Motors Lyons on Google Maps to read testimonials from many of our online buyers. You may see that this has worked very satisfactorily for them so that you may purchase online with confidence. I am, of course, glad to provide you with any further information, additional photos, etc. so that you may make a completely informed purchase decision.
Please call me at 303-931-5280 or send me an email to vintagemotorslyons@gmail.com should you have an interest in any of the cars we have for sale or in any of the Cars Coming listed.
Thank you for your understanding, cooperation and continued patronage. We hope that everyone will stay well and we look forward to continuing to serve your vintage car wants.
Thank You,
George
Your patronage allowed us to again make a generous donation to the Lyons Community Foundation which really benefits our local community – Thank You!
Directions:
We are located approx. 45 miles NW of Denver, CO. Approx. 13 miles NW of Boulder, CO. and approx. 10 miles west of Longmont, CO.
From Denver Int'l Airport:
Leaving the Airport on Pena Blvd. you will take the first exit on the right for the E-470 Tollway North – Exit 6B towards Boulder/Fort Collins. Follow it west to the Exit For I-25 North towards Ft. Collins; from I-25 North take Exit 243 and go West (left) on Hwy 66 West. In 16 miles you will come into Lyons; get in your left lane as you approach the T intersection at the west end of Main Street and come across directly into our lot.
If you'd rather come through Boulder from the airport, do not take the I-25 exit; rather stay on the NW Parkway until the end of the tollway where it becomes Storage Tech Drive; turn right onto the ramp for US 36 West to Boulder. Follow directions below "From Denver" below:
From Denver/Boulder:
Take Hiway US 36 from Denver towards Boulder. Take first exit at the bottom of the big hill (Davidson Mesa) coming into Boulder for CO 157 N Foothills Parkway. Stay left when exiting onto Foothills Pkwy.; stay on Foothills straight thru intersections with Baseline, Arapahoe, and Valmont (all lights) and it will then sweep to the right and merge into Hiway CO-119N (aka The Diagonal Hwy) towards Longmont. First traffic light past Valmont in Boulder will be Jay Road. Turn left at this light onto Jay Road heading west (fire station will be on your right); go west until 2nd traffic light and turn right onto 28th Street (is also Rt 36) and follow 36 until intersection with Hwy 66; turn left at light onto 66/36 combined and you'll come into Lyons
OR you can just stay on 36 which becomes 28th Street straight north thru Boulder but you will avoid any traffic and all the lights in Boulder by using Foothills Pkwy (above)
Go north on 28th St/Hwy 36 approx. 11 miles past the last traffic light in Boulder (which is intersection of Rt 36 and North Broadway) until you come to the light at the T intersection with Hwy 66. Turn left (west) onto Hwy 66 into Lyons.
The hiway is two lanes in each direction. Please know that the speed limit will first be 50 mph then drop to 40 mph and then to 25 mph in the town of Lyons (Beware: speeding tickets are a leading revenue generator for Lyons!). As you come into Lyons stay in left lane. You will go straight at light at 4th Ave. and in one block come to a T intersection; you will see our shop directly across from this T intersection (where if you turned right you would head towards Estes Park and turning left would take you onto Rt 7 up the So. St. Vrain Canyon to Allenspark) but from the left lane, cross over straight into our lot.
From Ft Collins/Loveland/Longmont:
Take Hiway 287 to Rt 66 (which intersects with 287 / aka North Main Street at the North end of Longmont). Follow Rt 66 West directly into Lyons – see last paragraph above to find us (!) in town.
From Estes Park:
Follow Rt 36 towards Lyons; we will be on your right side as you enter town, across the street from the St. Vrain Market; just a half block before the first traffic light in Lyons where you would turn left if continuing onto Hwy 66 east bound towards Longmont or Boulder.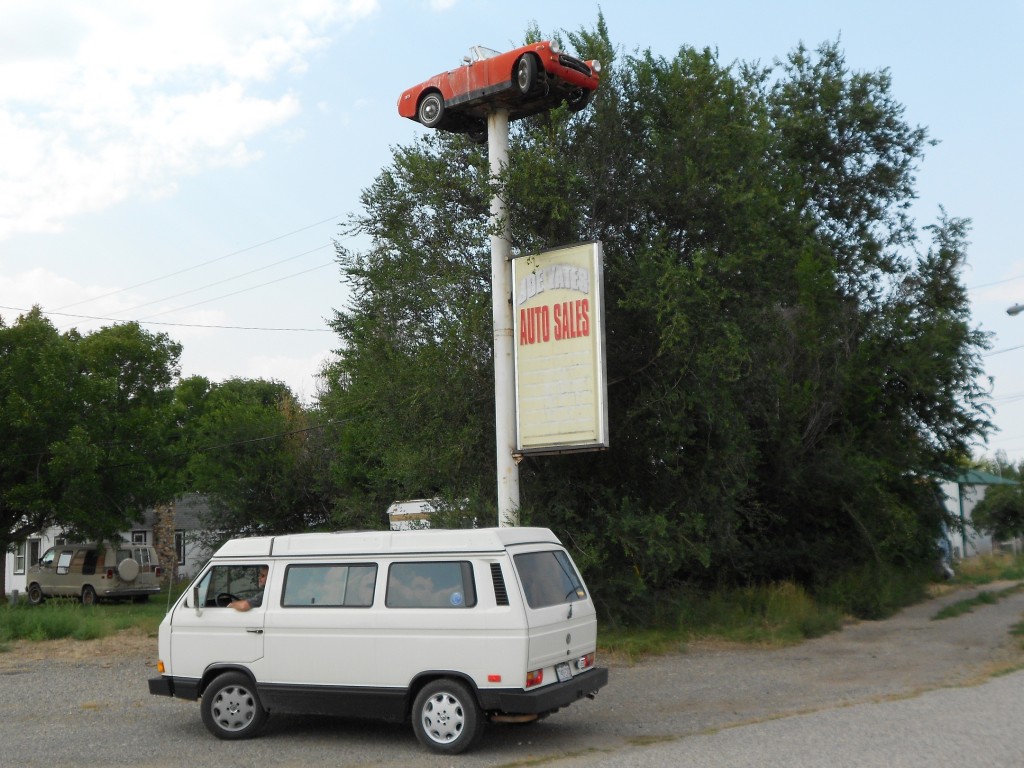 On our way to Glacier National Park for some backpacking, September 2012. This was the only MG Midget we saw on that trip, which I think very much illustrates the definition of "high centered"!
We Drive Vintage™ is a Registered Trademark of Vintage Motors of Lyons, CO LLC