This is MGB # GHN4U155592G, a 1968 MkII Roadster and is finished in Brooklands Green. The car was subject to a body on restoration approx. 8 years ago. It is very well sorted and is a no issues car mechanically. It runs, drives, shifts (the 4 speed transmission is exceptionally good), stops and handles very nicely. The seats were recently re-padded and upgraded to black leather with white piping per its original style. Original 1.8 L engine (fully re-built with hardened valves/valve seats) approx. 8,500 miles ago); new chrome bumpers, side moldings, light rims, and chrome bolt on wire wheels.  JUST SOLD – THANK YOU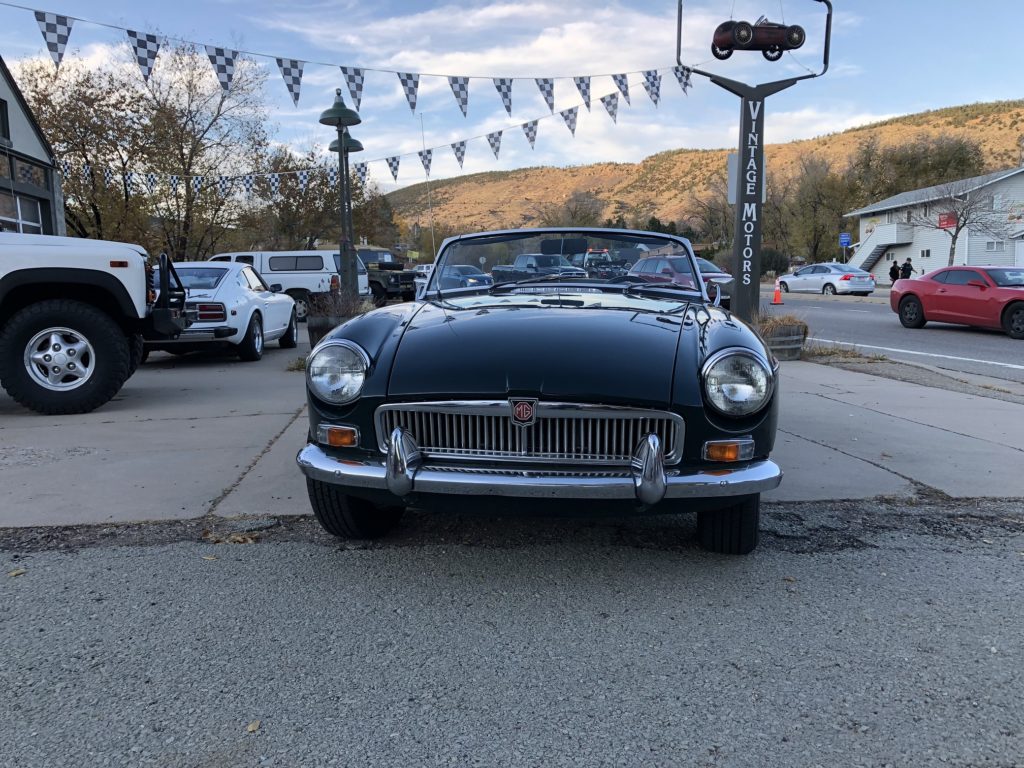 The Brooklands Green paint color is darker than the traditional British Racing Green and looks very good on the car. I believe it is a Jaguar color (touch up paint from its re-paint is with the car). The car presents very well overall but there are few cracks in the lacquer finish most notably on the right side of the cowl piece between the front of the windshield and the hood. Most importantly the body is straight and not rusty; a small magnet sticks to all body surfaces, no evidence of prior body damage or bondo found; undercarriage is clean and not rusty.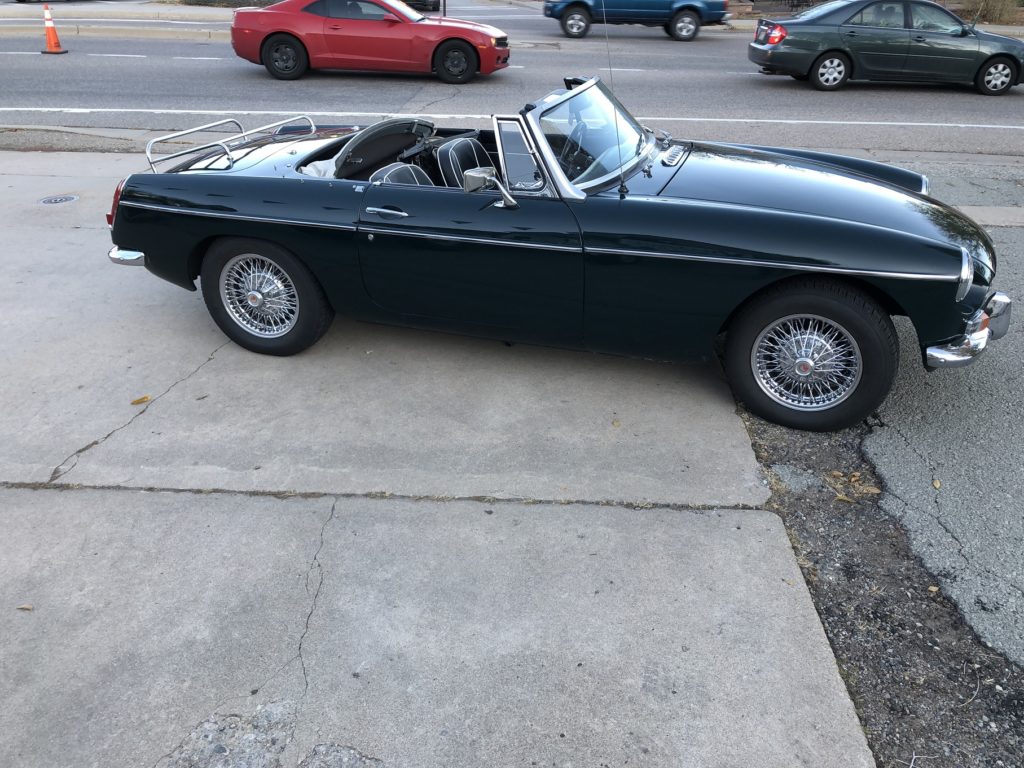 Rubber seals at doors and windows were replaced with new after re-paint.
The car has a white vinyl top in good shape; also a full tonneau cover and top boot cover, both in black.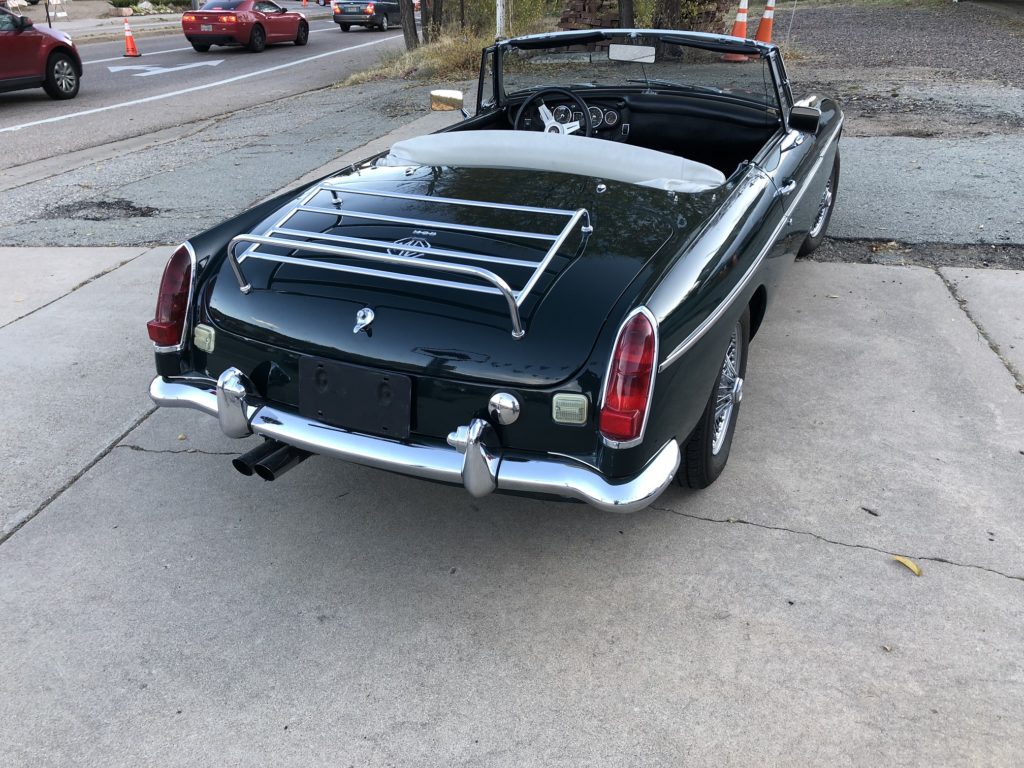 The car has been serviced and maintained at The Motorway in Ft. Collins, CO and I'm sure that Frank would be glad to speak with a prospective buyer about the car.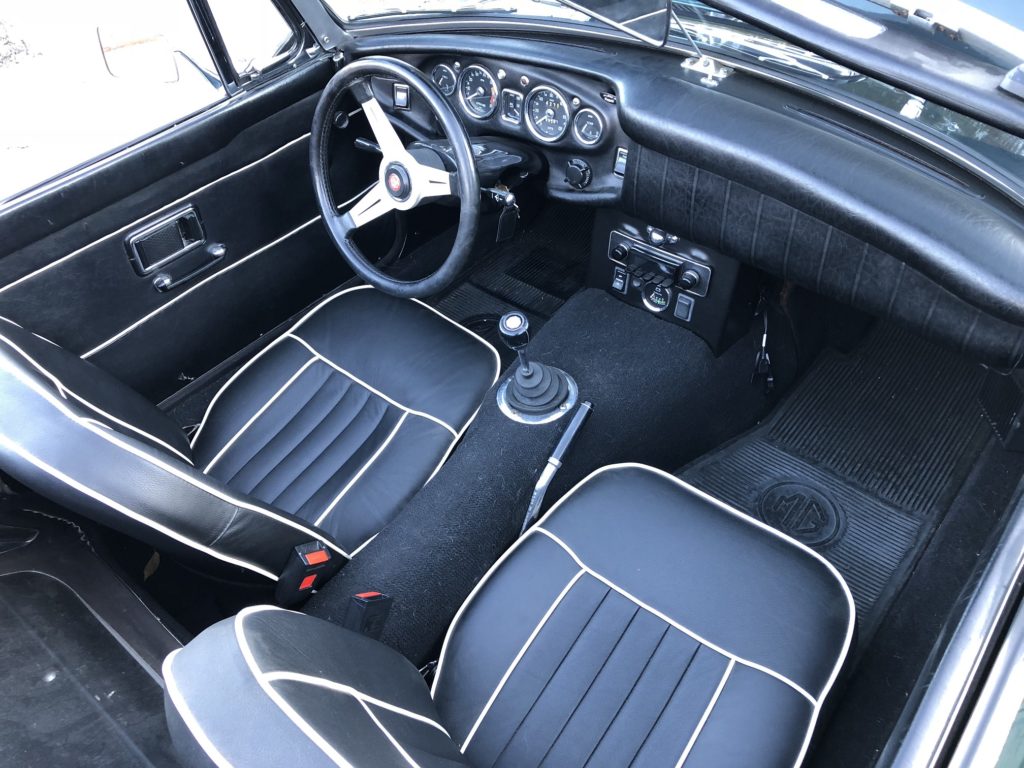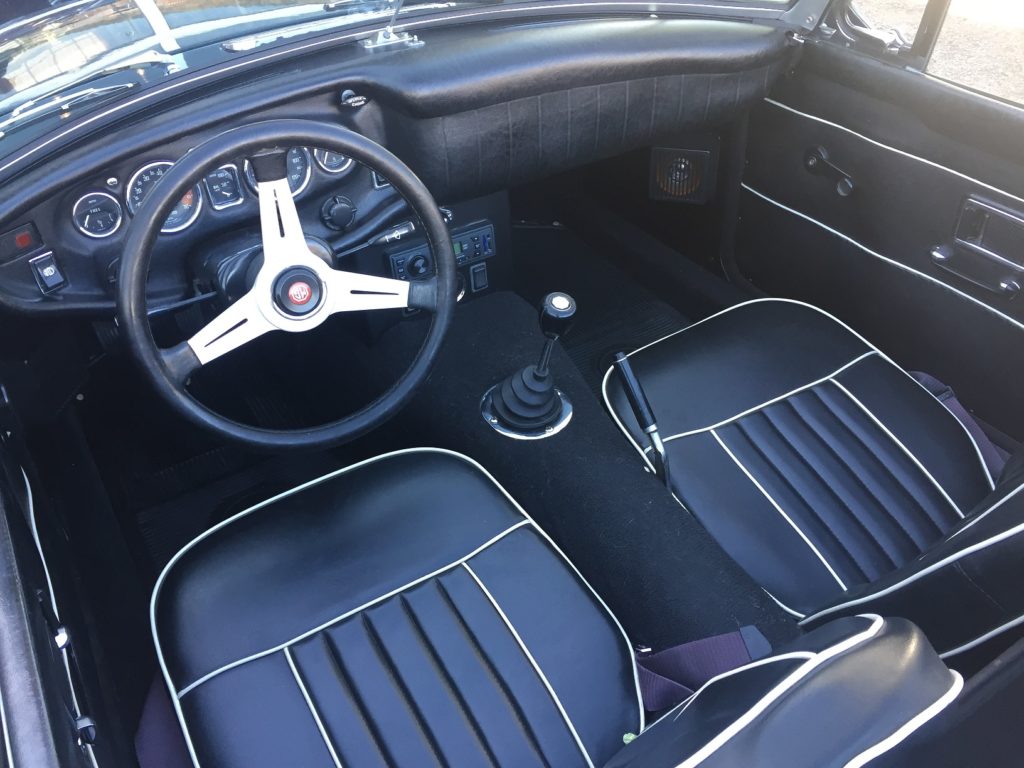 The interior is in nice shape, new leather seats, dash is not cracked. The interior door panel surfaces have some very minor blems. There a is modern retro look stereo with USB connectors, and XM antenna. The speakers are surface mounted on the sides of the footwells and not cut into the car.
The tach and speedometer work but bounce a bit; the horn is not working at present. All lights, signals, etc. working. We replaced the tired twin six volt batteries with a new single 12v battery (4/20, Group 26 12 v that fits into the original 6v battery holder behind the passenger seat, so no modification to the car to do this); pre-wired it for a battery trickle charger and has a battery cut off switch as well.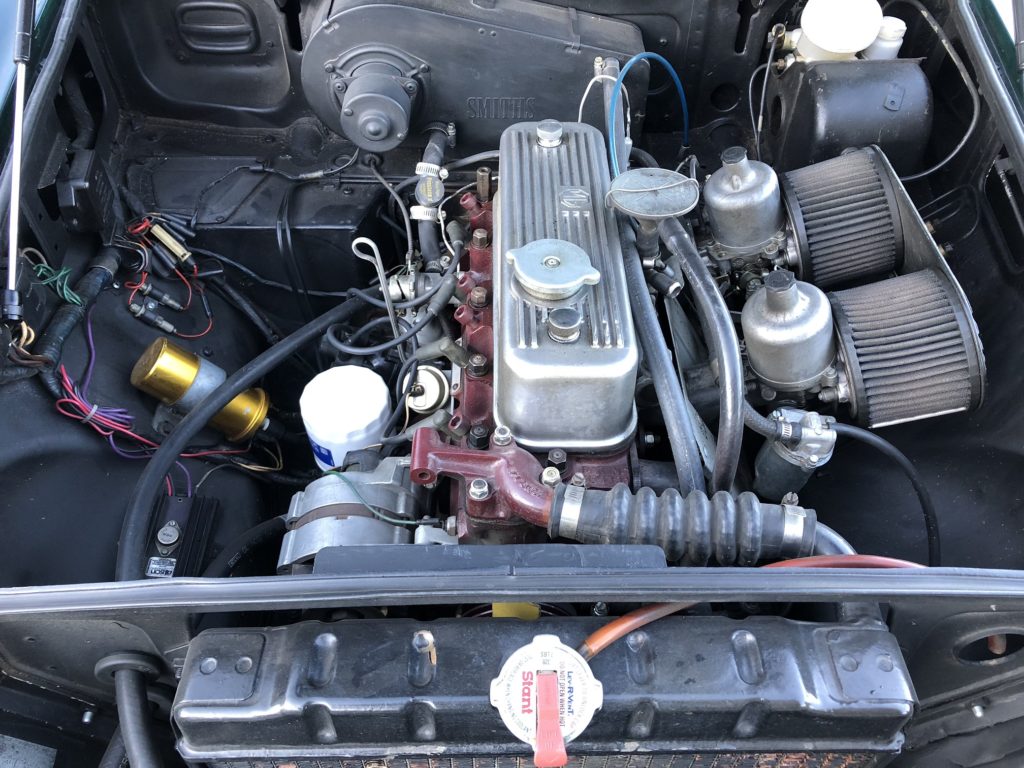 The engine compartment is very neat and tidy. K&N air filters with MGB logo's cover plate; Petronix electronic ignition, all0y valve cover, multi-blade fan, spin on/off oil filter, are good, practical upgrades.
New gas struts have been installed for both the bonnet and boot lids which are also nice, practical upgrades. There is also a dual tip exhaust installed; very pleasant exhaust note.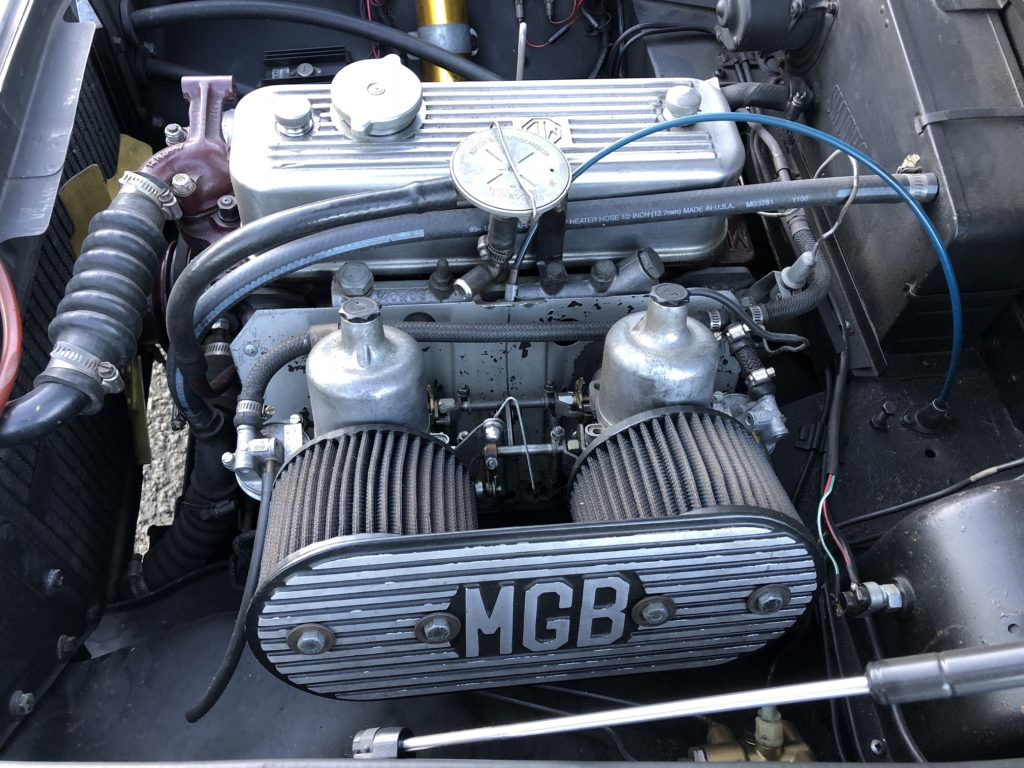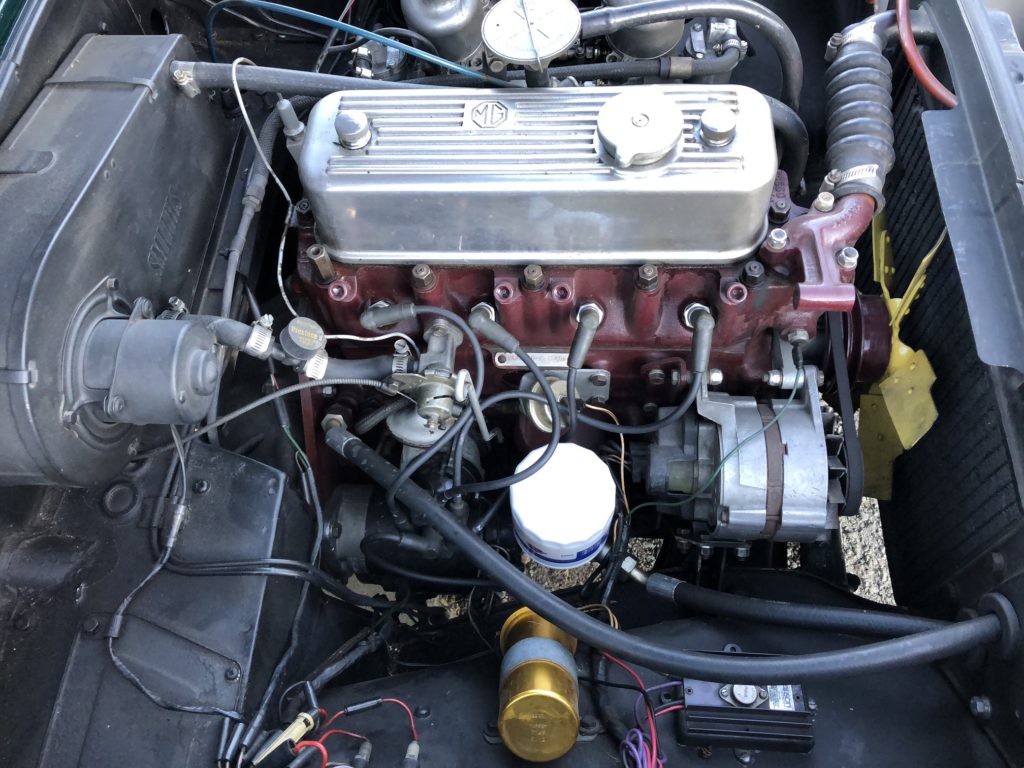 Photos below are of underside of car taken from front to back. You may see that the undercarriage is pretty clean and most importantly, not rusty.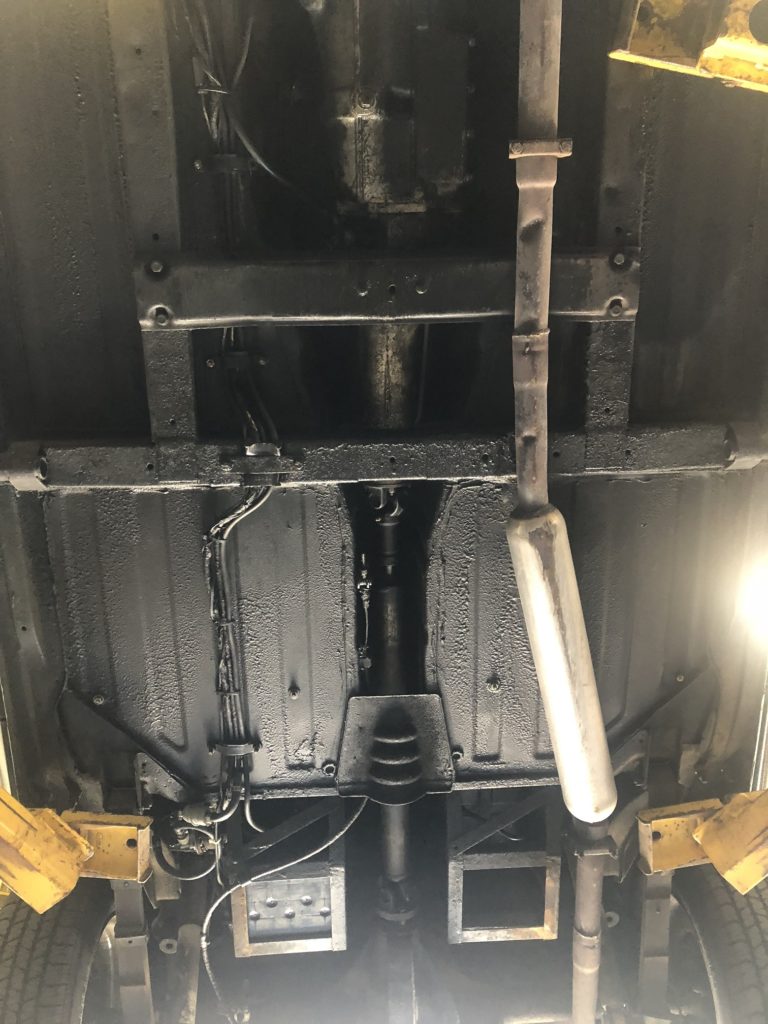 Here are some taken underneath the car during restoration, plus another photo taken after completion of restoration.