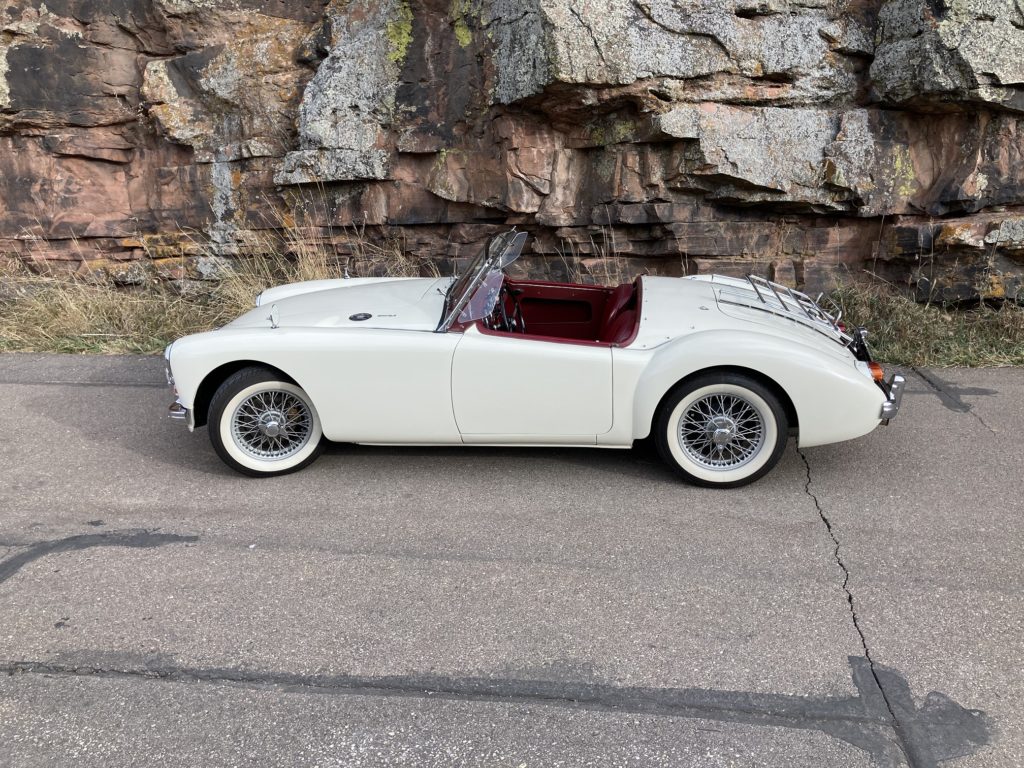 We are honored to offer this NAMGAR award winning 1962 MGA 1600 Mk II Roadster For Sale. This car is an excellent example of the marque with just 45,288 original miles. I have owned and restored several MGAs over the past 52 years and this is one of the nicest A's you will find anywhere. It is finished in Old English White with Red Leather interior, complimented by a Grey top and tonneau, which are its original colors per its accompanying Heritage Trust Certificate. A no issues, quintessential British roadster, for the next fortunate owner. JUST SOLD – THANK YOU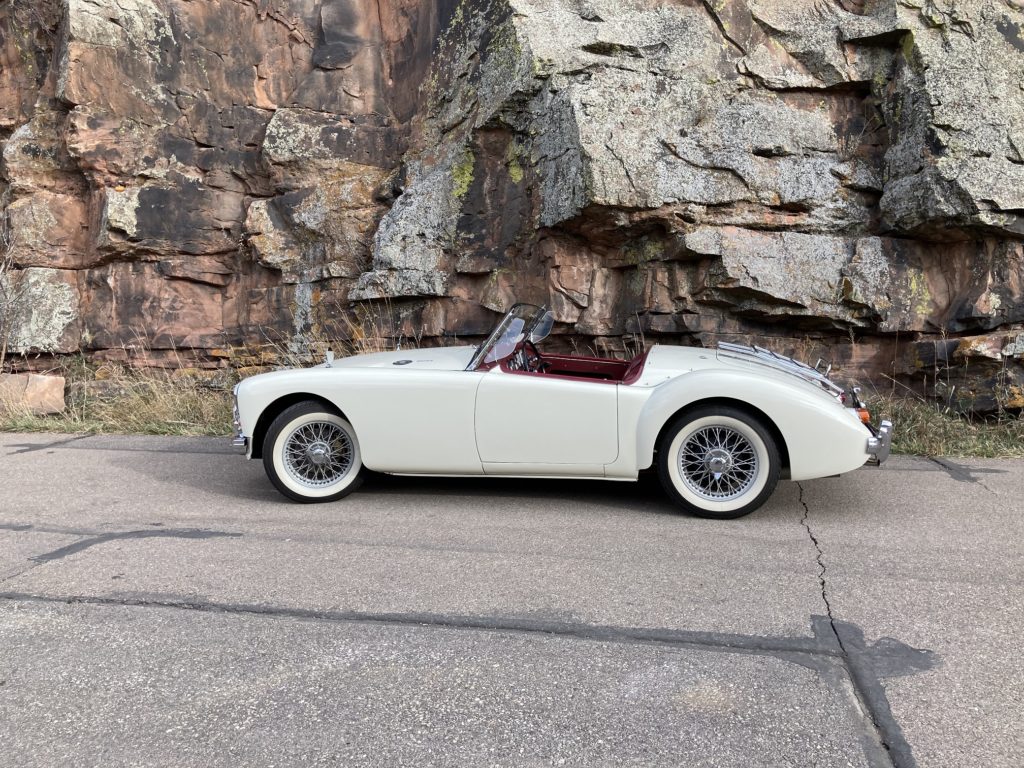 The body on the car is very straight, no evidence of any prior accident damage, no rust, and door gaps and rockers are very good (typically very hard to find on MGAs; please see additional photos below). The paint quality is excellent, having 6 coats of color and 6 coats of clear applied.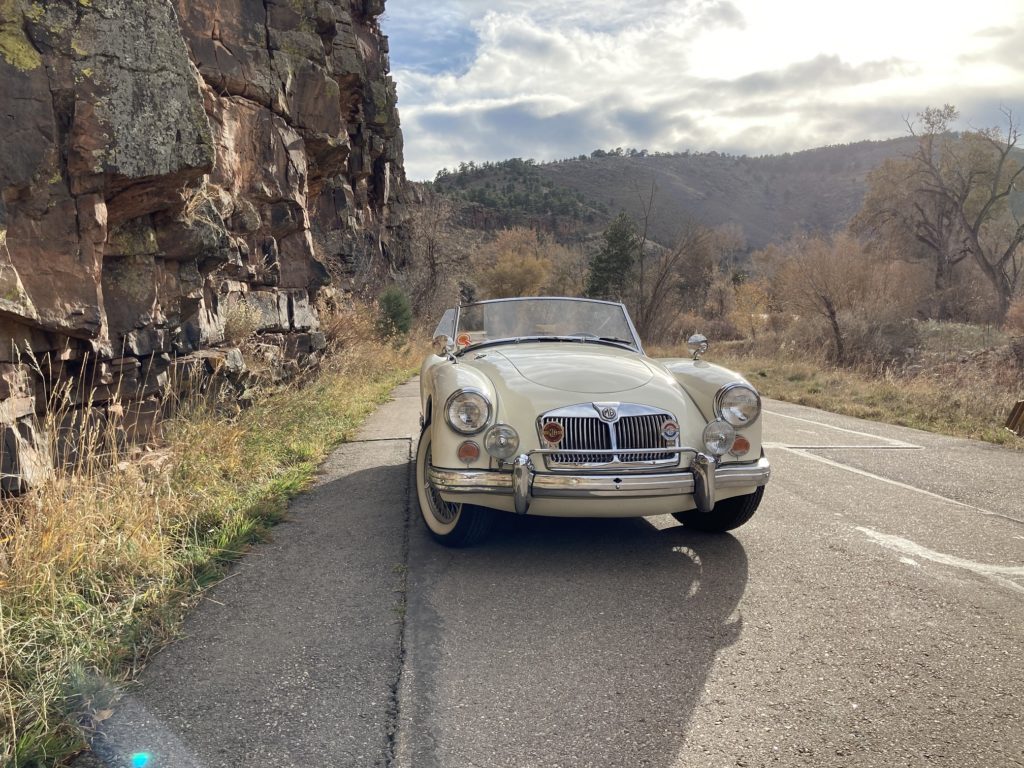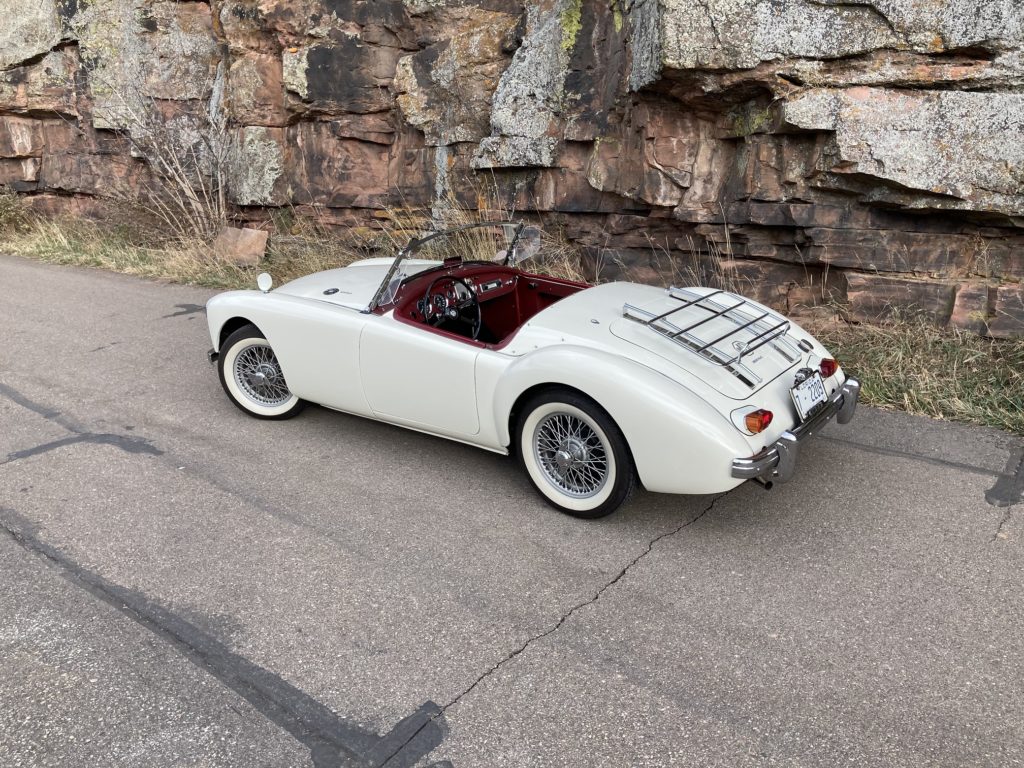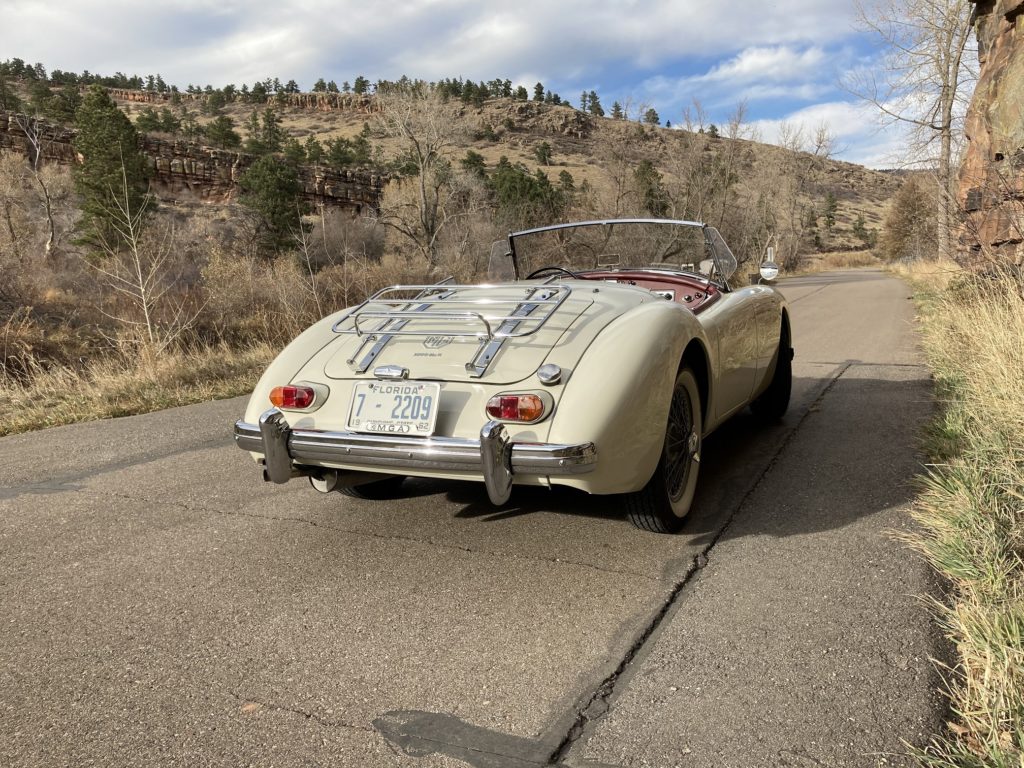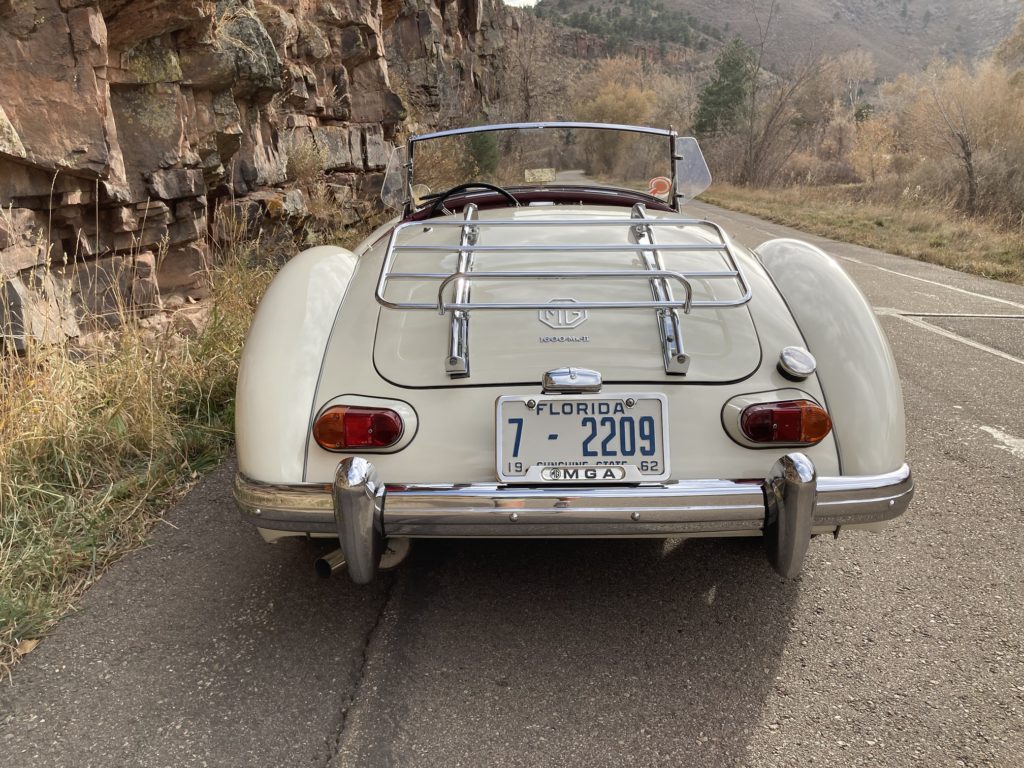 New styling cues for the MK II included the use of horizontally mounted taillights borrowed from the Mini and located beneath the boot lid to meet new lighting regulations.  A redesigned front grille with vertical slats recessed at their base added much depth to the grille.
1962 was the final year of production (1955-1962) for the iconic MGA, which many consider to be the best looking and among the best driving of MG sports cars. The now classic styling of the MGA was a radical styling departure when introduced by MG as the successor to the T Midget Series (TC, TD, TF) line of MGs.
The styling of the A originated from the bespoke streamlined body created by MG designer Syd Enever for a 1951 MG TD Lemans race car. The MGA's slippery shape of curved surfaces derived from those racing roots. I have always felt that even the seemingly small detail of not having exterior door handles enhanced its uninterrupted, flowing lines.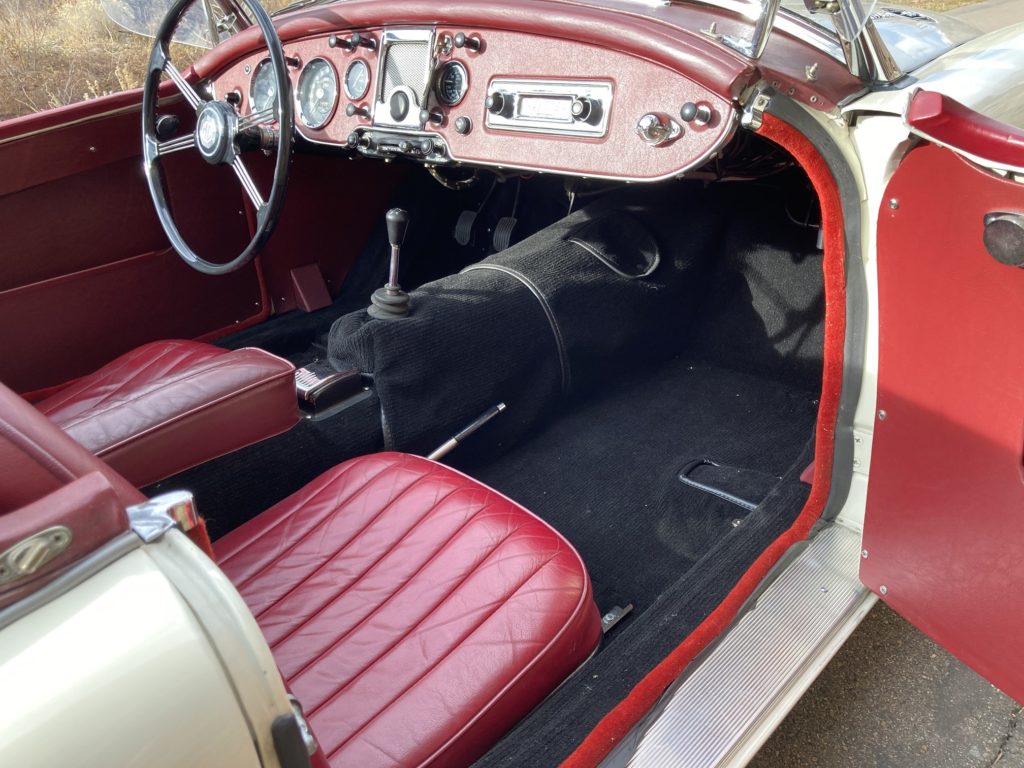 Very good condition red leather interior. Dash is excellent. All gauges, switched, lighting working properly. New carpets. Has proper red leather side curtain stowage pouch behind seats; side curtains themselves are not with car but are readily available. Gray top and matching full zippered tonneau in very good condition.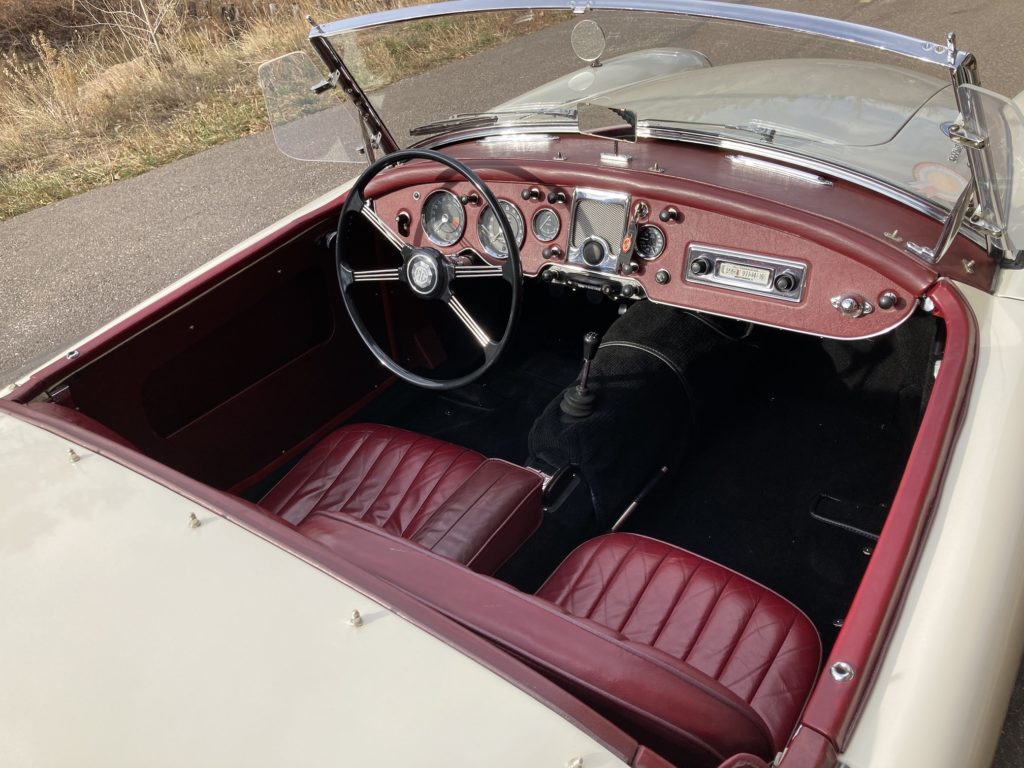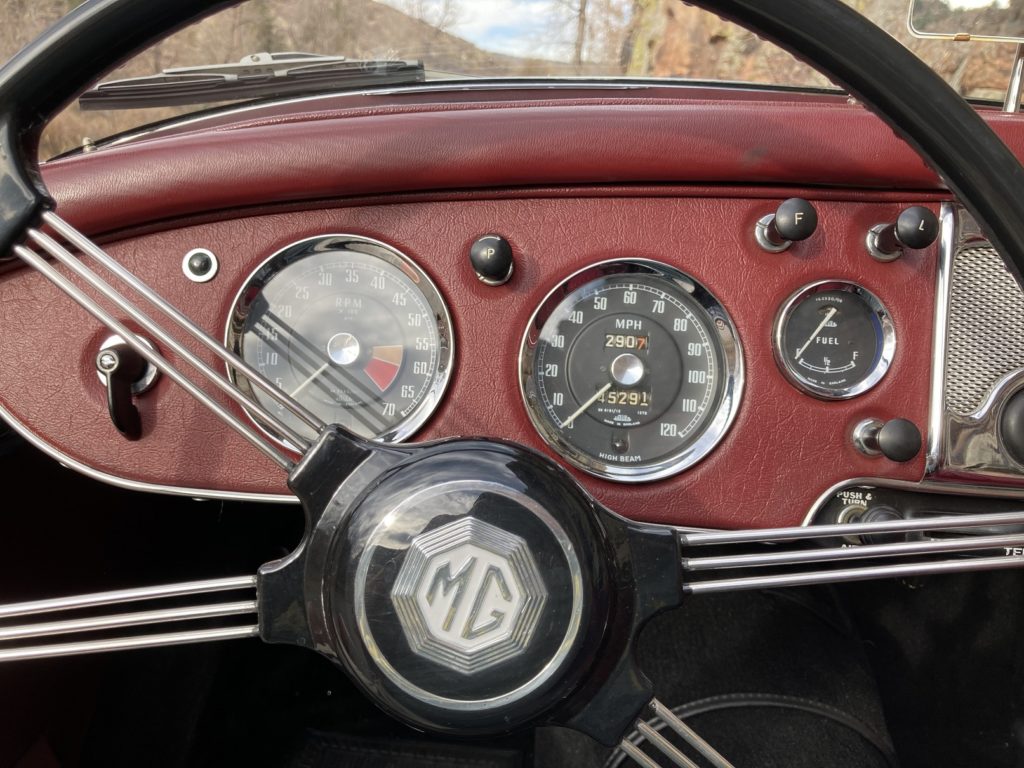 Original radio in dash!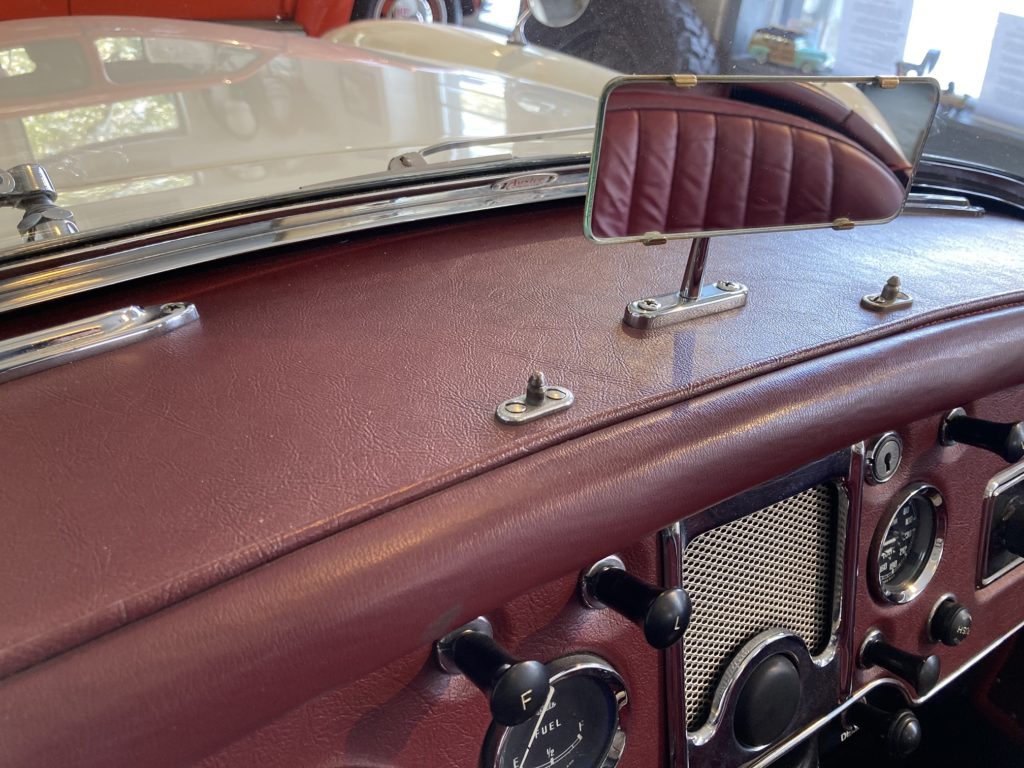 The MGA Mk II was the last of the MGA series; assembly started at the factory on Abingdon, England in April 1961 and ceased in June of 1962 . This car particular car was built January 2, 1962 and is one of just 8,198 Mk II roadsters built among 101,476 of all types MGAs produced.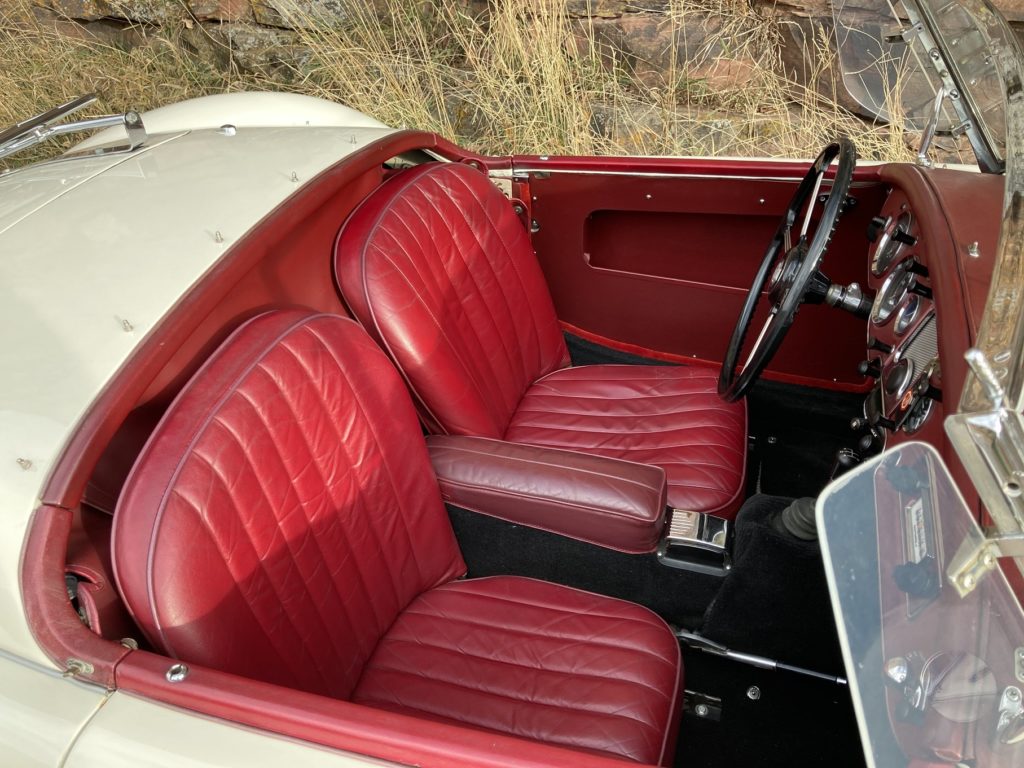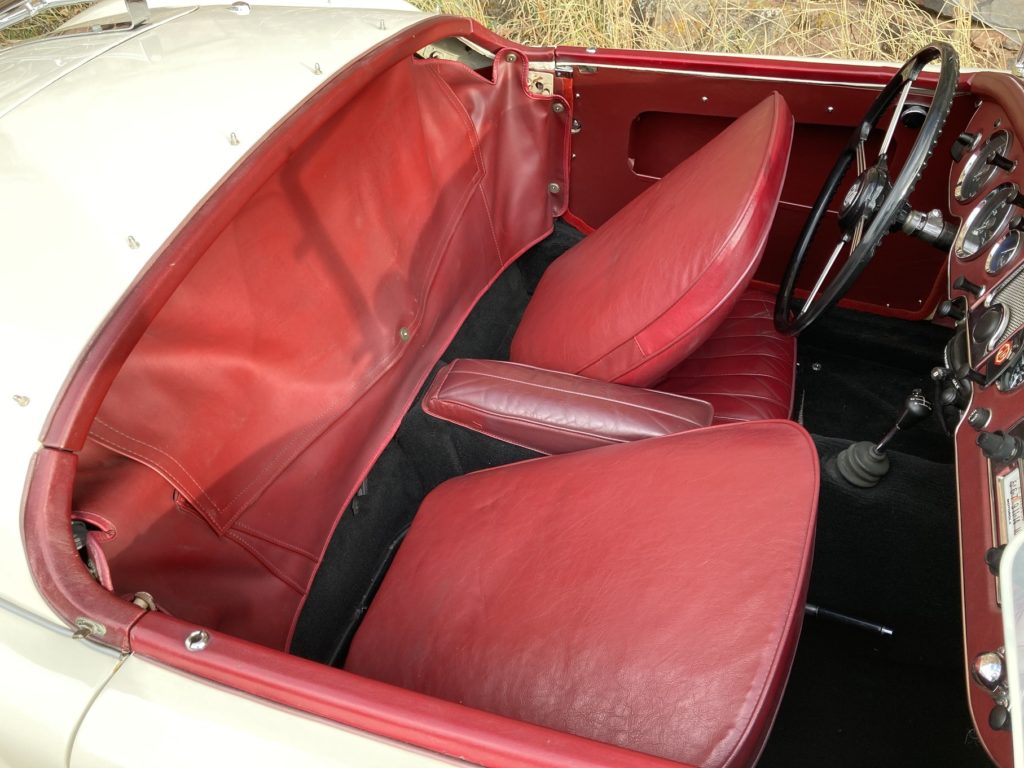 New BFG Silverton Radial 165R15 wide whitewall tires with tubes are mounted on original painted 48 spoke wire wheels having chrome two eared knock offs.  Note the front disc brakes which replaced the drum brakes of the earlier 1500 series cars.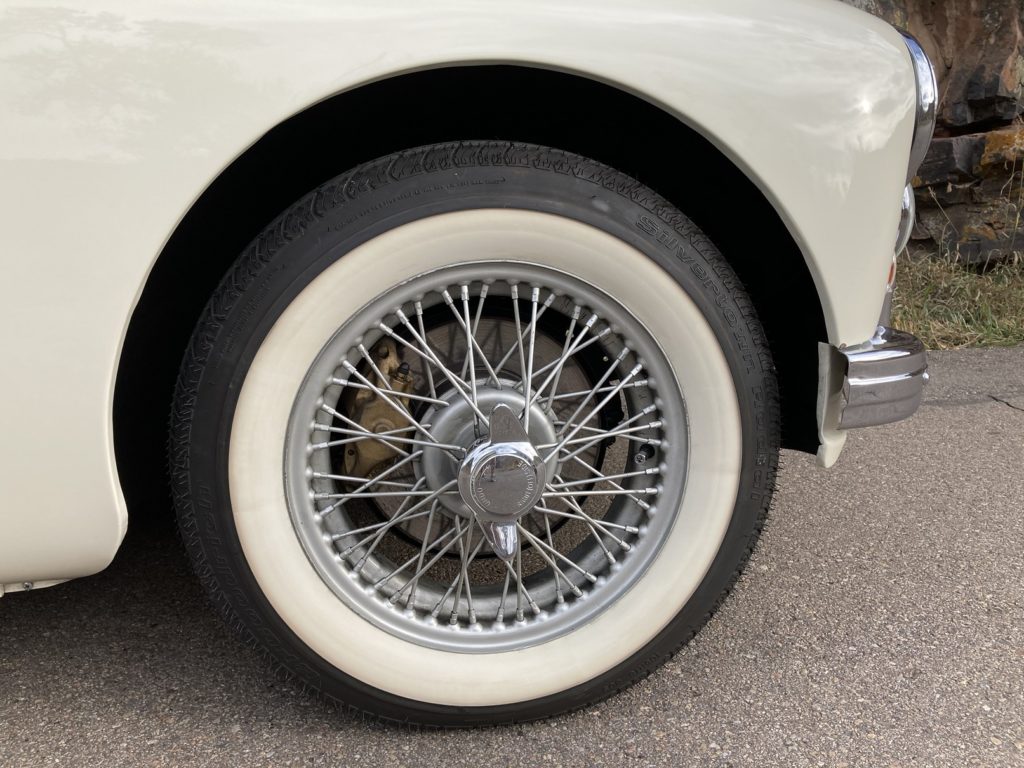 The most noteworthy upgrade for the MK II cars was the increased displacement of the engine to 1,622 ccs. With its twin SU carburetors, this engine produced 90 hp at 5.800 RPM and resulted in the Mk II becoming a true 100 mph plus sports car. This car is fitted with its completely rebuilt (approx. 6,000 miles ago) original 1622 engine, # 16GC-U-H5841.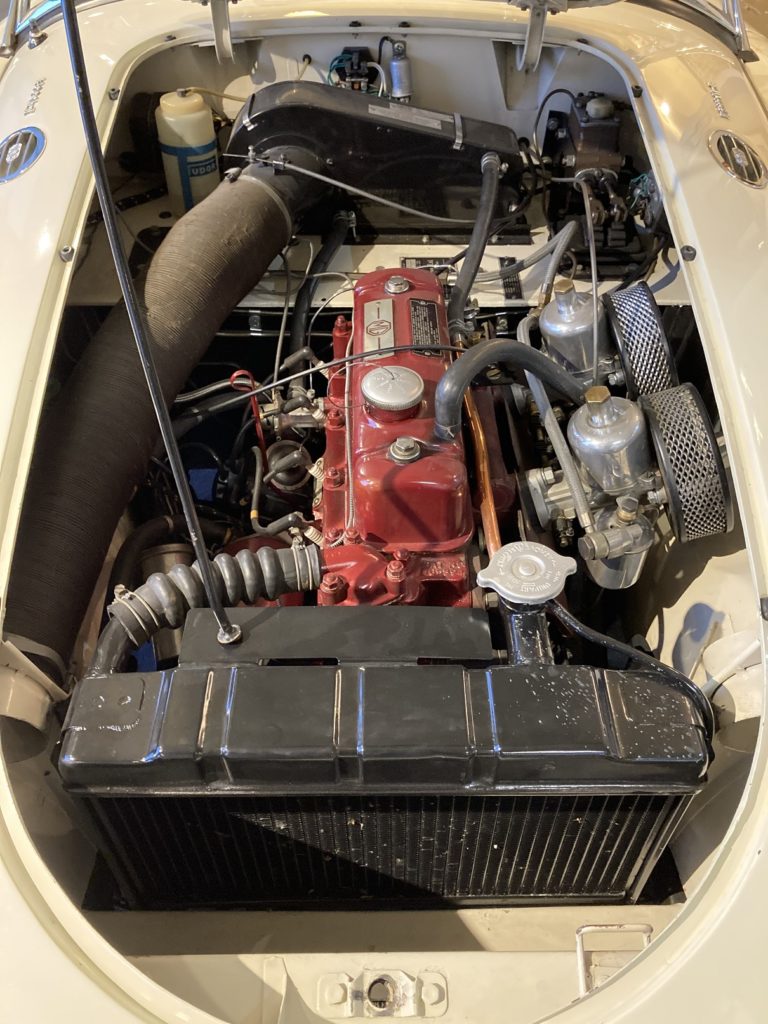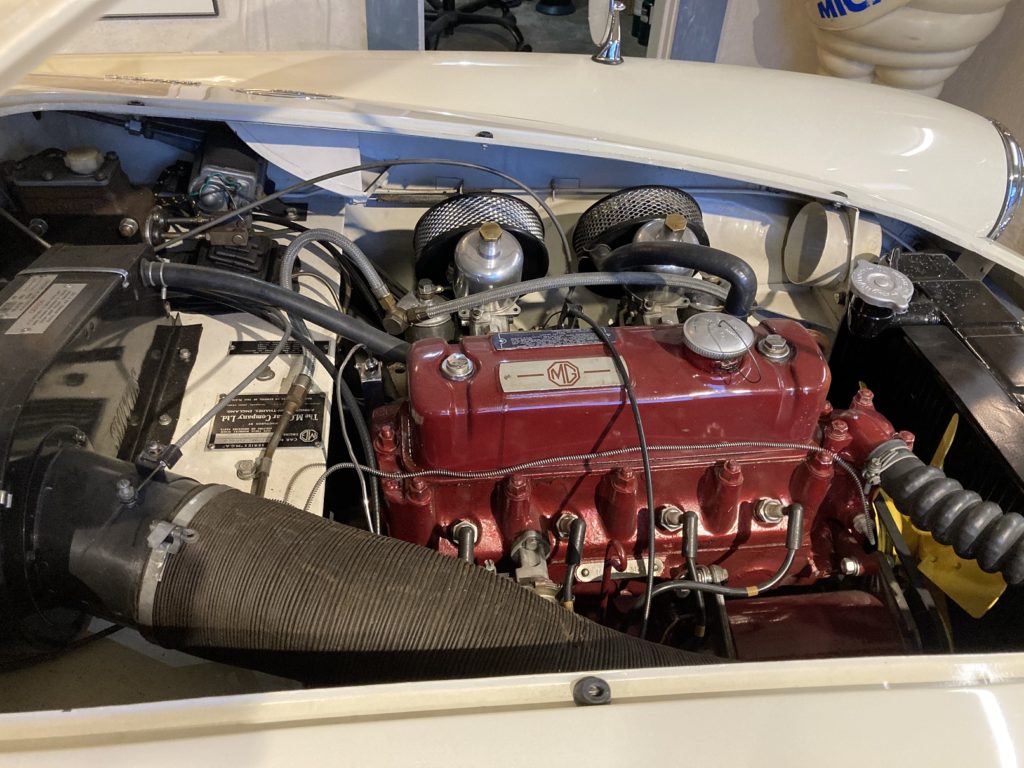 Trunk has spare wire wheel and older tire with proper cover. Note original hand starting crank mounted  above spare. From personal experience with my A in the late '60's, I can attest that this works quite well to start the car if needed!
Provenance of this car is quite special and well documented. It is accompanied by its original BMC Maintenance Covenant booklet which shows that the car was purchased new at the E. Koeppel Inc. MG dealership in Jamaica, NY on July 13, 1962 by a Mr. Marcelino Guerra of St. Albans, NY. This booklet is a very rare piece and has written in it for the buyer to call the dealership at 950 miles to schedule the first warranty service at 1,000 miles for which the coupon is punched! Both the VIN # and the original Engine # are recorded in the booklet as well.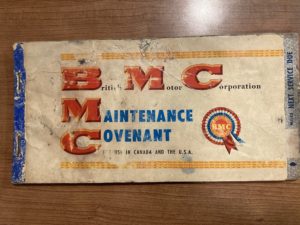 The car was later sold to a Mr. John Williams of Jamestown, RI who sold the car on January 29, 1981 to a Mr. Robert Shidel of Louisville, KY.; per the notarized Bill of Sale, the car had 35,025 original miles on it at the date.
Between 1981 and 1986 (some 6,000 miles ago) Mr. Shidel undertook a very sympathetic restoration of the car for which all of the records and receipts are with the car. He summarized the restoration on the 3 page list shown below. During his ownership he showed the car at various North American MGA Register events at which the car was awarded the following (plaques are with car):
1st Place at the National GT-7 Indianapolis (1982)
Best of Show, Cave Country Caravan (1982), Park City, KY
1st Place, Premier Division, Cave Country Caravan GT (1983), Park City, KY
There is also a letter from Mr. Robert Vitrikas dated 7/18/1981, author of a book on the restoration of MGAs, to Mr. Shidel as to its matching numbers and the estimated production date of the car.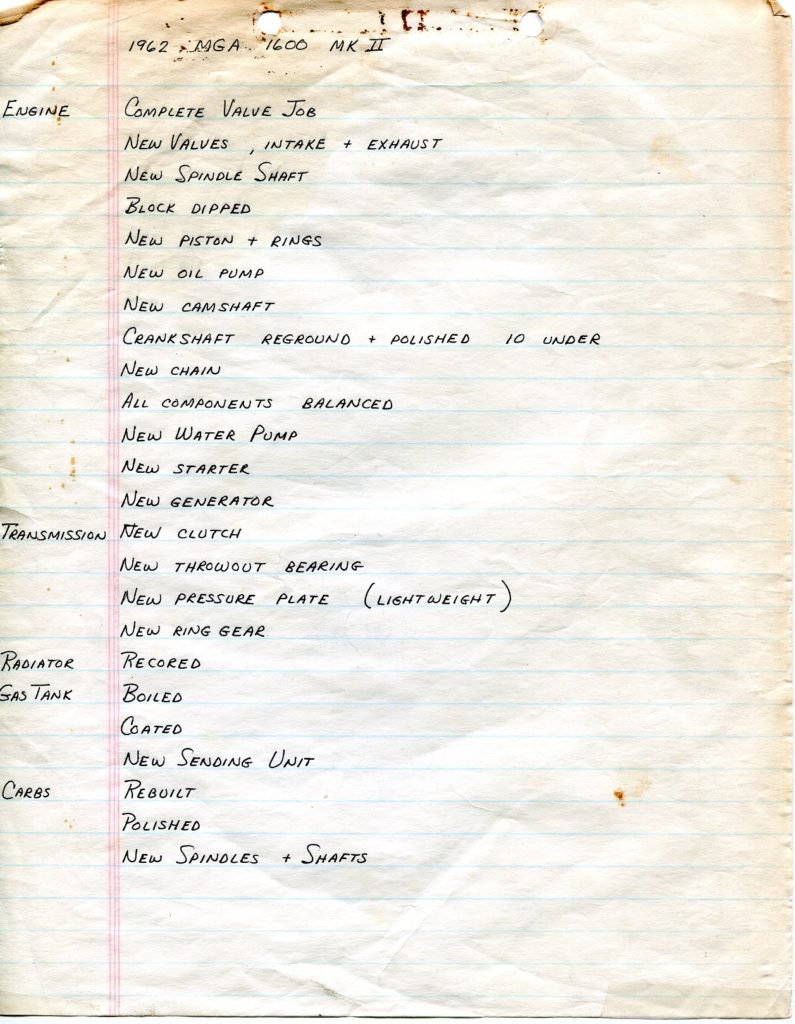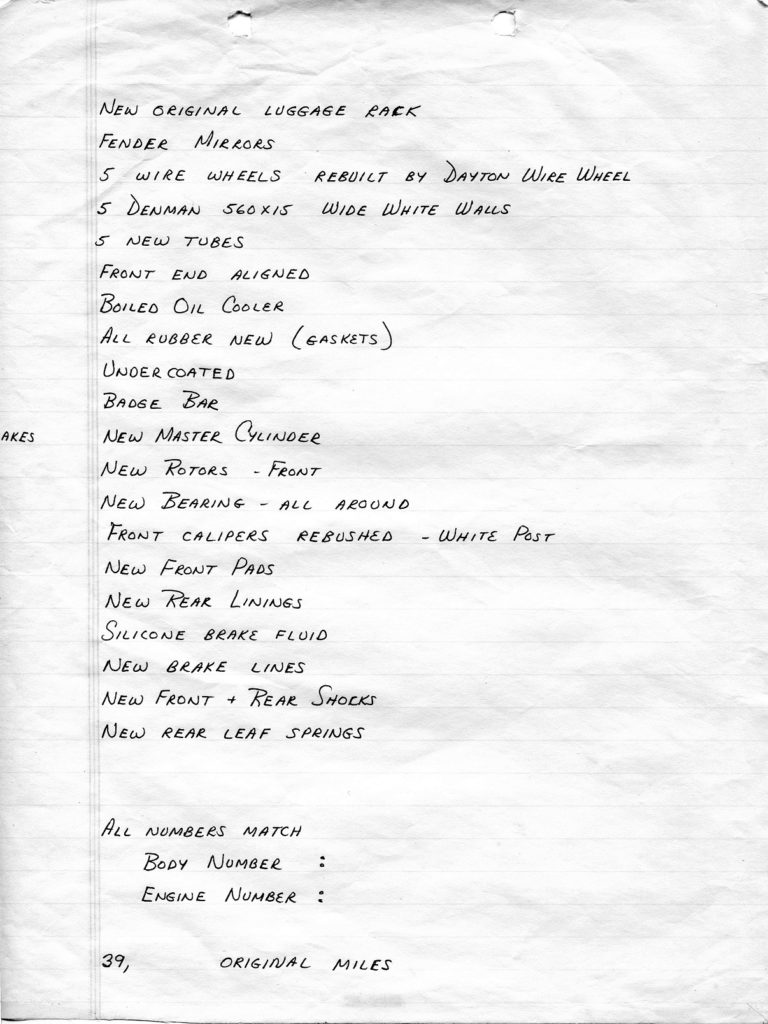 In March of 1986, Mr. Shidel sold the car, with some 39,000 miles on it, to a gentleman in Florida where it remained for the next 21 years. The car was sold by a dealer based in Orlando, FL at an auction in Texas to it's most recent owner (from Boulder, CO) on May 5, 2007 while he was attending the Keels and Wheels show there. The car has remained here in Colorado with this owner since his purchase in 2007. He has kept the car very well maintained and all service records and receipts for the car during this time period (2007 – 2020) are with the car. No expense was spared by this gentleman to keep this car in top condition befitting the other cars in his collection. Over the past 13 years he had installed a single 12v red top Optima battery with plug in wire connection for battery trickle charger (included), electronic ignition, wiring harness, new SU electronic fuel pump with a disconnect switch mounted under the hood, an Evans coolant conversion, carbs rebuilt, tune up, alignment, new original type carpet, door seals, full urethane bushing front suspension kit, coil springs, clutch, new tires and a flush mount antenna.
The current odometer reads 45,288 miles and per its condition, service records and other documentation we have no reason to believe that this is not the original mileage of the car. An executed official Odometer (Mileage) Statement per same will be provided with this car.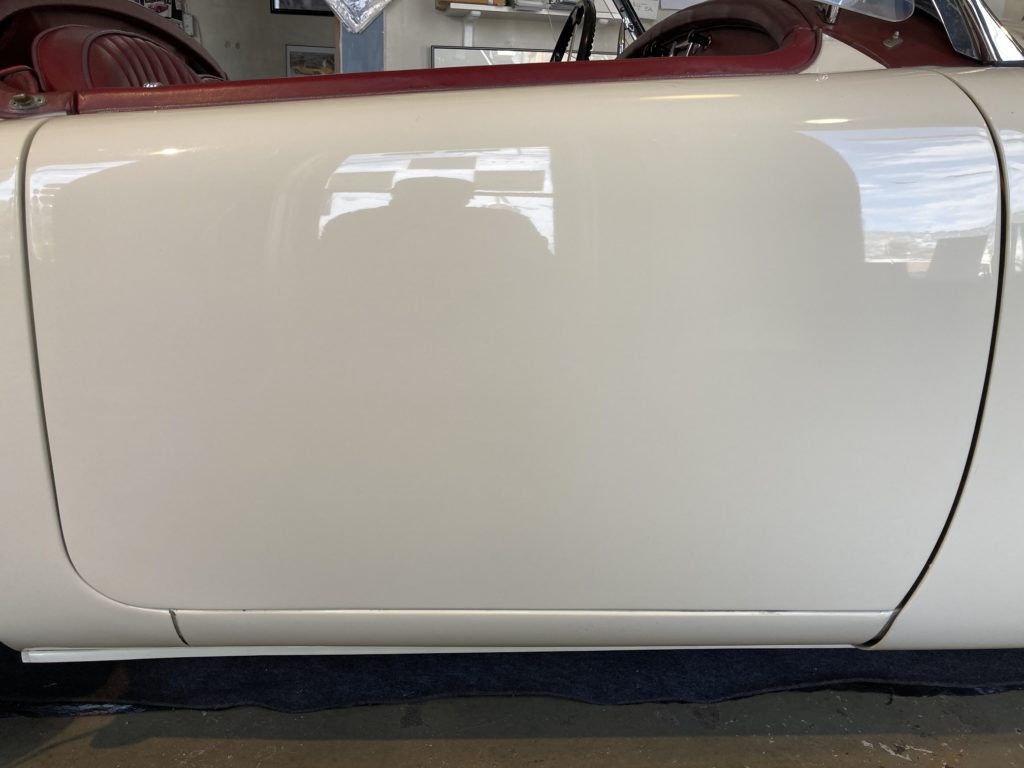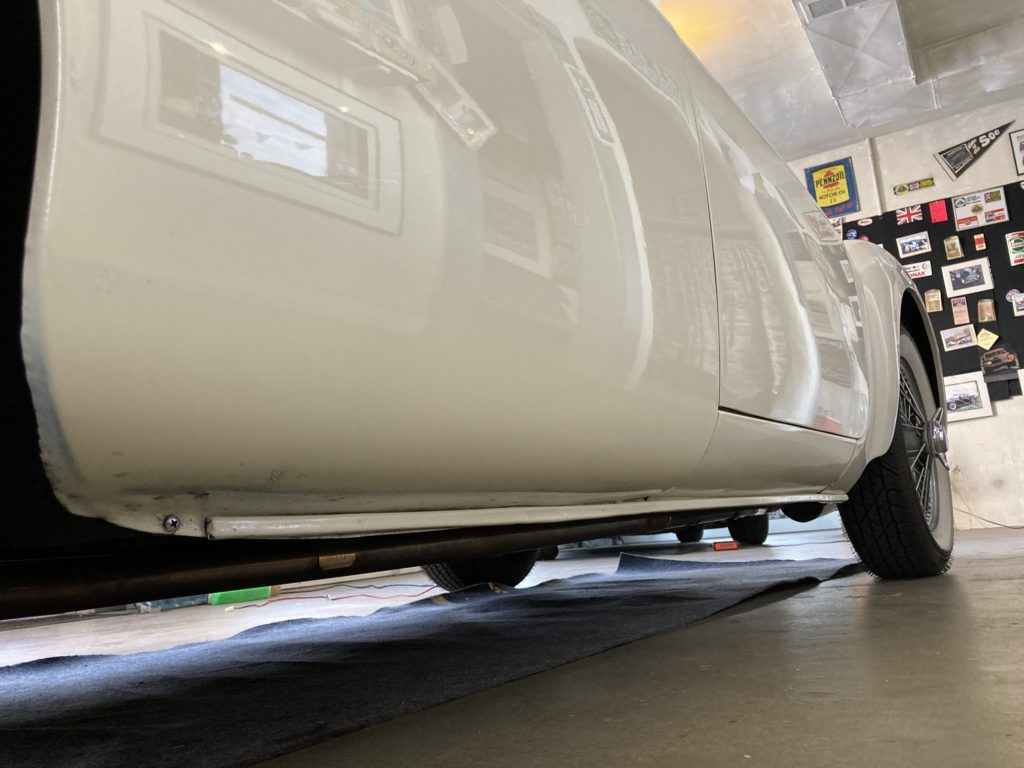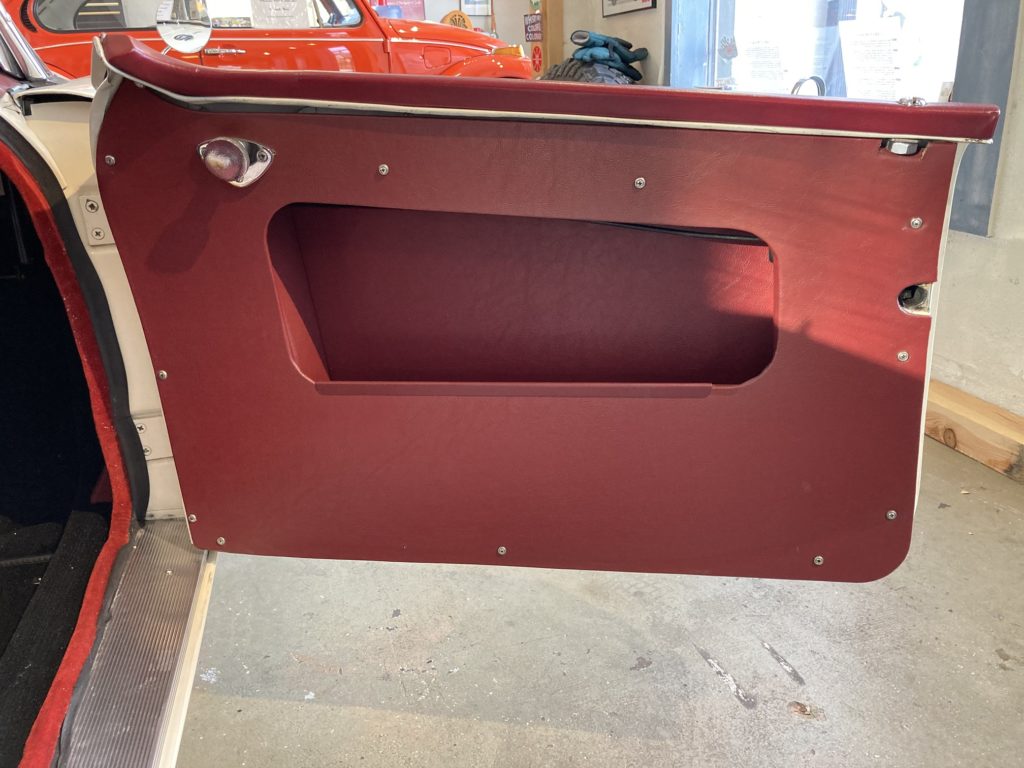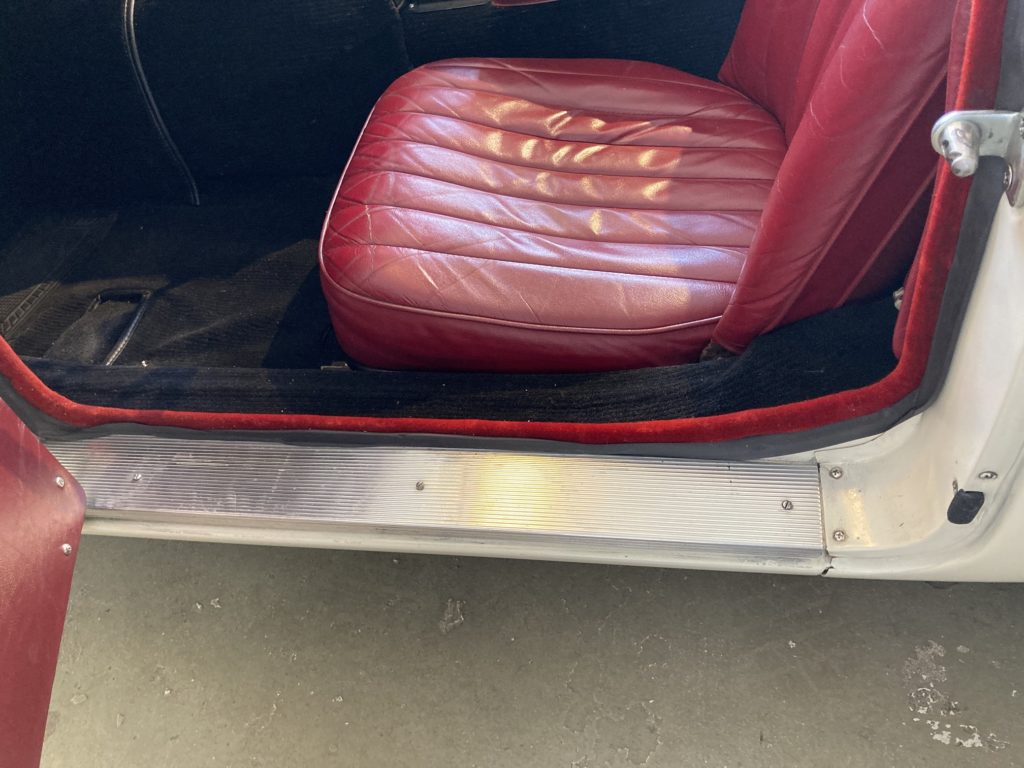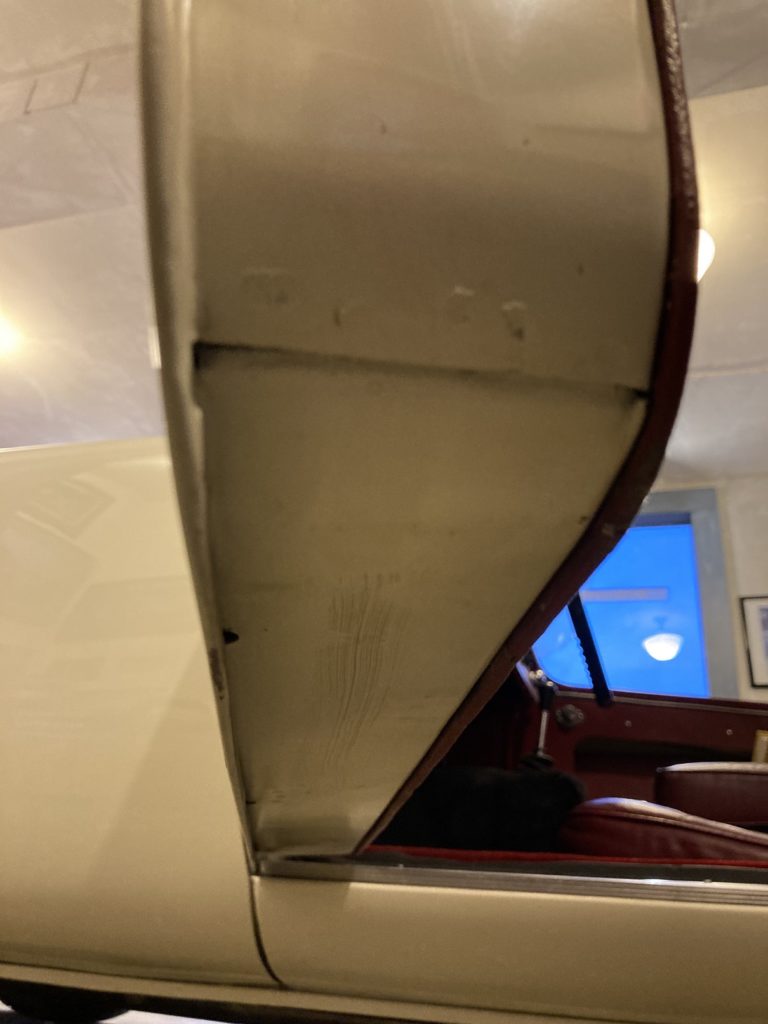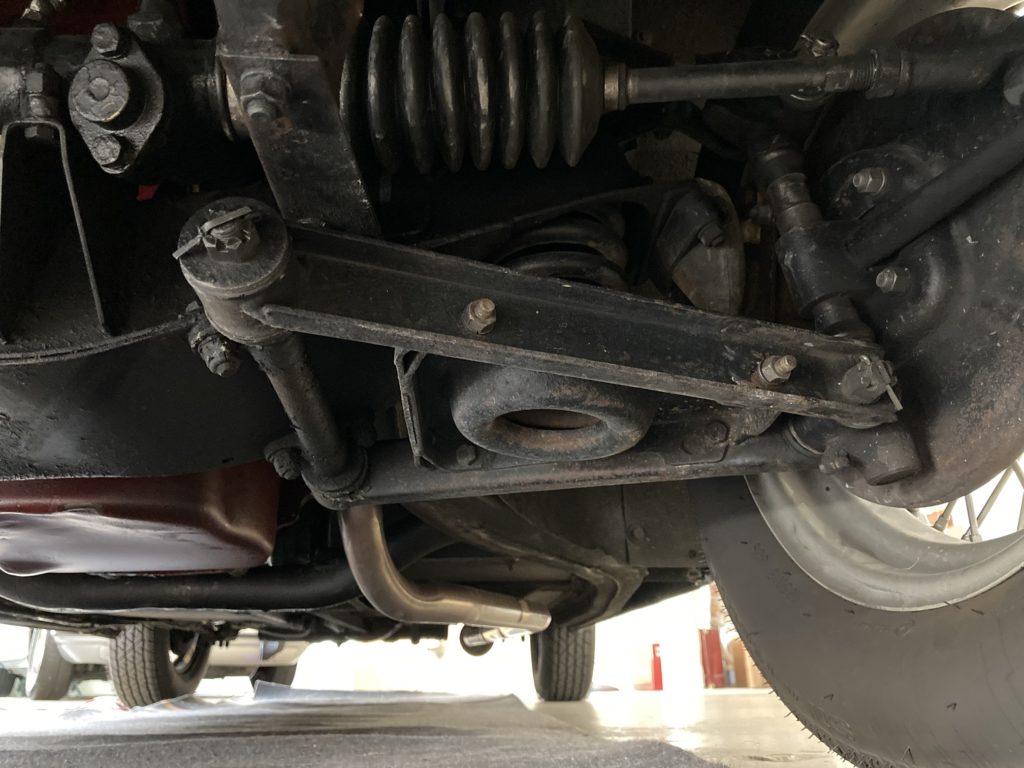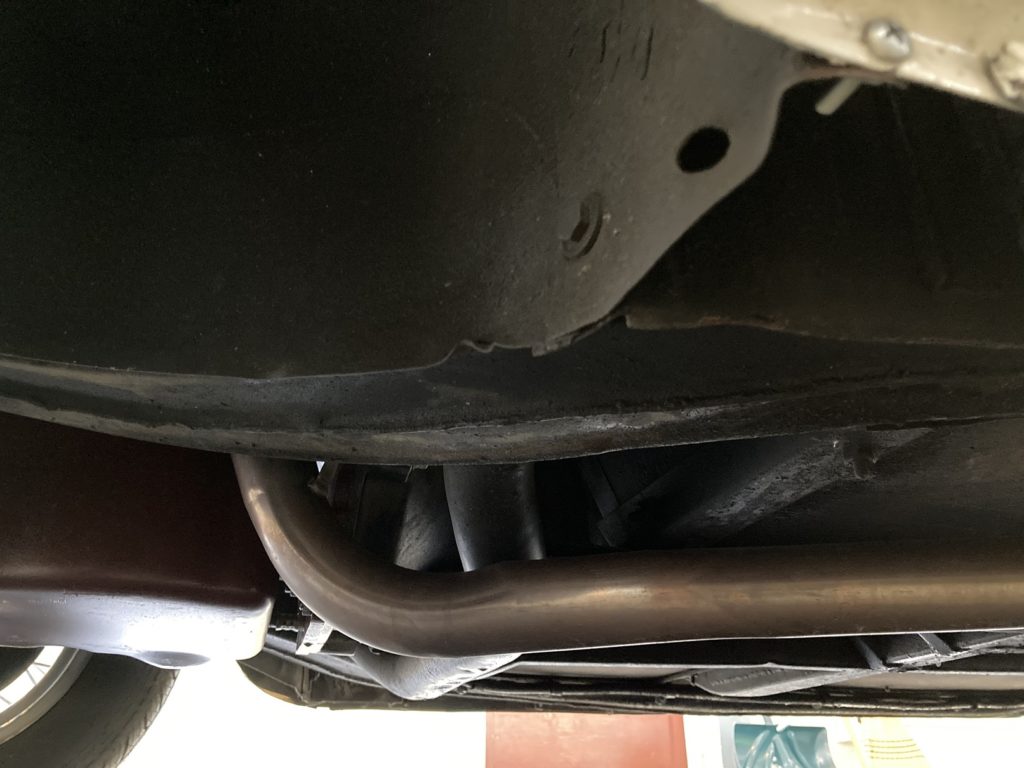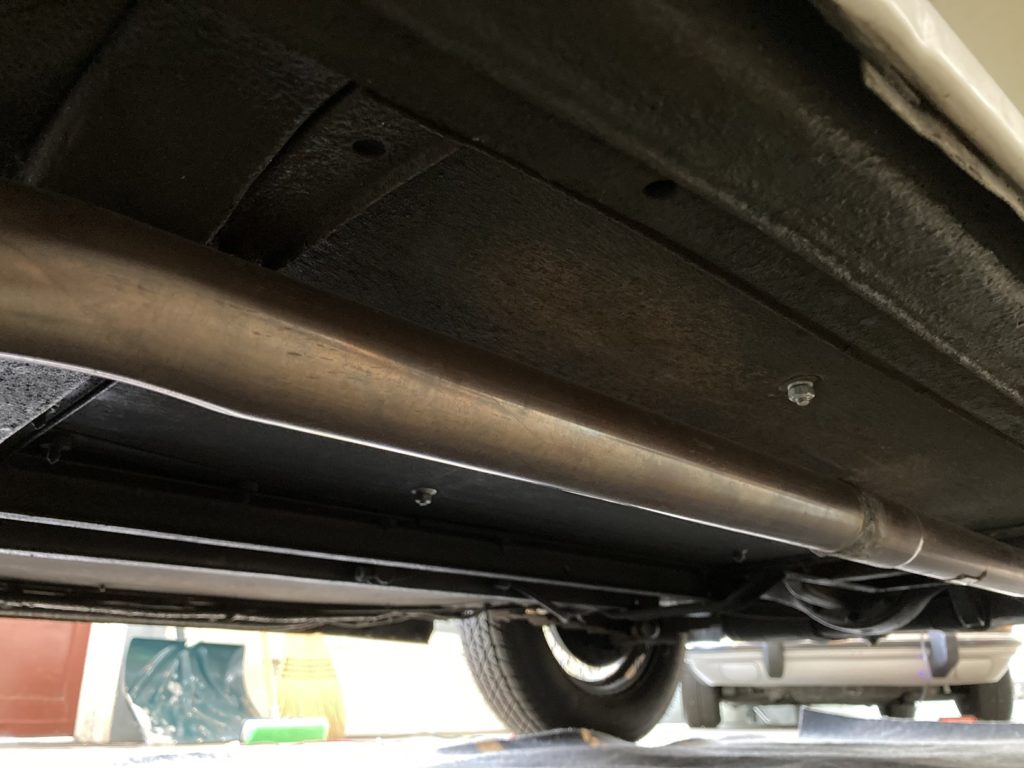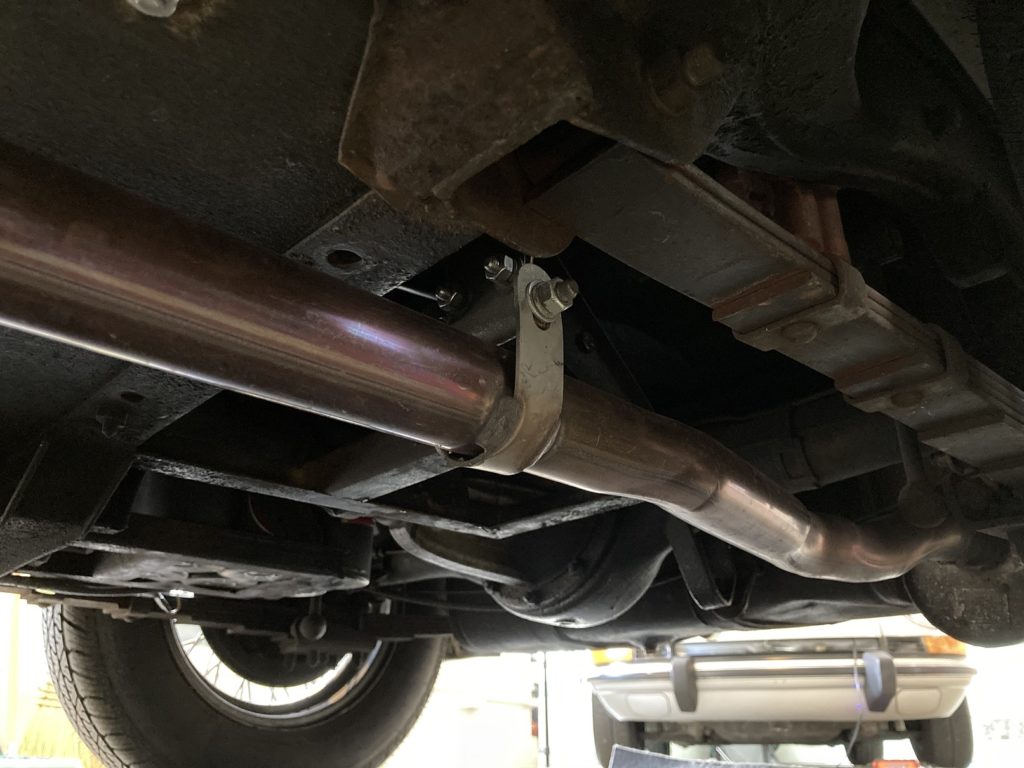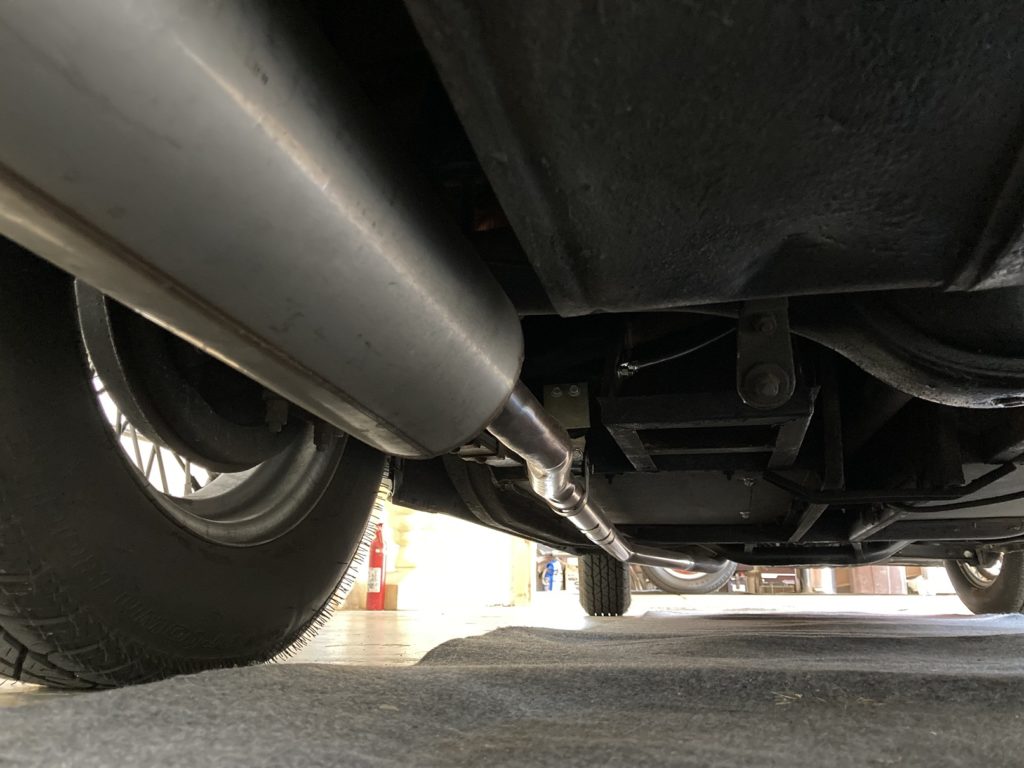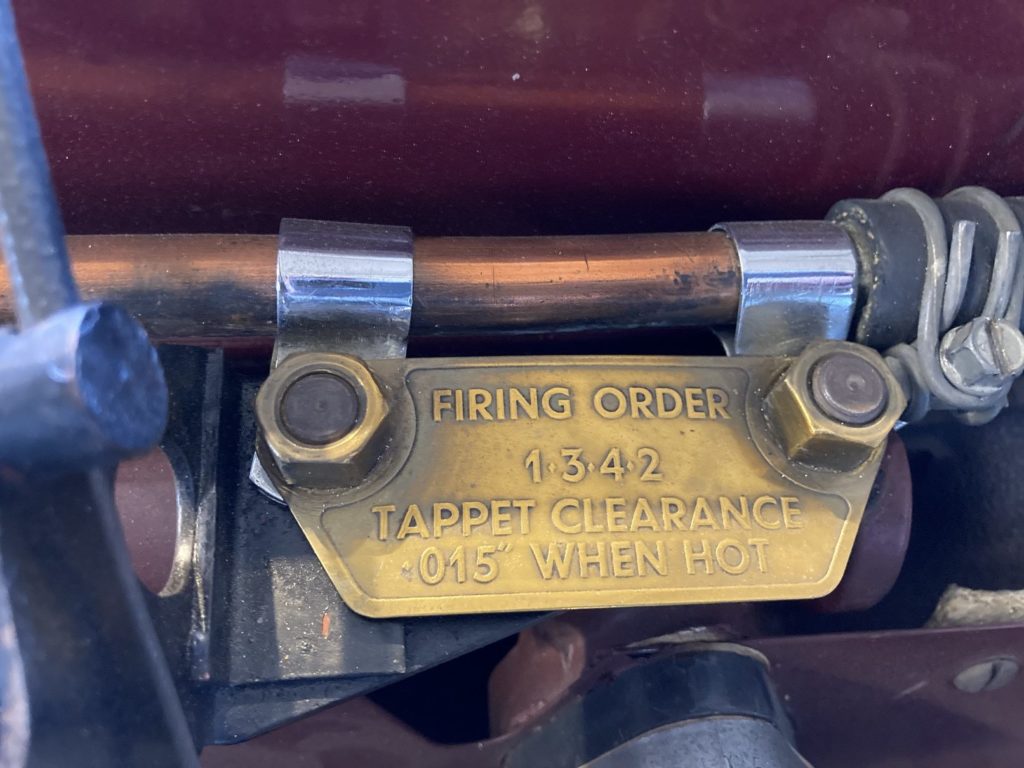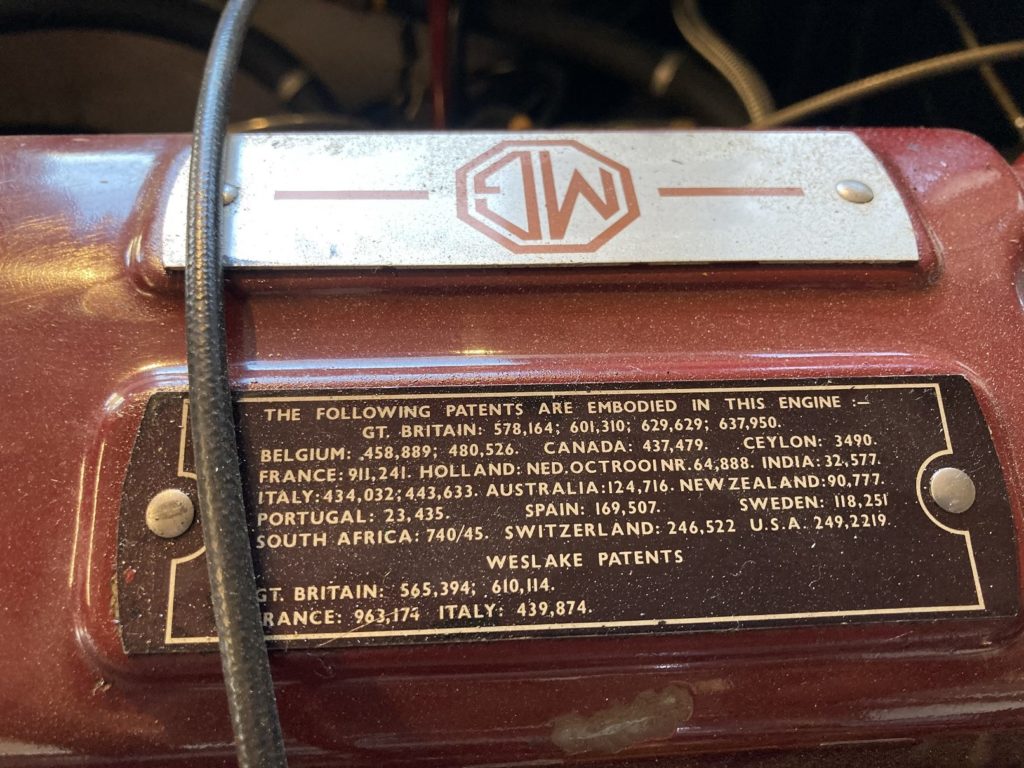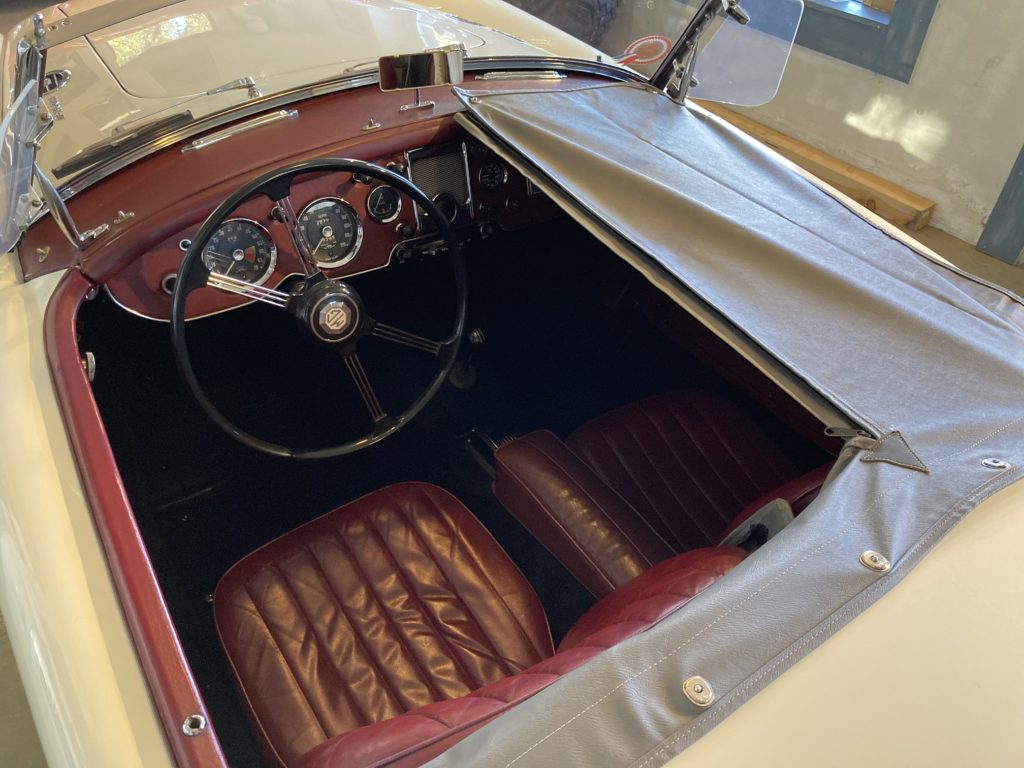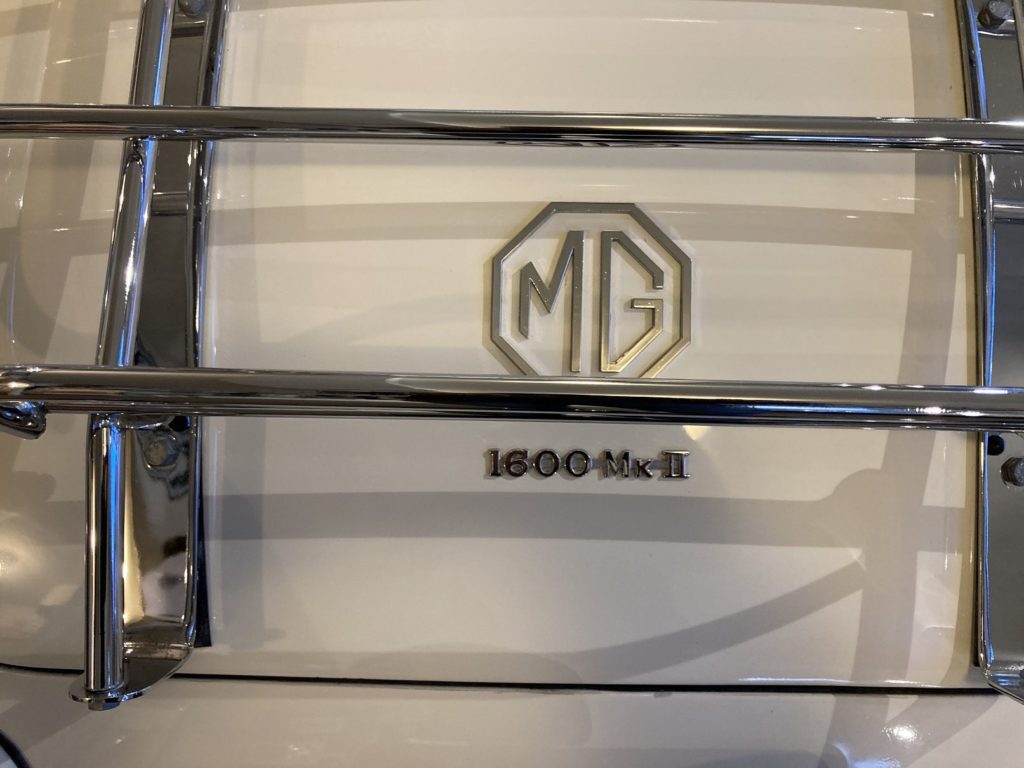 Please contact me for any further details 303-931-5280.Thank You, George