1988 Porsche 911 Carrera Targa in very good condition for sale. It has had only three owners from new (two of which were brother and sister). Just 131,686 original miles with a major engine service completed slightly less than 21,000 miles ago (see work order below). All service records past 22 years. This car has been well cared for and well maintained. All auxiliary items from new: Owners manual, full tool kit plus factory air pump, tire gauge, jack/spare, sales brochure, original keys.
Original Guards Red paint (#L80K in U.S.; aka Indian Red #80K in Germany) with Black Leather/Black Leatherette interior.
JUST SOLD – THANK YOU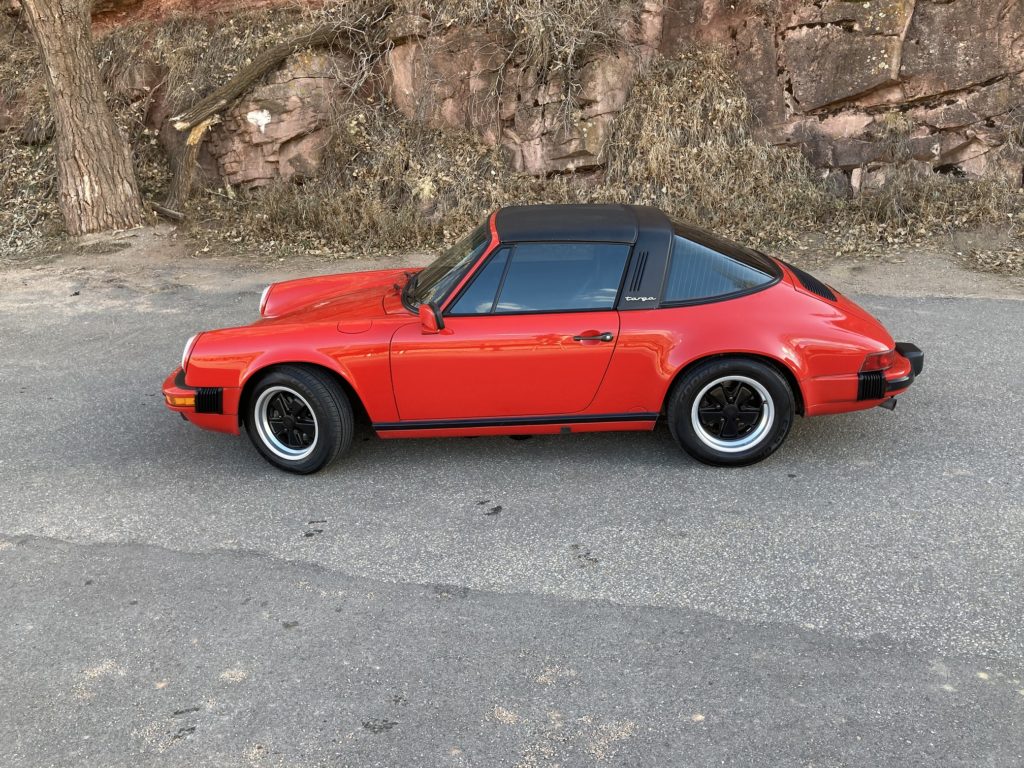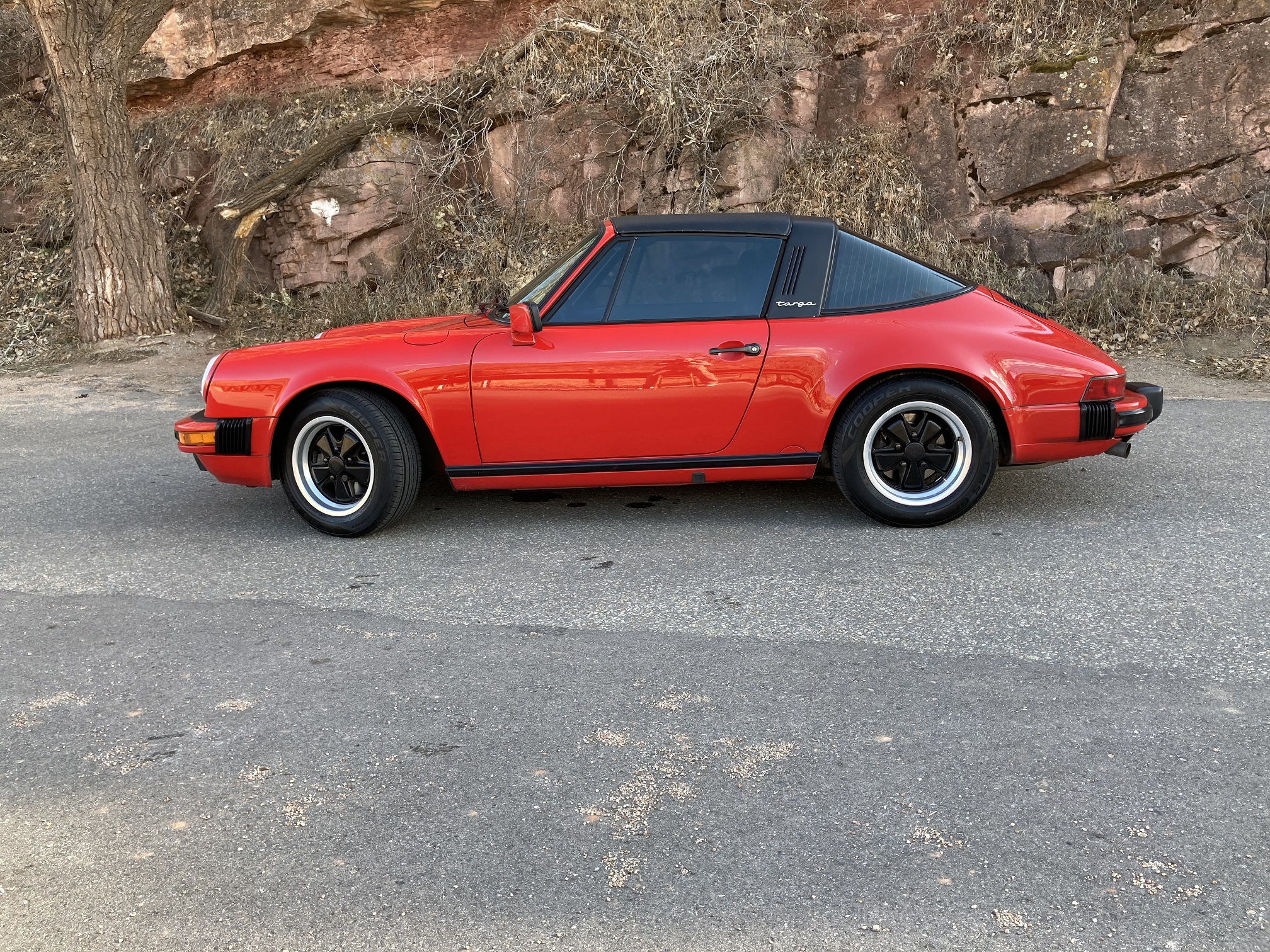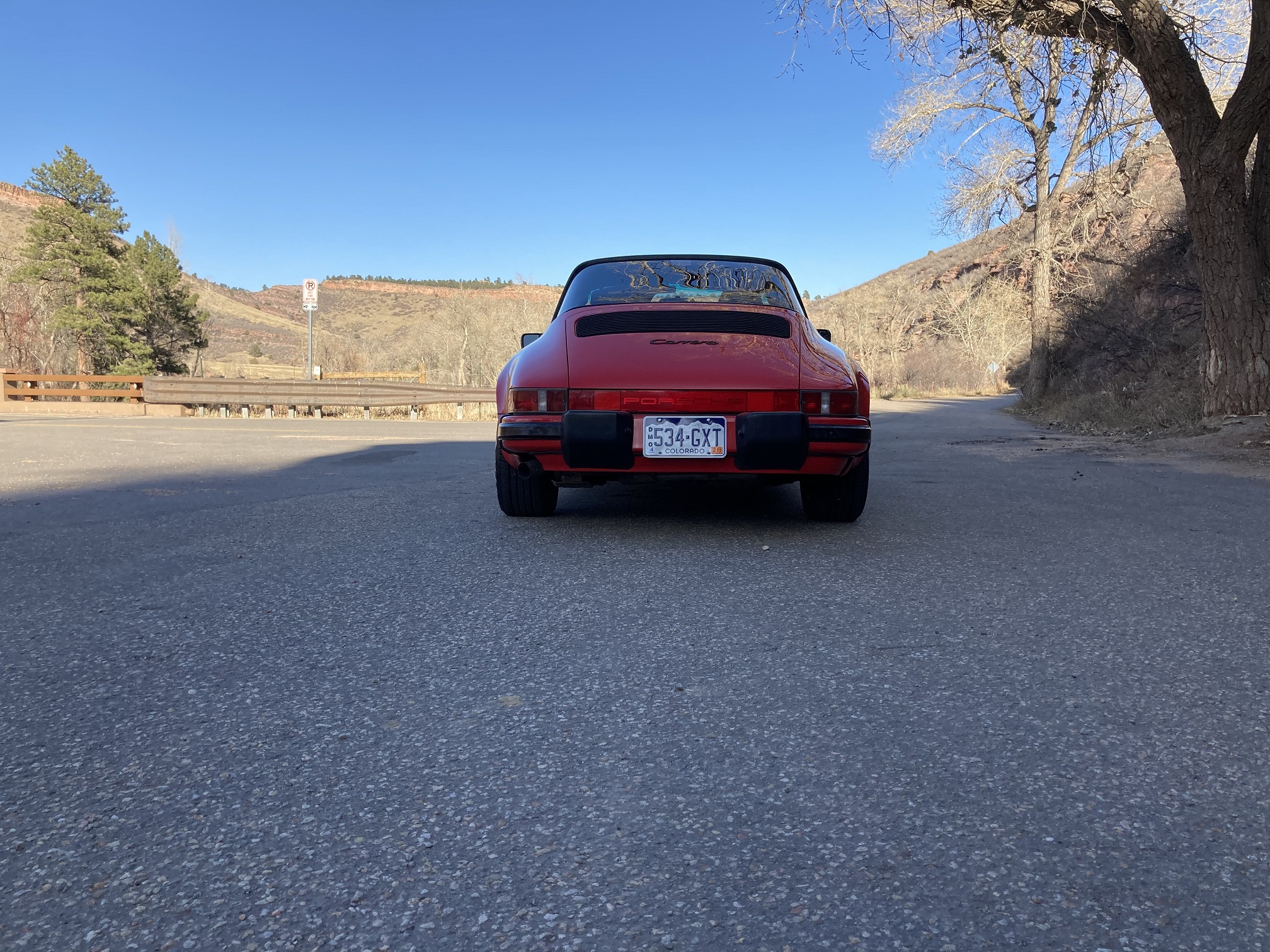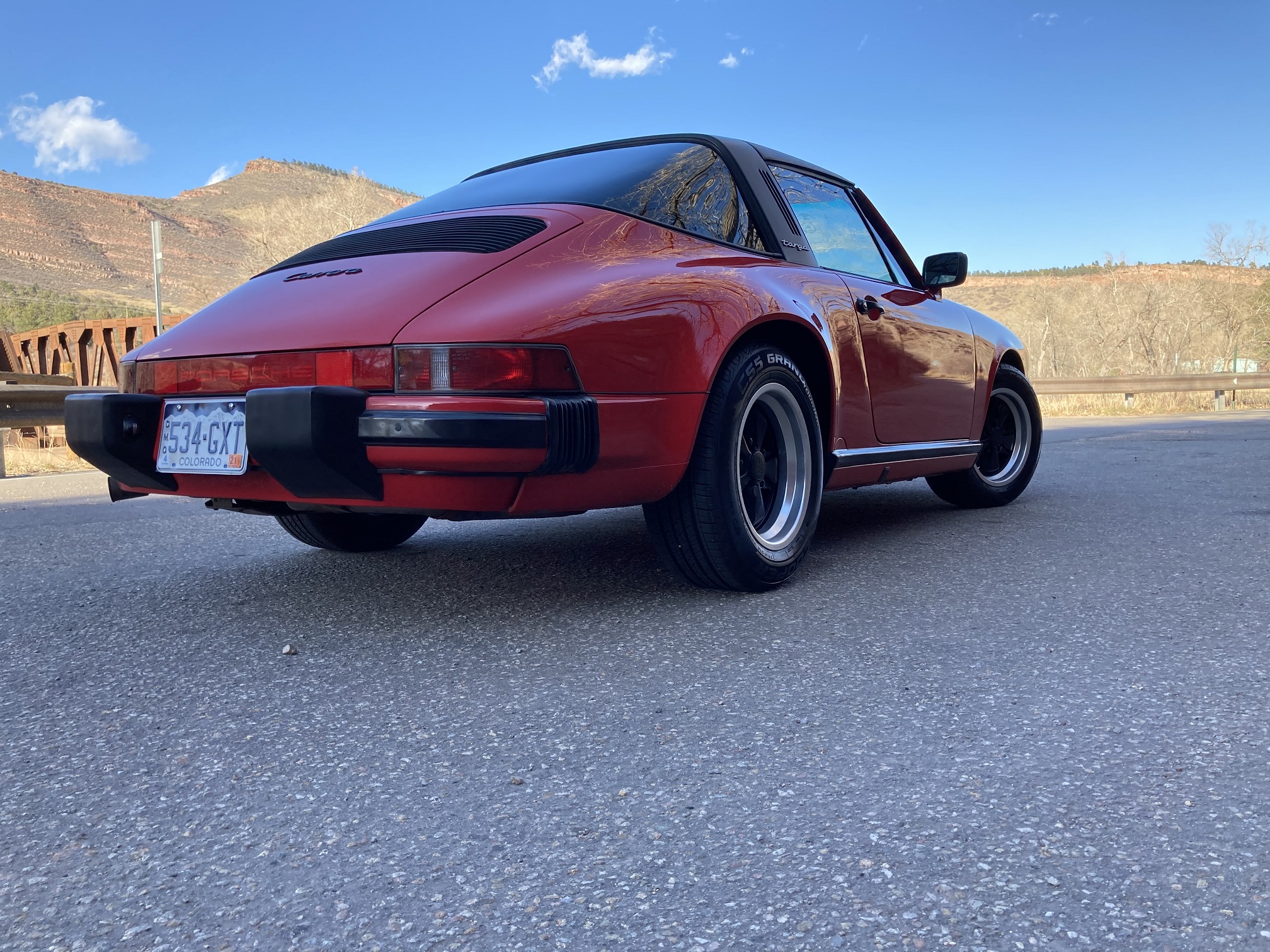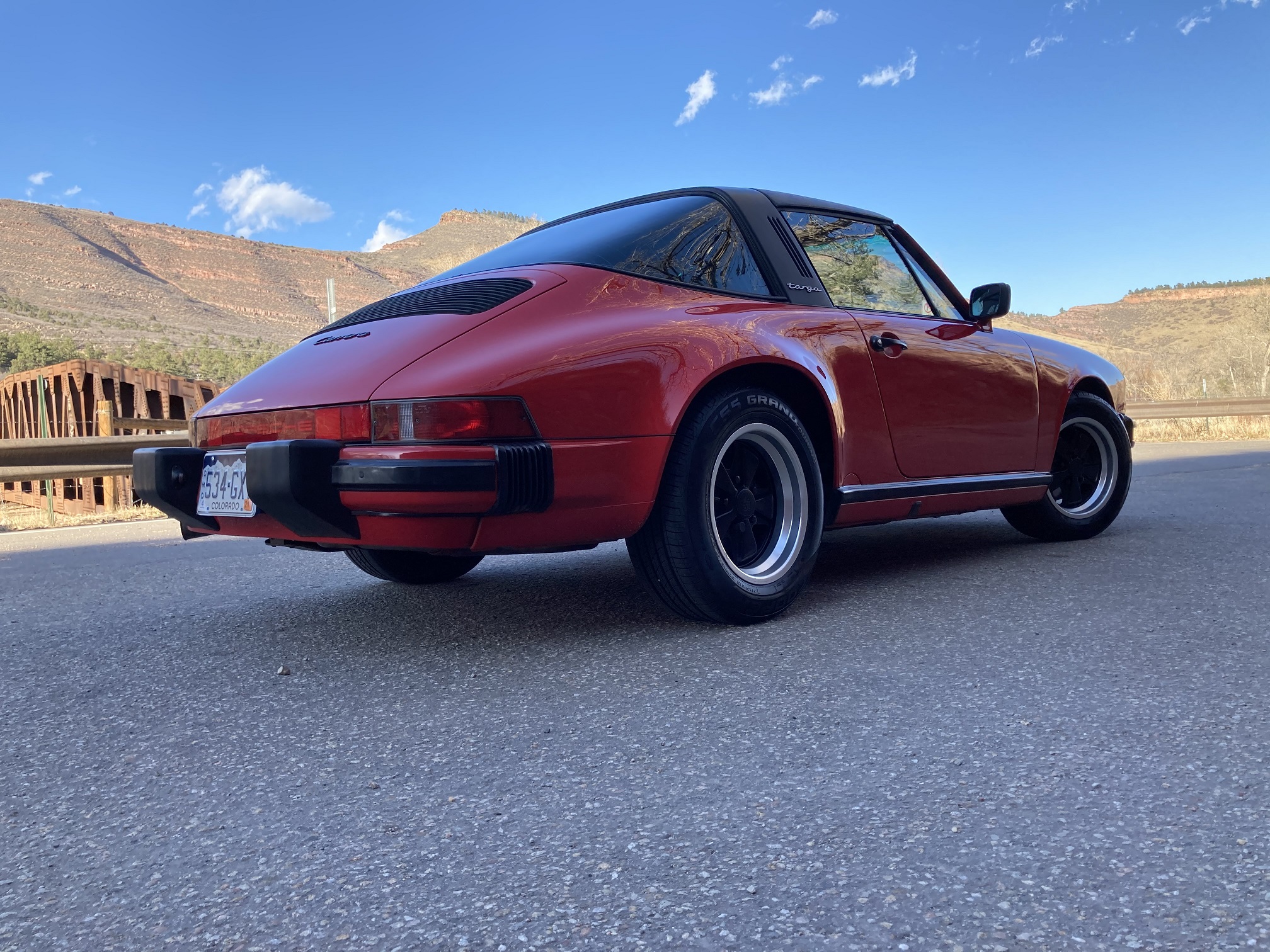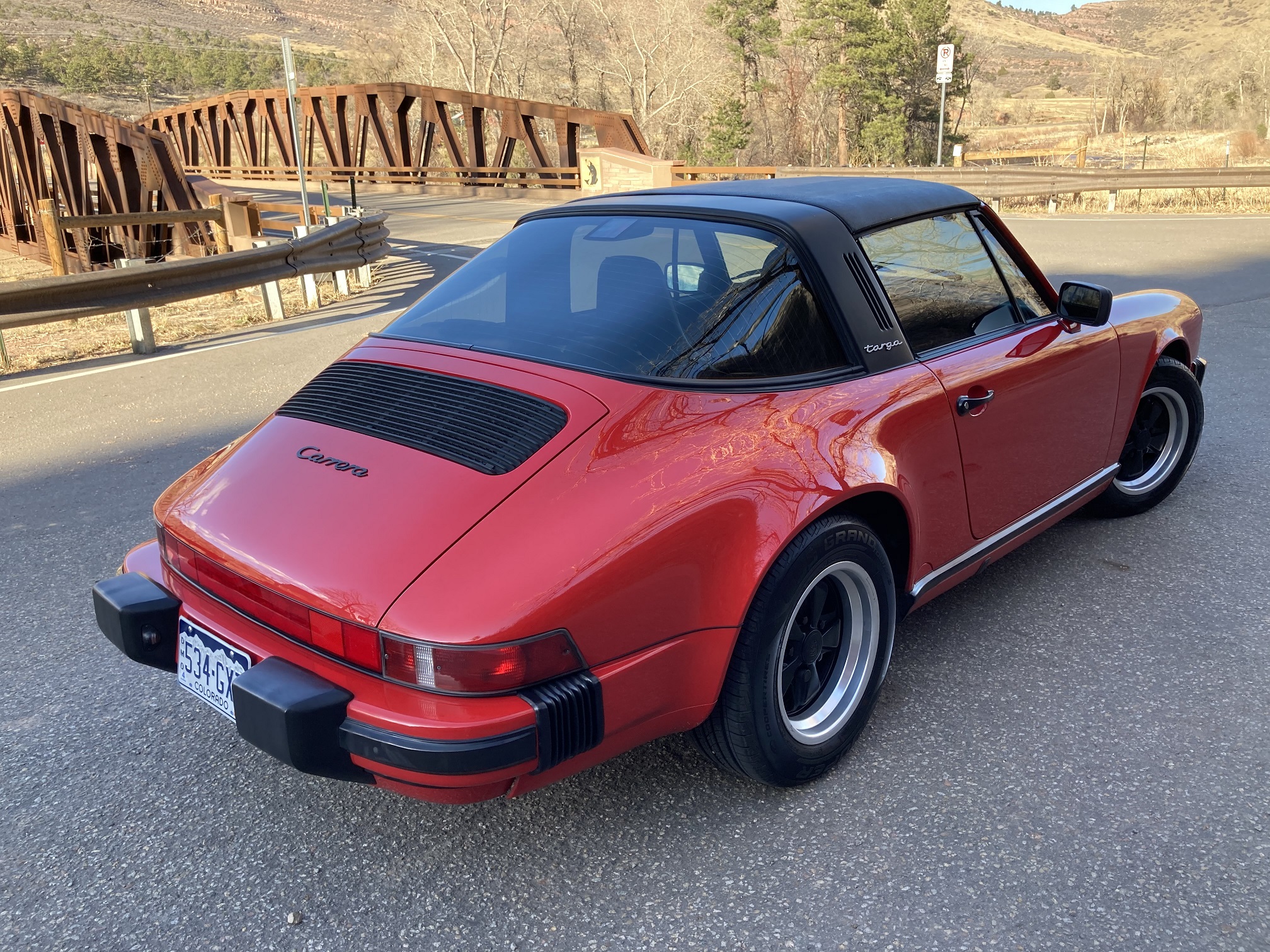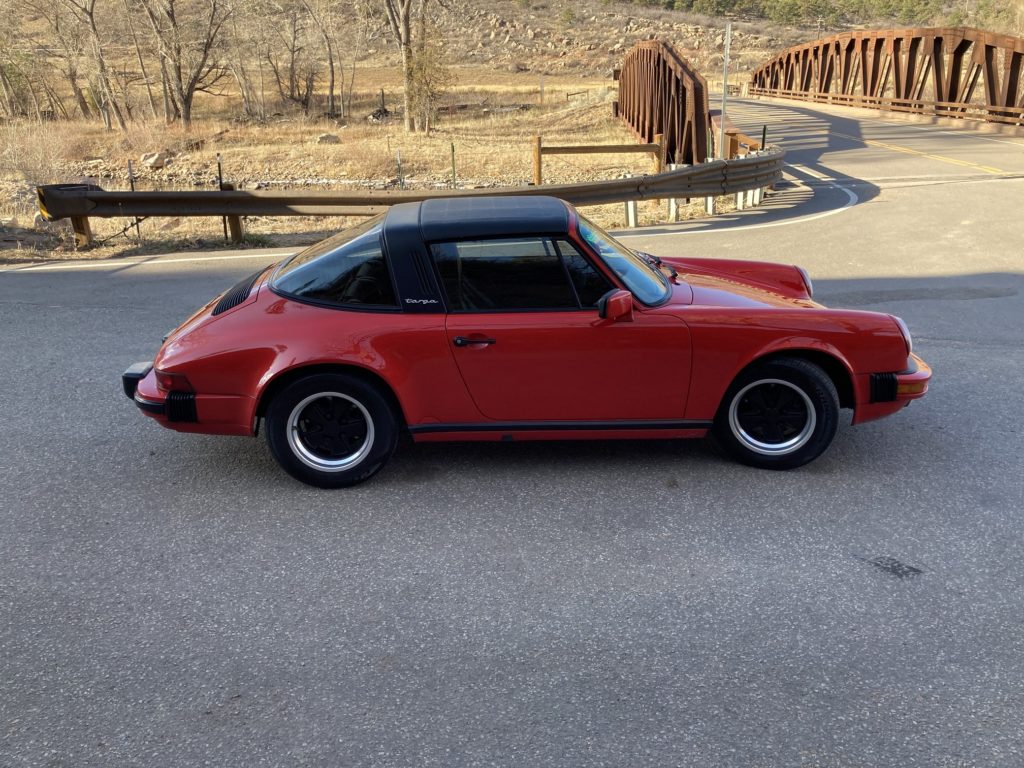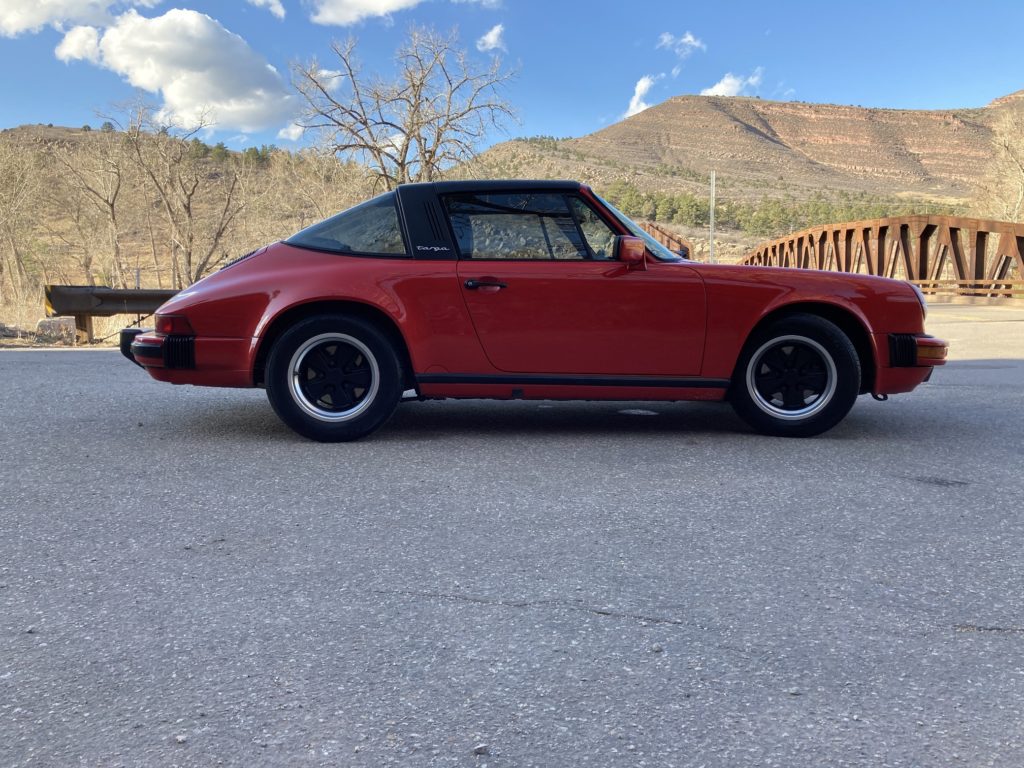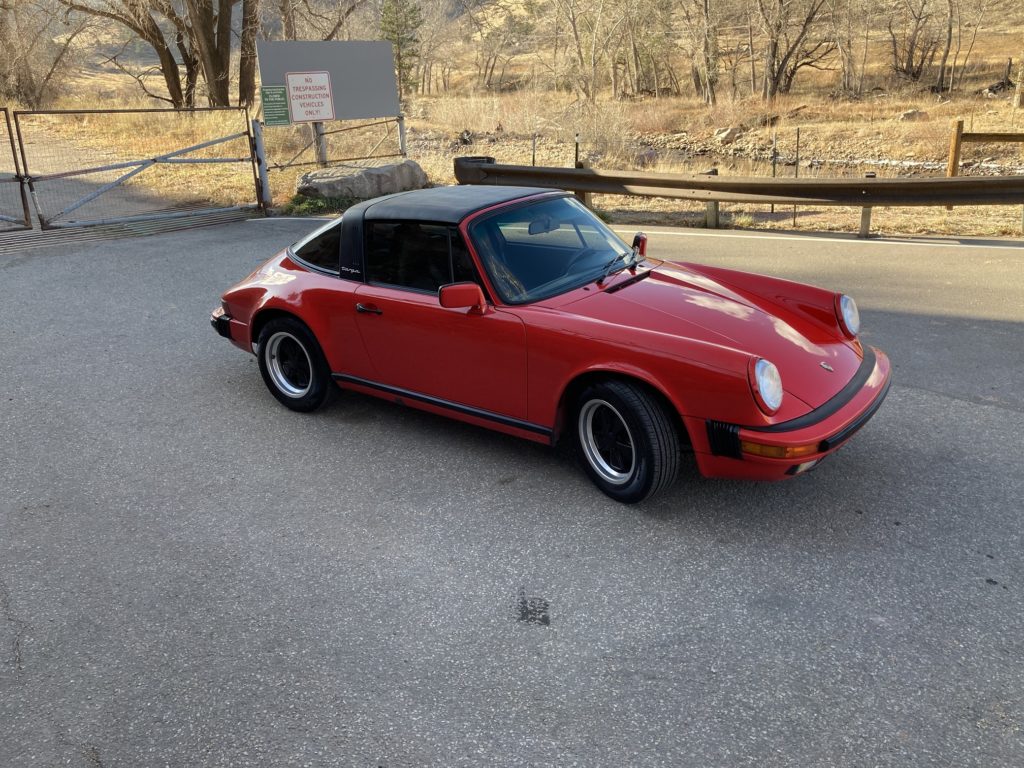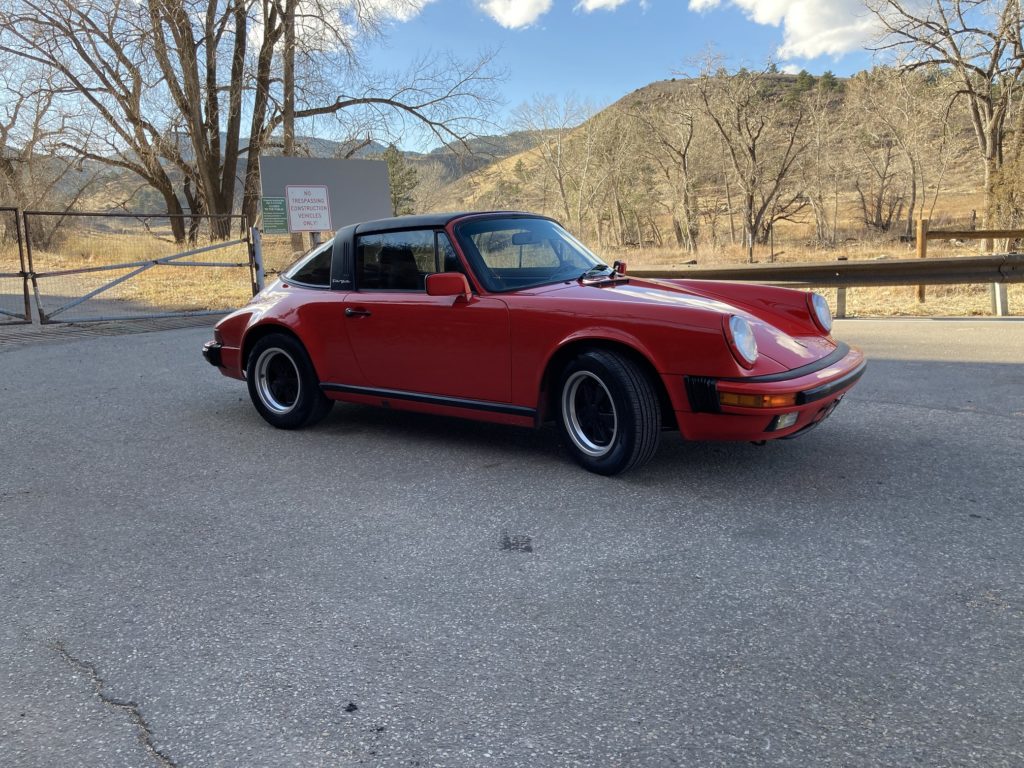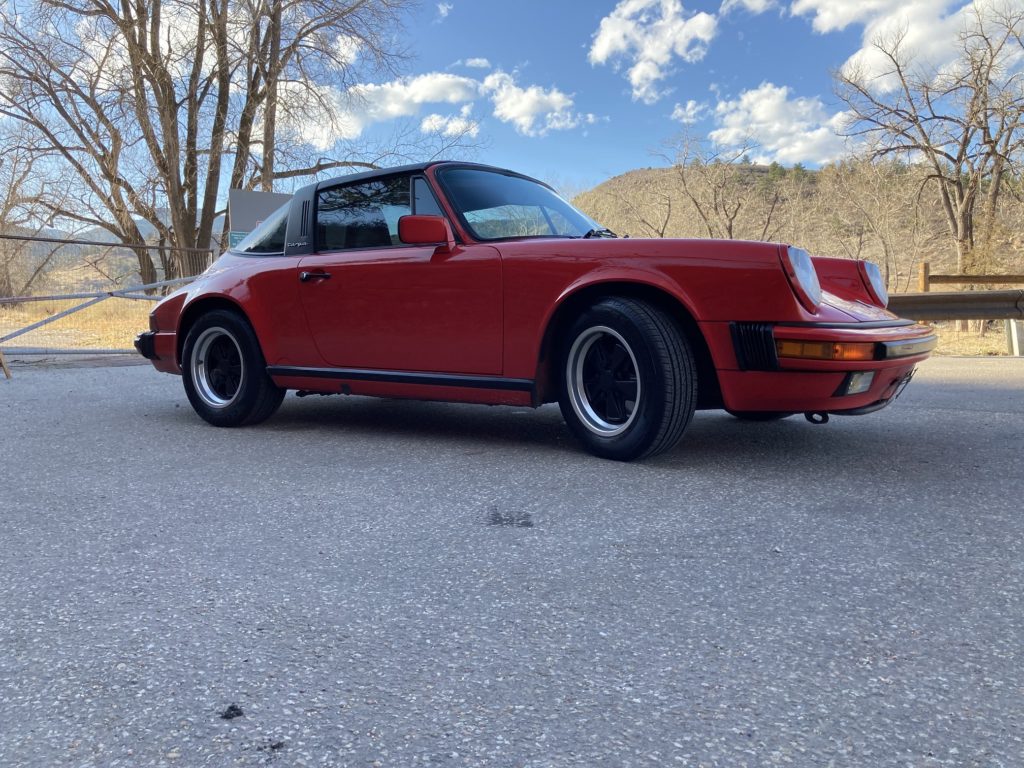 The 1987-1989 Carrera 3.2 liter cars were the last of the high bumper, short hood, G-body 911s with the classic iconic Porsche look and the last with the original type 911 suspension.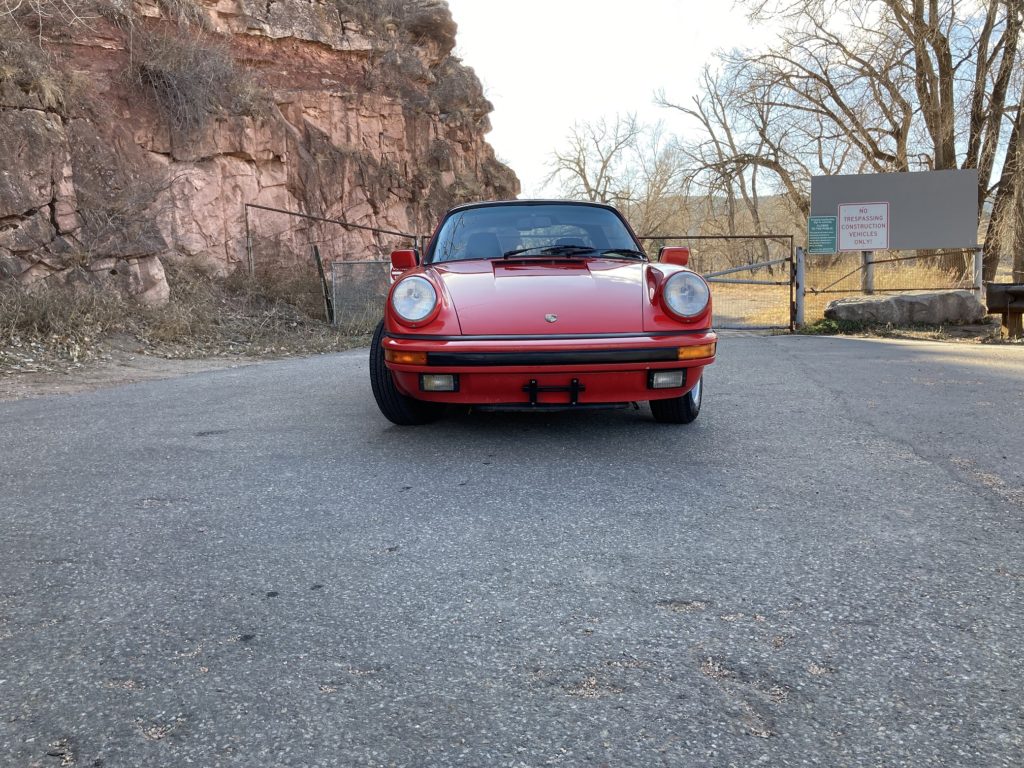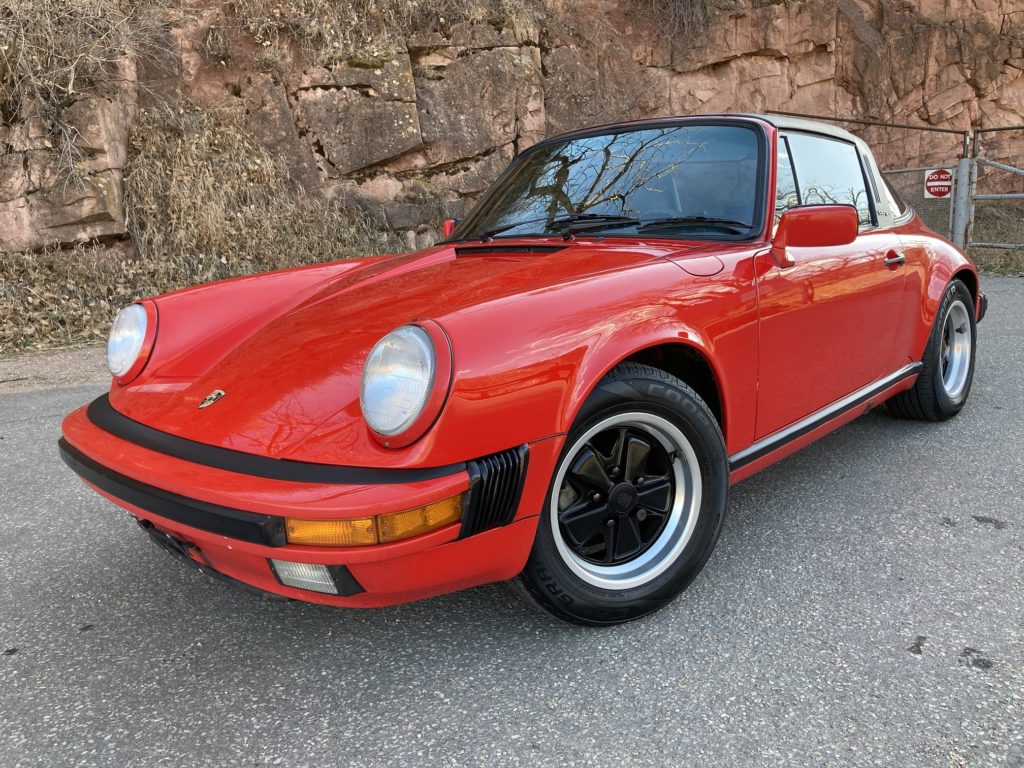 Solar Gard HP Supreme window tint also with limited lifetime warranty.
Very clean, blem free, interior. Power windows, power seat adjustments and AC. Leather front seats. Very comfortable driving car and everything comes nicely to hand.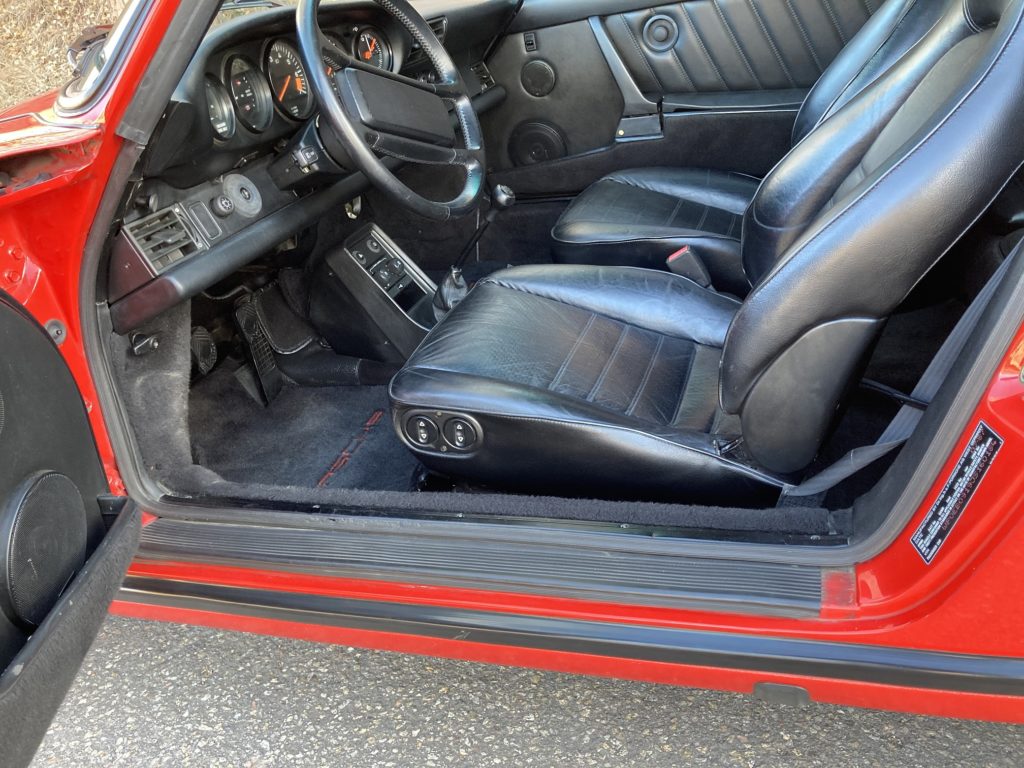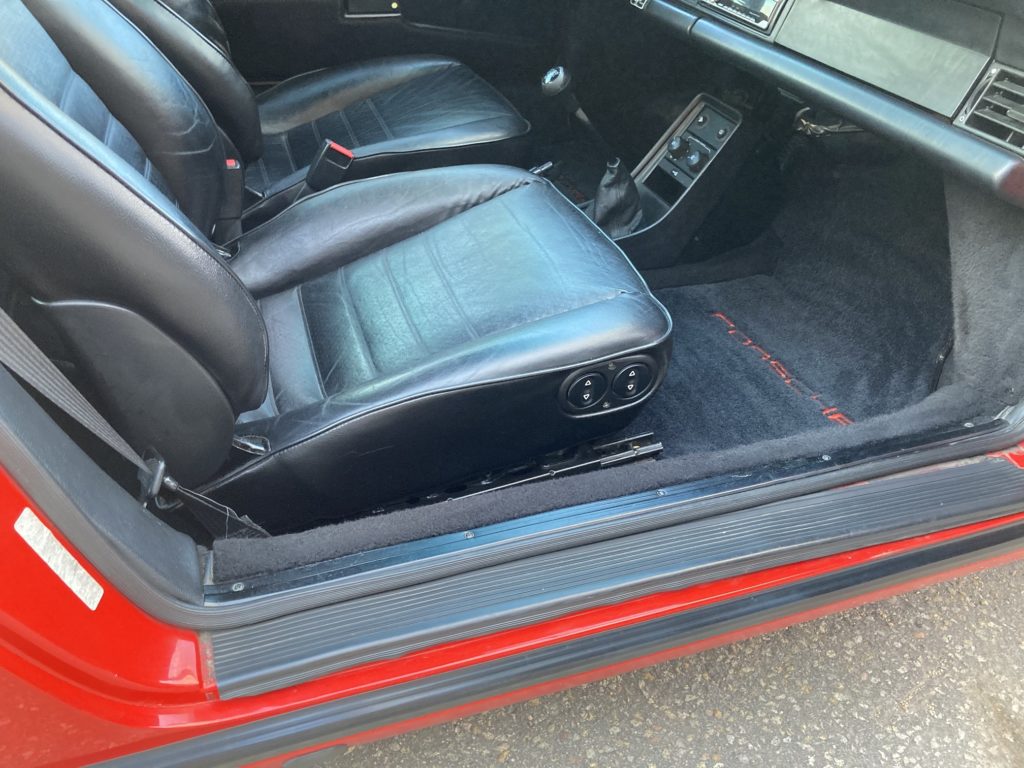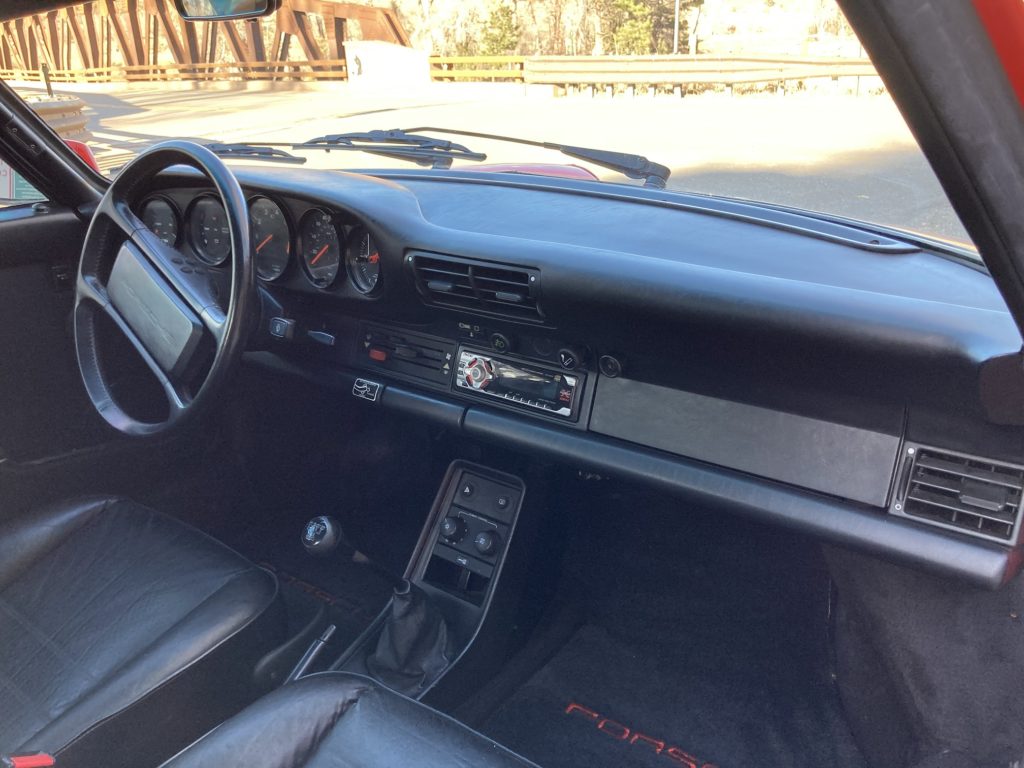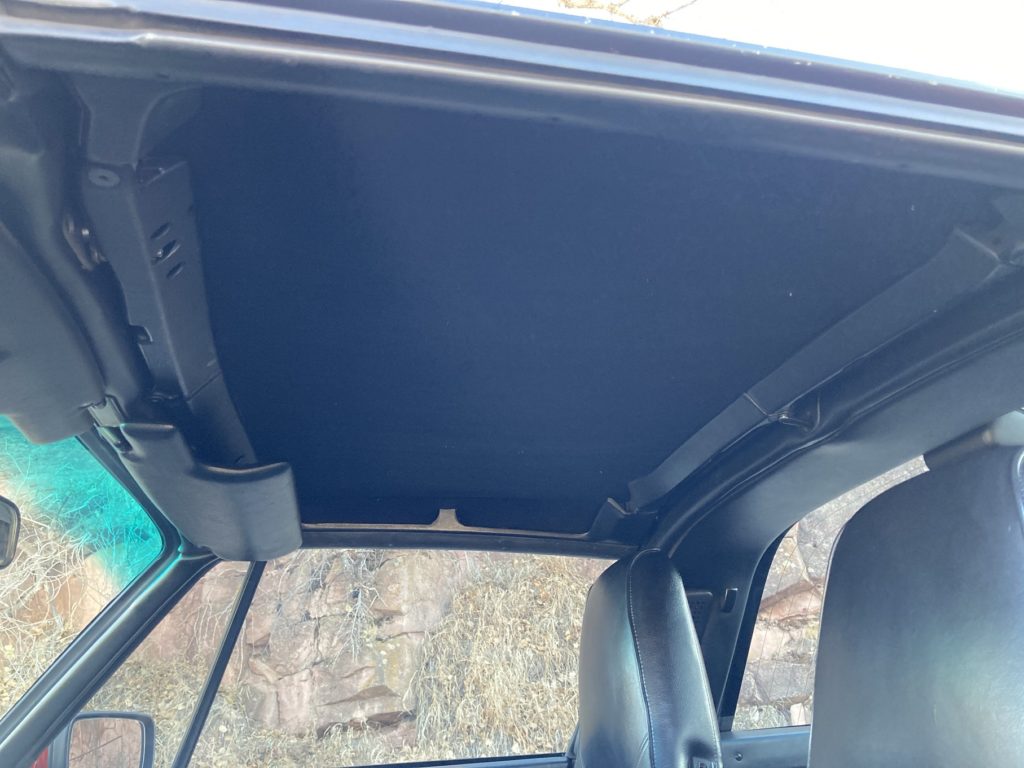 Removable Targa soft top in very good condition; both sides. Folds to store in trunk.
The wonderful "bulletproof" 3.2 liter flat six cylinder air cooled engine, produces 217 hp @ 5,900 RPM and 195 ft lbs torque @ 4,800 RPM, coupled to the equally good Getrag G50 five speed transmission.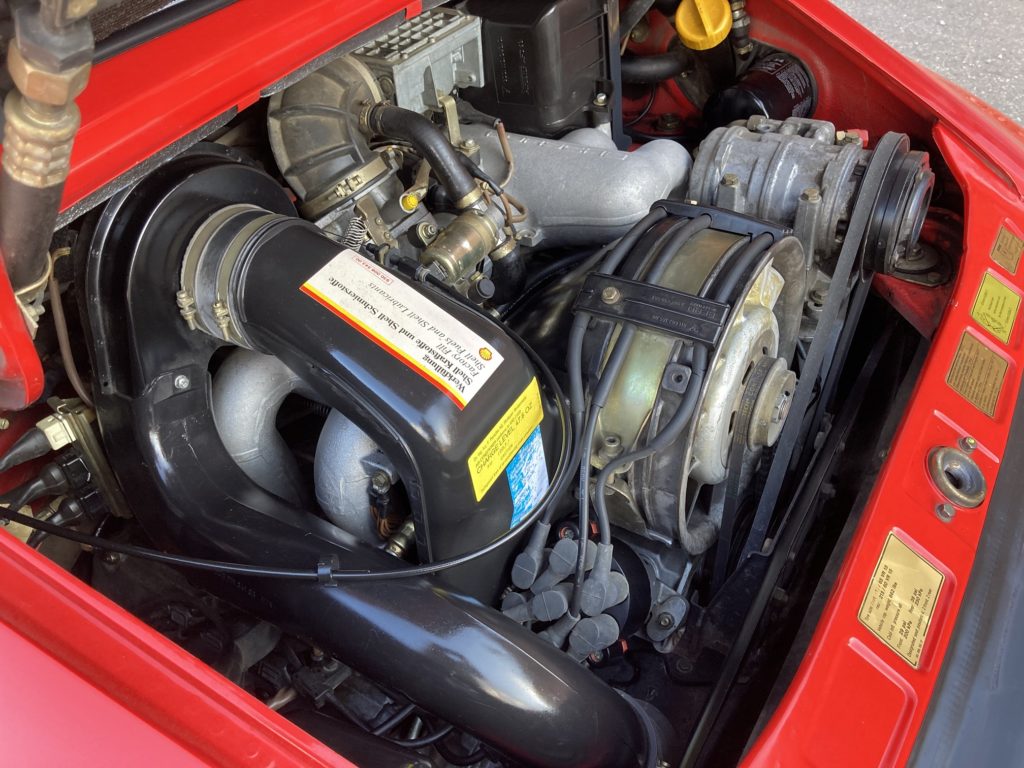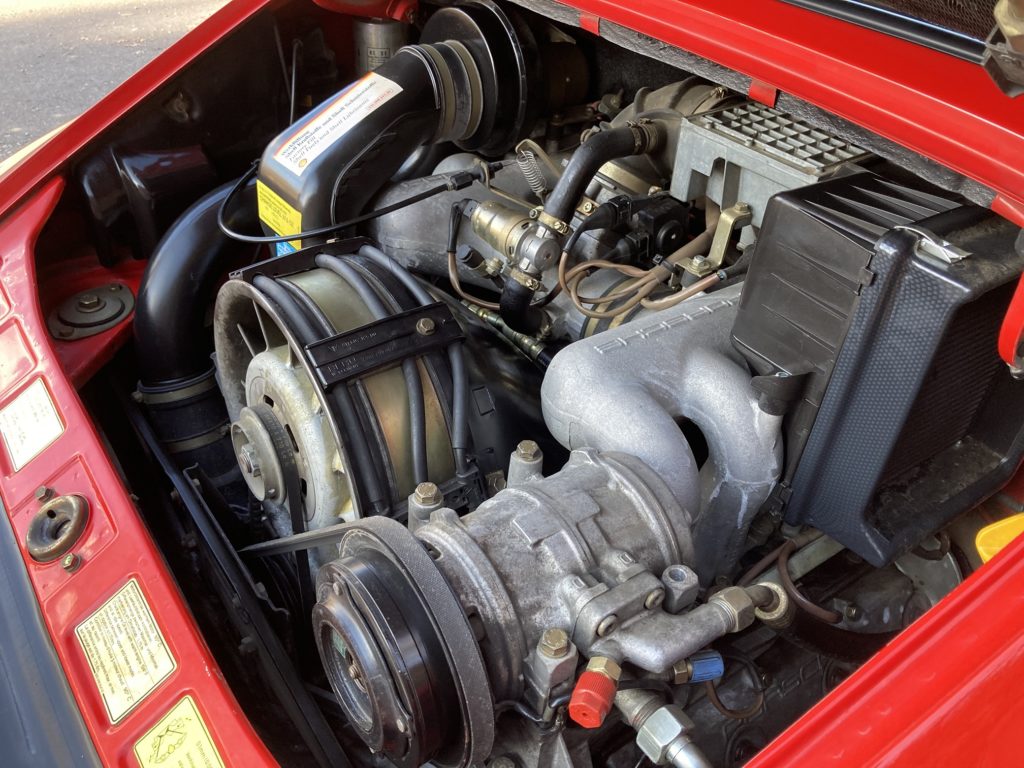 Complete engine re-build of the original engine (#64100621) at 111,236 miles; see below (left click on images to enlarge). All other service records and receipts with car back to 1998.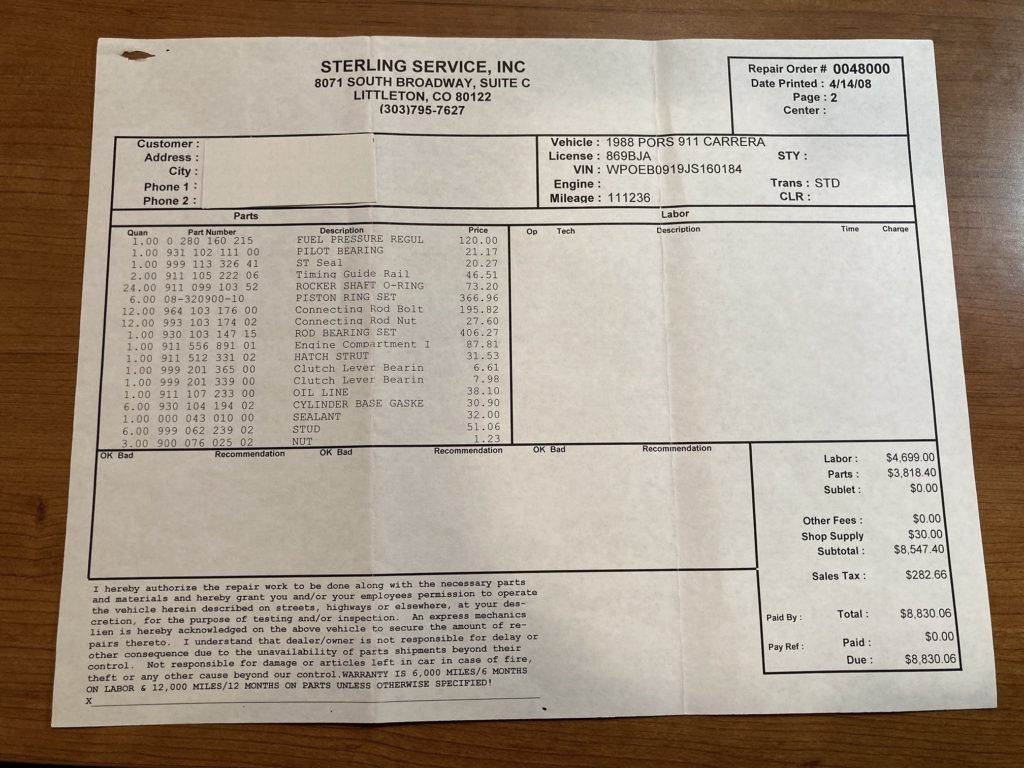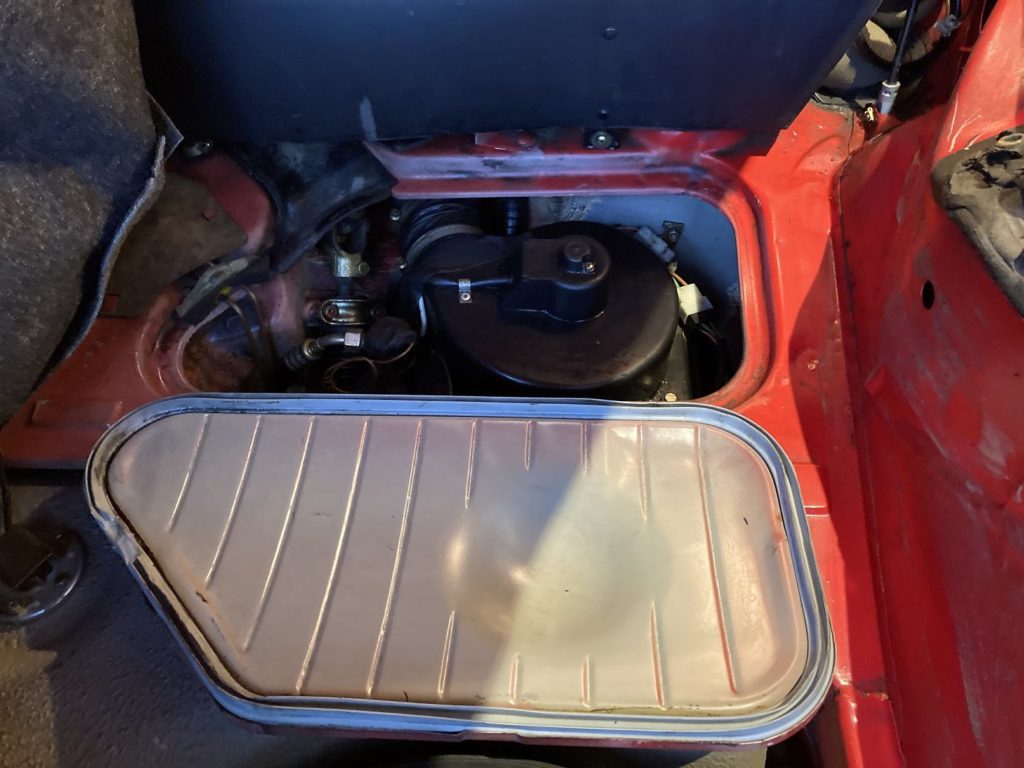 Factory AC; unit in smugglers box.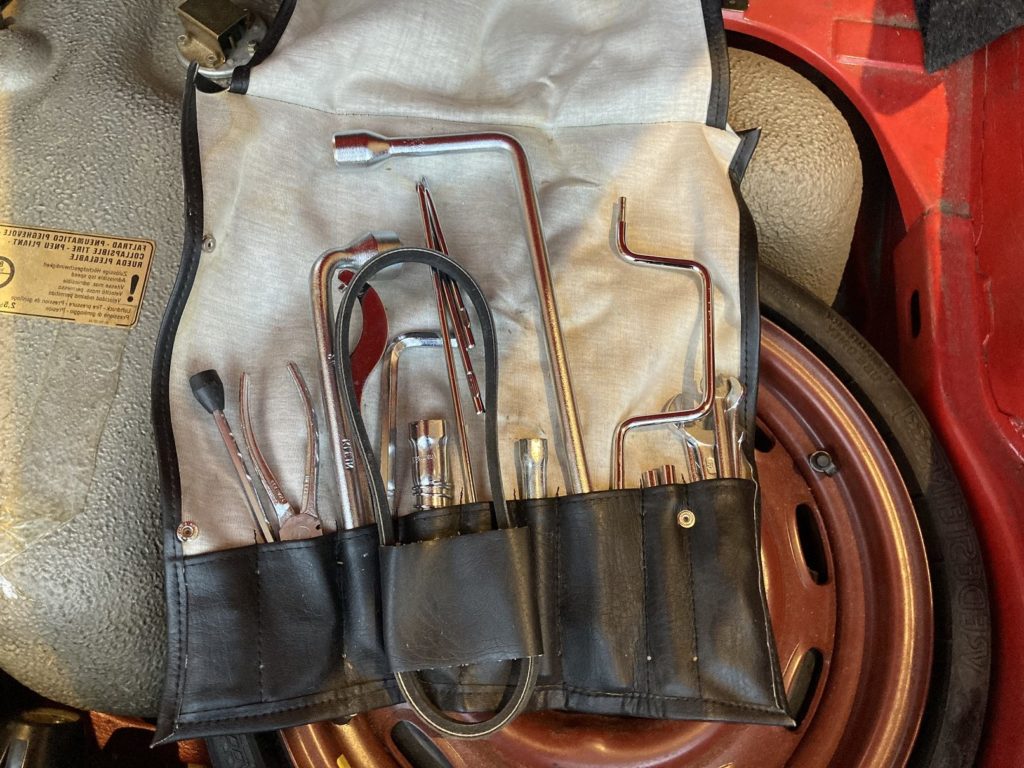 Complete tool kit in pouch; never used!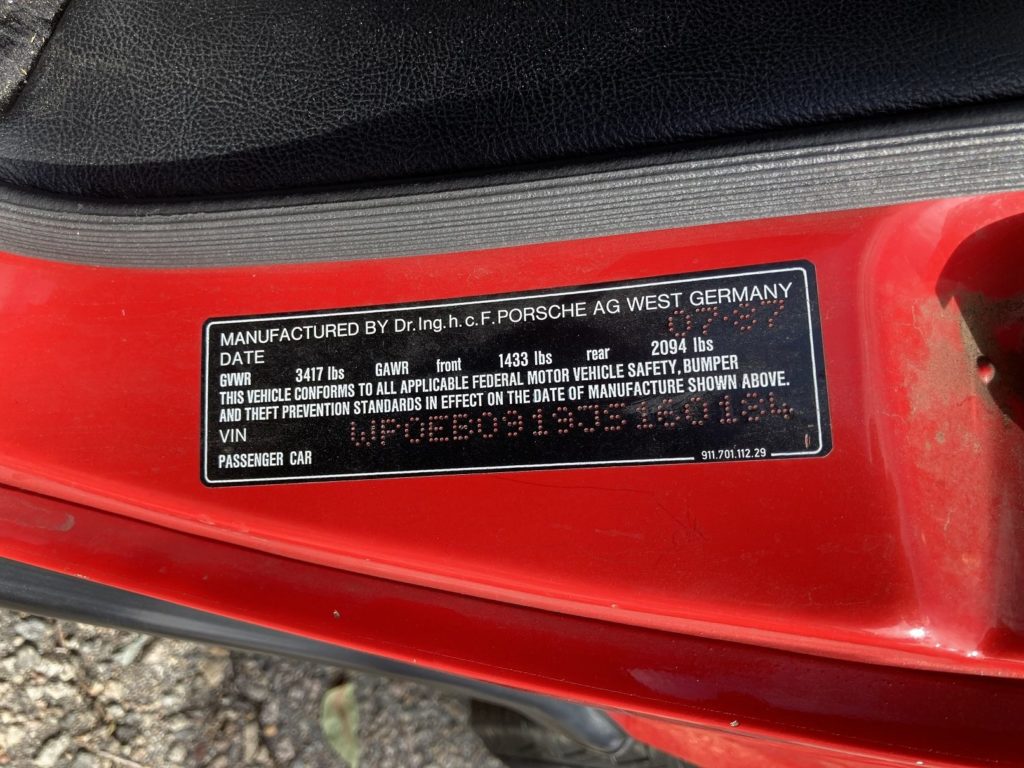 Manufacturer's Federal Conformance sticker on left B pillar with VIN# and 7/1987 date.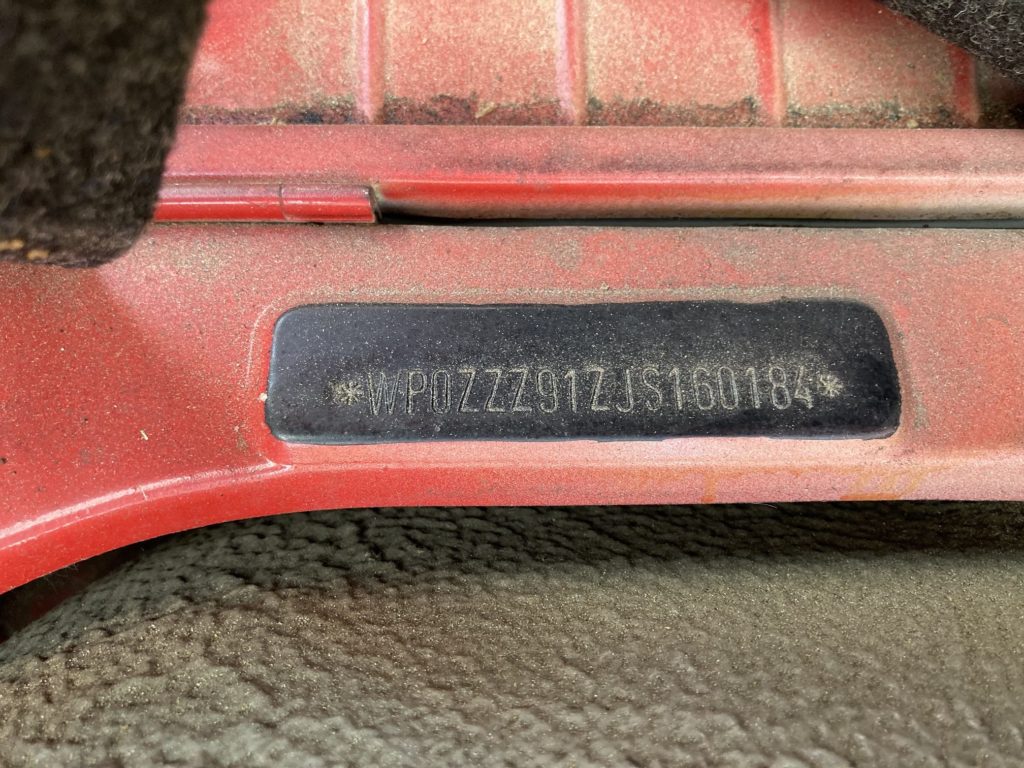 Chassis # plate in trunk.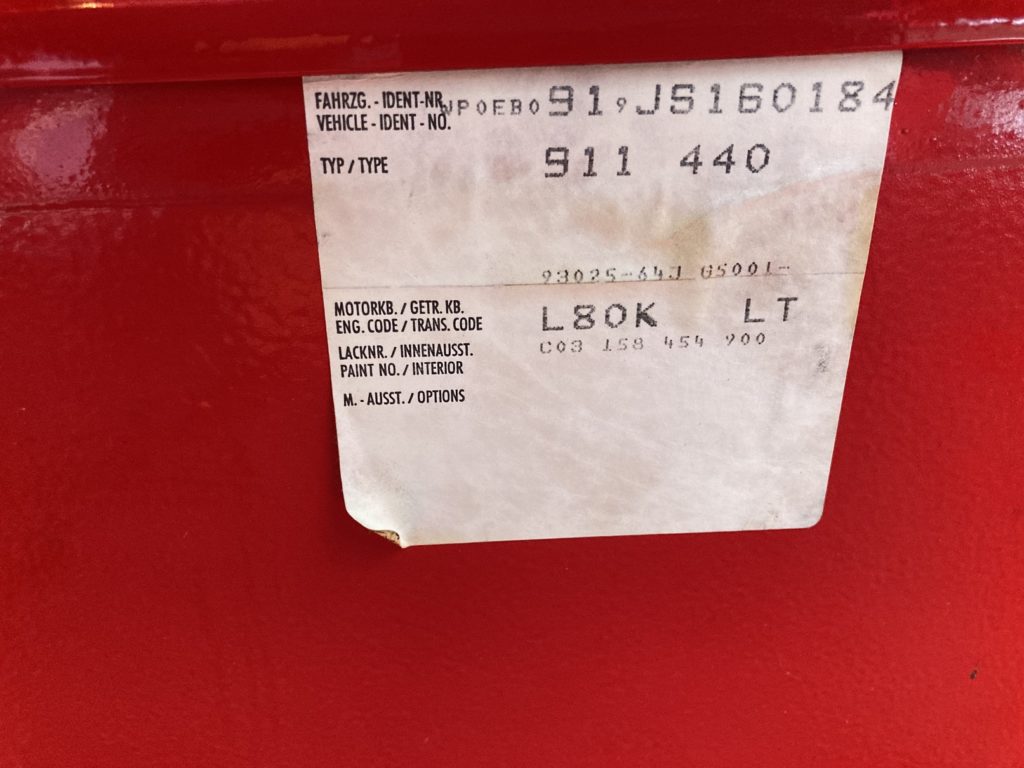 Sticker under hood with options, paint, and interior trim codes.
VIN # sticker under hood.
Indischrot – "Indian Red", German language paint sticker on right front trunk.
Space saver spare tire with jack beneath.
Factory accessory 12v air pump plugs into cigarette lighter used to inflate spare, other tires.
Porsche tire gauge accessory came with car when new.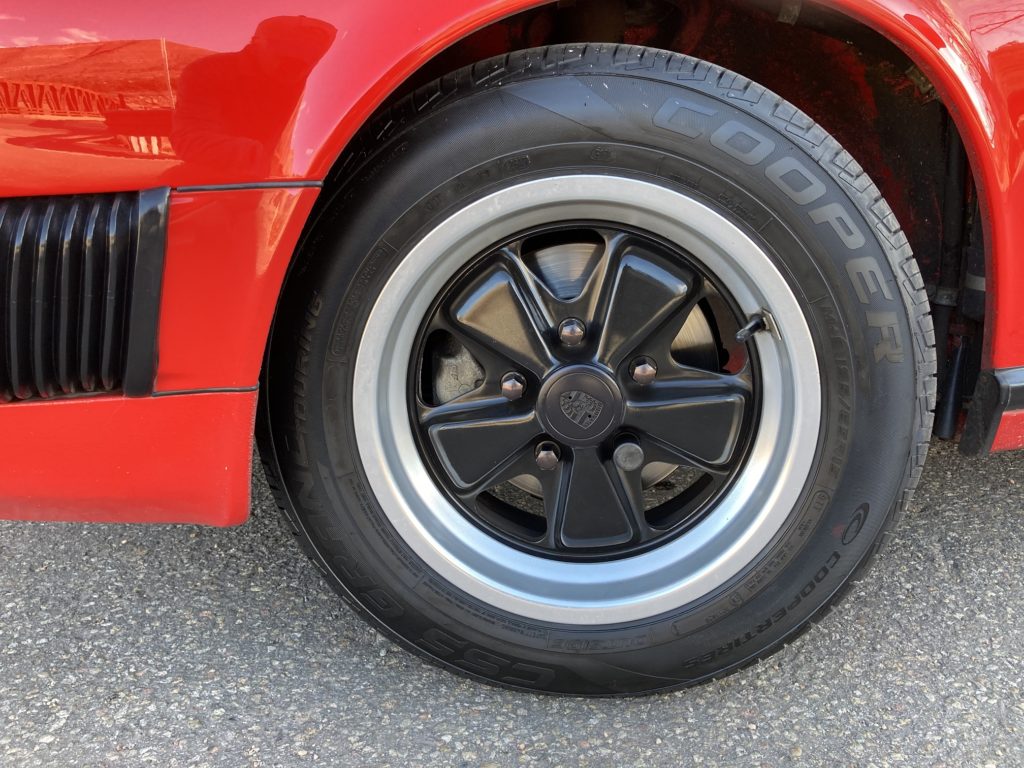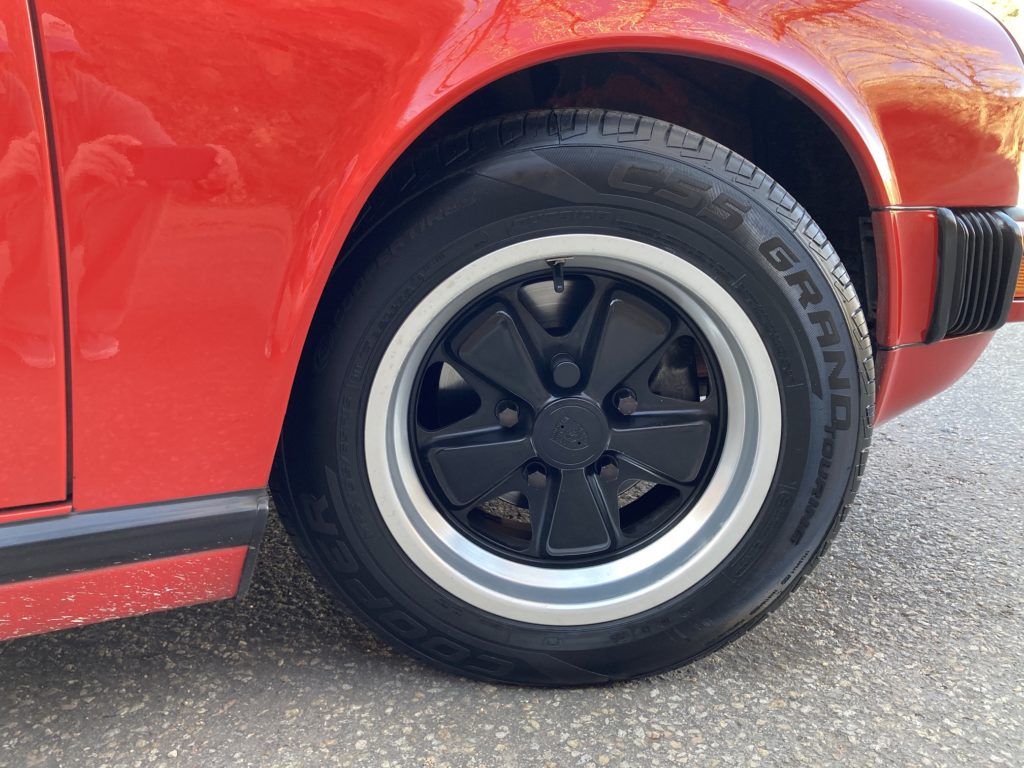 New (less than 530 miles), warrantied Cooper CS 5 Grand Touring 195/65 R 15 tires on blem-free factory Fuchs wheels.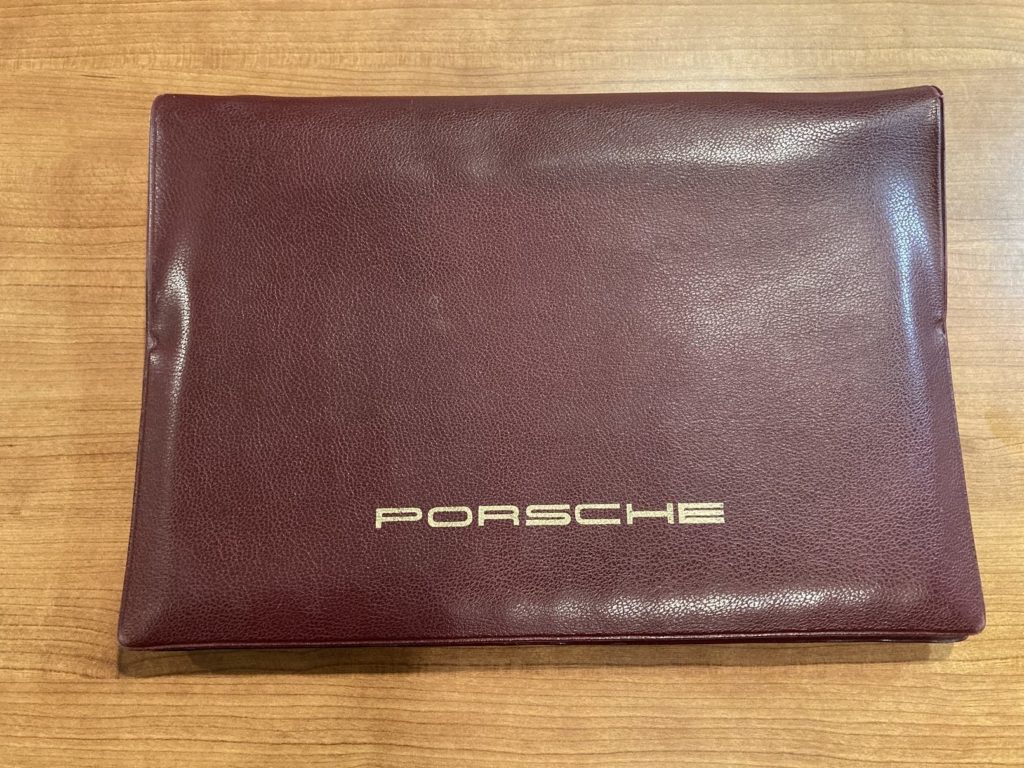 Original Owners manual and period Porsche accessory catalog in original pouch; along with stereo instructions and remote.
These cars were dipped/galvanized at the factory to prevent rust. This one is very clean and not rusty underneath as you can see from the following photos. I did not clean or wipe down anywhere on the  underside of the car, engine, transmission, etc. prior to taking these photos; "what you see is what you get!". It is a very "dry" car, very little in the way of leaks, only a dime size spot after sitting for a length of time is all.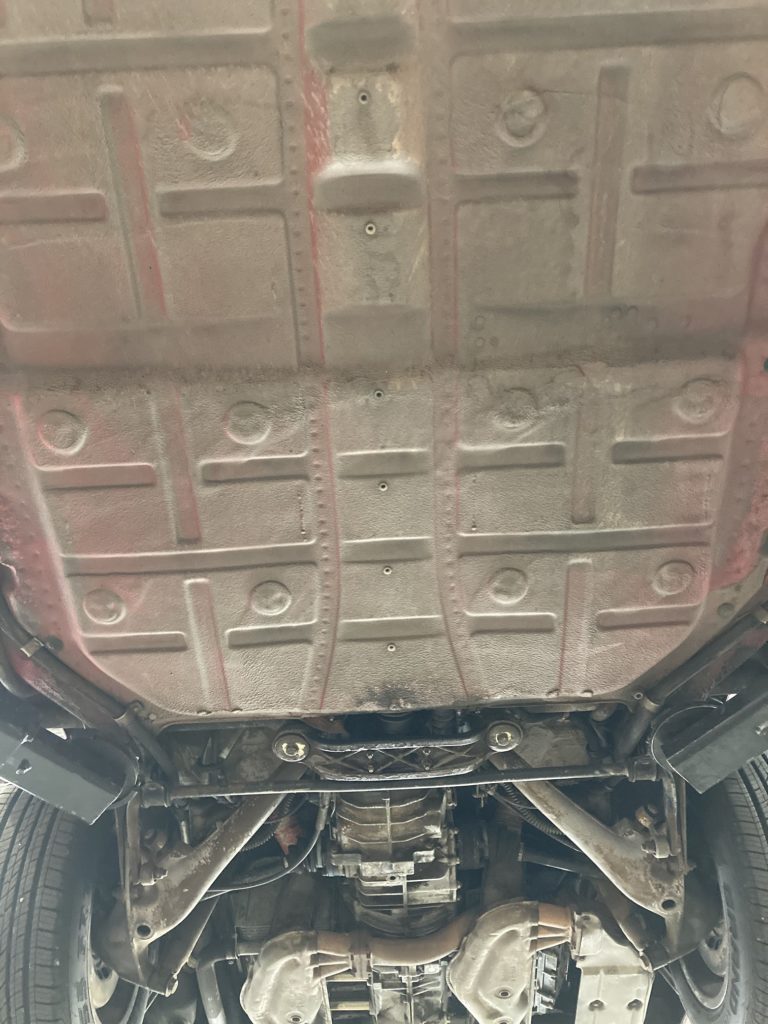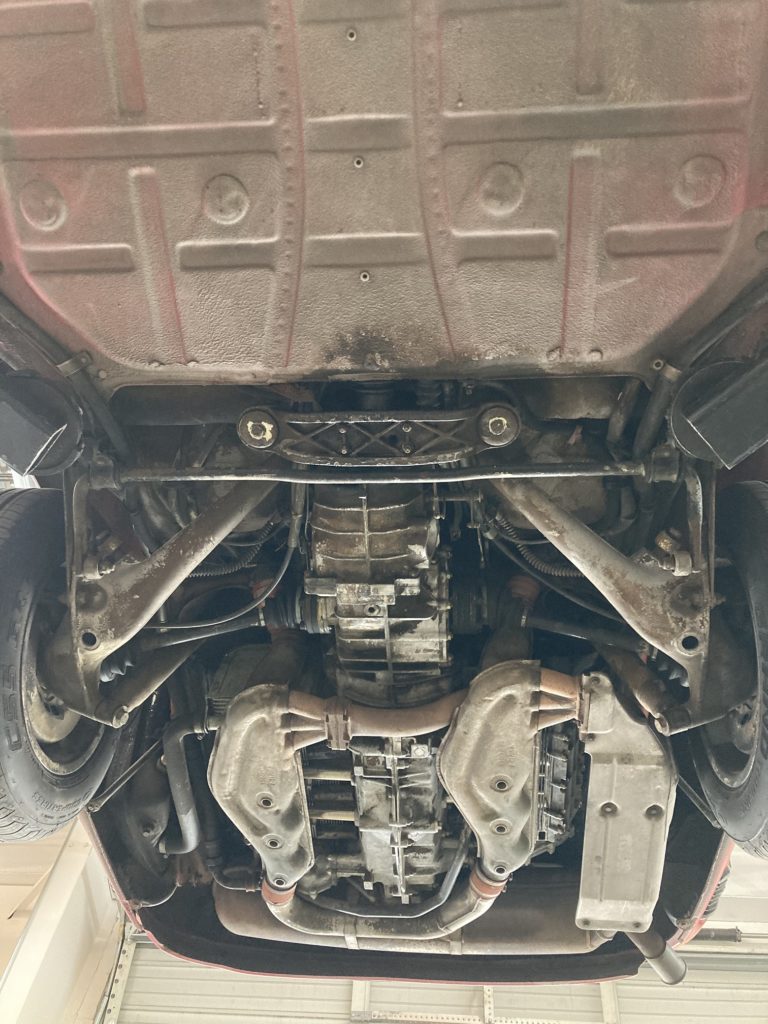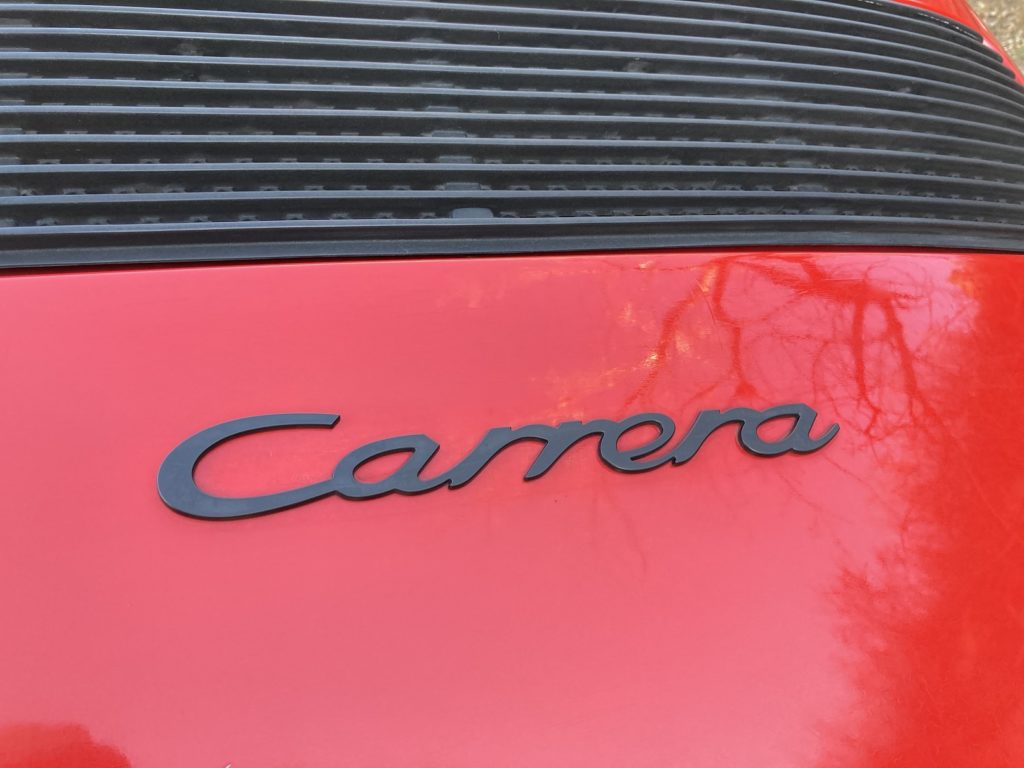 This Porsche is in very good condition throughout. Is it perfect? No (what is??); it has some paint chips from road use on its front valance, the backs of the mirrors and on the lower rockers behind the front wheel wells and the release for the rear seats seat backs is currently not working but it is a very honest, un-molested, solid (not rusty!), original  example of the marque that runs and drives very well. It should easily provide the next owner with many more enjoyable miles and continue to be an appreciating investment as well.
Please call me 303-931-5280 to come see and check out this nice Porsche in person. Thanks, George