Wind River Range WY
Like many good stories this one begins in a bar. My wife and I were enjoying margaritas at one of our favorite spots in Lyons one evening when a man came up to us to say hello. I vaguely recognized him but as Lyons is a town of only about 2,000 people, many folks look at least somewhat familiar. He said you probably don't remember me but I am the father of the young man that you were kind enough to allow to have his high school senior pictures be taken in one of your vintage cars at your shop a couple years ago.
I told him that I remembered his son and that it was nice to meet a teenager that appreciated vintage cars and hoped that his photos had come out OK. He said yes, they did and that his son was now attending a local university but he had stopped by now to ask if could visit with me sometime about some old cars that his Dad owned. He knew that I owned a few vintage Porsches and said that his Dad's cars were also older Porsches which really piqued my interest. He said he had yet to see the cars so didn't know exactly which models they were but perhaps I could accompany him up to western Wyoming to check them out for him. He said they were stashed away in various locations around where his Dad was originally from and I readily agreed that we should go as soon as it would suit him.
It wasn't long before we arranged to drive up to south of Jackson Hole to check them out. It was a drive I had made a couple times before on camping trips and is a nice scenic drive coming up through Northern Colorado on Rt 287; then a fairly lousy stretch of I-80 from Cheyenne westbound until heading north off the interstate through wide open country coming up along the Wind River Mountain Range with beautiful views in all directions.
We met at the Wind River Brewing Co. in Pinedale (great spot if you're ever in the area!) where we mapped out a plan to check out the three cars as there was some ground to cover between them. One was in the garage of his Dad's old house; another in a horse barn on someone else's ranch and another in a storage unit.
A few hours later, we were to his Dad's old place and when we opened the garage door this is what greeted us:
A 1957 Porsche Speedster!
His Dad (Vern) had bought this Speedster in the late '60's and at some point completely disassembled it to begin restoring it; it had been sitting this way for many years (sound familiar anyone??). In the garage was the rolling tub and after much rummaging we managed to find most of its parts in various places throughout the house. You can see in the top photo above a pile of cardboard boxes behind the car behind which we found several Porsche engines including the original case for the Speedster (!). We inflated the tires and rolled Porsche Speedster # 83555 into the daylight for the first time in many years!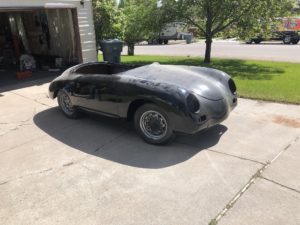 Below are some photos of Vern (and friends) with his Speedster back when the car was his daily driver in Sun Valley, Idaho.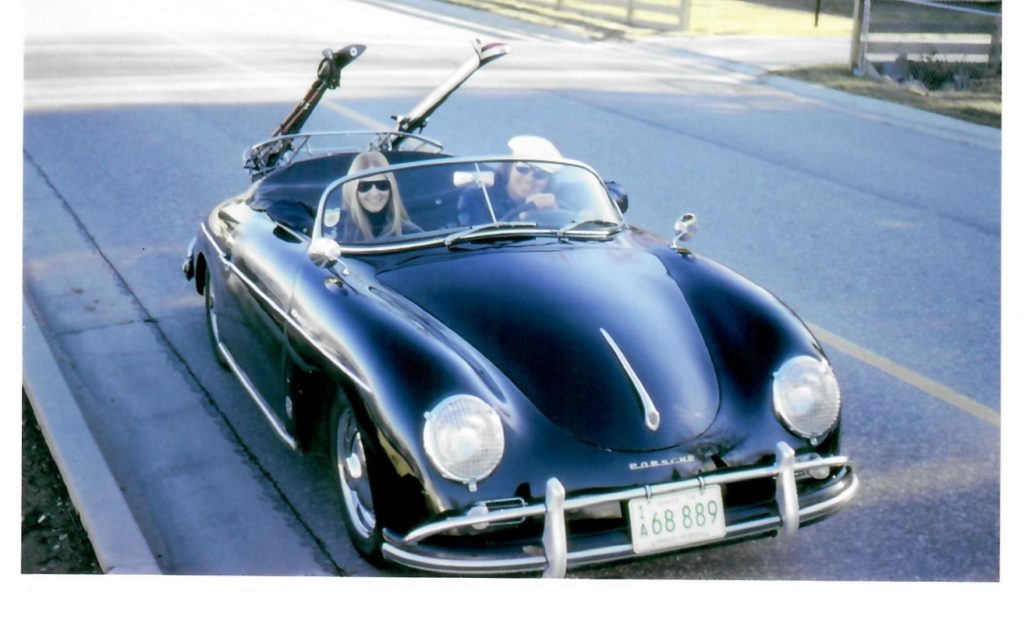 Photo above of Vern and friend in the Speedster taken in Sun Valley, Idaho in 1974. Vern lived in Sun Valley at the time where he worked as a ski instructor and ski patrolman. Love those red, white and blue K2s too! More photos below of fun with the Speedster in the '60's and '70's.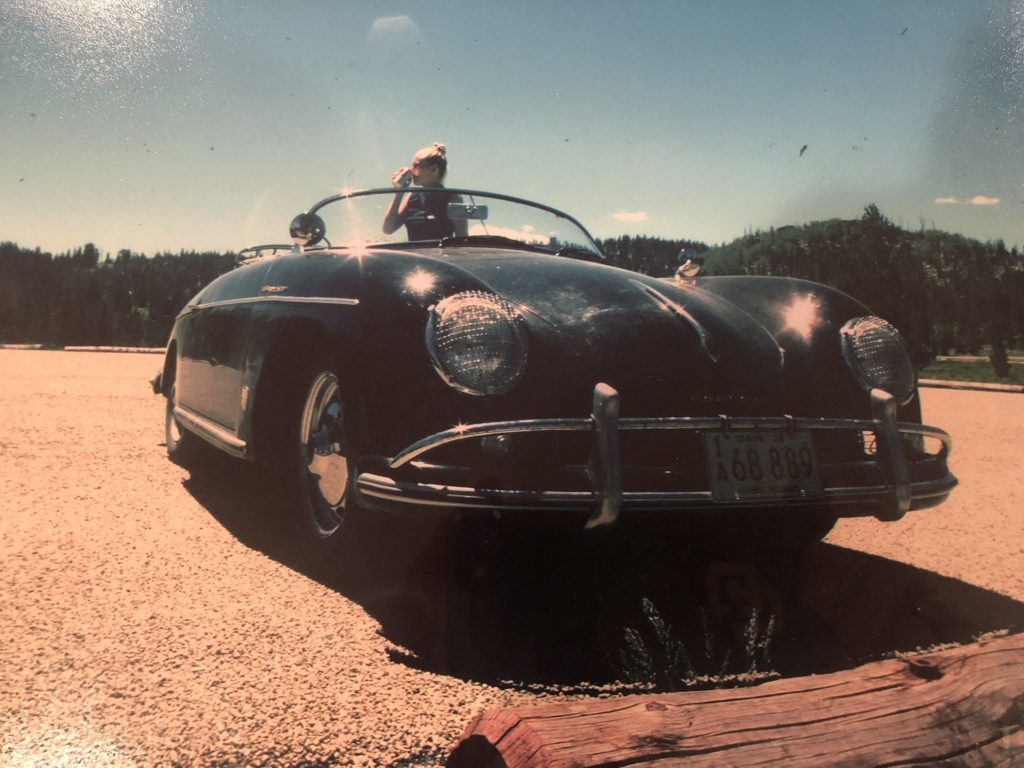 Vern was living in Sun Valley when he spotted the Speedster and flagged down the driver, who turned out to be a frat brother from UWY (!). Vern decided he was ready for a "new" Porsche and soon bought the Speedster. He then retired his previous Porsche which we went to find next.
He had trailered it to a horse barn on a ranch some 20+ years ago and after some wrangling about past due storage rent we were able to get inside to take a look.
Where we found a 1962 Porsche 356B T6 Coupe!
Above photos of 1962 Porsche 356B T6 (# 202172) in the horse barn.
Vern had borrowed the money from his mother to buy this car used from a Porsche dealer in Denver while he was a student at the University of Wyoming. The photo below is of the car not long after Vern bought it in the mid '60's.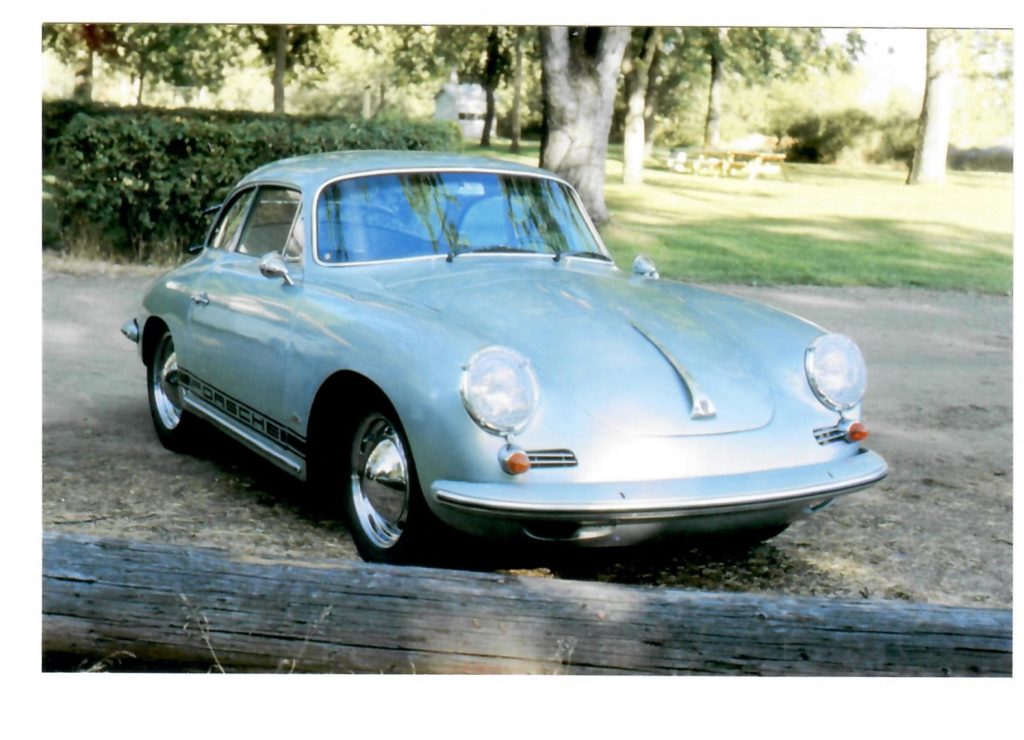 Vern, with the 356B, camping somewhere in Idaho in the '60's
Next, Vern's sister gave us the keys to a storage unit so we could check out his Porsche # 3:
Where we found a 1969 Porsche 912 5 speed coupe with rare factory sunroof. Sitting on its original Fuchs next to a stash of toilet seats (!?) and a Fuch spare (!).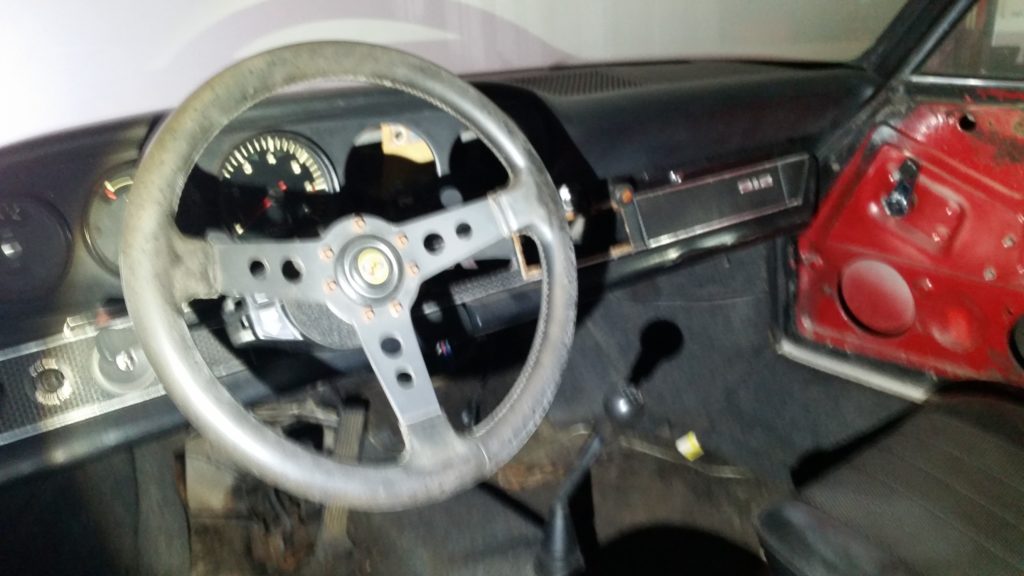 This turned out to be Vern's last daily driver Porsche after he had parked and begun prepping the 356B and the Speedster for restoration. It is 1969 Porsche 912  (# 129022828).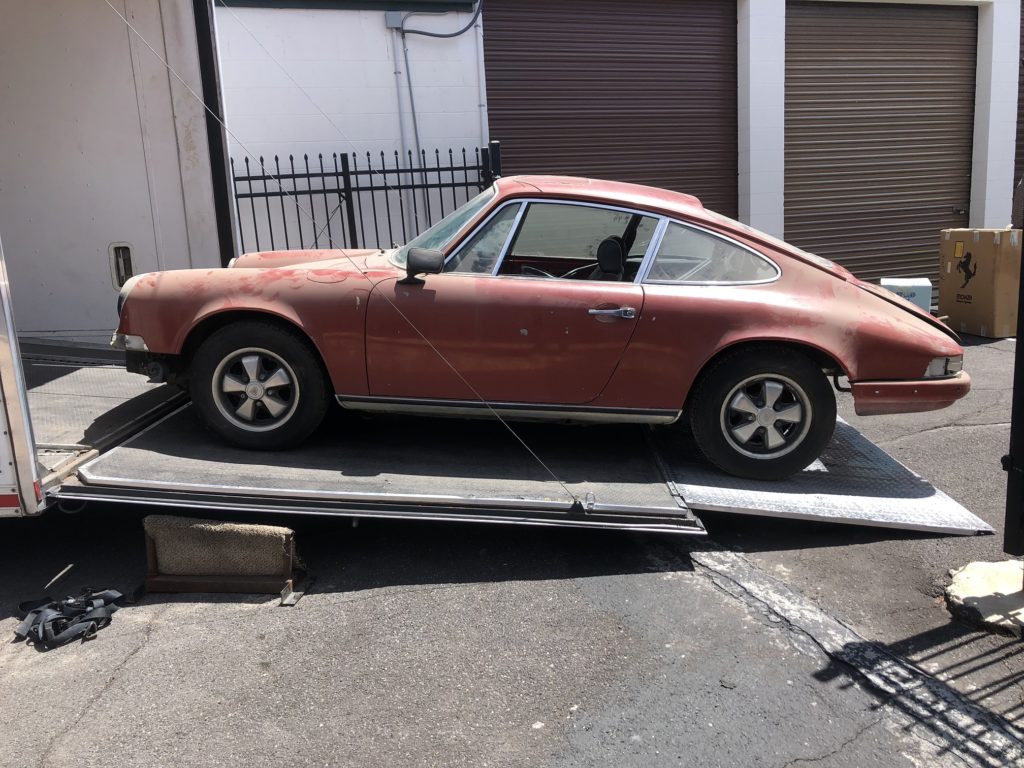 Above photo: Loading car into the trailer for the trip back to Lyons, CO. My friend and shipper, Randy Burry, out of Pine Bluffs, WY hauled the 912 and the Speedster plus all the parts and engines while I pulled the 356 on it's trailer (thanks to Larry Kirkpatrick for getting the trailer operational again!).
Unloading Porsche stuff from Vern's garage (just the tip of the iceberg!). The parts alone filled up one of my storage pods at my shop in Lyons.
And into the trailer with spare engines, etc.! Thanks to John, driver extraordinaire, for all his expert help with loading and securing everything.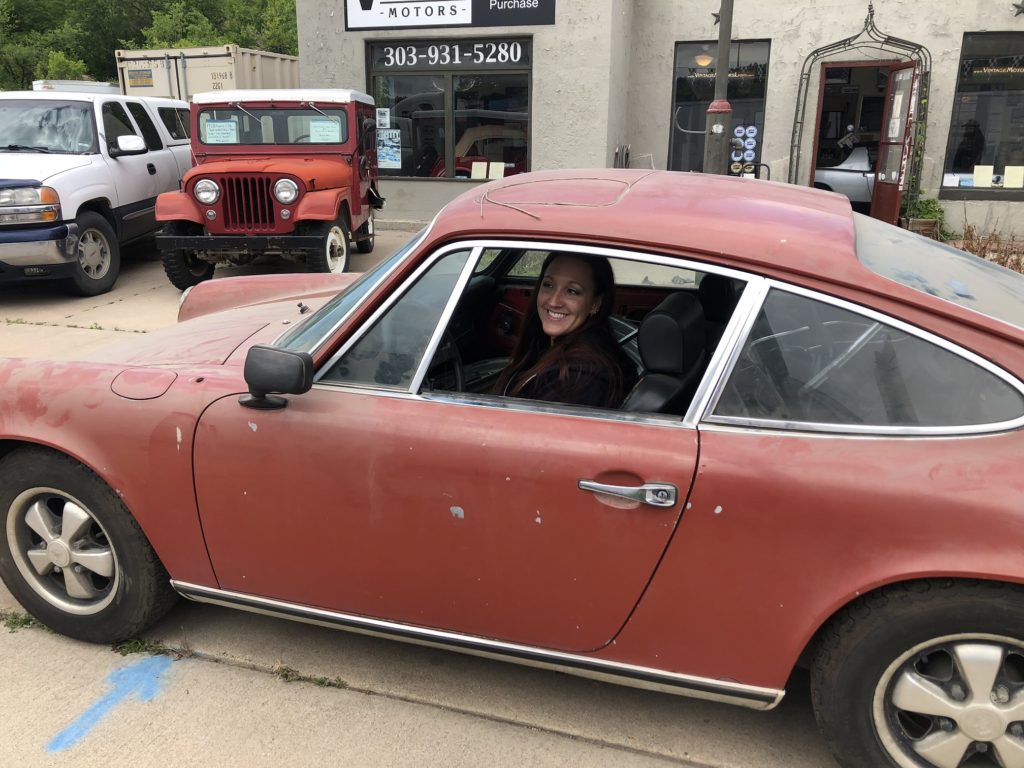 Above is the '69 912 at Vintage Motors in Lyons, CO June 2019; all three Porsches are in the photo below along with my '66 Bug.
Finding these cars was an exciting adventure. I enjoyed cleaning them inside and out and making them at least rollers; also cataloging and matching up parts to each car, going through manuals, receipts, etc. and tracing VIN and engine numbers which was an interesting learning experience too. Best of all were the friendships I made with Vern (RIP), their owner for so many years and hearing his stories and histories of them; his son here in Lyons, who also had me drive a leg in his 911 where we discovered how capable it was on an empty stretch (!! ). My sincere thanks to them both and to Pam and Larry of Pinedale, WY too.
May their next owners enjoy them as much as Vern did! Vaya con dios.