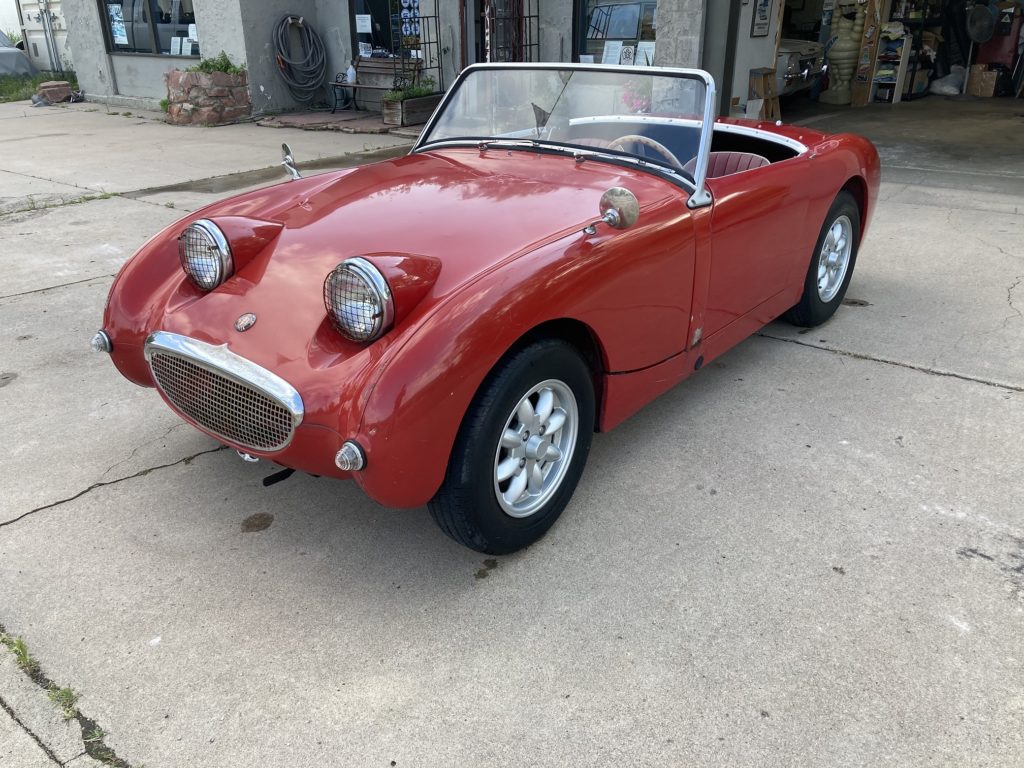 1959 Austin Healey Sprite For Sale. Hard to say much more than what has already been written about Bugeyes. Certainly one of the most fun cars for the money of all time! I have nurtured this one personally for the past 11 years and have enjoyed it immensely!
This Bugeye is very good mechanically. It has an original interior with its stock, uncut, dash and factory seats which I very much value along with it having been a red car with red interior from new so no color changes. The body is straight all around, including the bonnet, without any accident damage. There is some rust showing on the body now at the doglegs (A Pillars) and on the rockers. There is also a section of paint in the centre of the upper bonnet that is cracked. Overall, the paint is about a 15 footer with its fair share of "patina" but as you can see she still shines up pretty nicely. I bought it in New Mexico but it was originally a Colorado car and is a good survivor. Ready for you to drive and enjoy as is; and if you choose not to re-paint it who cares! JUST SOLD – THANK YOU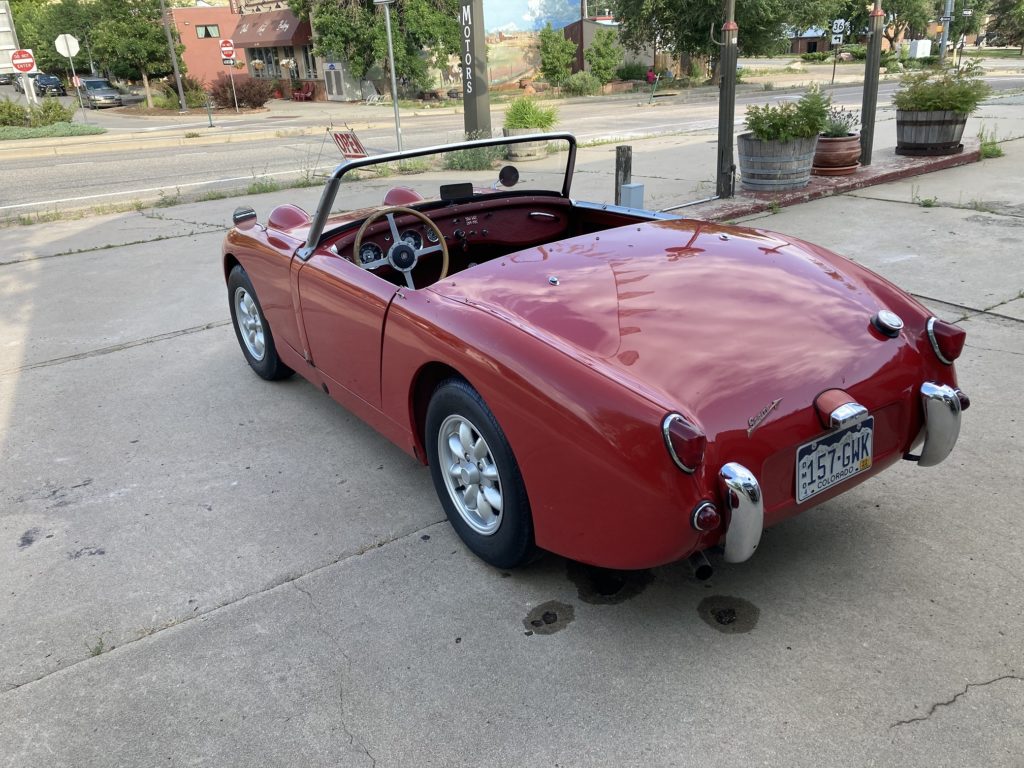 Original red on red car with no color changes which is a real plus.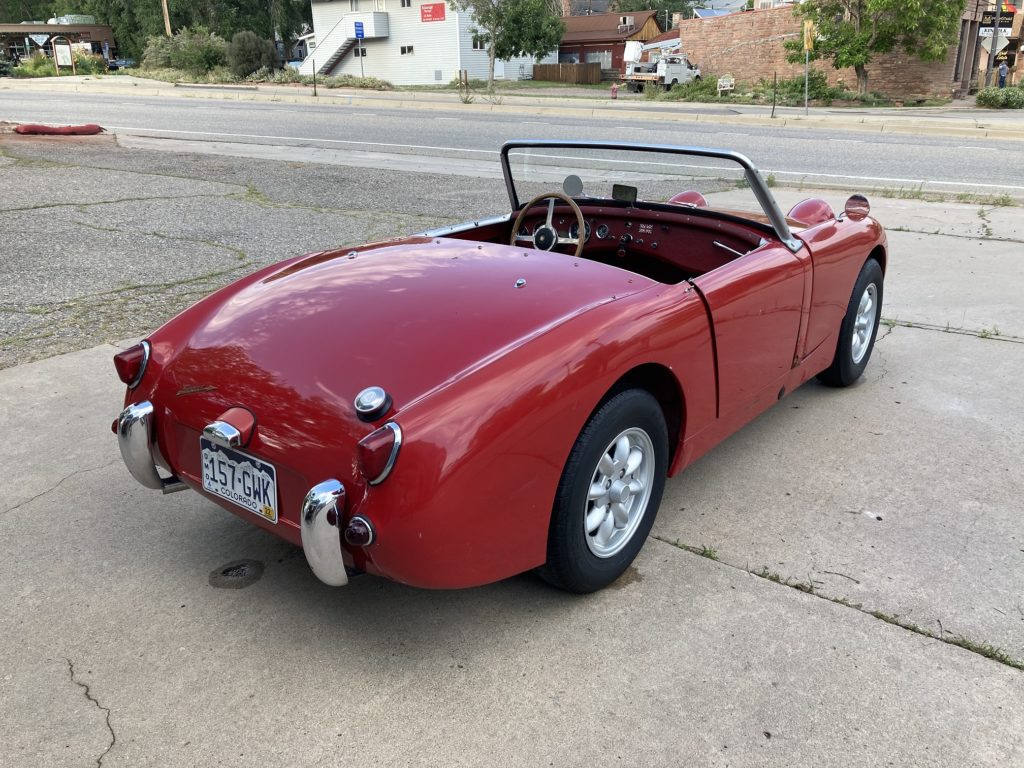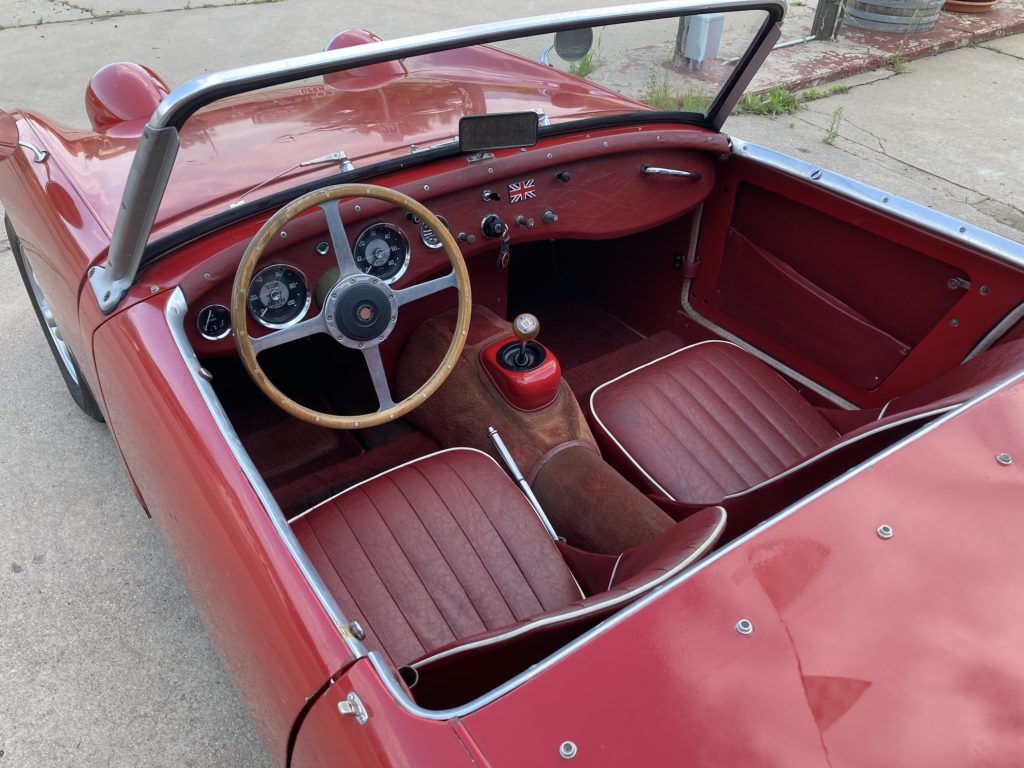 Very good original interior. Un-cut dash with correct gauges and knobs/switched in proper locations; factory seats. Have original steering wheel with car as well.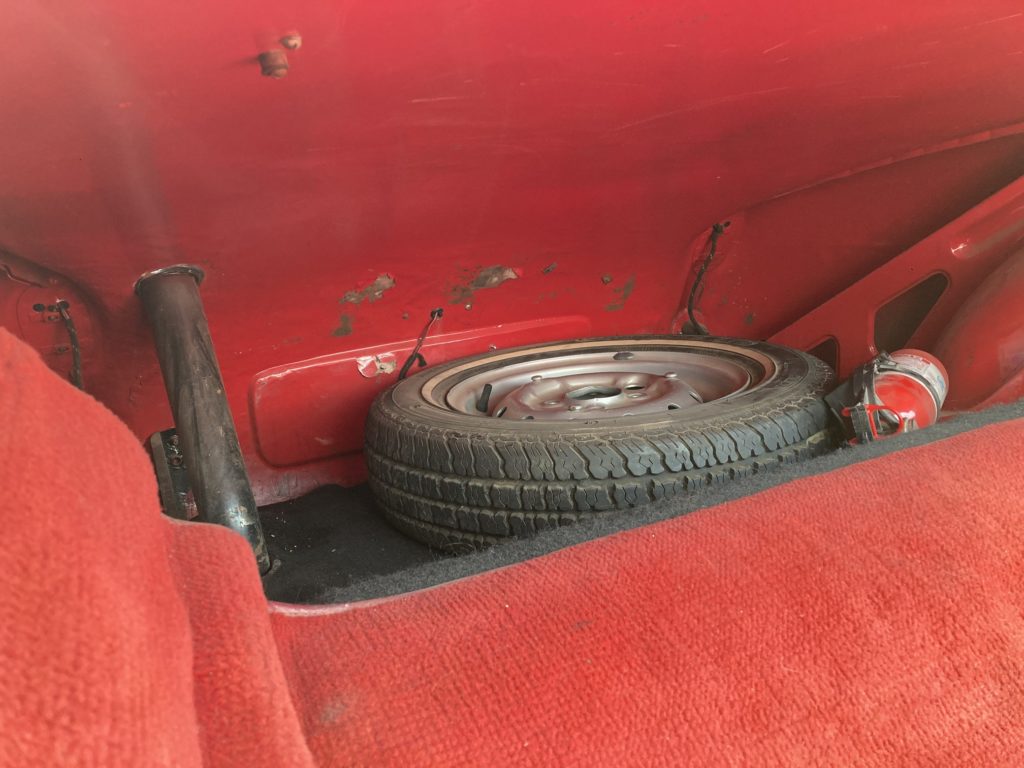 Inside of rear trunk area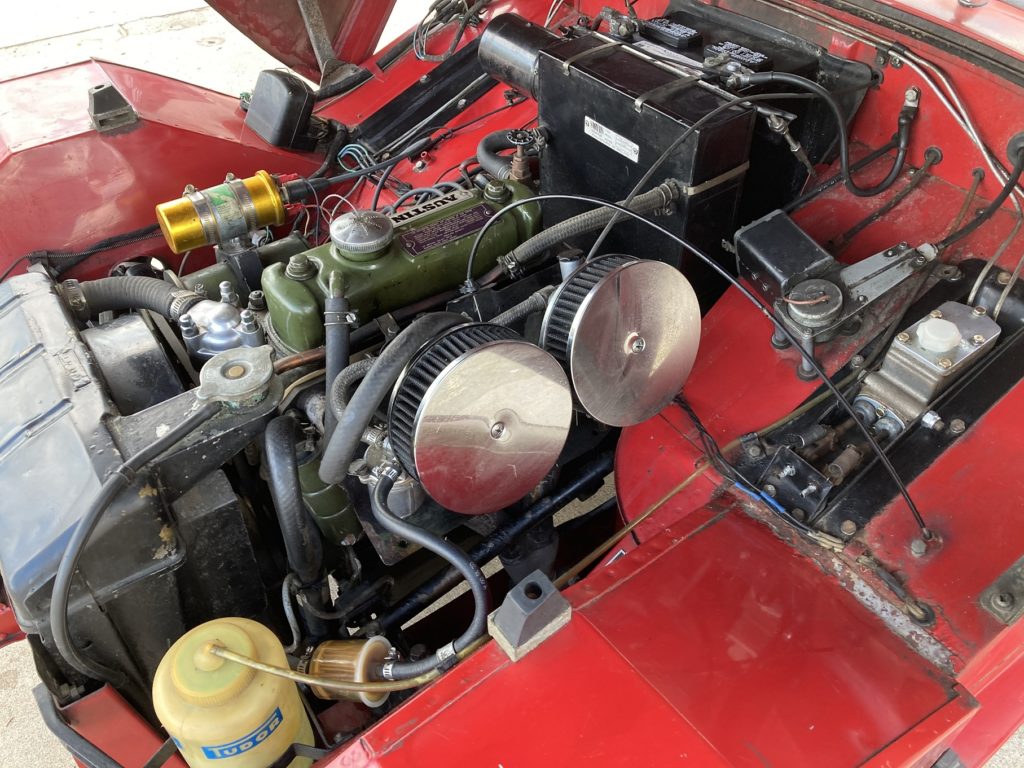 \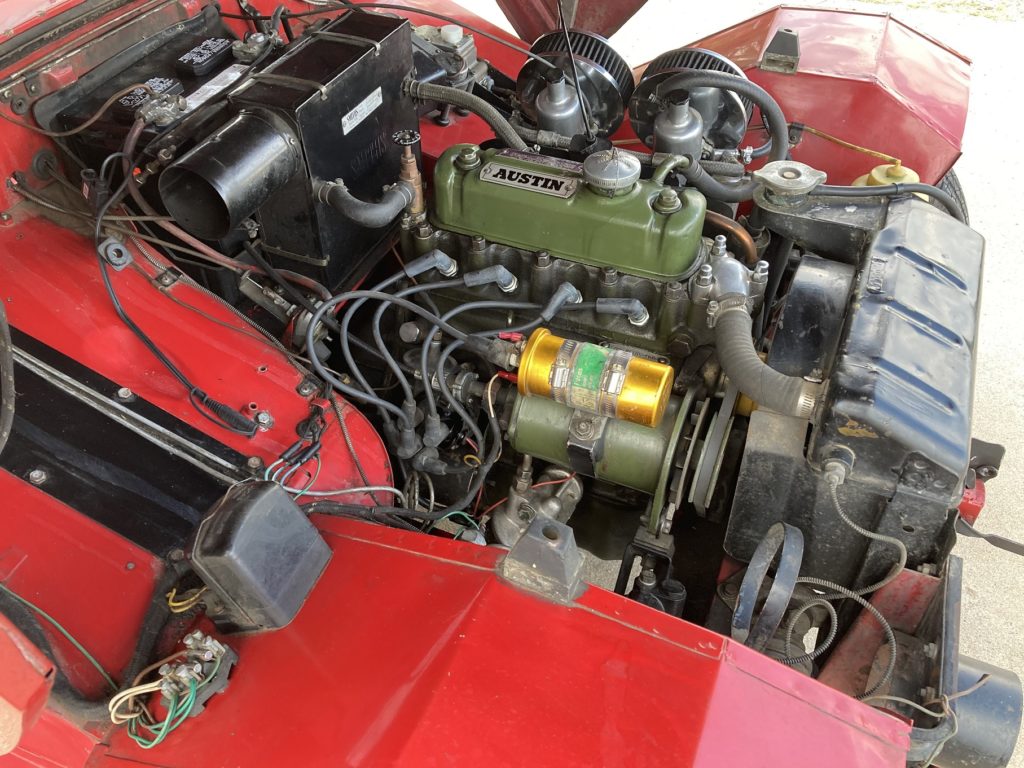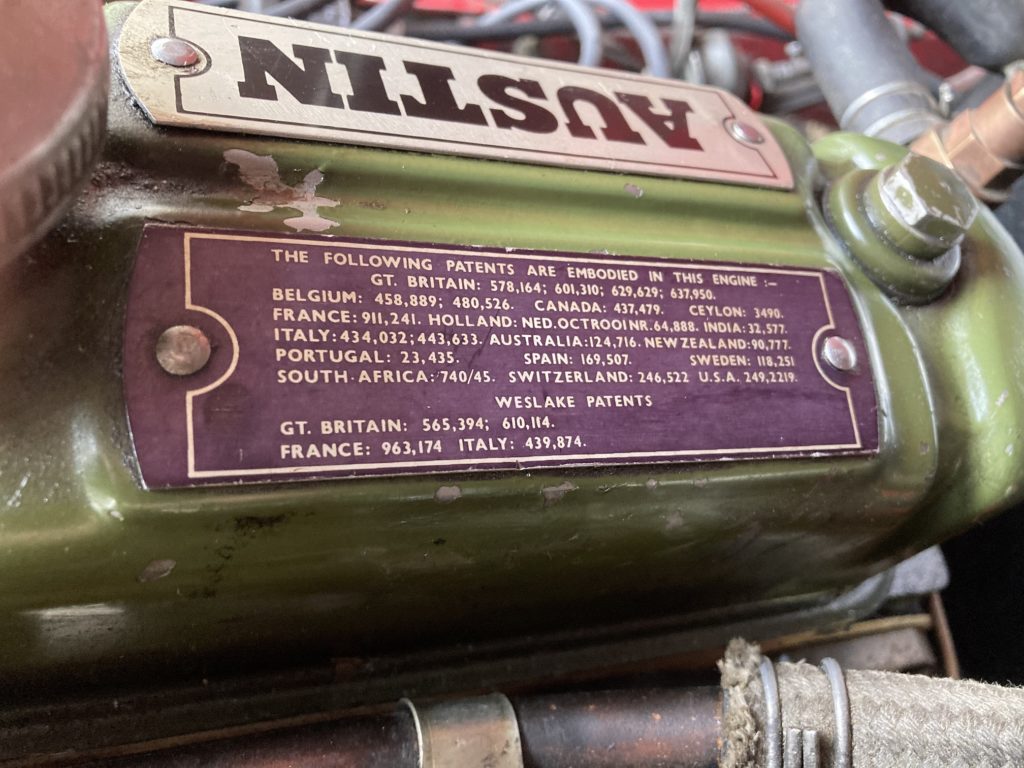 The engine is a 1098 cc from a Type II Sprite (1962-68) providing a 20+% increase in horsepower over the stock Type I 948cc. The engine ID plate "decodes" as follows"
10 – 1098cc;  CC – Austin Healey or MG; DA – Close ratio center change box; H – High Compression (8.5:1); 34016 – Engine serial #.
Compression test results are 120 psi Cylinder Nos. 1-3; 130 psi Cylinder # 4.
Left A pillar Commission number plate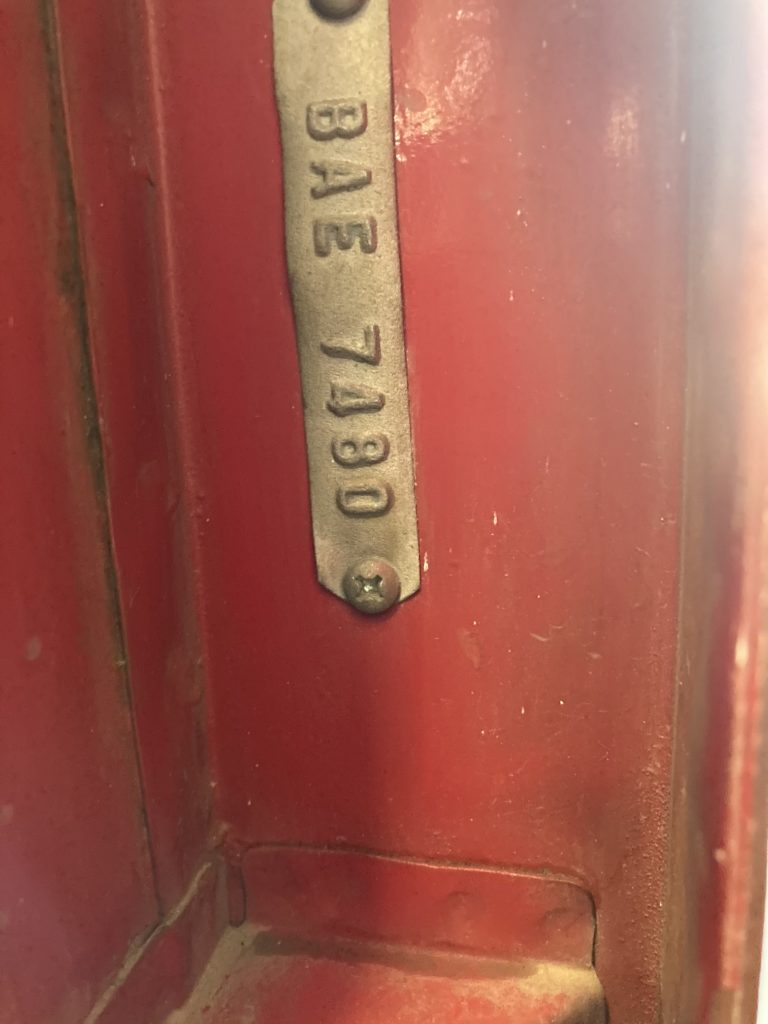 Right A Pillar Body Number Plate
VIN # Plate inside left engine compartment
Made in UK alloys wearing Dunlops.
The car readily starts and drives/runs well. Is a pretty dry car, spots very little.
List of work completed on car (have records/receipts for same with car):
New brakes including master and wheel cylinders, hoses
New front shocks and upper bushings
New exhaust
New throttle cable
New starter switch
New battery (4/30/21)
Pertronix solid state ignition (Negative earth)
New fuse box
New spark plug/ignition wires
New rear hub gaskets and O Ring seals (both sides)
Tune up including going through, adjusting carbs
Went through electrics, gauges (see below), all lights, wipers working
What it "needs" or does not work:
Horn not working
Water temp. part of combo gauge not working (oil pressure part of gauge is working)
Rear leaf springs and rear axle limiter straps are pretty much played out
Tires are old, hold air and have good tread but should be replaced for safety
Front end kingpins worn
Aforementioned rust repair/paint
Original grille has pitting/tarnish
Transmission shifts well up and down aside from slight snick shifting up from 3rd to 4th; downshifts fine into 3rd and 2nd.
Spares/Accessories with car:
Original top frame (VG condition) and black top (Good condition)
Set of side curtains, frames and plexi-glass in good shape, could use felt welting and some rubber replaced
Full tonneau (will need heated up and stretched; has not been on car in many years)
Period Vilem B. Haan car cover; new, still in box
New tie rod end set
Full tool kit (Shelley made in England) with orig. grease gun; original jack
Original steering wheel in VG condition
Heater hose and fan parts
Left Outer A Pillar (dog leg) and inner A Pillar (both sides) replacement metal (made in England)
De riguer box of misc. spares, filters, door welting, etc.. !
Original, not reproductions owners manual, sales brochure, illustrated dealer spec sheet.
Wiring diagram; collectible illustrated Bugeye postcard