1967 Austin Healey 3000 Mk III BJ8 For Sale.  Last year for the classic big Healeys. In excellent condition. Body off restoration with both a new chassis and rack and pinon steering from Jule; these coupled with the Bilstein front tube shock conversion provide a much improved handling and driving experience. Engine and overdrive transmission rebuilt, new wiring harness, new factory correct interior, new top, brakes, suspension, exhaust, etc., etc.. Finished beautifully in red with black interior and soft top, with 72 spoke chrome wire wheels (5), a Heritage Trust Certificate, manuals, receipts, fitted cover, jack and tools.
This Healey starts, runs, drives, shifts, and stops beautifully without issues; plus it is as clean and neat underneath as it on top!  Hard to find a much nicer big Healey.
To quote Mike Lawrence, author of The Essential Austin Healey  " True classic cars do not become so with age… 'they' start with an indefinable magic. The Healey had it from Day One. What is it? If you to have to ask, you'll never know."
JUST SOLD – THANK YOU!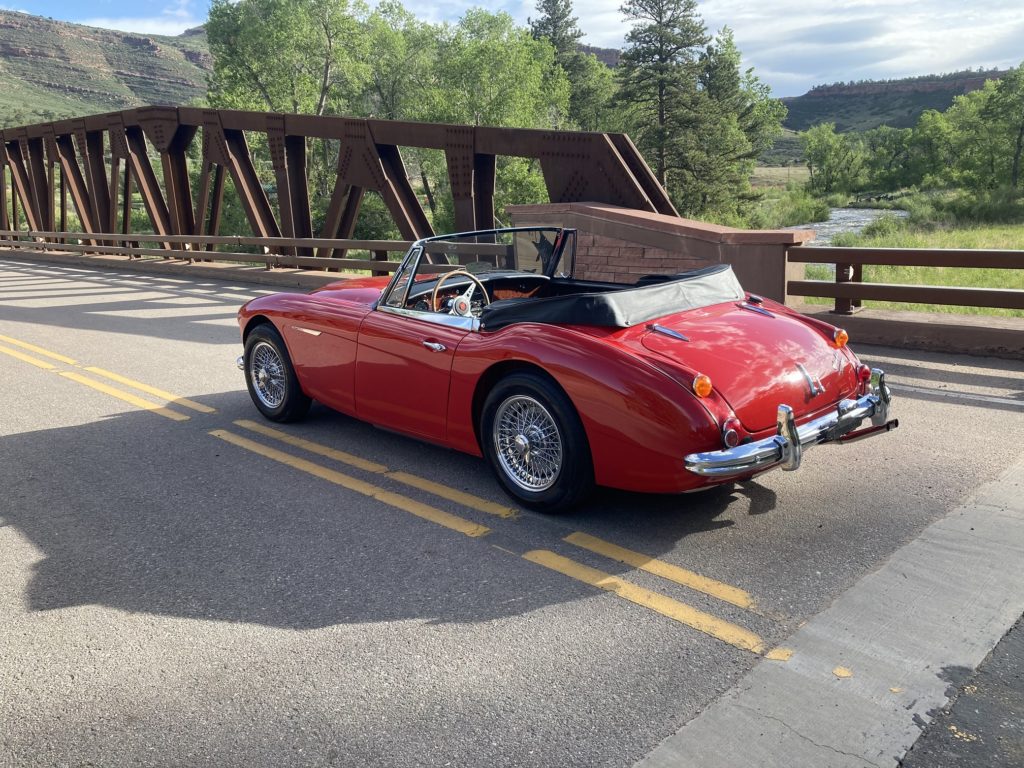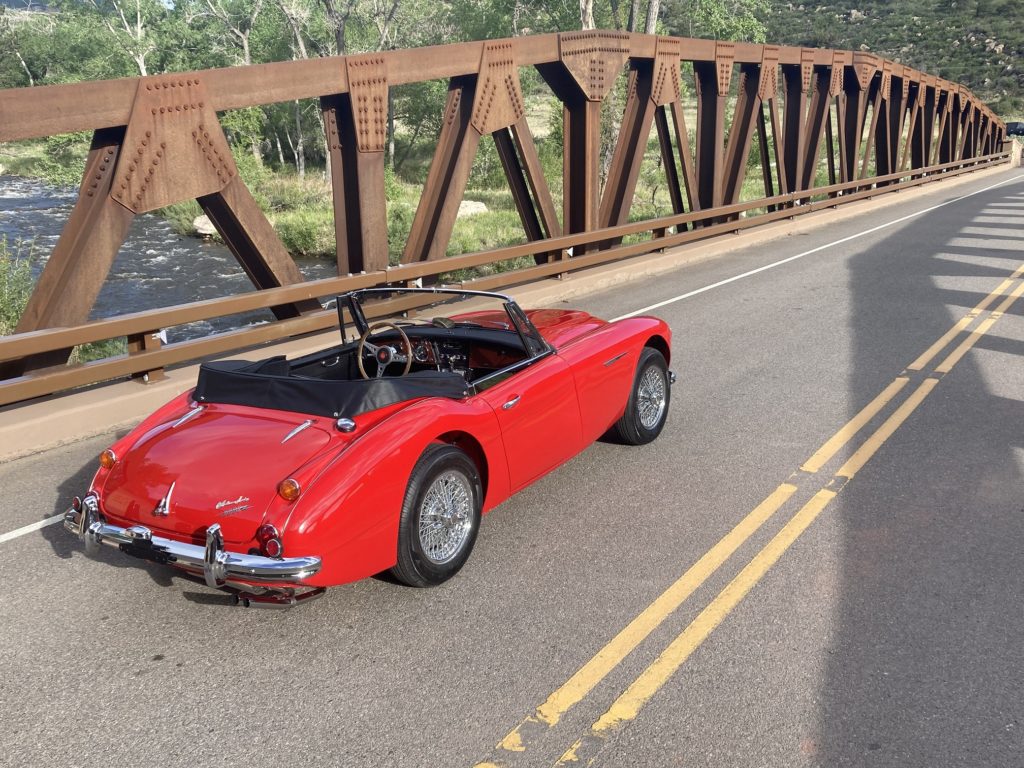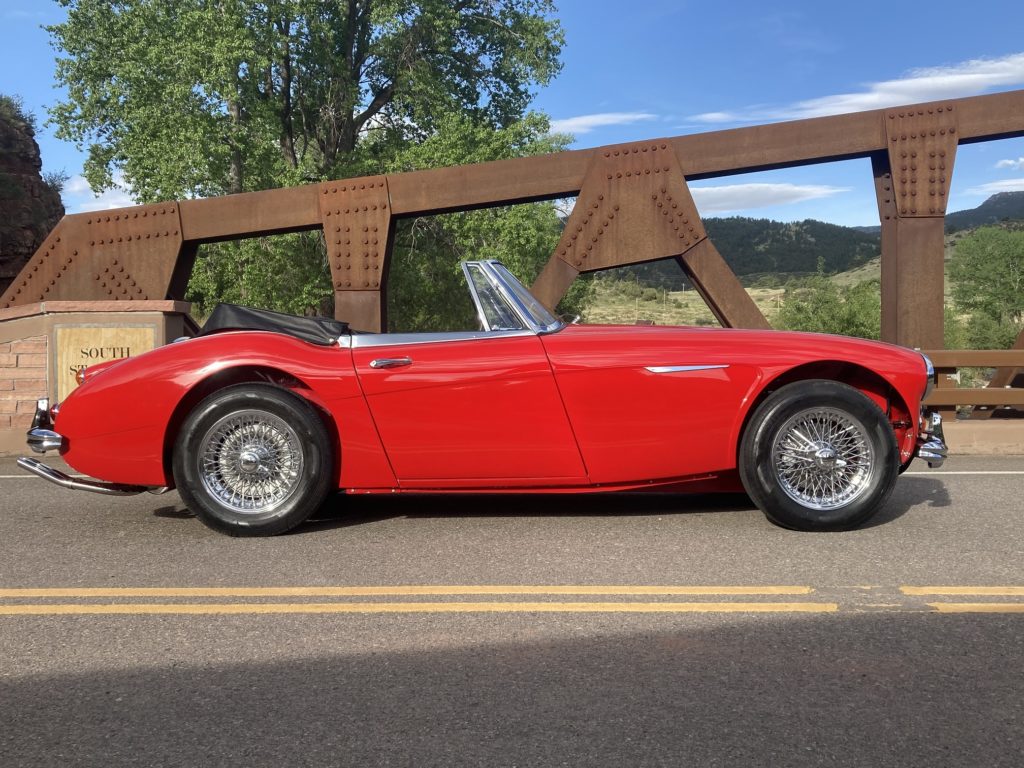 Few British sports cars are as handsome as the Healey 3000. The body design was penned by Gerry Coker in conjunction with design work by both Donald Healey and his oldest son and engineer, Geoffrey. The timeless styling of the car continues to stand out and provide the fortunate owner with a classic combination of sweeping lines, stance, power, and wonderful exhaust notes combined with wood accents astride wire wheels!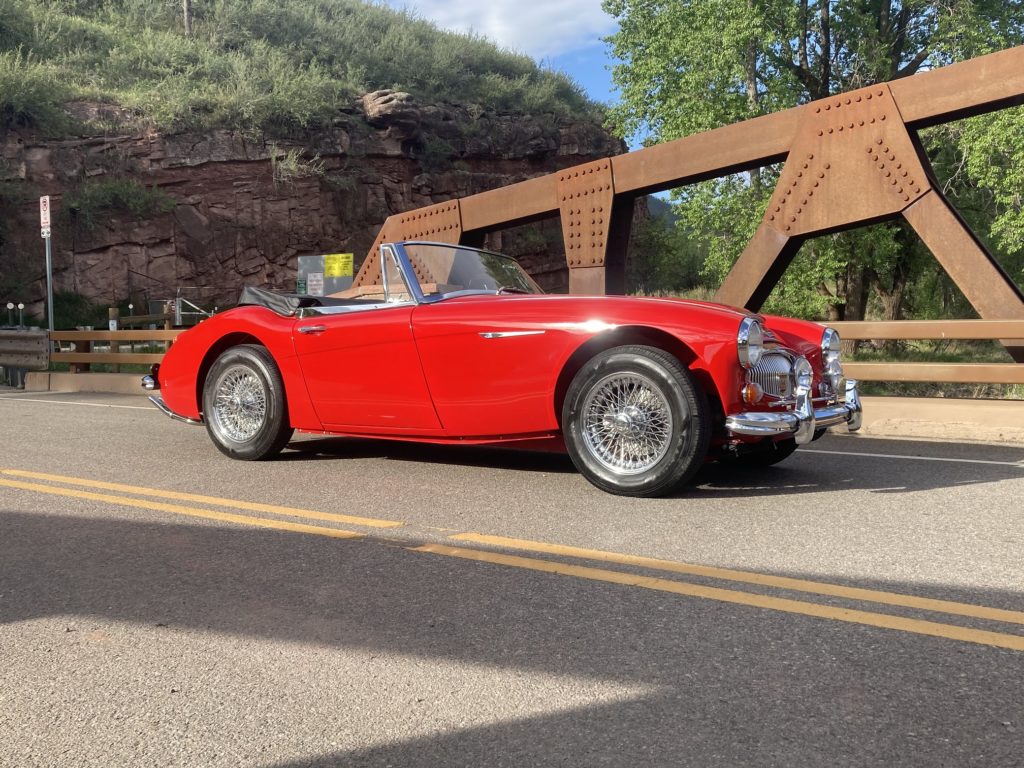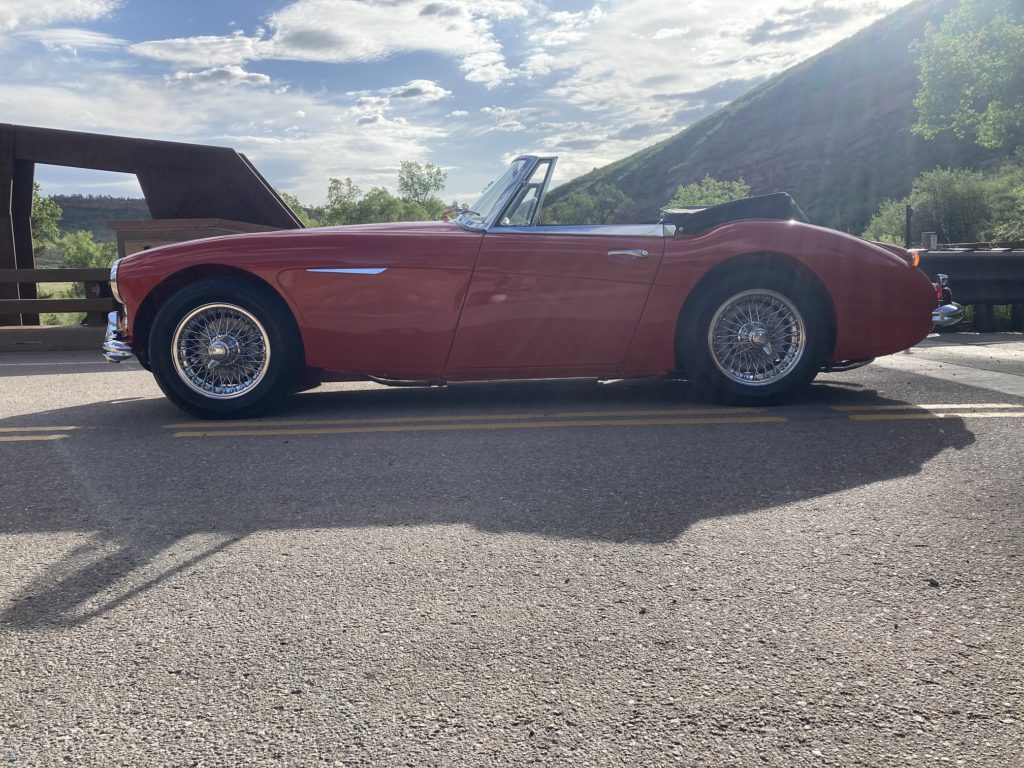 The Mark III BJ8 is a true sports convertible and is the most refined of the big Healeys. It features a wrap around windshield,  wind up side windows, opening vent wing windows and an easy to operate folding top.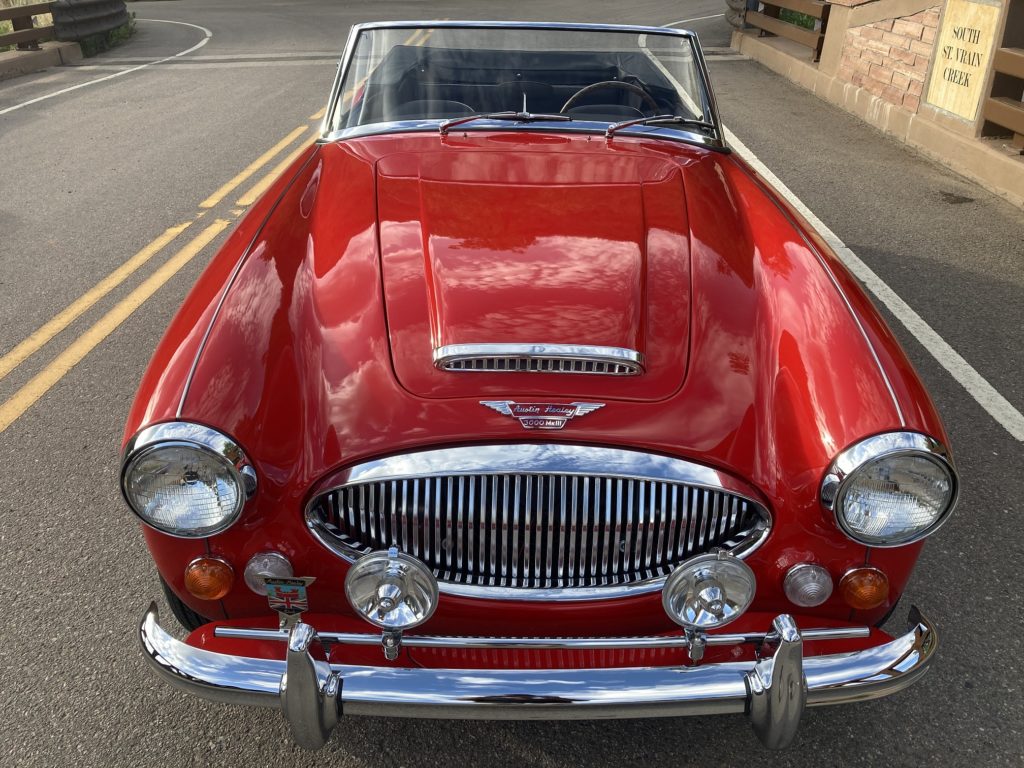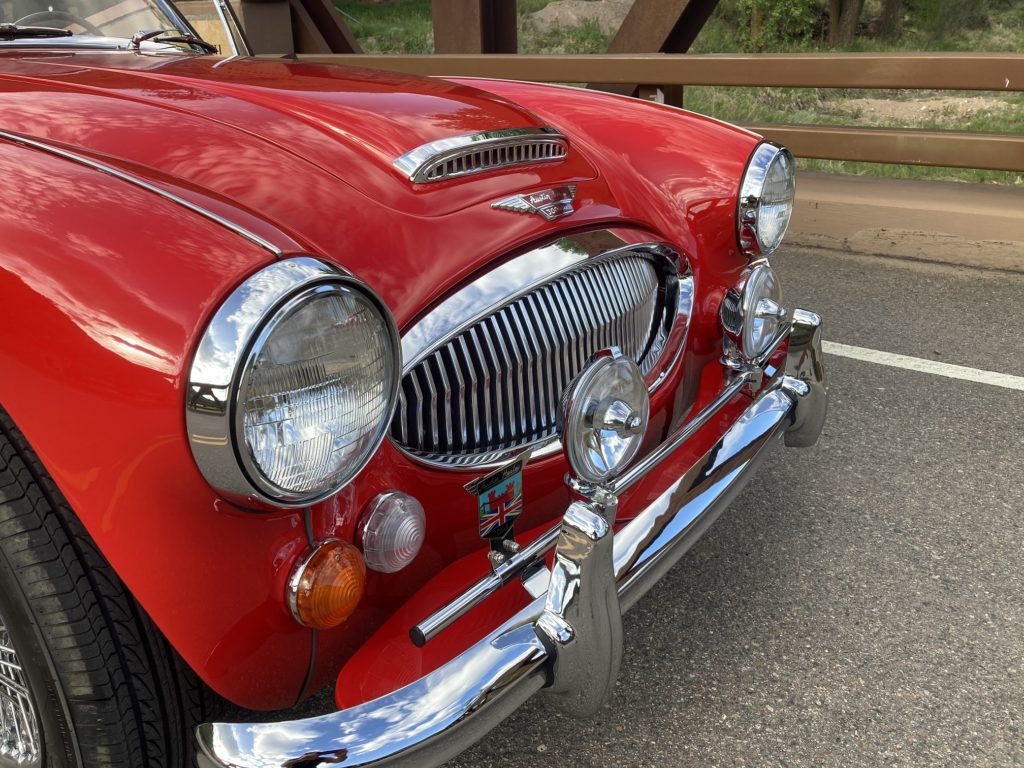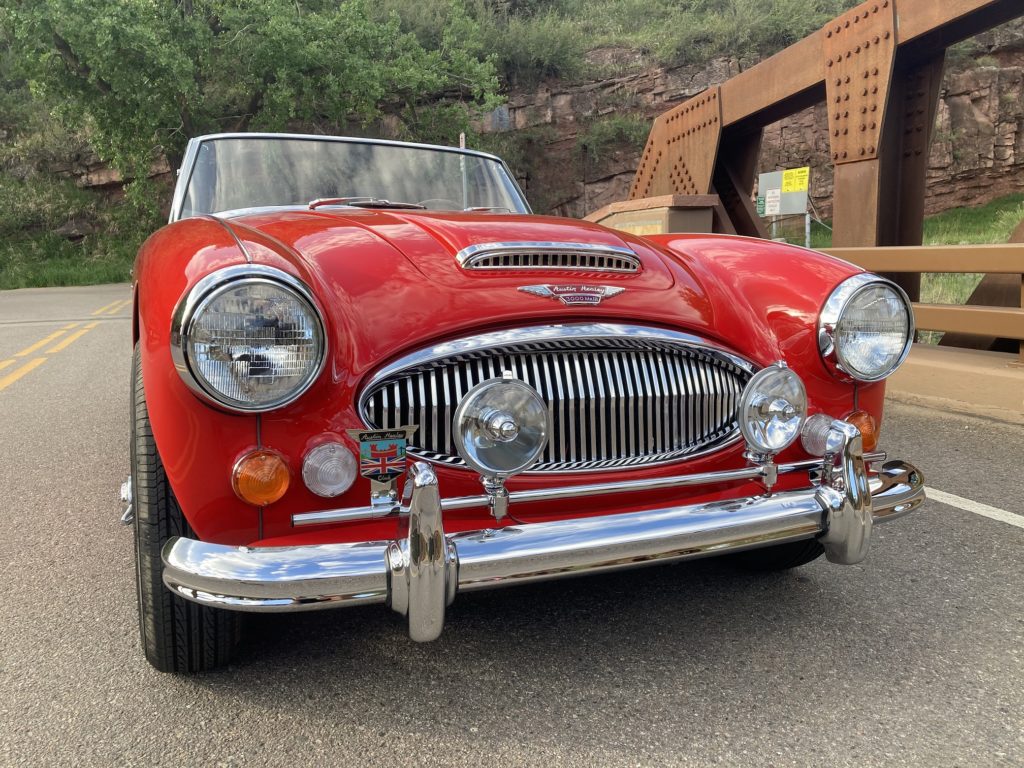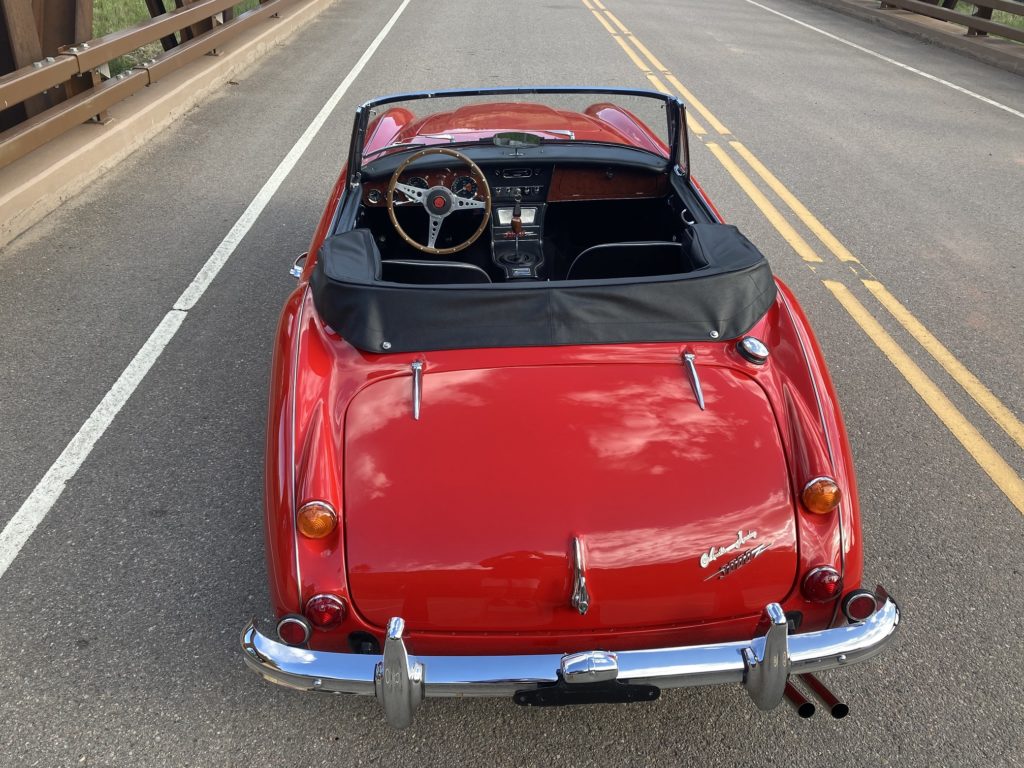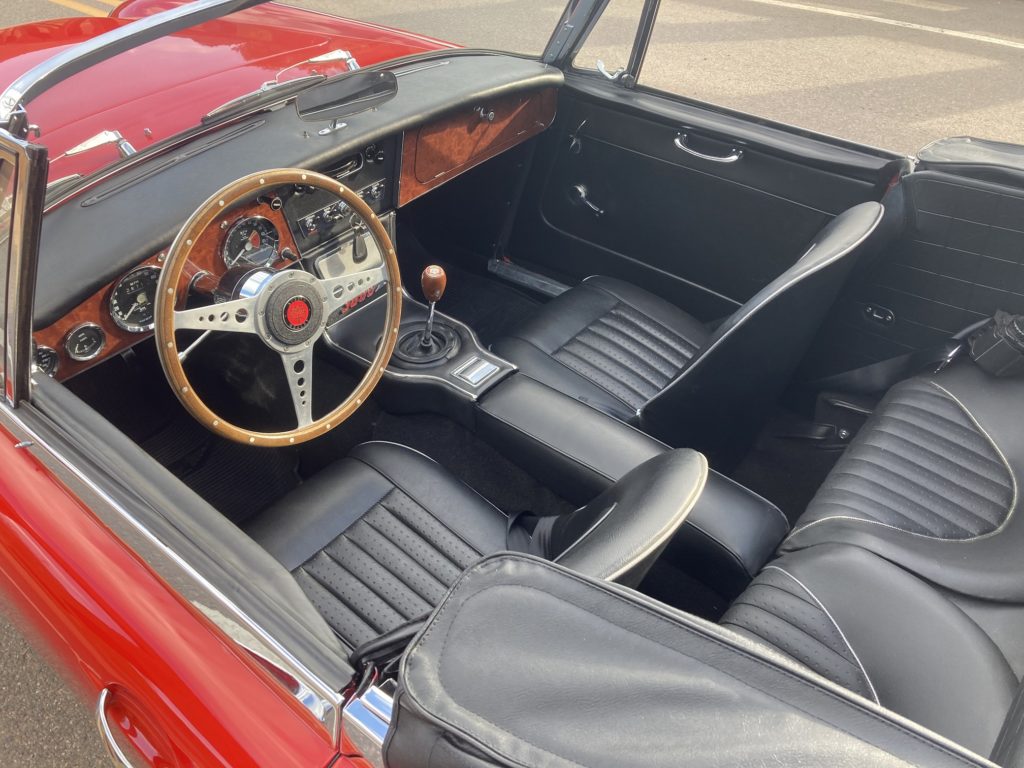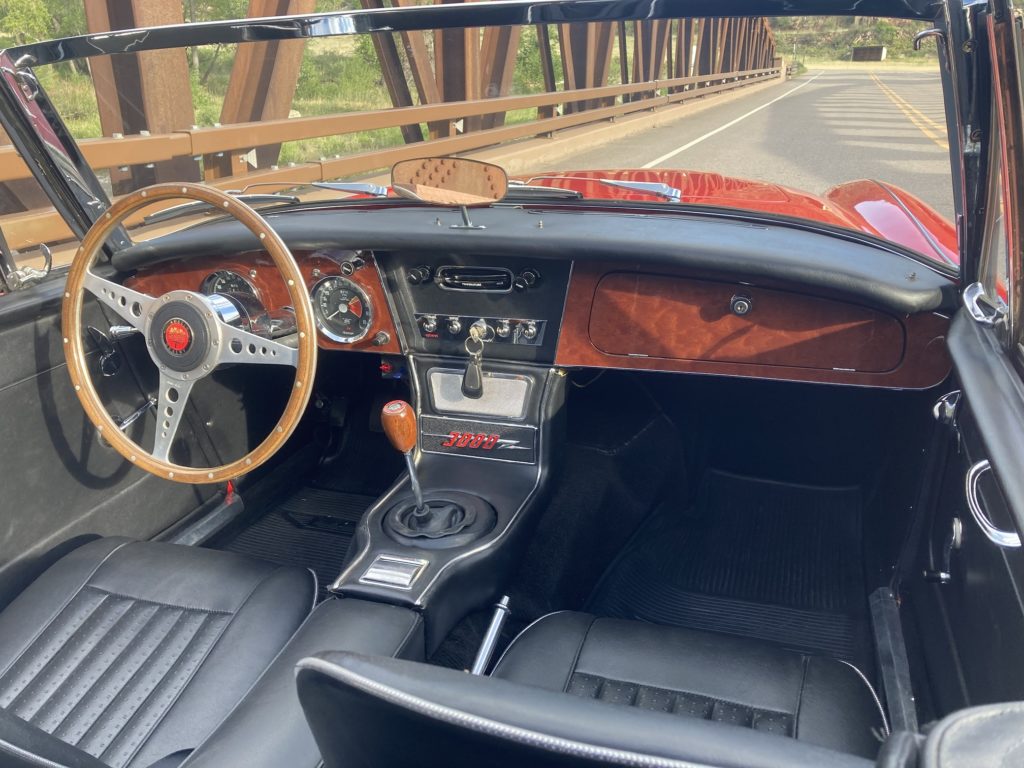 The interior of the car is sporty but luxurious too.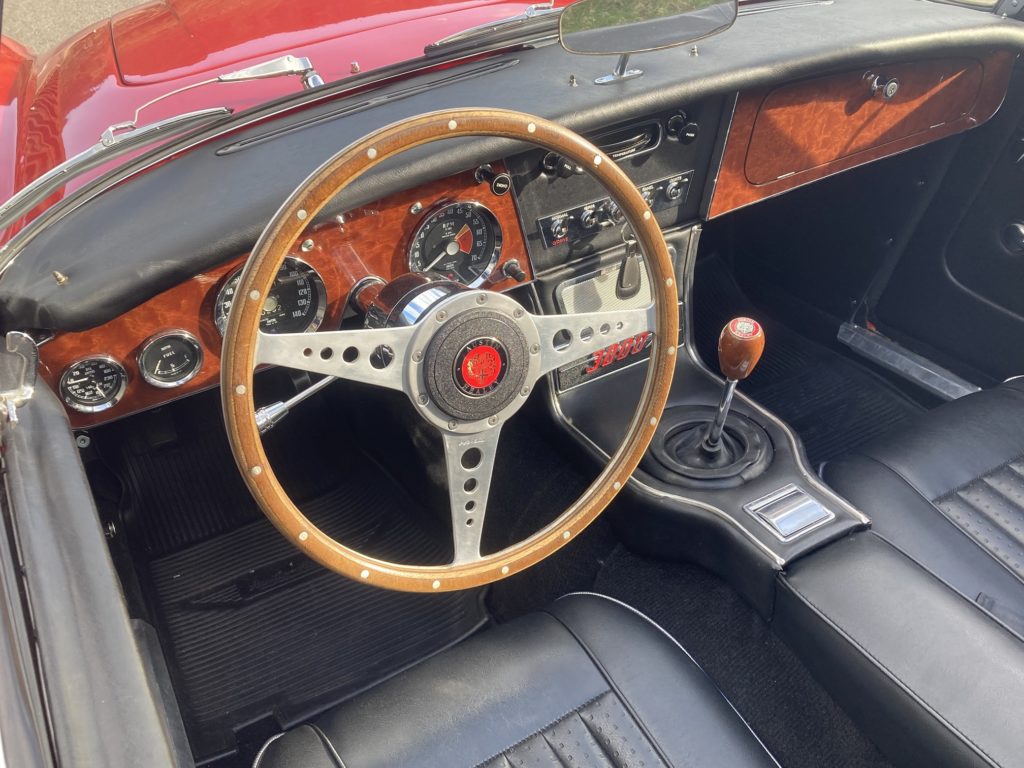 Beautiful, Made in UK,  Moto Lita wood steering wheel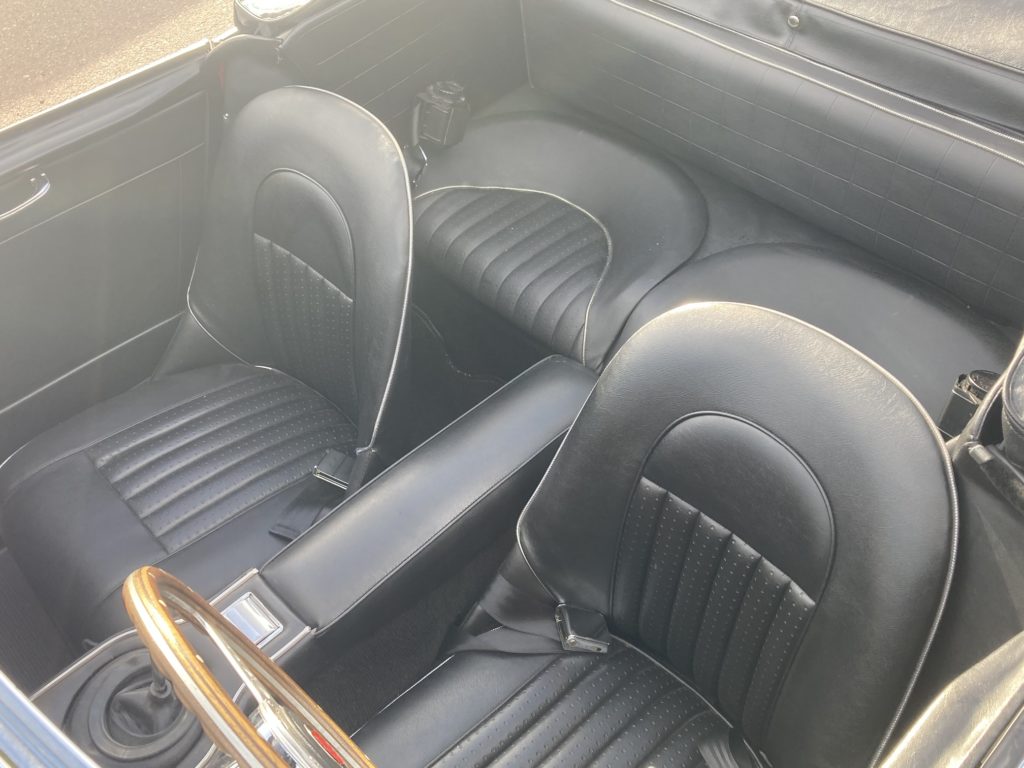 The interior materials for the restoration were sourced from England. BJ8s featured a unique silver/black "chrome" piping with the black Ambla vinyl. This car is finished with these all new original specification materials.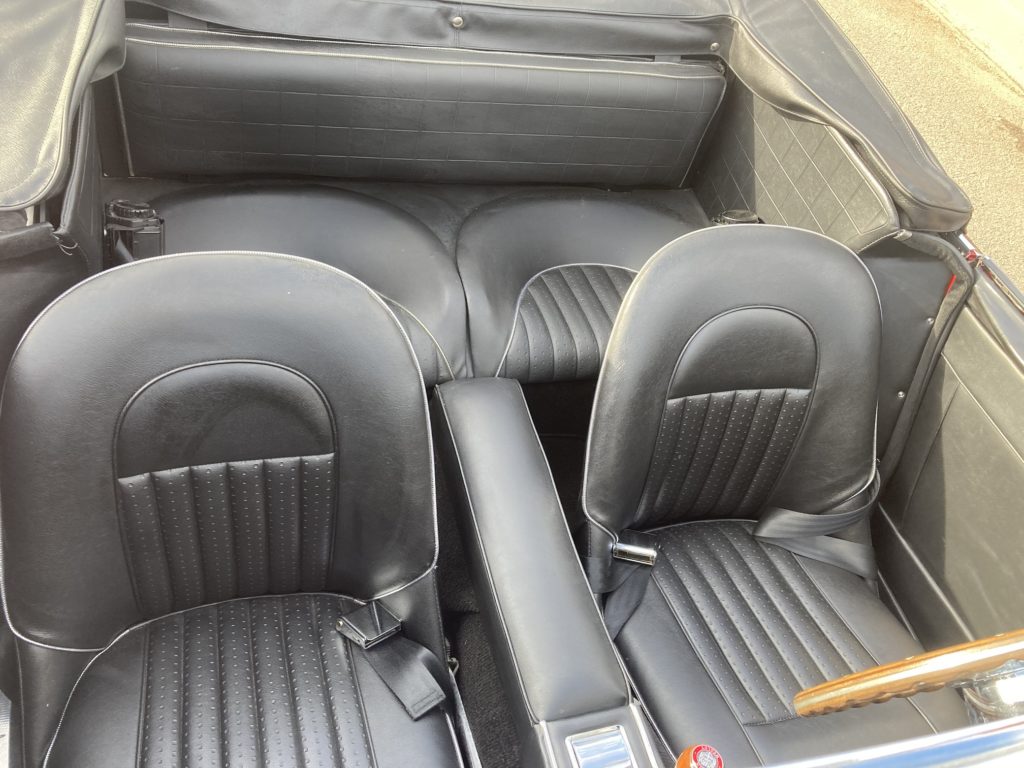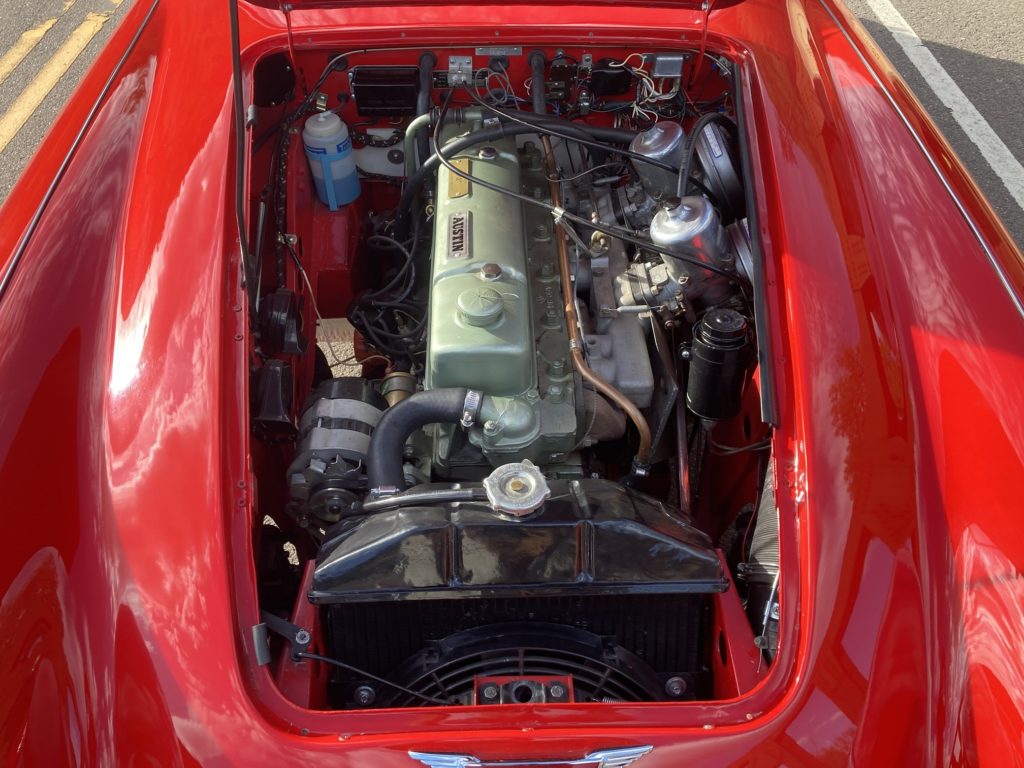 The engine is the torquey 2,912 cc (hence the "3000" model designation) in line six cylinder. Power was increased in the Mark III cars from 136 bhp to 150 bhp (torque to 167lb ft) by the use of twin SU HD8 carburettors, replacing the previous HS6 units, a new higher lift camshaft, stronger valve springs and a new dual exhaust system. In conjunction with revised gear ratios, these improvements produced a top speed of 121 mph and 0-60mph in 9.8 seconds. Other improvements to the Mark III included a power servo on the brakes was now standard, the mechanical tachometer was replaced with an electronic unit, along with a walnut dash wood veneer, center console and lockable glove compartment.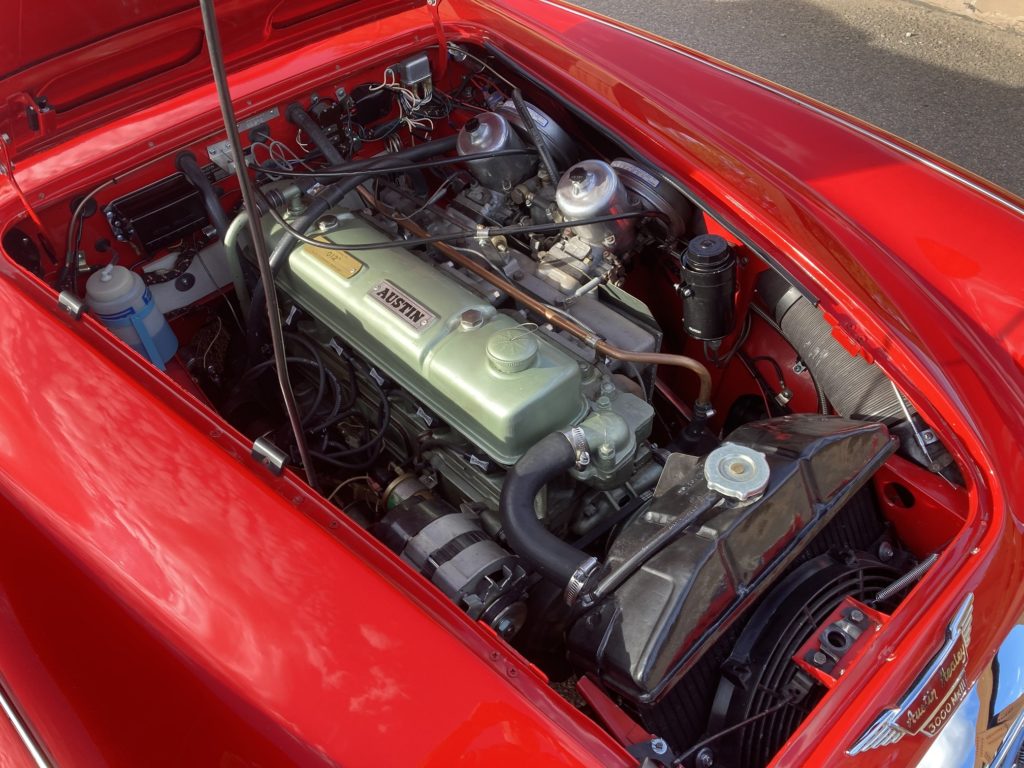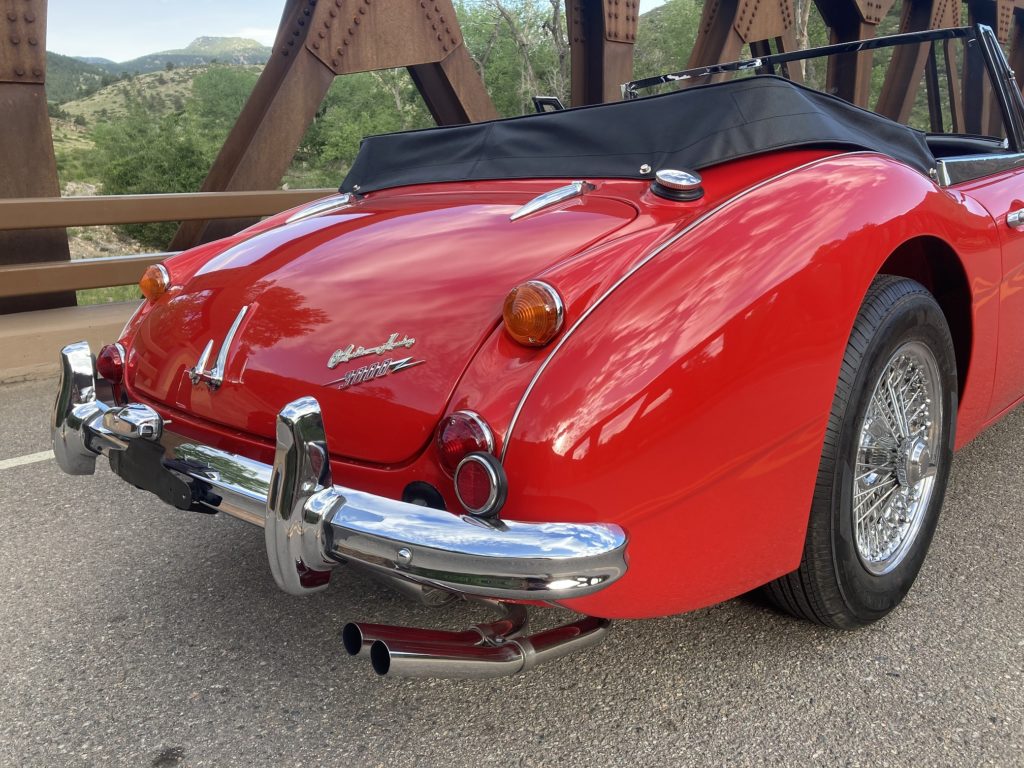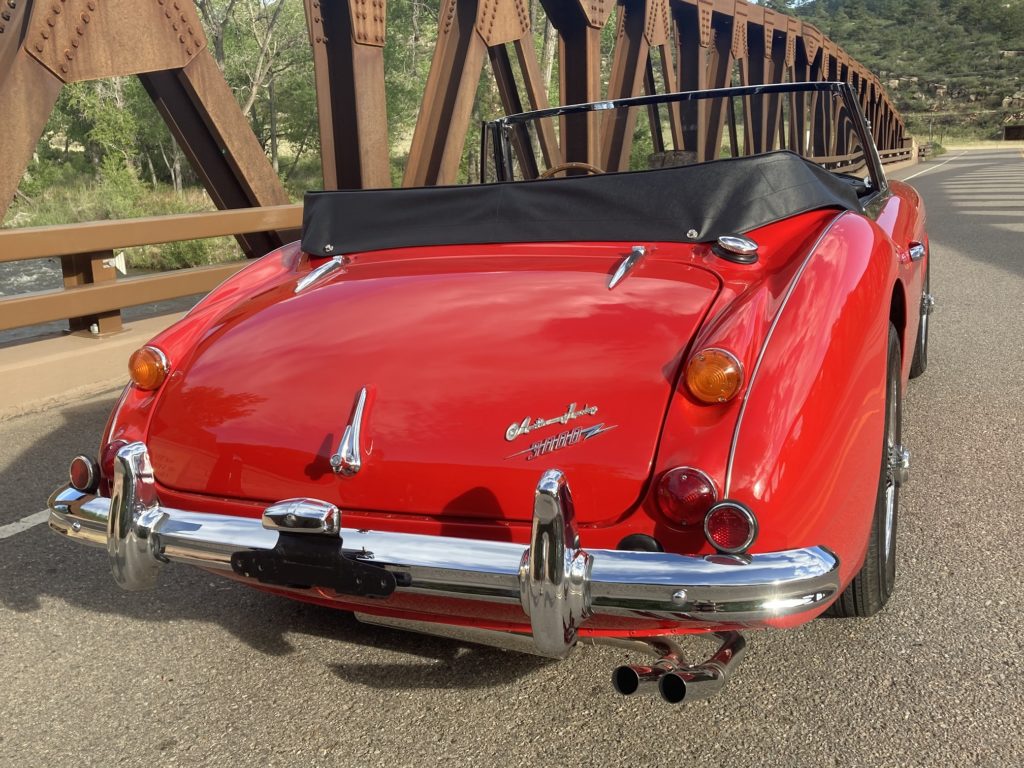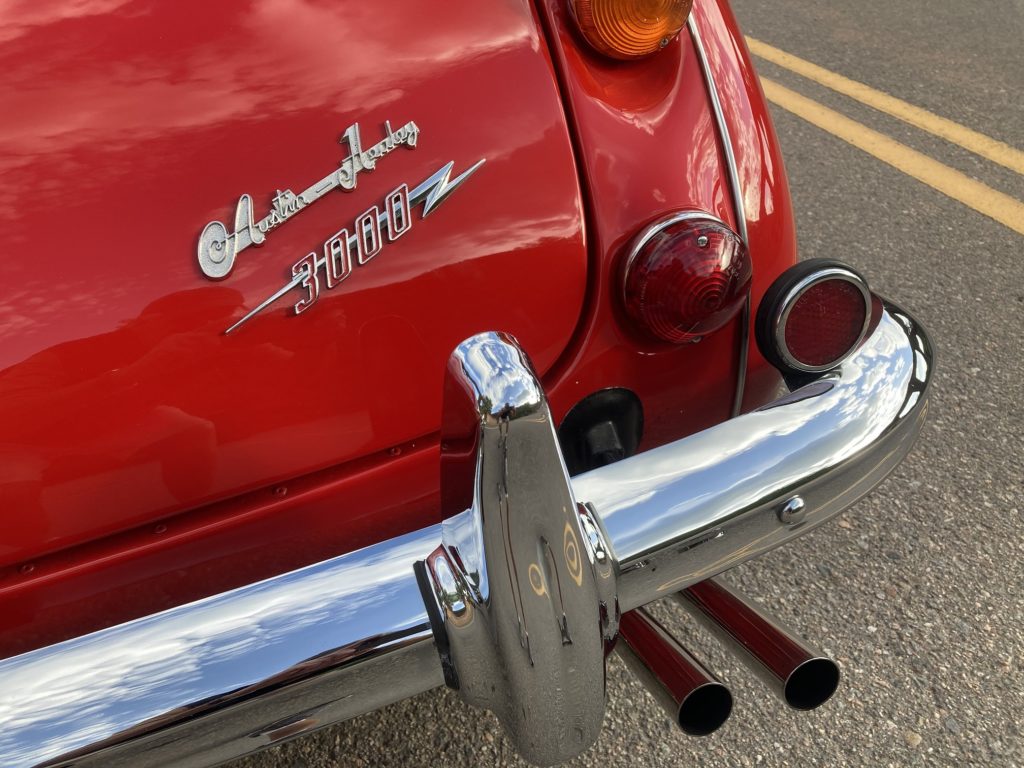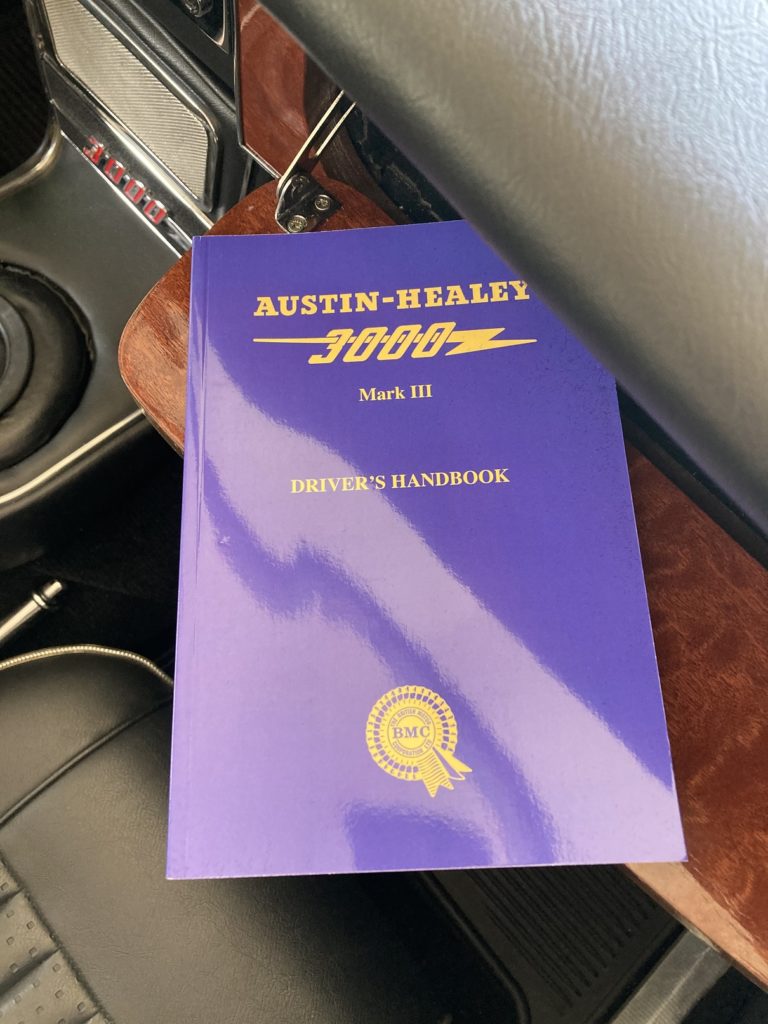 Original type Drivers Handbook.
The Complete Workshop Manual from Bentley Publishers.
Other Healey books and manual included with the car.
Serial # HBJ8L 38940; all numbers correspond to the original factory production numbers as shown on The Heritage Trust Certificate. The Certificate shows that the car was produced on November 22-23, 1966 and dispatched for export to New York on December 2, 1966.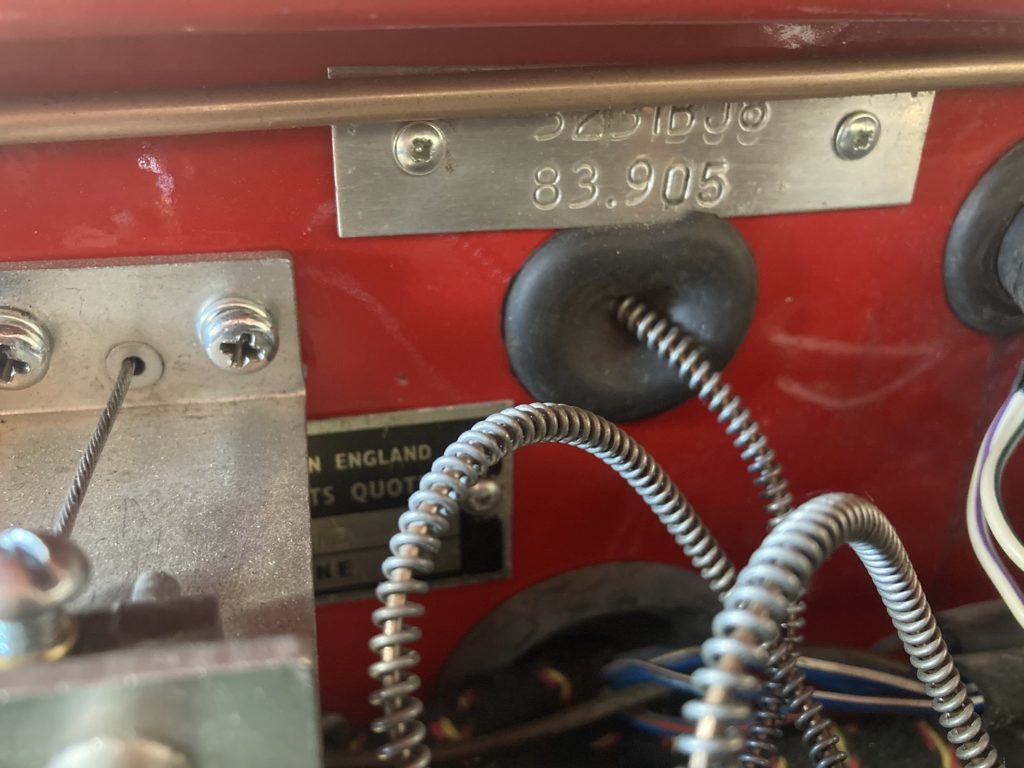 Body # 83905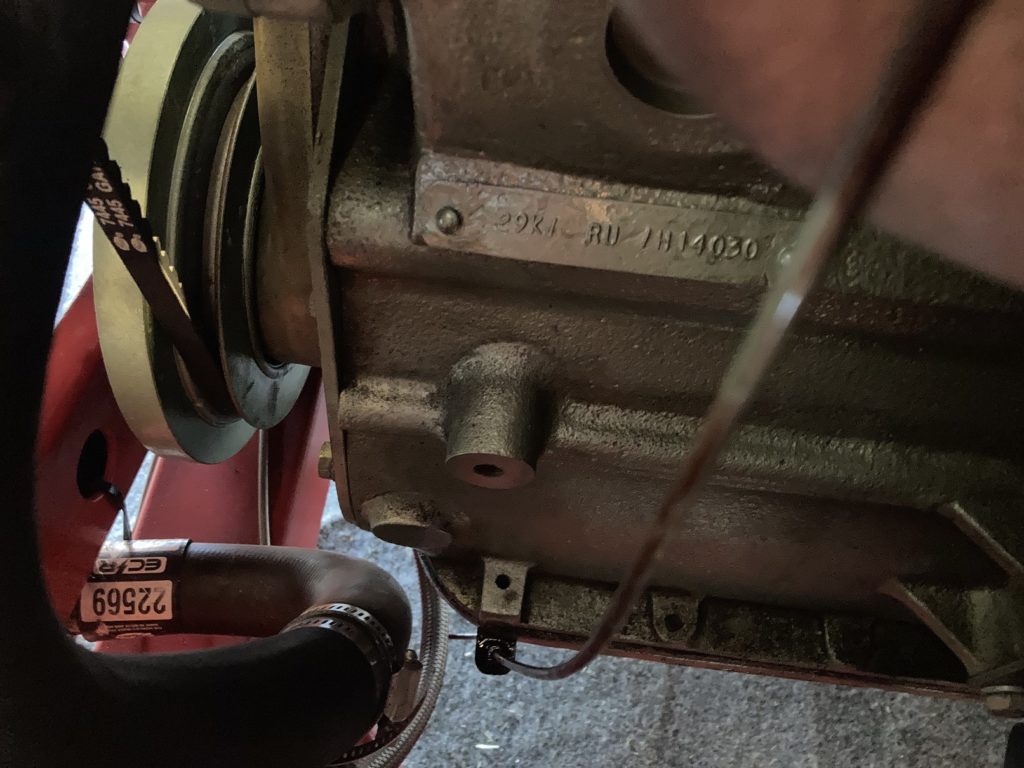 Engine # 29K-RU-H/14030
These photos of underneath the car show the new Jule chassis, Bilstein shock conversion, suspension, exhaust, attention to detail and how clean the car is underneath!
Bilstein shock absorber conversion kit installed for Jule frame.
Please visit jule-enterprises.com for information and specifications on the replacement chassis and rack and pinion steering installed on this car.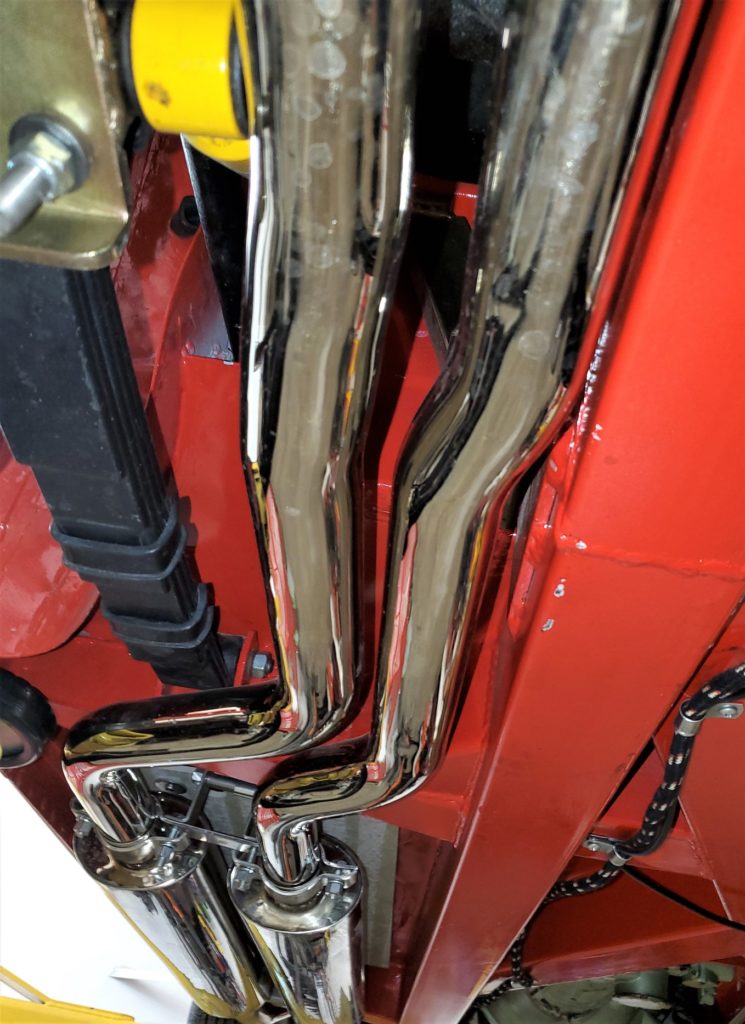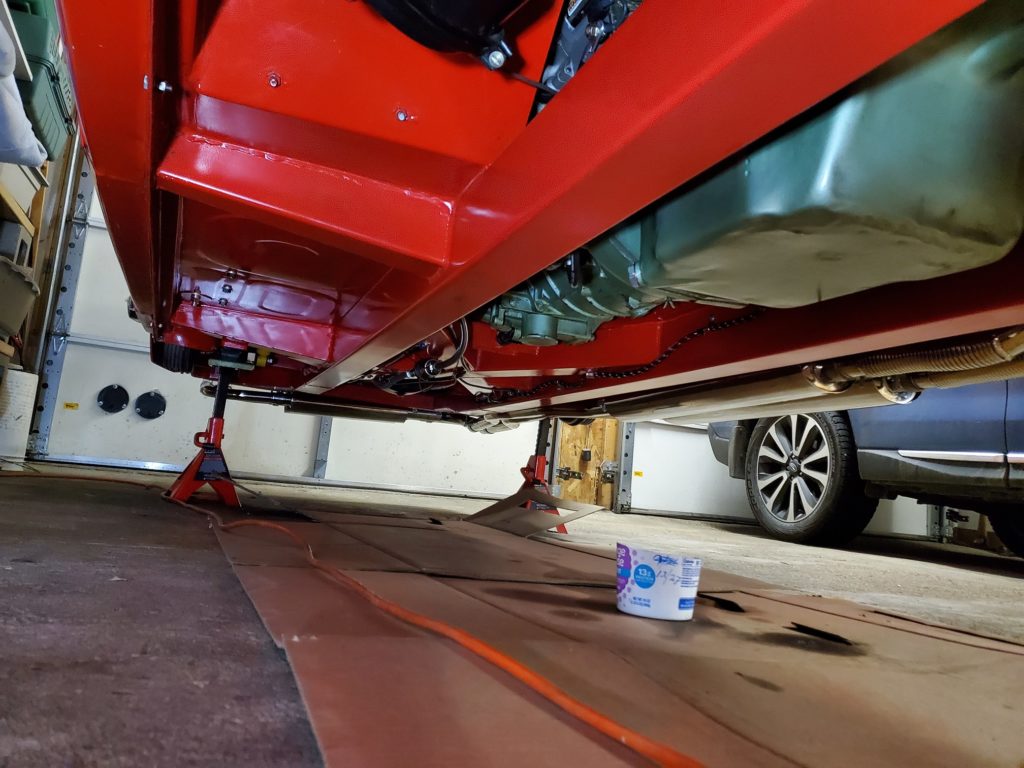 Sound insulation prior to carpets.
Proper tool kit with grease gun, jack, knock off hammer, pouches. The spare wheel is also a 72 spoke chrome wire wheel.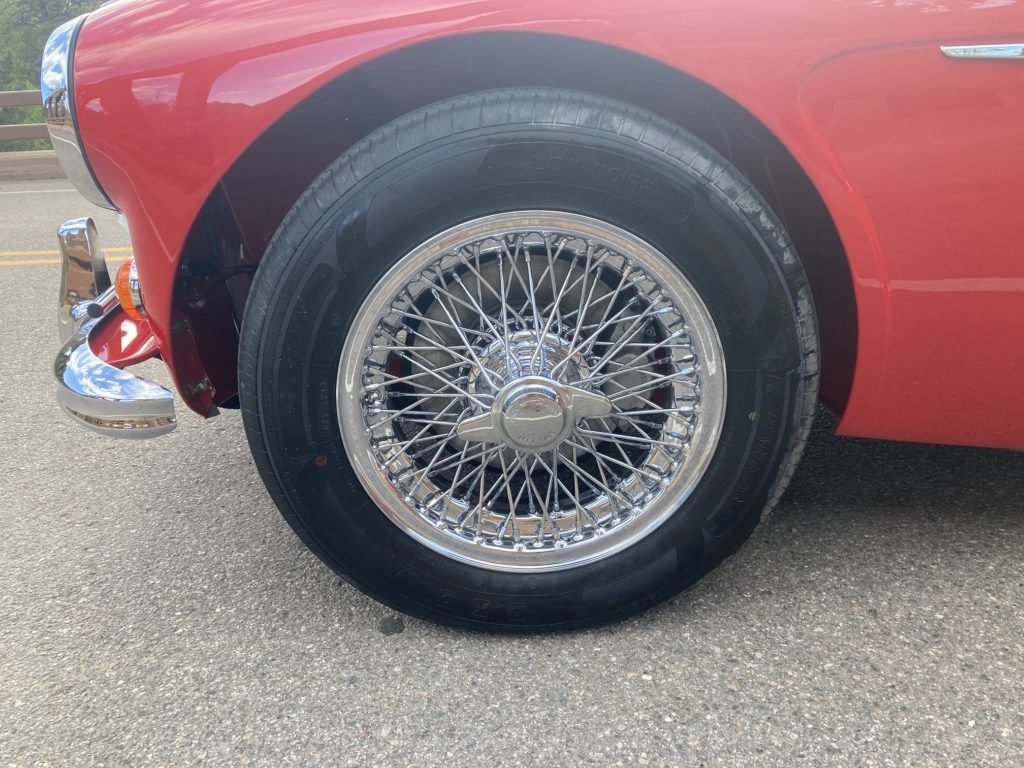 Wheels are 15″ 72 spoke chrome wire wheels in excellent condition with two eared true knockoffs; shod with 165/80 R15 radial tires. The tires have had little mileage but are nearly 9 years old at this point and one may want to replace them for safety's sake. Left front above; left rear below.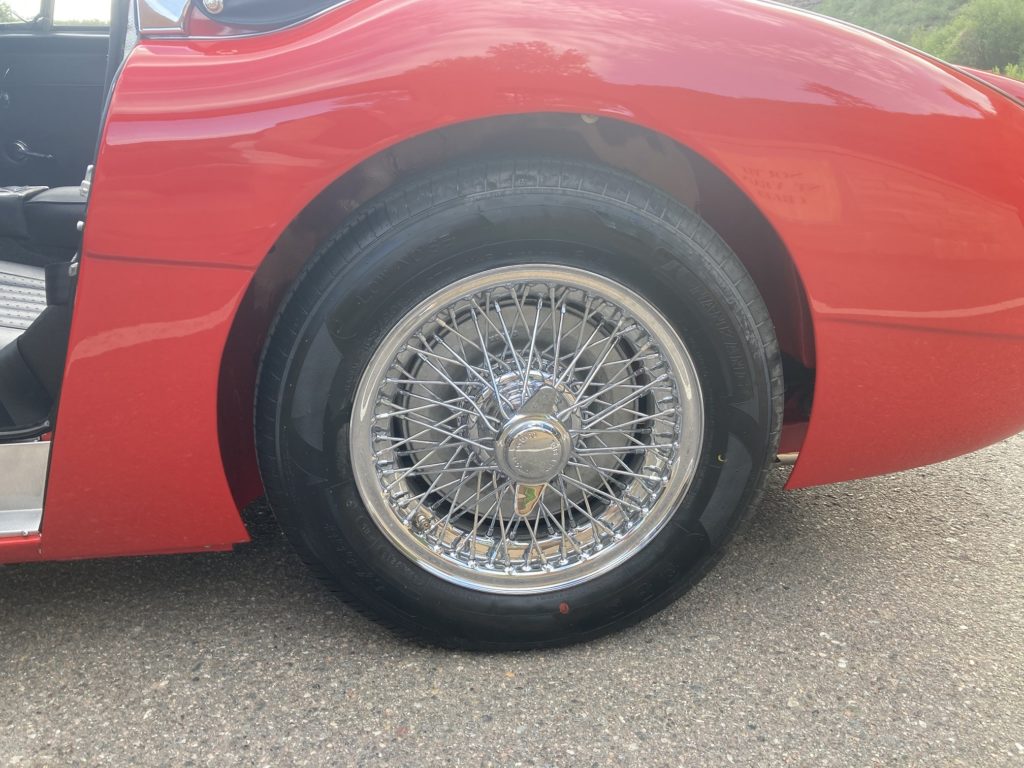 Right front and right tear below.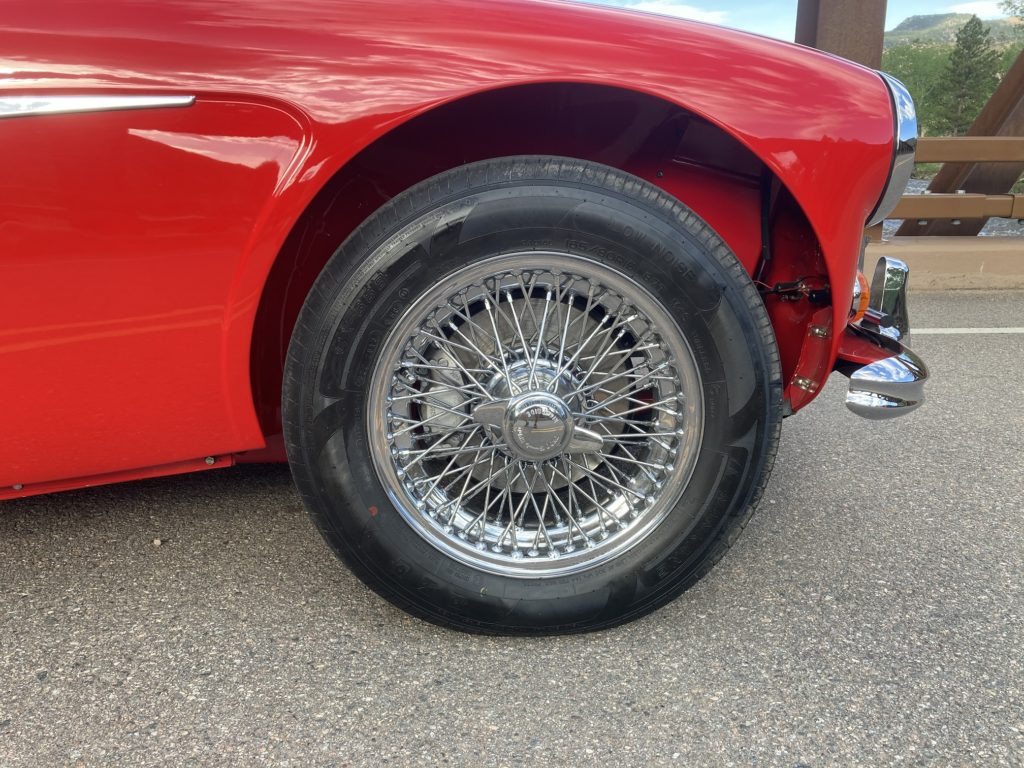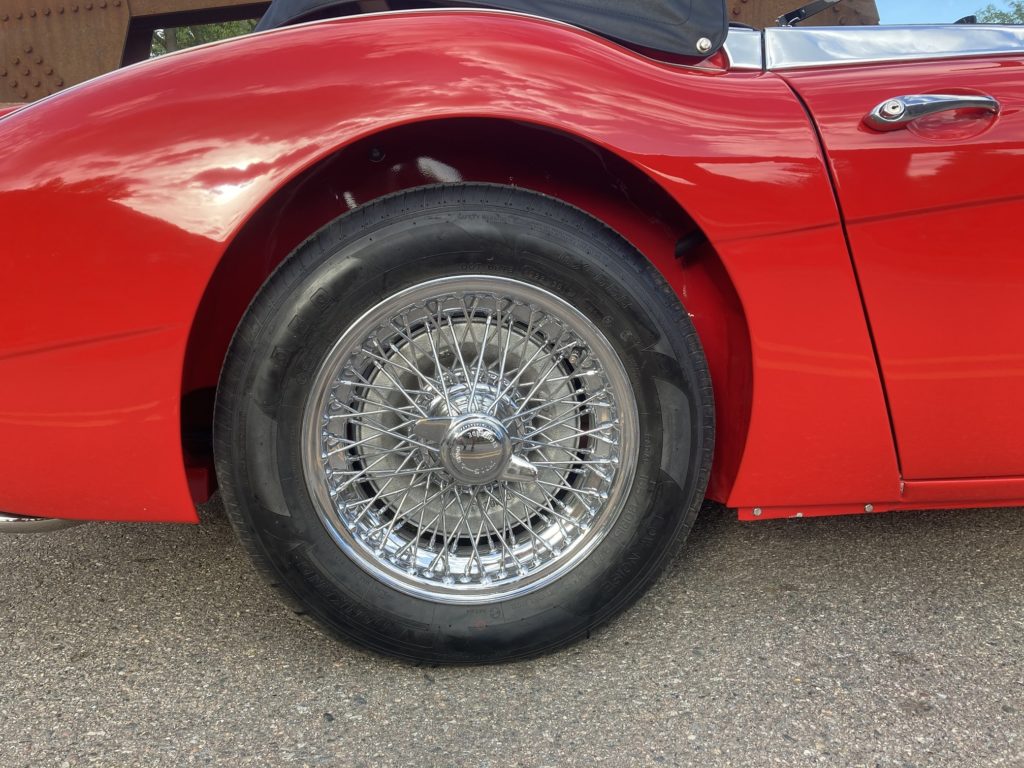 Car has been fitted with a new top.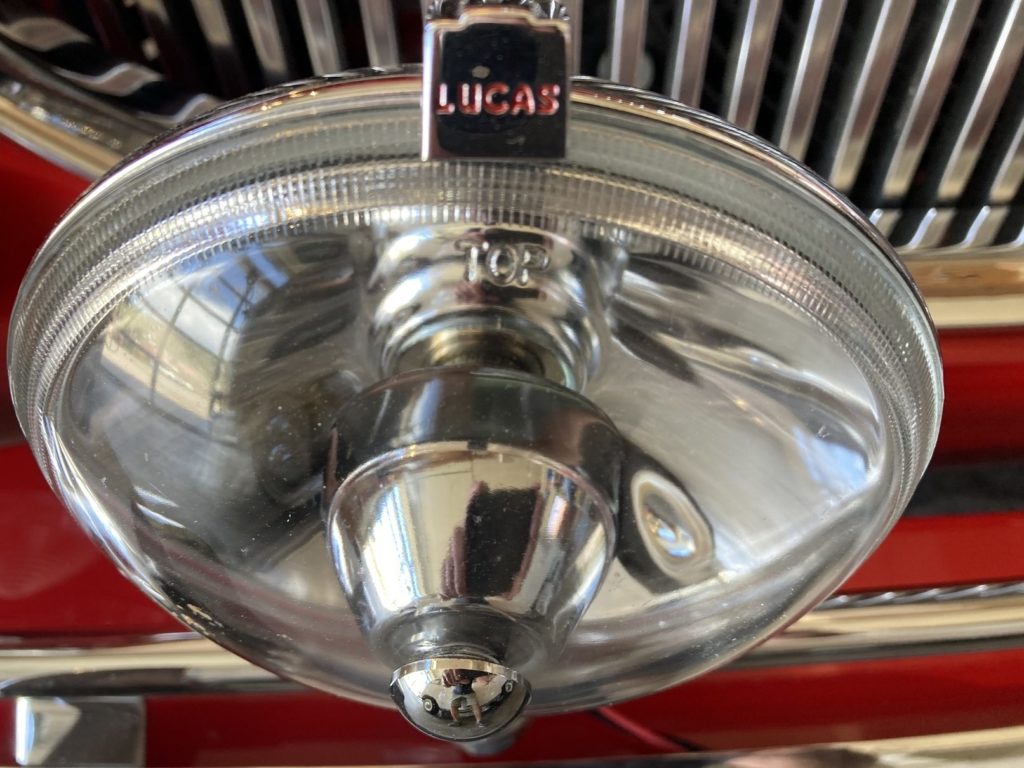 Auxiliary Lucas lamps; switched with illuminated toggle switch beneath dash.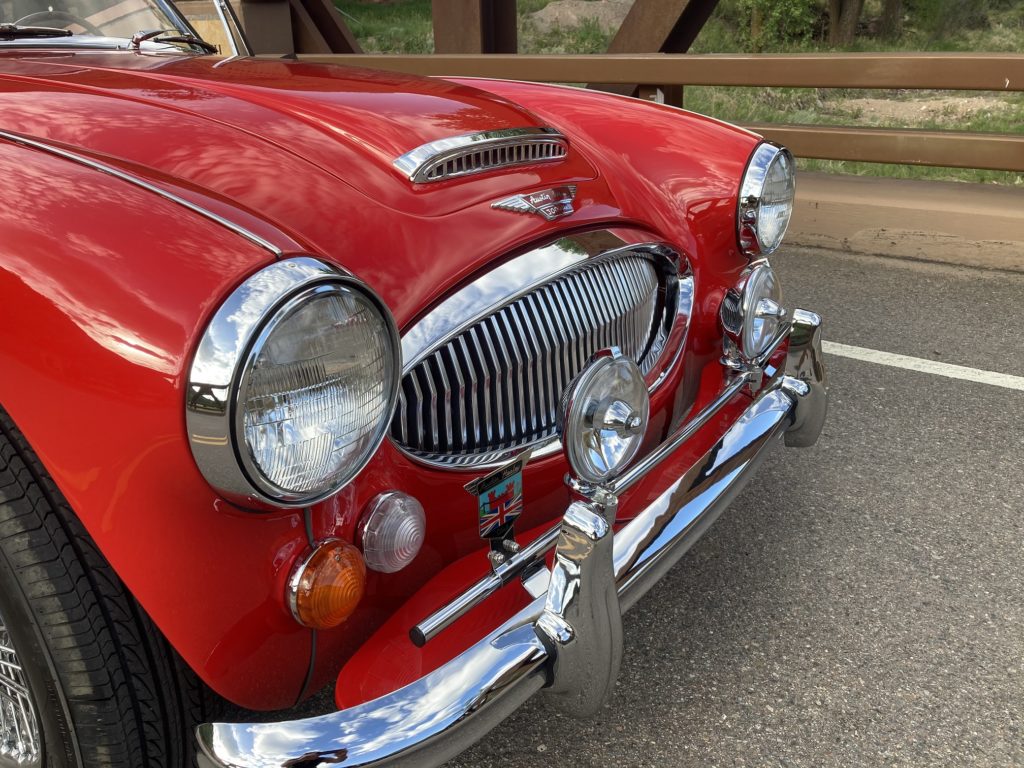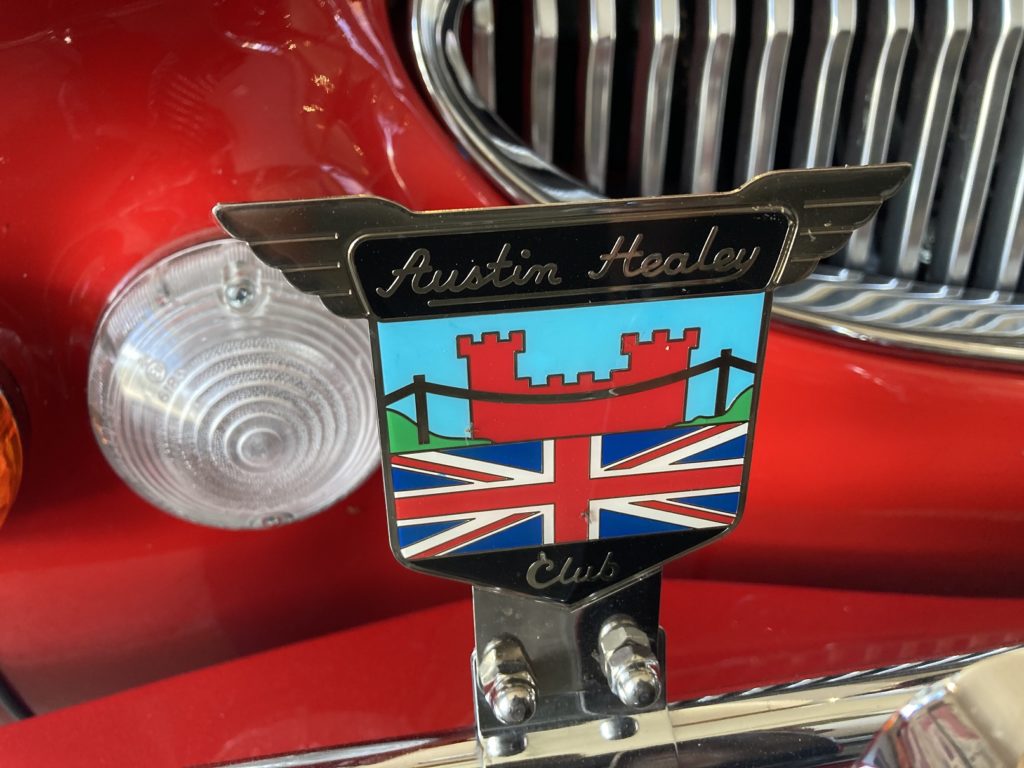 We do note a couple of blems on the car that I want a buyer to be aware of; one is a very small blem in the paint next to the left windshield wiper post and the other is a small dimple in the rear muffler. Neither are super noticeable and am sure the paint could be touched up professionally if one cared to.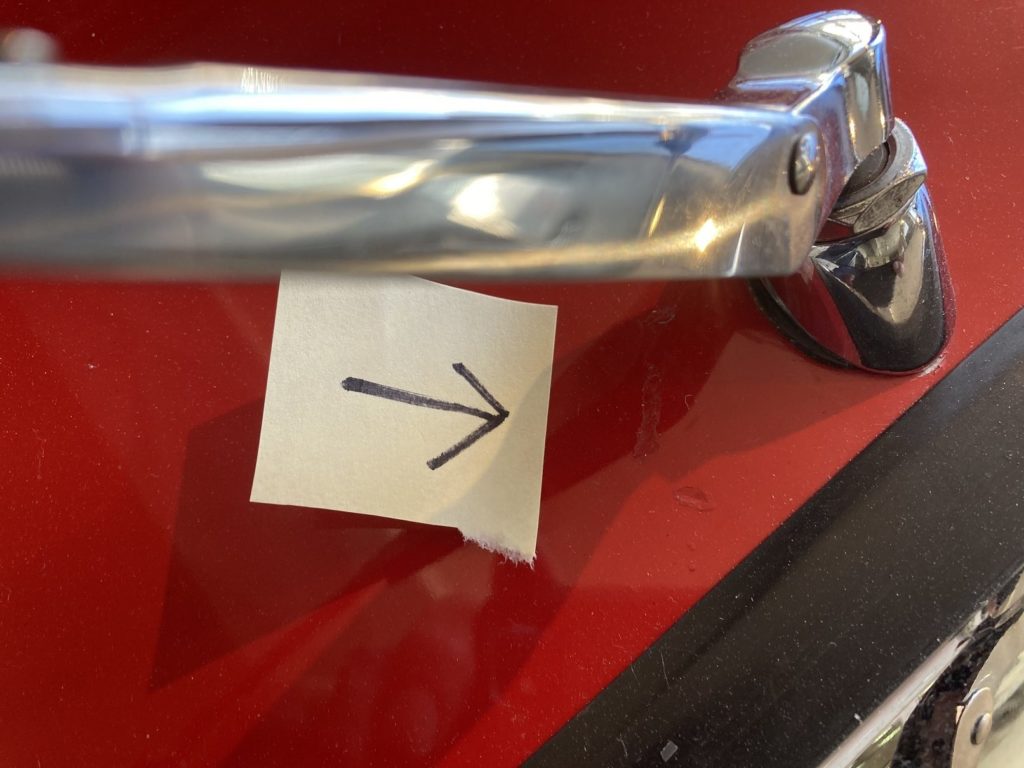 More photos of various details; with cars in this good of condition it is hard to know where to stop!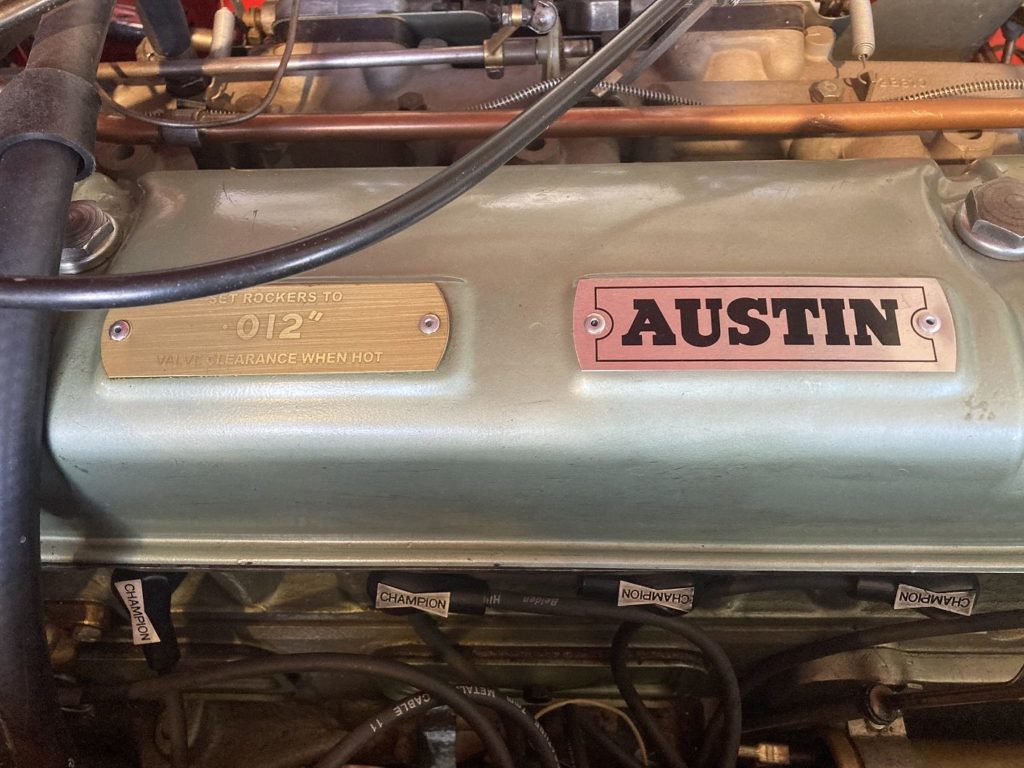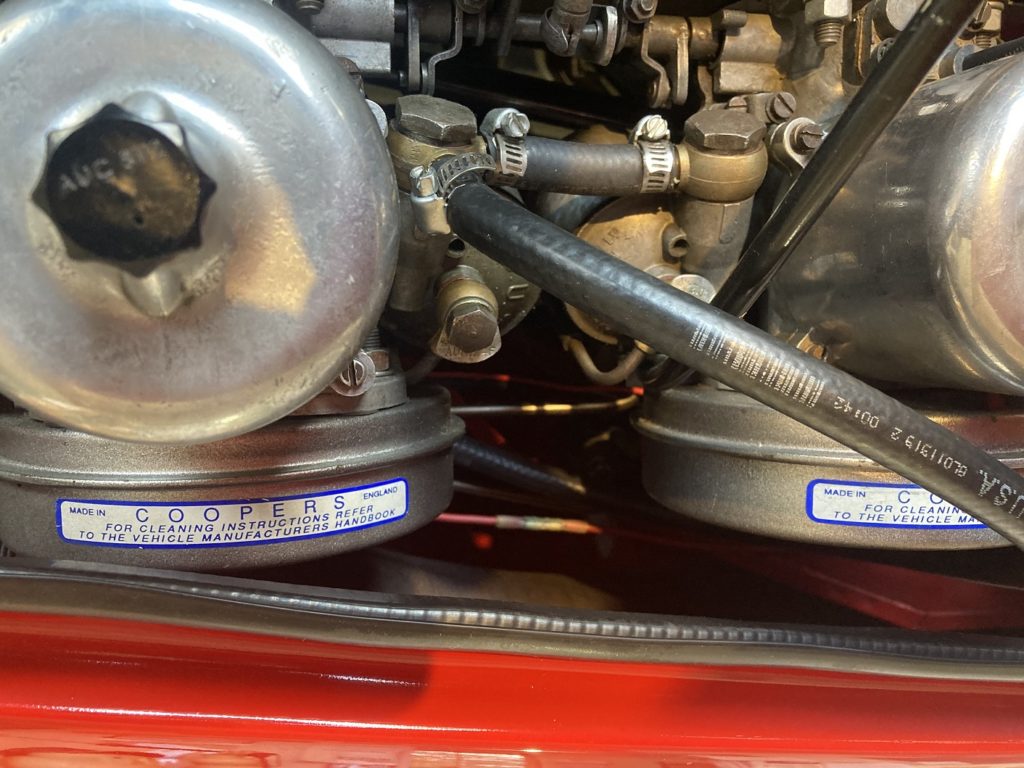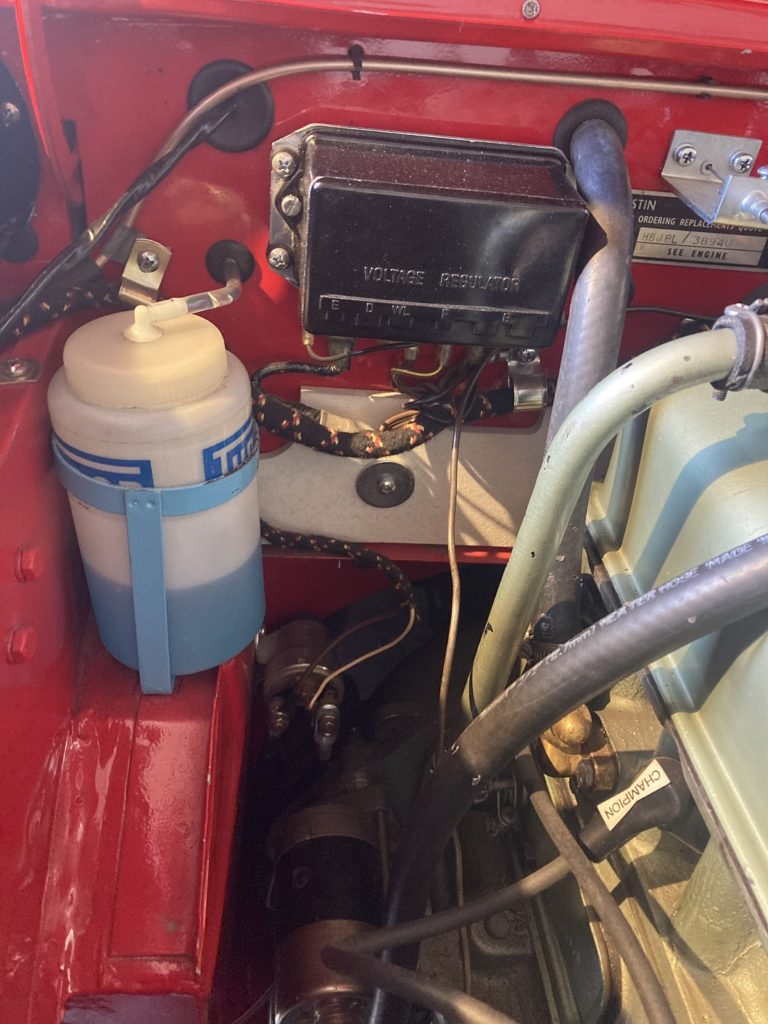 The car is upgraded to now be equipped with an alternator in lieu of a generator. The alternator has an integrated voltage regulator so the  stock regulator pictured above now contains a Moss solid state voltage stabilizer (car is standard, 12v negative ground).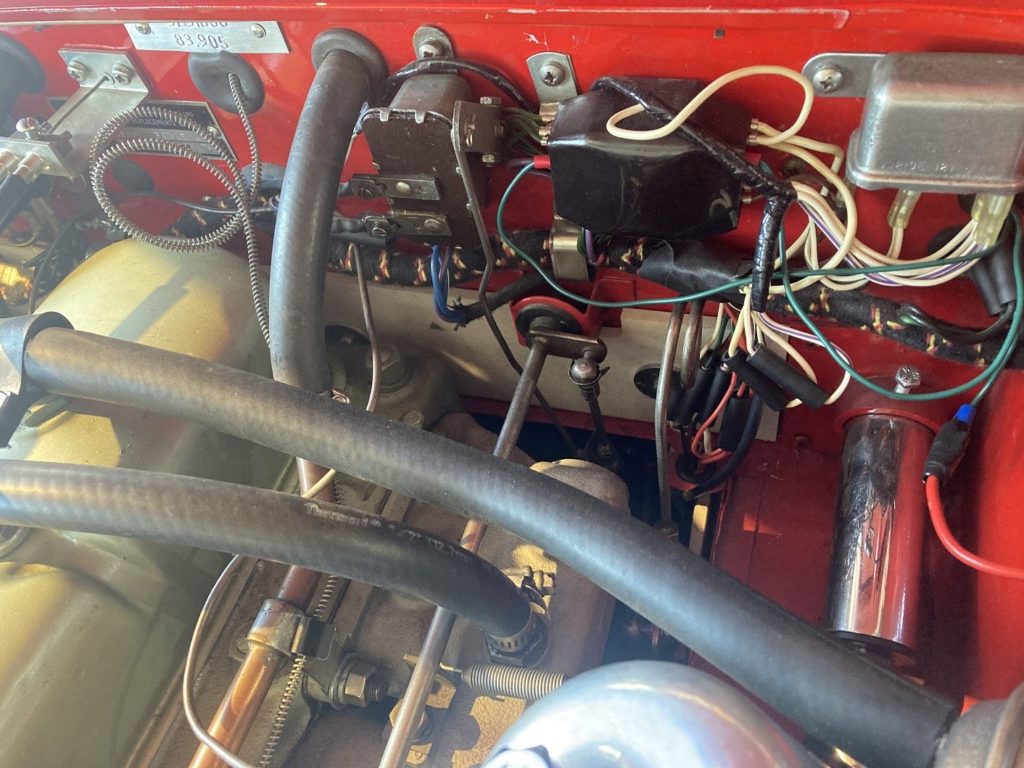 All new wiring and wiring harness.
Front left engine compartment shown above; front right with alternator shown below.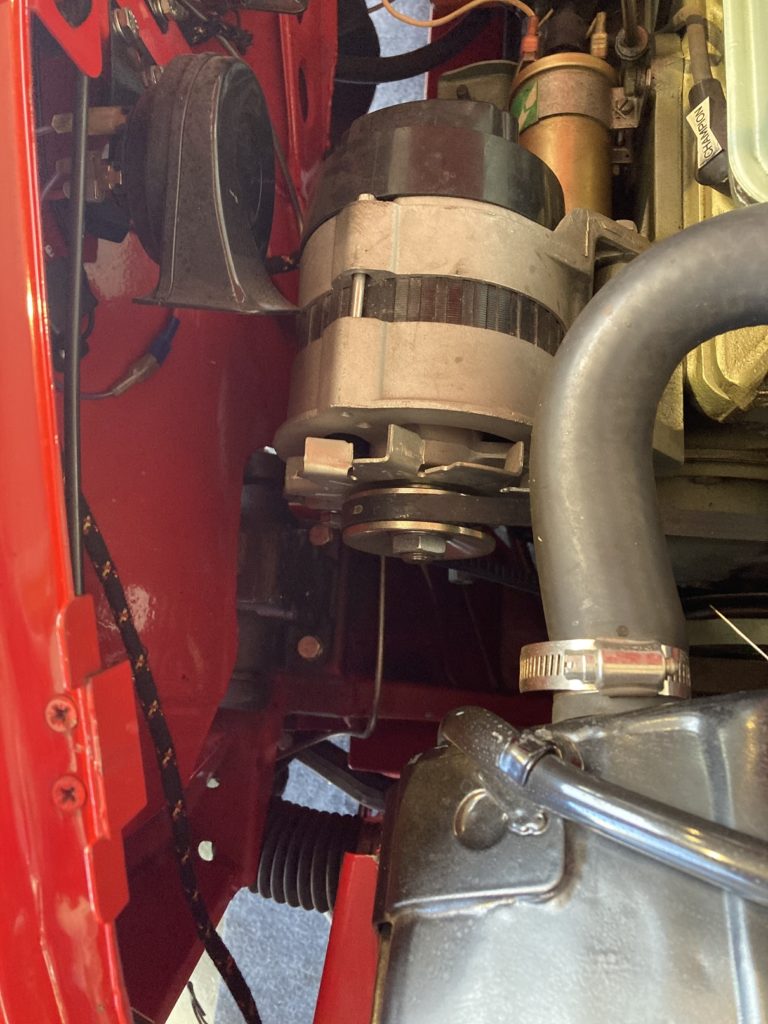 Supplemental electric cooling fan (if needed for hot weather driving) mounted in front of radiator; switched to illuminated toggle switch beneath dash. The radiator is now canted to accommodate the upgrade to rack and pinon steering.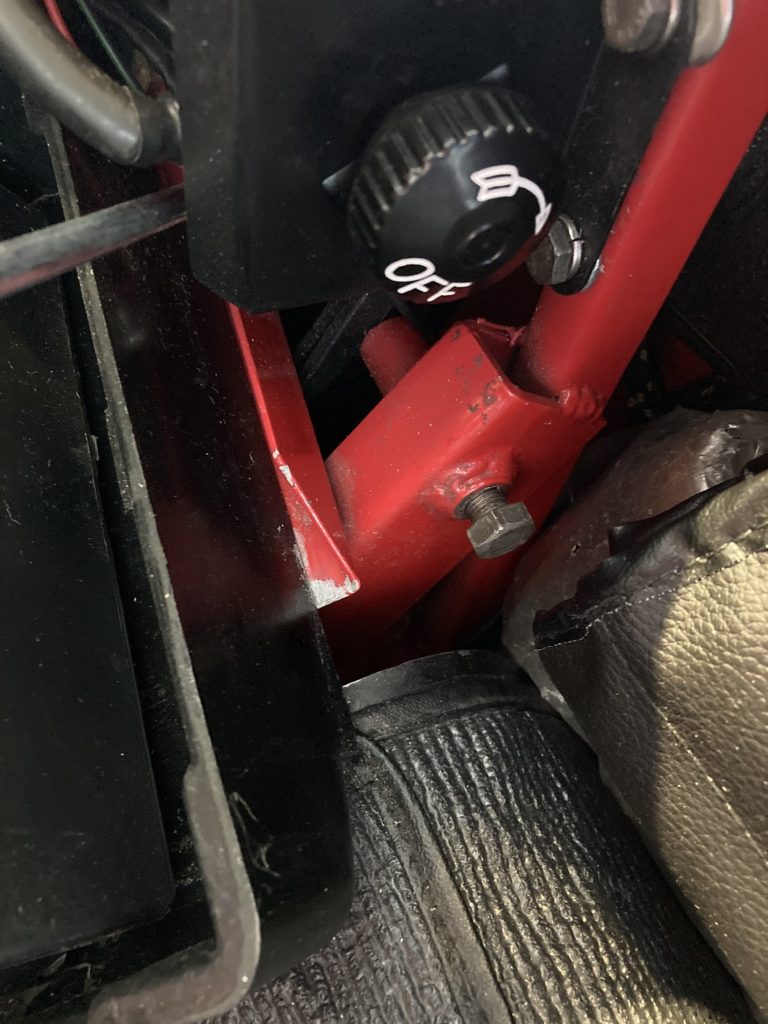 The standard battery location is in the right rear of the boot (trunk) with a On/Off switch. When Off, there is no power to the car, keeps the battery from being drained and is a theft deterrent too.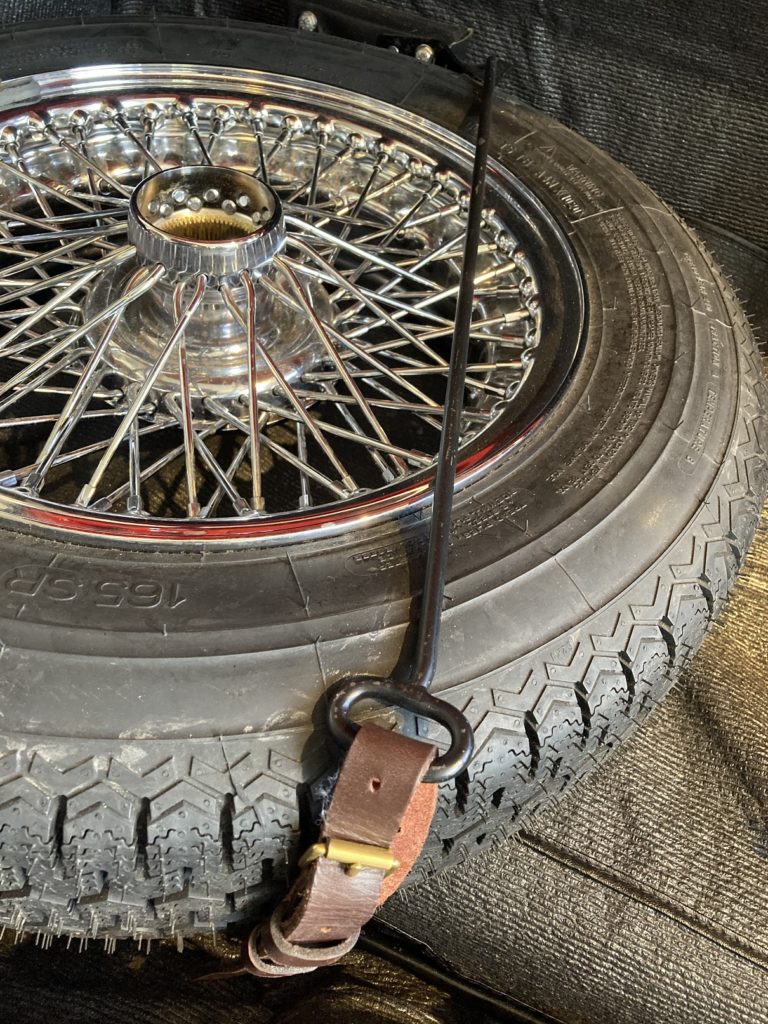 Proper spare wheel strap and holder. Very nice to have a spare chrome wire wheel to match the other wheels with a never used spare tire!
General Specifications:
BJ8 Production: 1964-1968 Total 16,918 cars; 3,051 in 1967 and 1 in 1968!
Assembly: Abingdon, England
Wheelbase: 92″
Track: 49″
Length: 13′ 1″
Width: 60″
Height: 46″
Kerb Weight: 2,550 lbs.