1976 Porsche 912E For Sale.
The 912E was produced for one year only in 1976 to fill the gap between the 914 and the 924 in the Porsche lineup. The cars are quite rare as only 2,092 were built, all for the North American market. However, due to their fully galvanized high quality Theissen steel bodies (a first for Porsche in '76) and reliable 4 cylinder air cooled 2.0 liter engine from the 914, Porsche estimates that at least half of these cars are still on the road today! Incidentally, the E stands for "Einspritzer", which is the German word for fuel injection, in this case, the new for 1976, Bosch L- Jetronic.
This example was sold new in California and was purchased used in 1982 at Anderson-Behel Porsche in Santa Clara by the same family consigning it with us now.
The car starts readily and runs and drives well.
The interior was recently refreshed and upgraded with new padding and leather upholstery of the front Recaro seats, replacement of the vinyl upholstery in the rear, a new headliner in original spec material and rebuild of the original front door pockets which feature the lift up covers. The car is straight and not rusty (fully galvanized body and living in CA and Colorado since new and garaged when not driven helped) but the paint finish (# 106-9-2 Talbot Yellow) is compromised with numerous chips, a few dings and some fading. Gaps and glass are all good.
I say drive it as is which it does very nicely (pluses are its 5 speed manual transmission, good handling, 25-26 mpg on regular gas).
There are its purchase documents, an Owners Manual, service records and receipts back to 1982 along with its original CA blue plates. The car is sold with a clear Colorado title. The odometer reads just over 161,900 miles which we're very sure is its original mileage given the records. Records show that the original engine was rebuilt and the clutch replaced. JUST SOLD – THANK YOU
Please feel free to inquire anytime, thanks.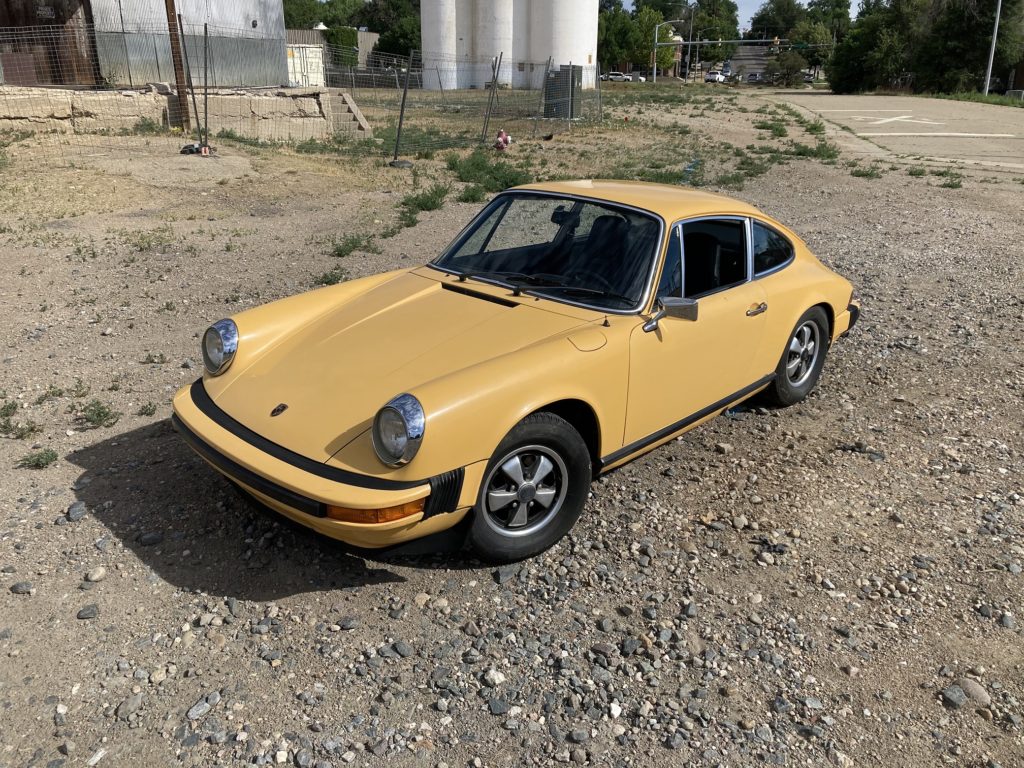 You may notice that in some of the photos the car looks lighter or darker; some of this is due to the sun and clouds but there is some actual paint color contrast is some of the panels too; ie the right rear quarter panel reads "lighter" than the adjacent engine compartment lid and right door.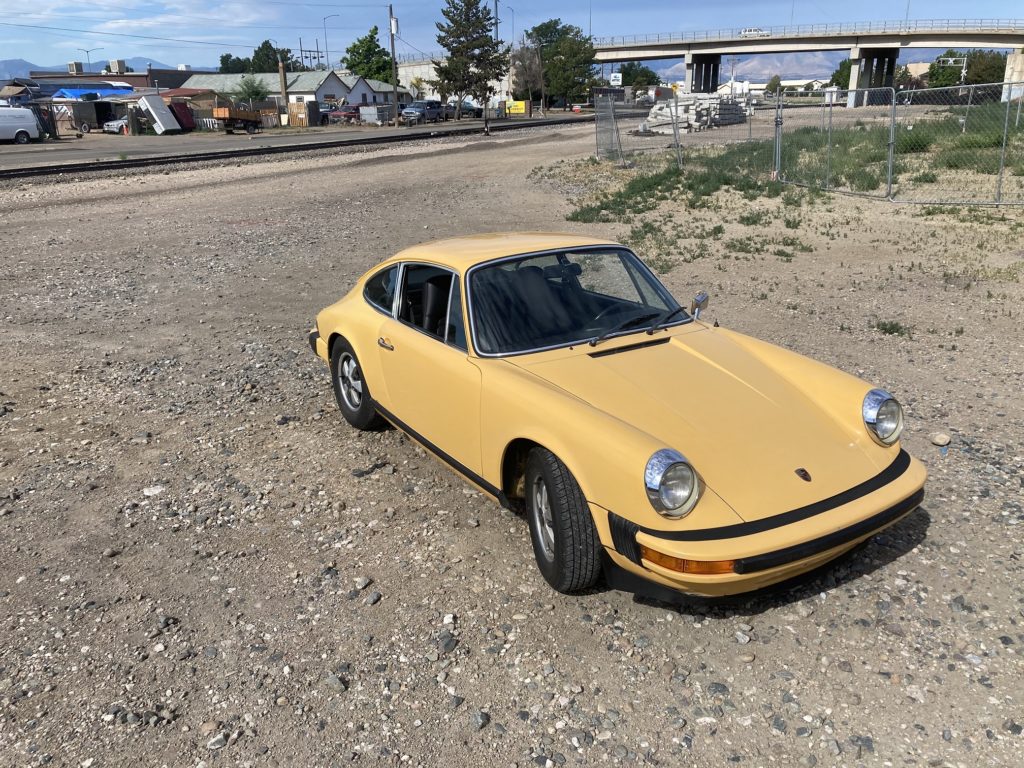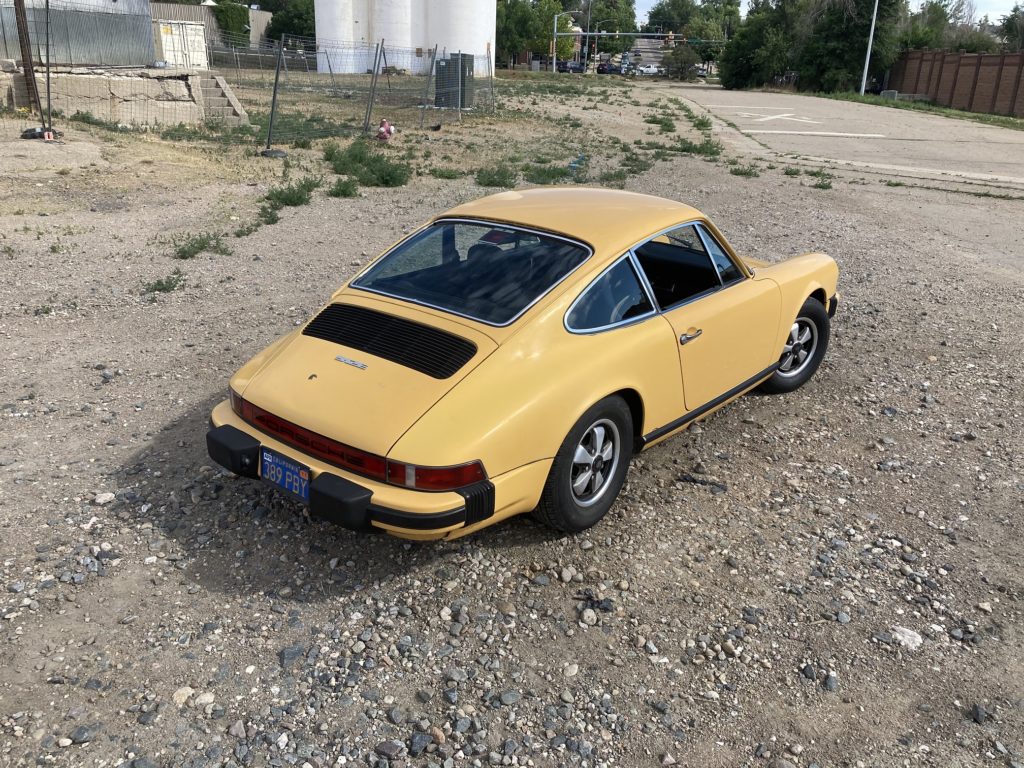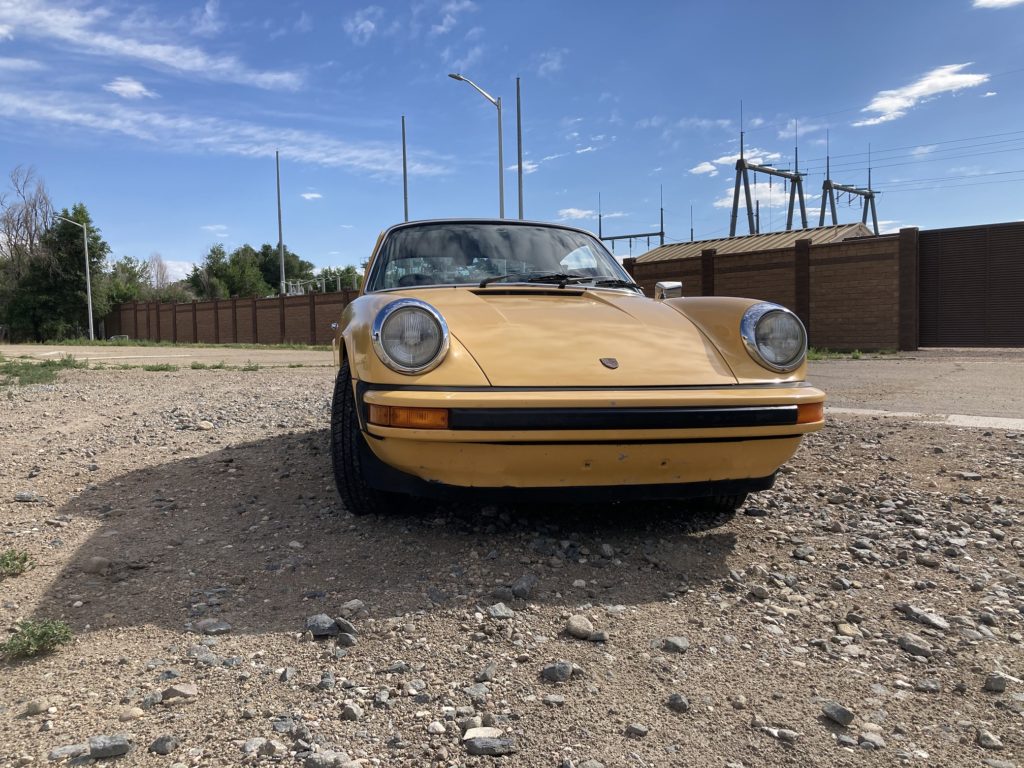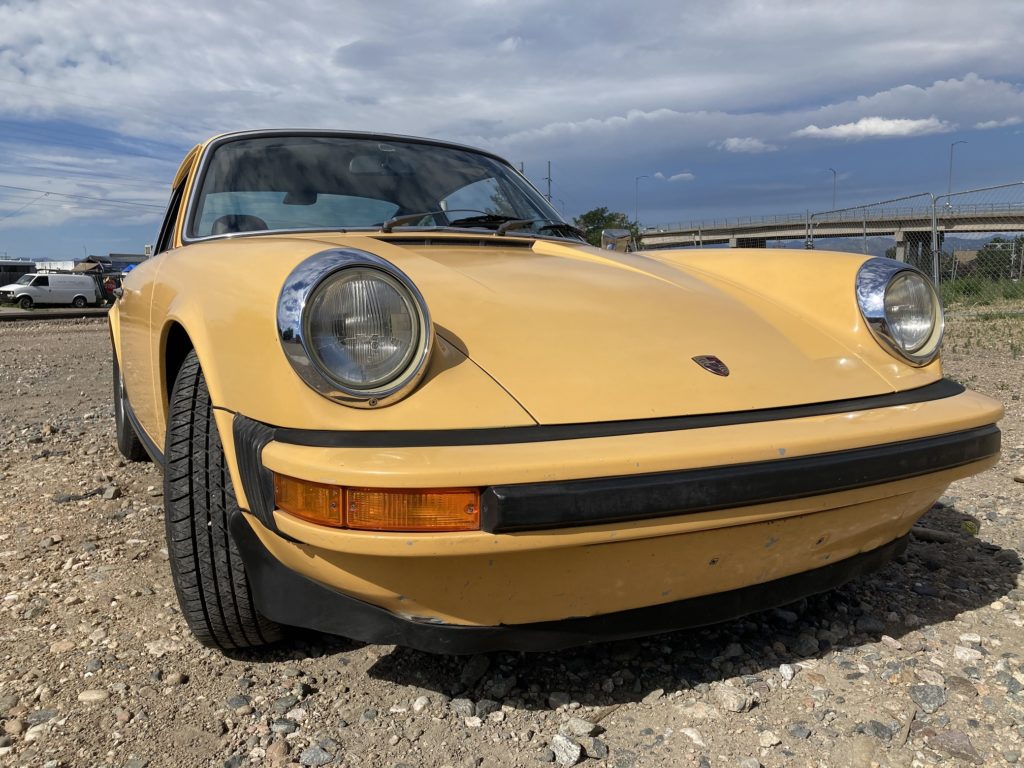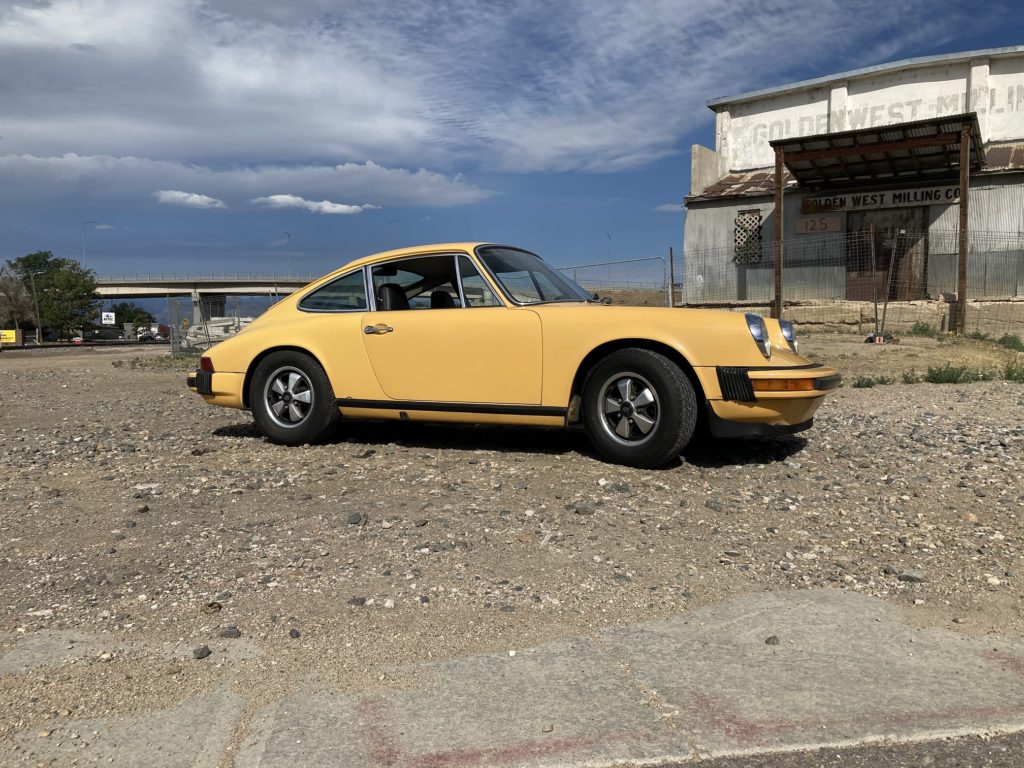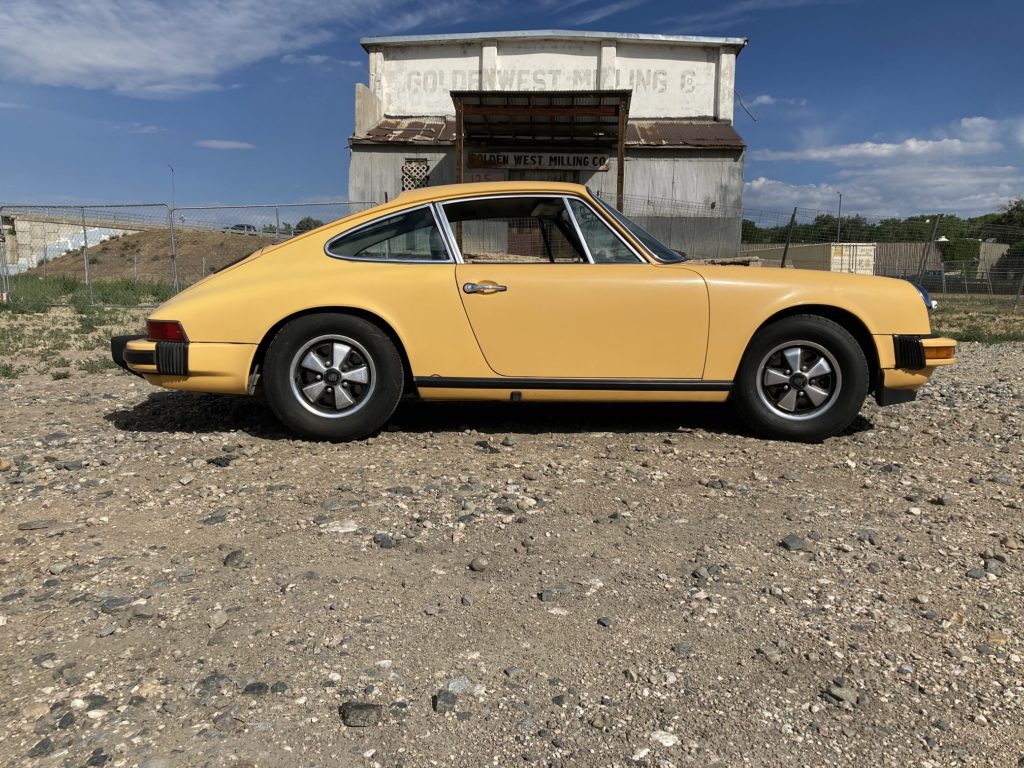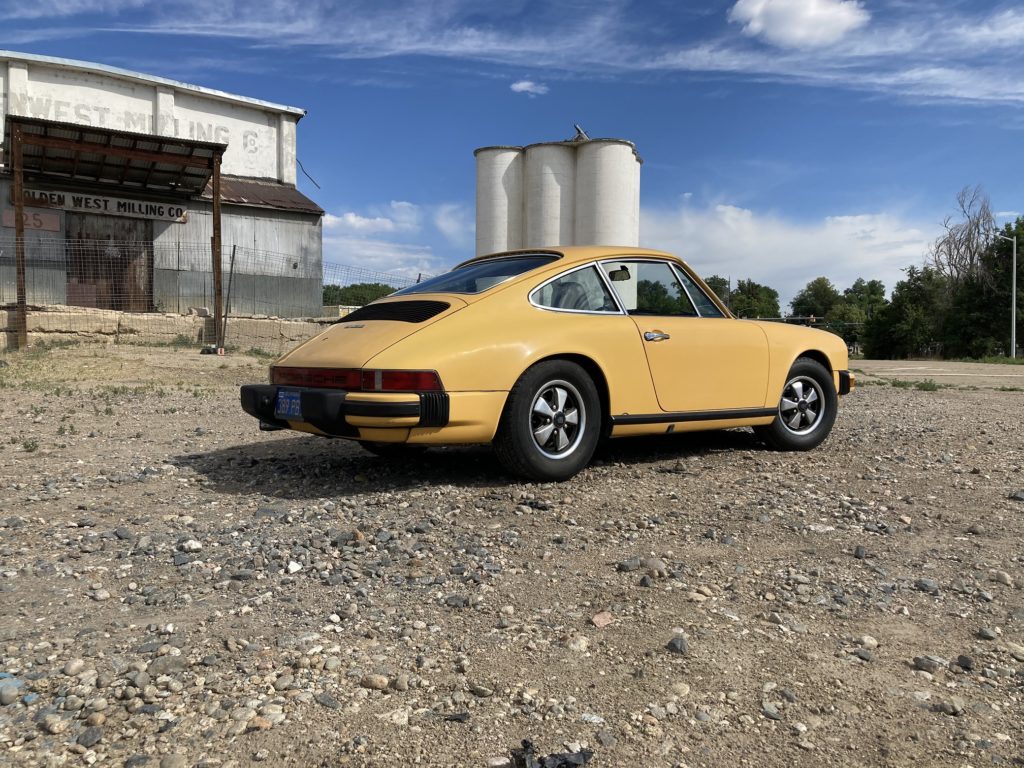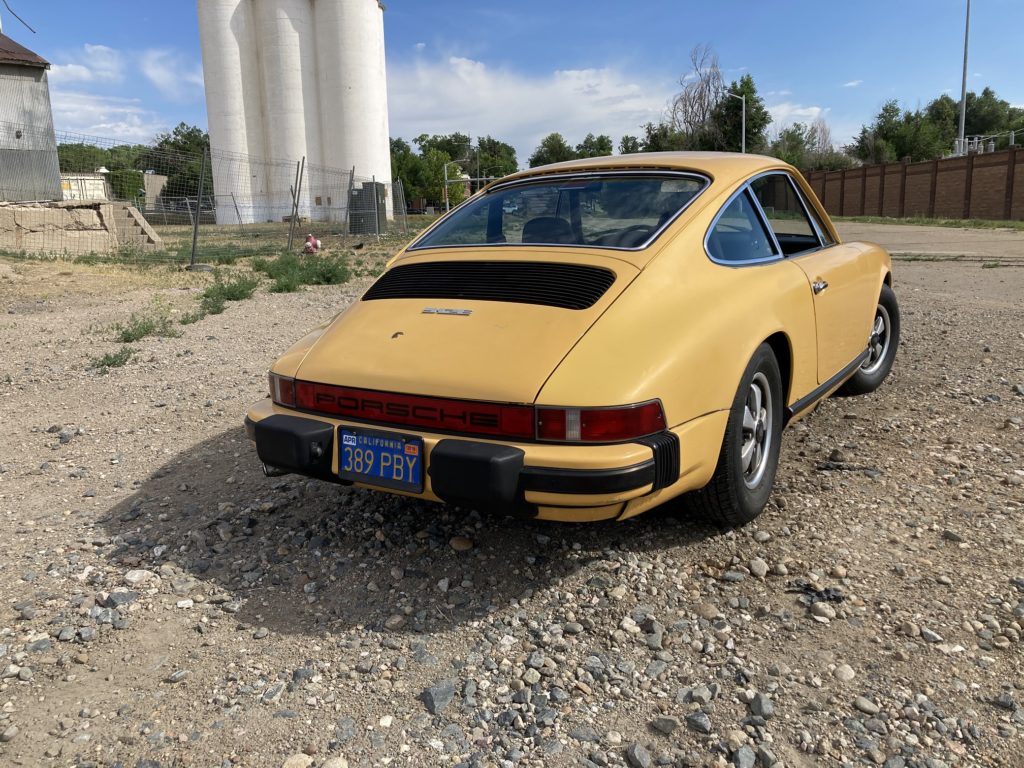 Engine compartment lid ding and paint chip shown above.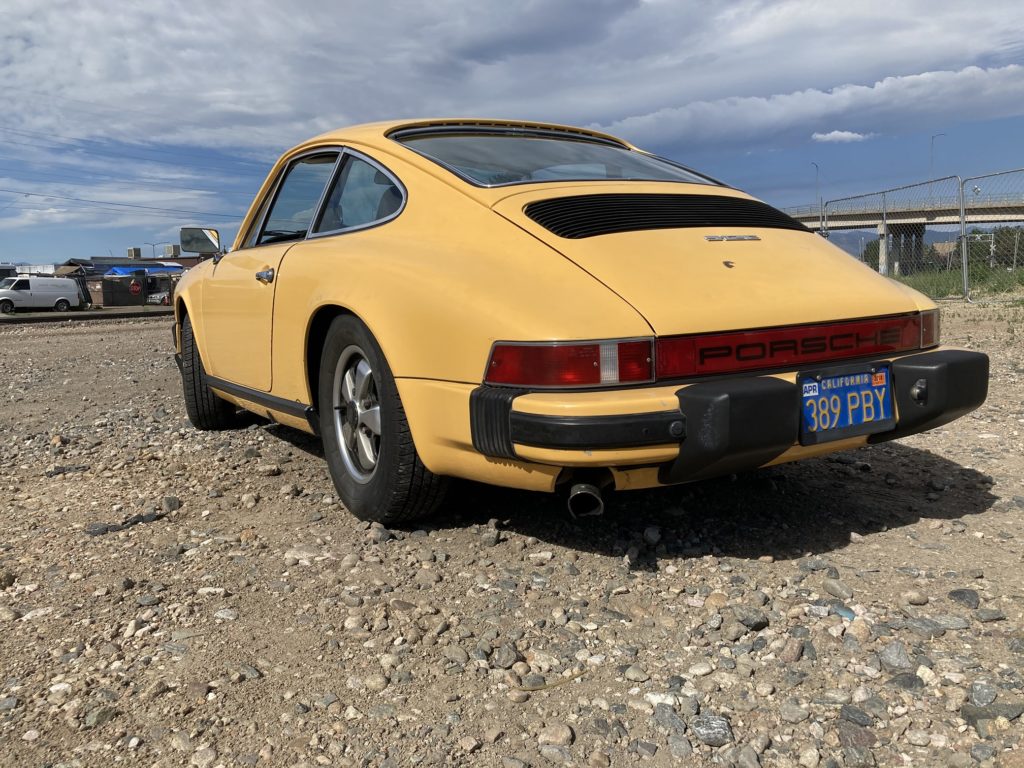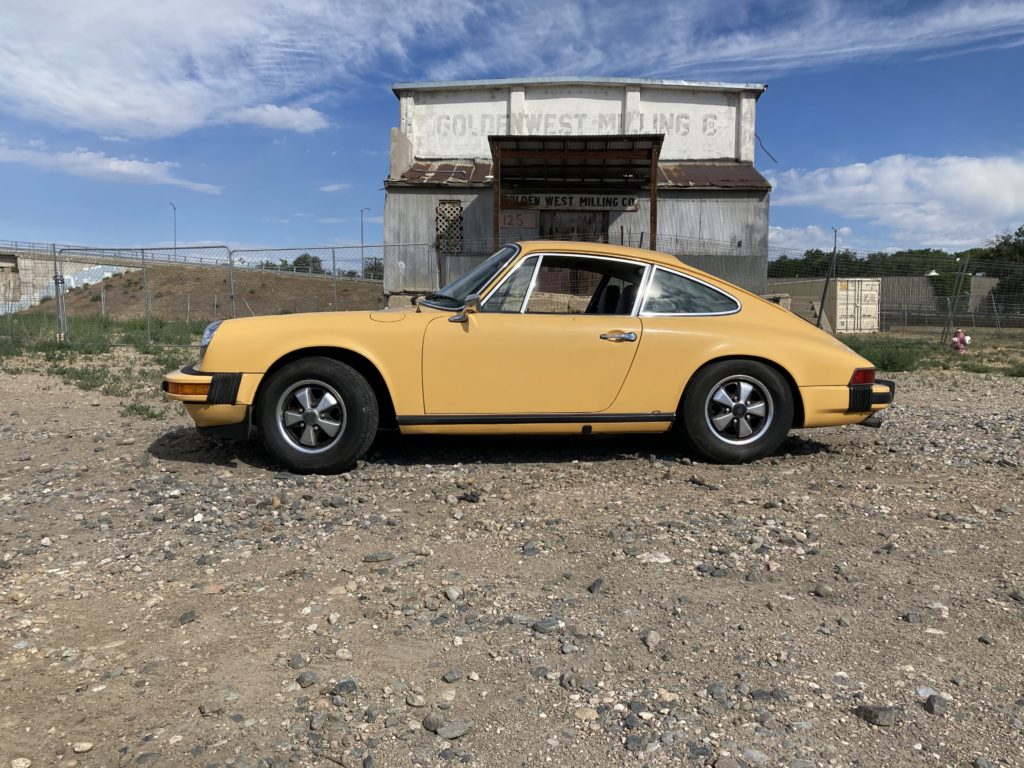 Paint chip at top of left door shown above. Dimple on top left front fender shown below.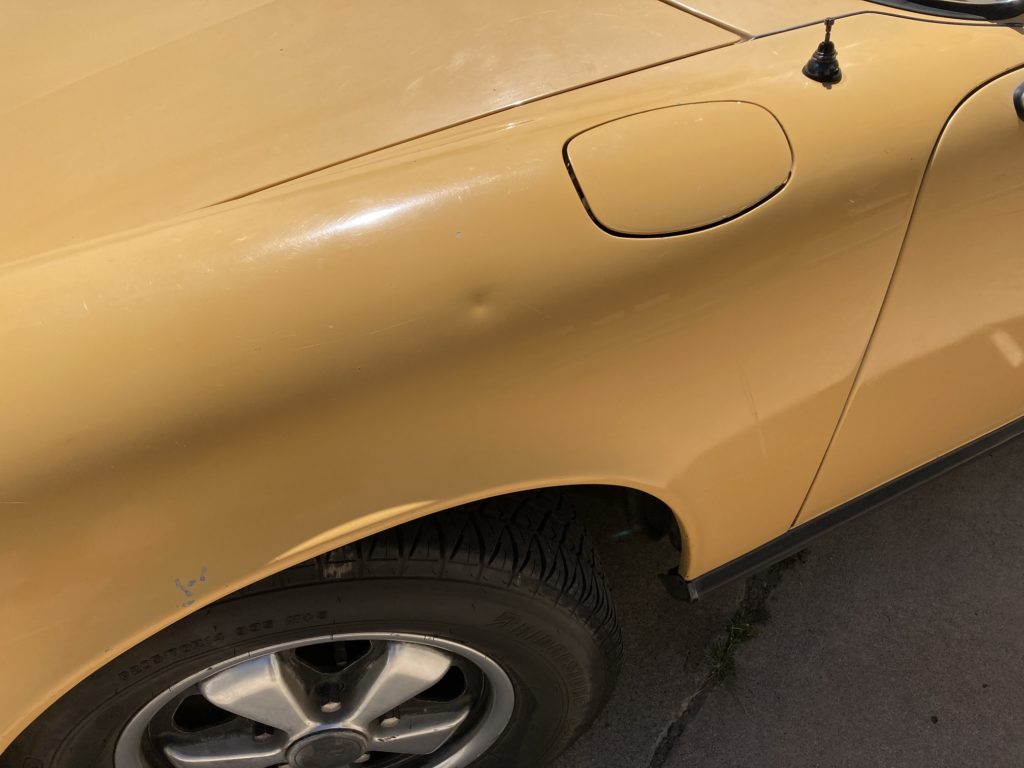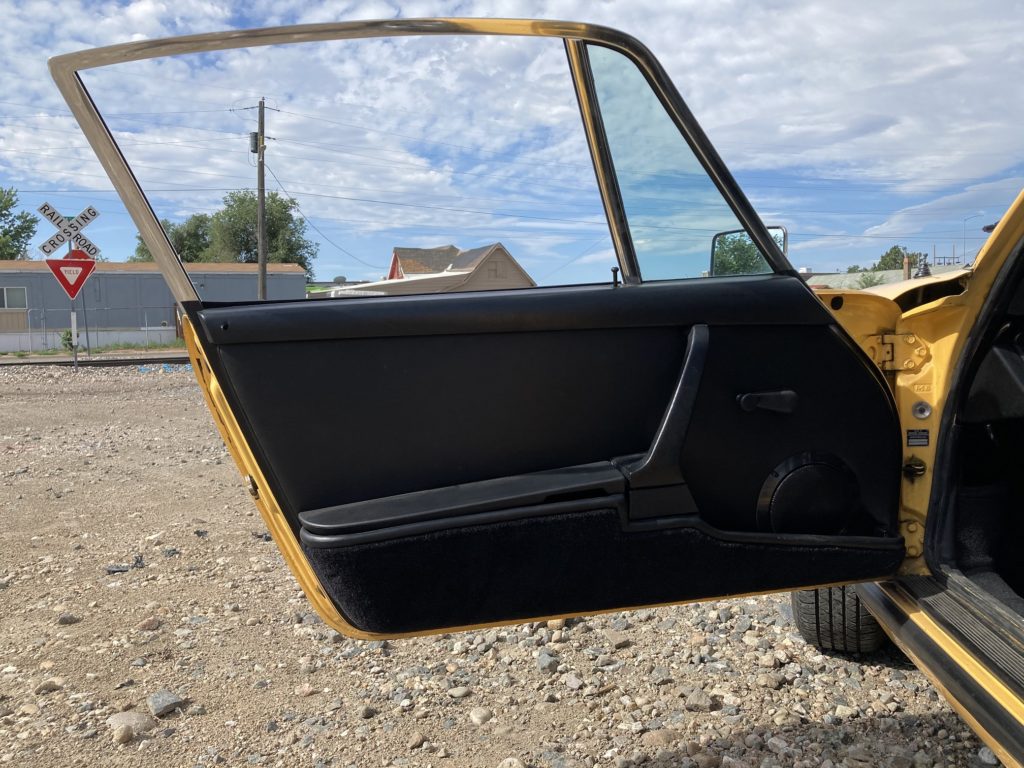 Front door panels with lift up covers on the pockets (recently refurbished on both doors).
New headliner along with new padding and leather (a nice upgrade from the original vinyl) for the front seats.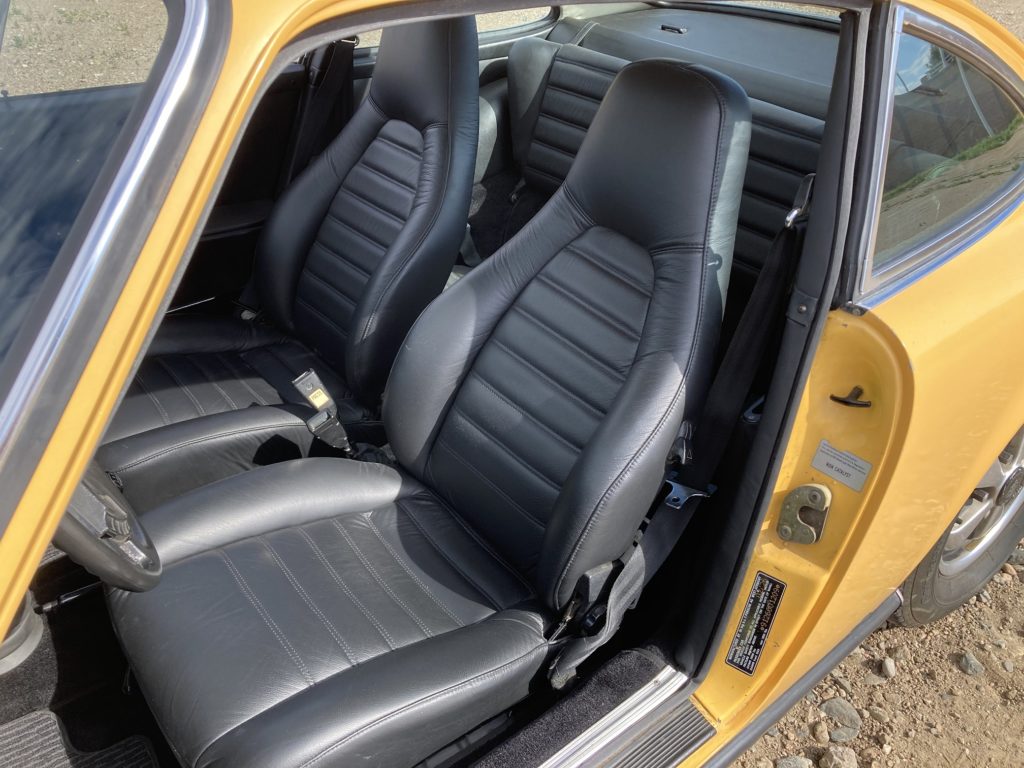 Rear seats recently redone with new correct type vinyl.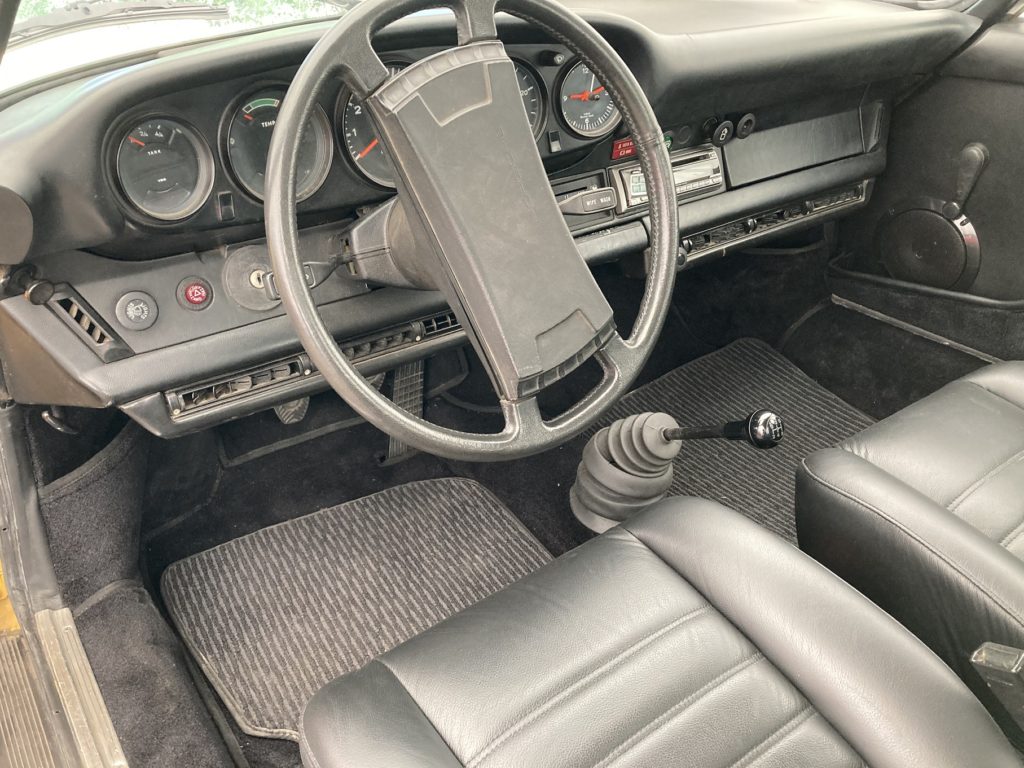 Odometer 161,897 miles. Per all the records with car I am quite sure that this is the original mileage; however, when the title was transferred from CA to CO the actual mileage is now not shown on its Colorado title, rather listed as Zero Exempt.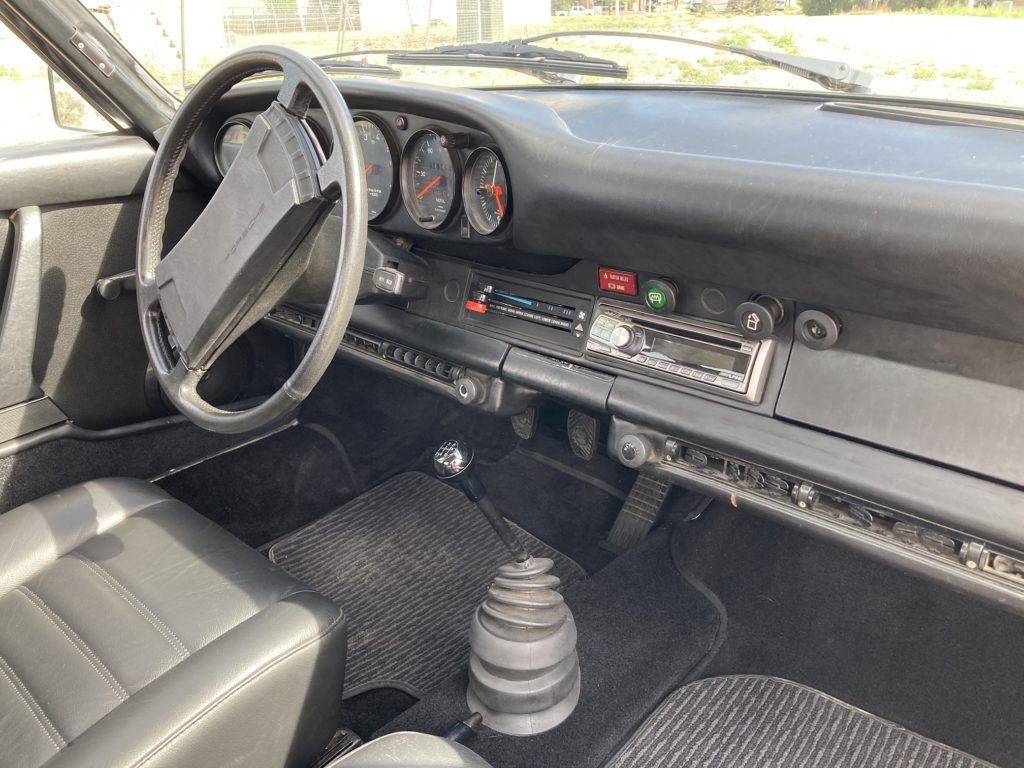 Factory air conditioning vents along lower dash. AC currently not functioning.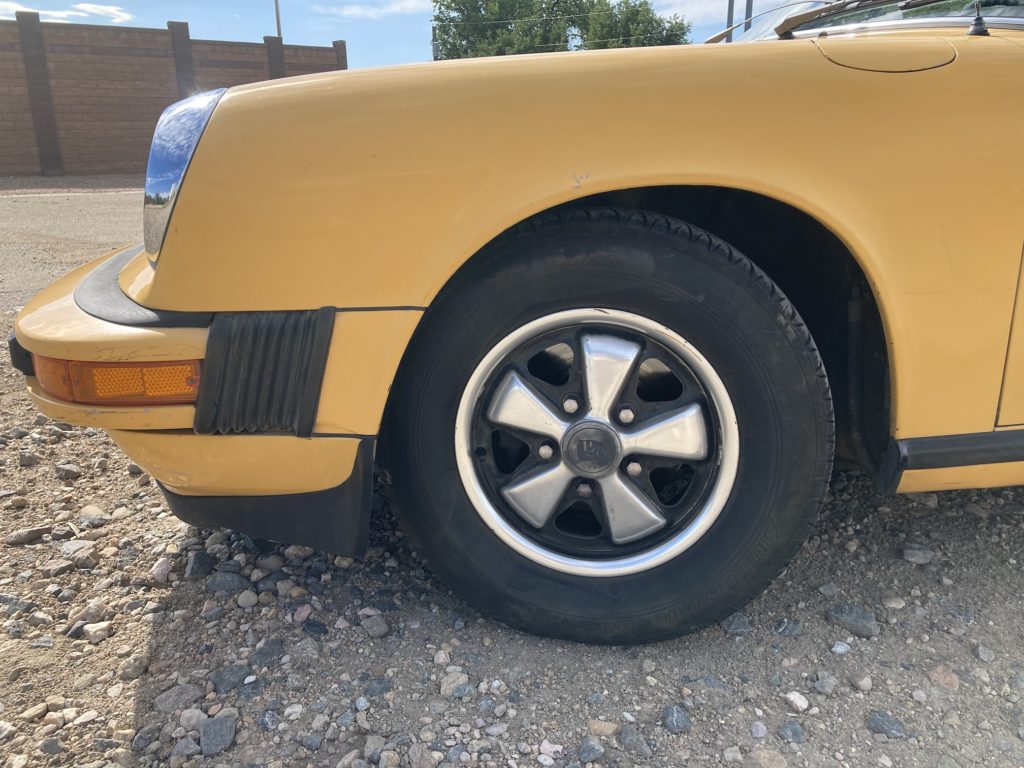 Left front wheel above. Car sits on Fuch forged wheels ( 5 1/2 x 14) shod with Bridgestone B420 205/70R14 radial tires. The tires, while still having good tread and not showing any cracking, are 20 years old and should be replaced. There is a 5th Fuch wheel and tire with the car as well (in addition to the original space saver spare).
Right front.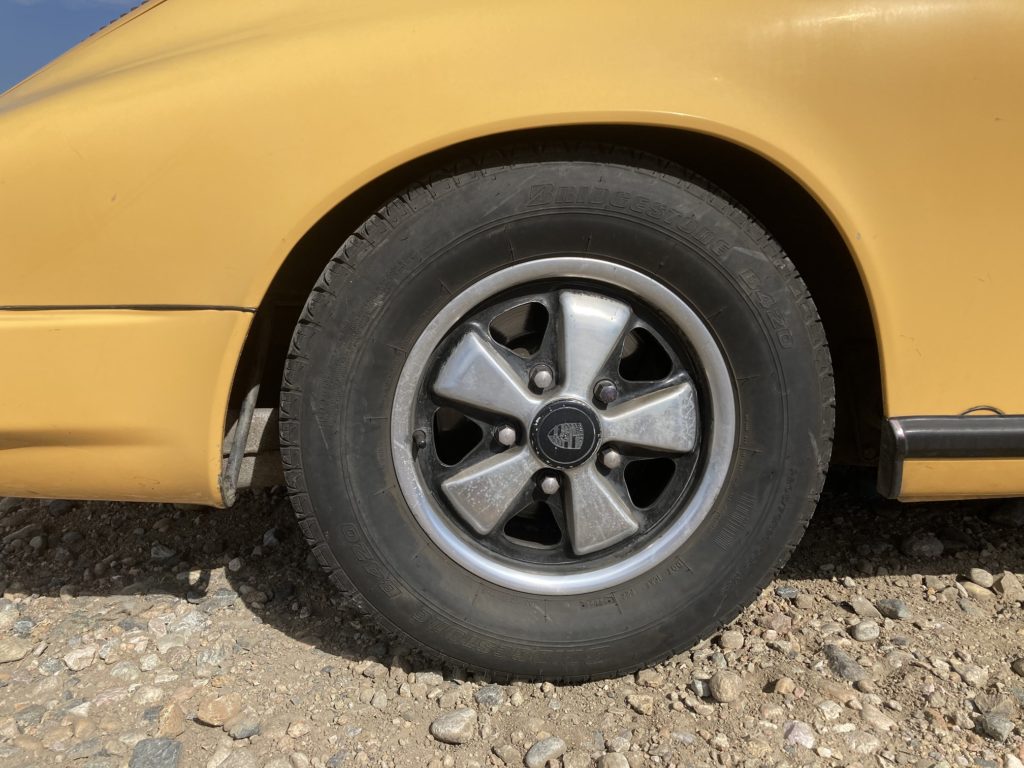 Right rear.
Left rear.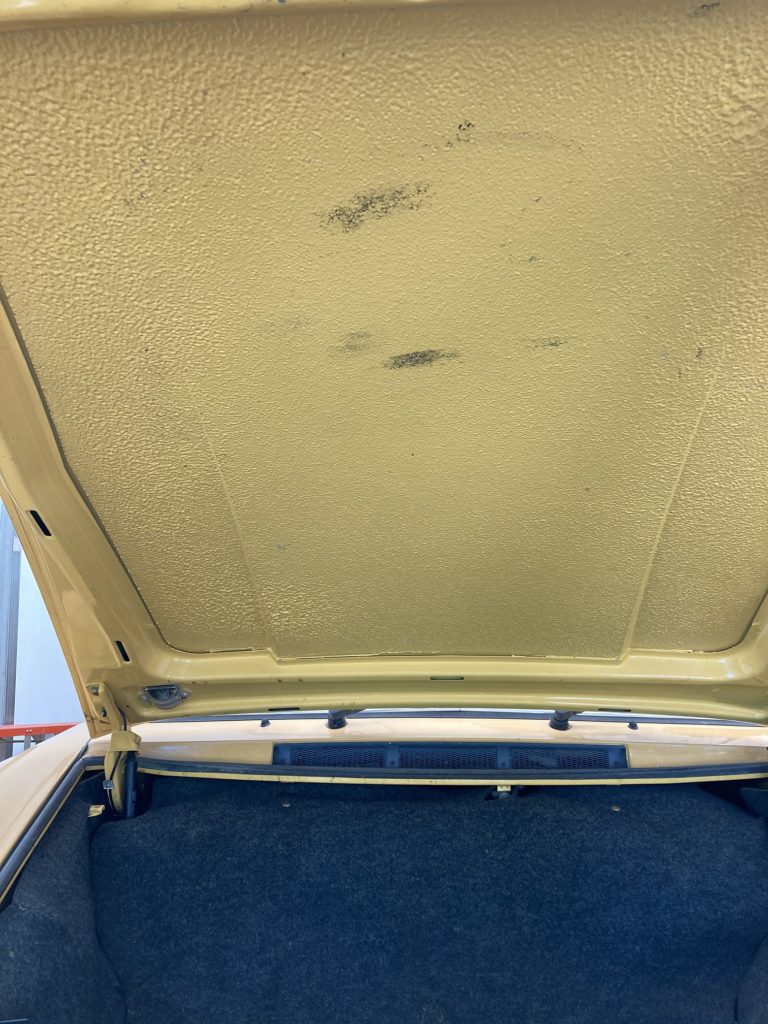 Underside of trunk lid. Shocks for trunk and engine compartment lids need replaced to hold them open. These are readily available and inexpensive.
Inside of trunk.
Original, never used, space saver spare. 1/76 date on wheel.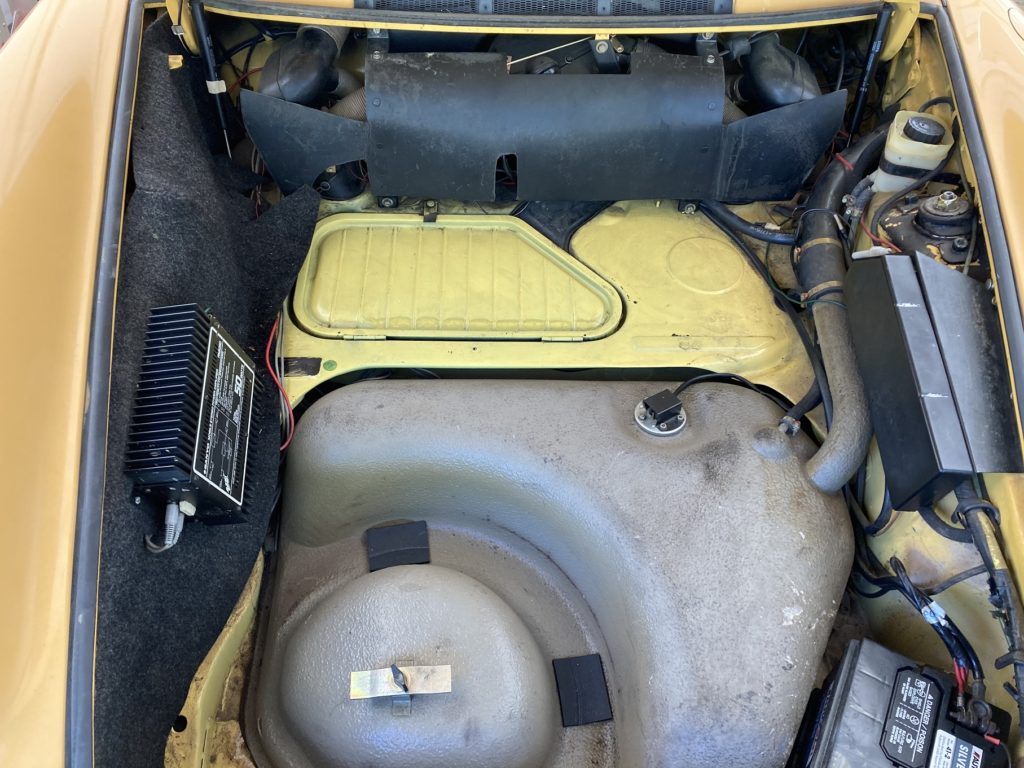 Trunk with carpet and spare removed.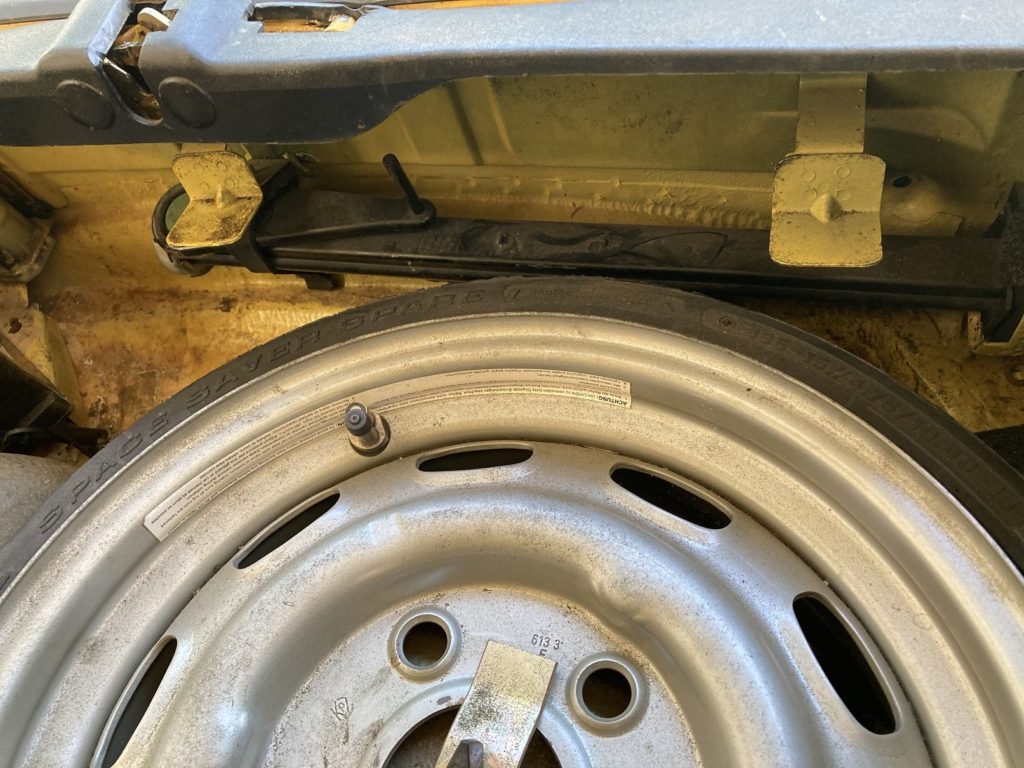 Original jack mounted in front of trunk.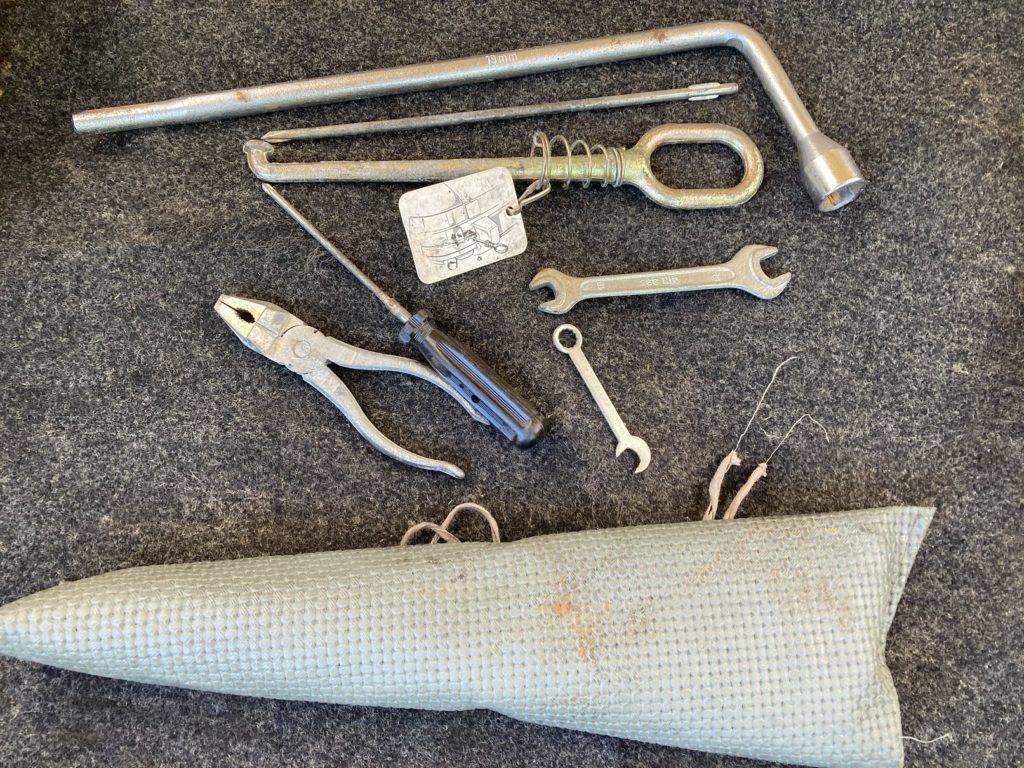 Tool roll contents.
Stereo amp mounted on right side of trunk.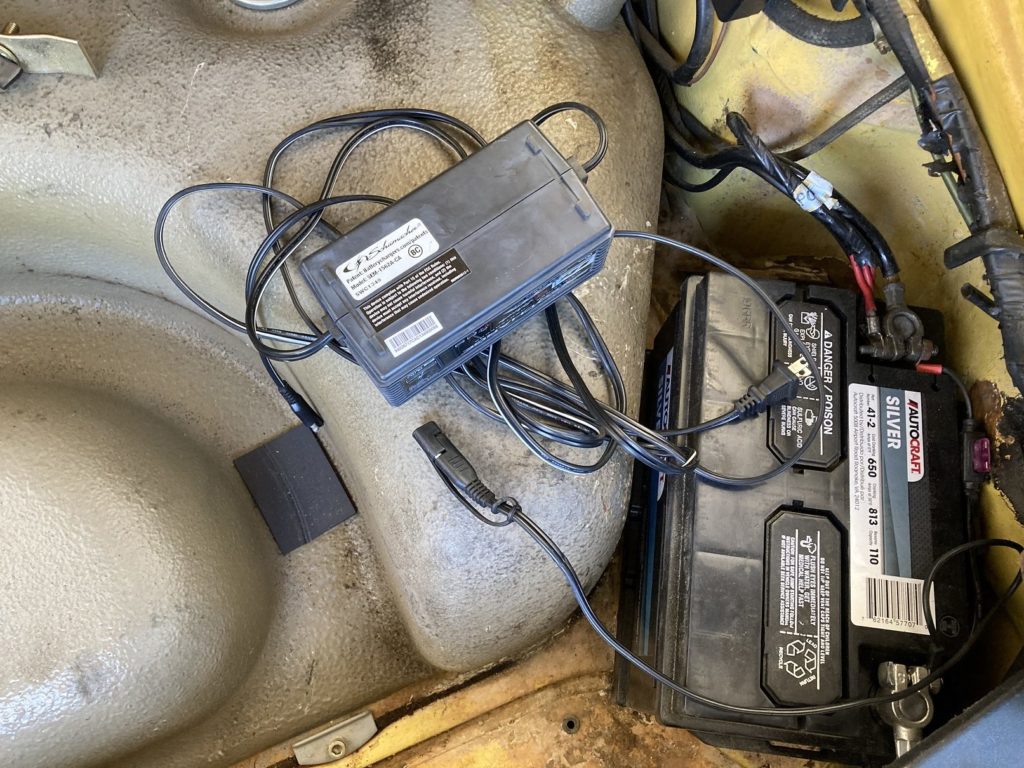 120v plug in battery tender wired to battery.
Factory AC components inside smugglers box (air conditioning not currently functioning).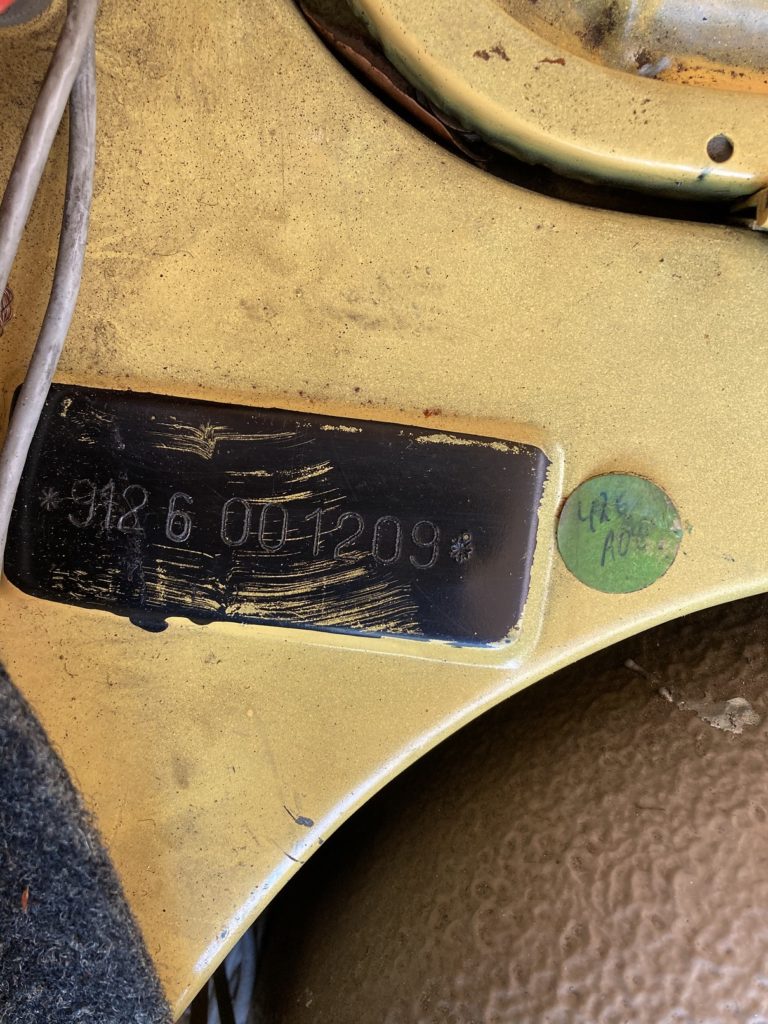 VIN # stamped into right side of trunk.
Paint finish plate on left A pillar; original paint color is Talbot Yellow.
Manuf. sticker on left B pillar.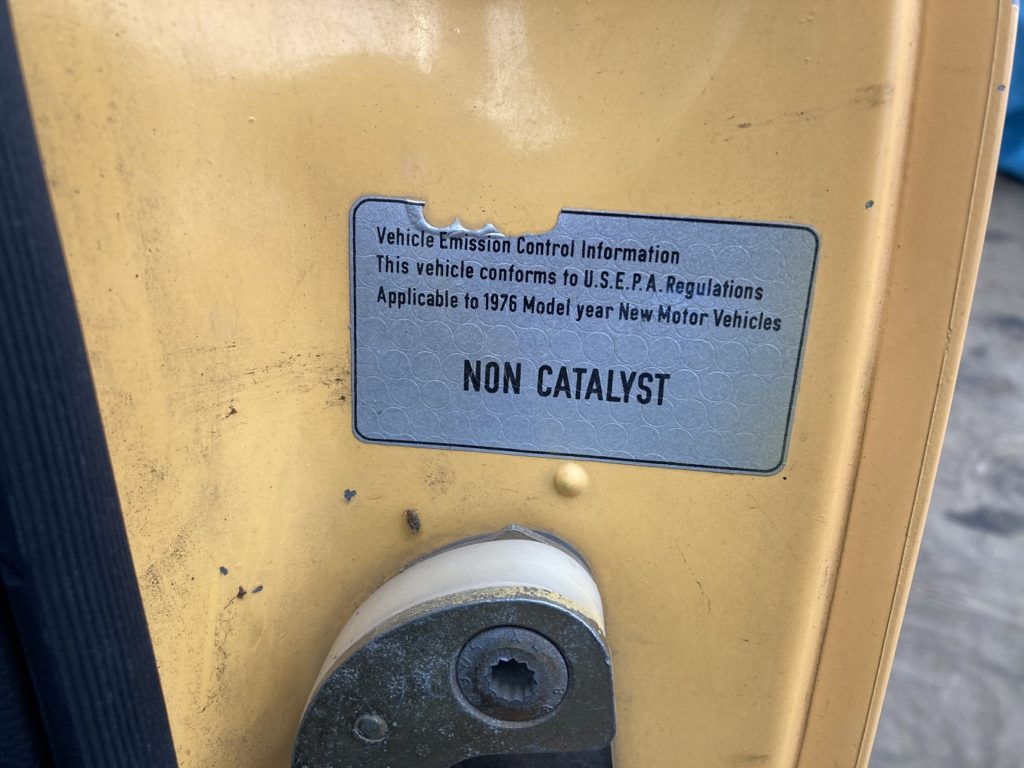 Emissions sticker on left side B Pillar.
Service sticker from Flying Porsche Ranch in Los Gatos, CA. on left side A pillar. Quite a few service records from this shop are with all its receipts and records with the car back to 1982.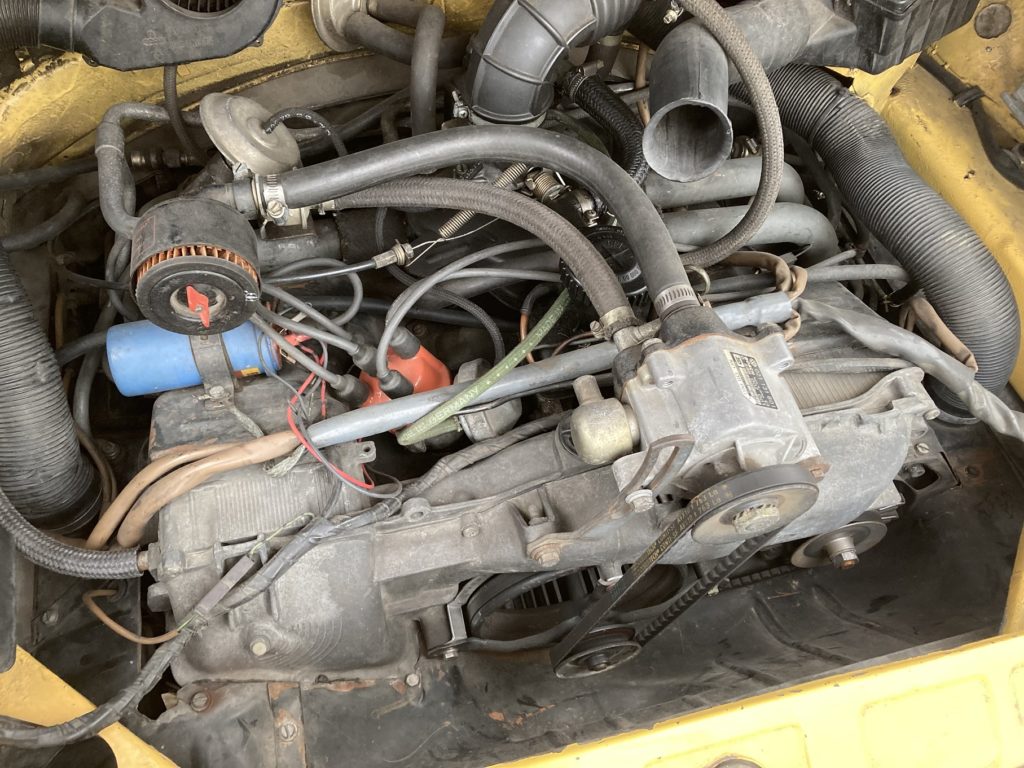 The two liter (1,971 cc) engine was essentially the same motor that came with the Porsche 914 2.0 but now had a new unique fuel injection system; the Bosch L-Jetronic which took Porsche engineers two years to develop and refine. The engine produced 90 hp at 4900 RPM yet with a low compression ratio (7.6:1) it could run on regular gas. Equipped with its 21 gallon gas tank and fuel efficient engine, its 600 mile (965km+) plus driving range may be the best of any Porsche.
Engine # 4061249 is the original engine to the car.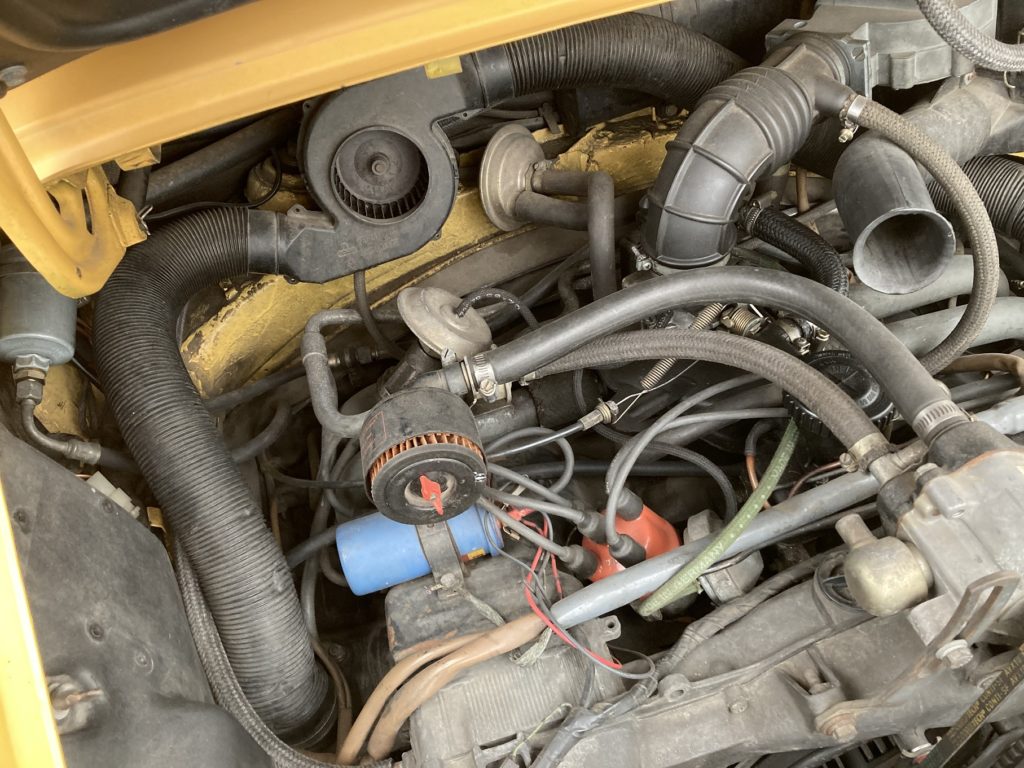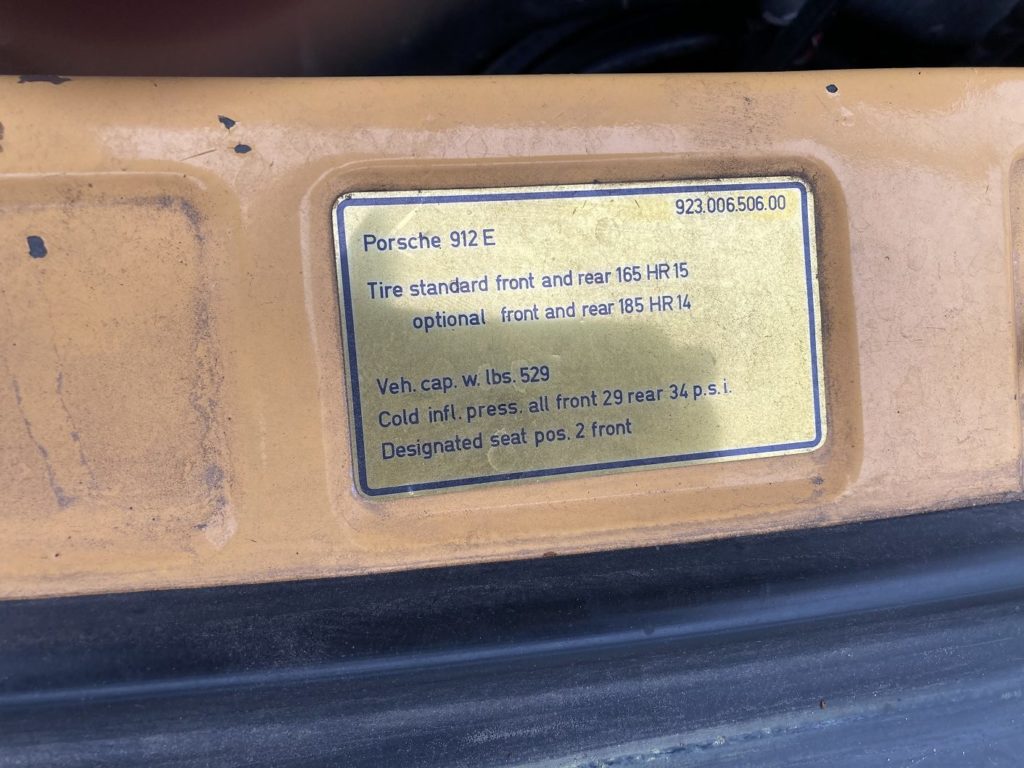 Original engine compartment tire pressure sticker still in place.
Underside of car taken from front right side viewing from front to rear. Underside of car shows only minor surface rust in places; no real rust as you may see from the photos. Jack points and rear torsion bars are very good.
Underside of car taken from front left viewing from front to rear.
Taken from front right.
Looking at inside of front left wheel.
Taken from behind left front tire looking towards front of car.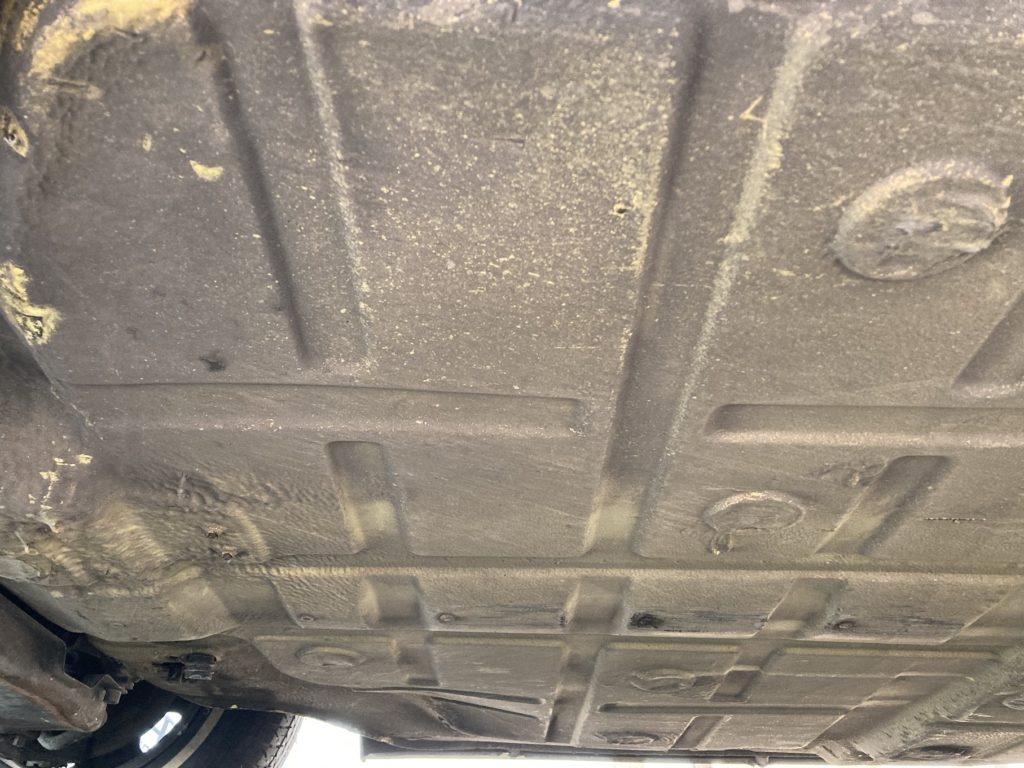 Pan taken from left side, right front wheel in lower left corner of photo.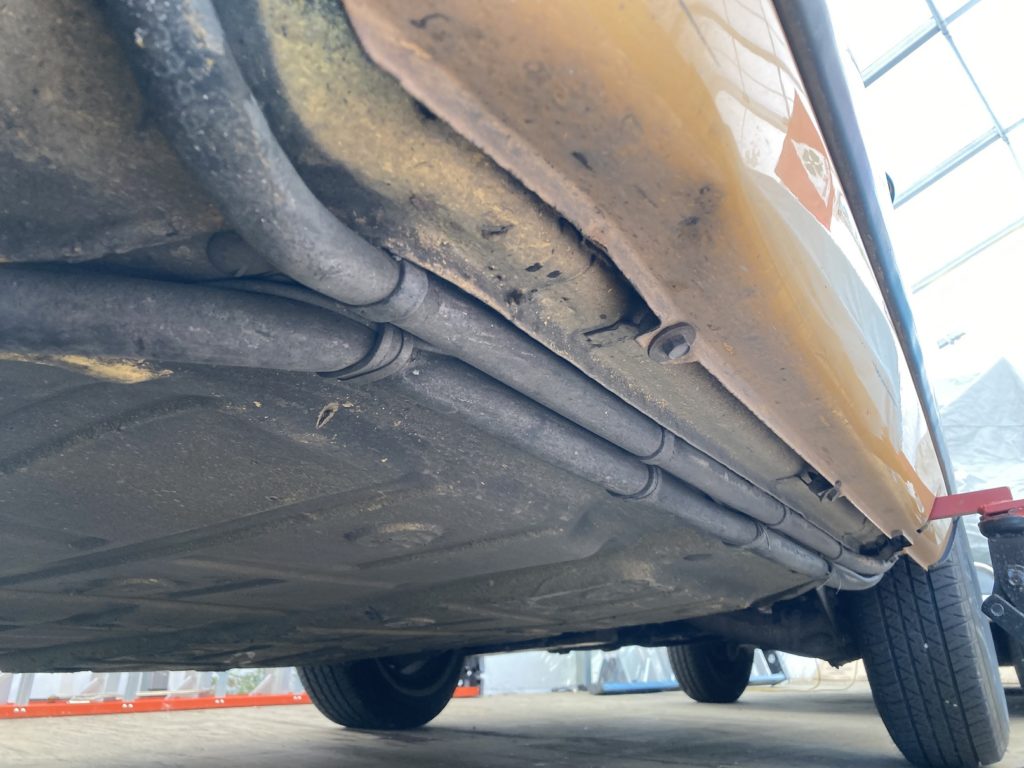 Underside of left rocker looking front to rear. There is a crease on the underside of the rocker towards the front, most likely from improper jacking/lifting of the car.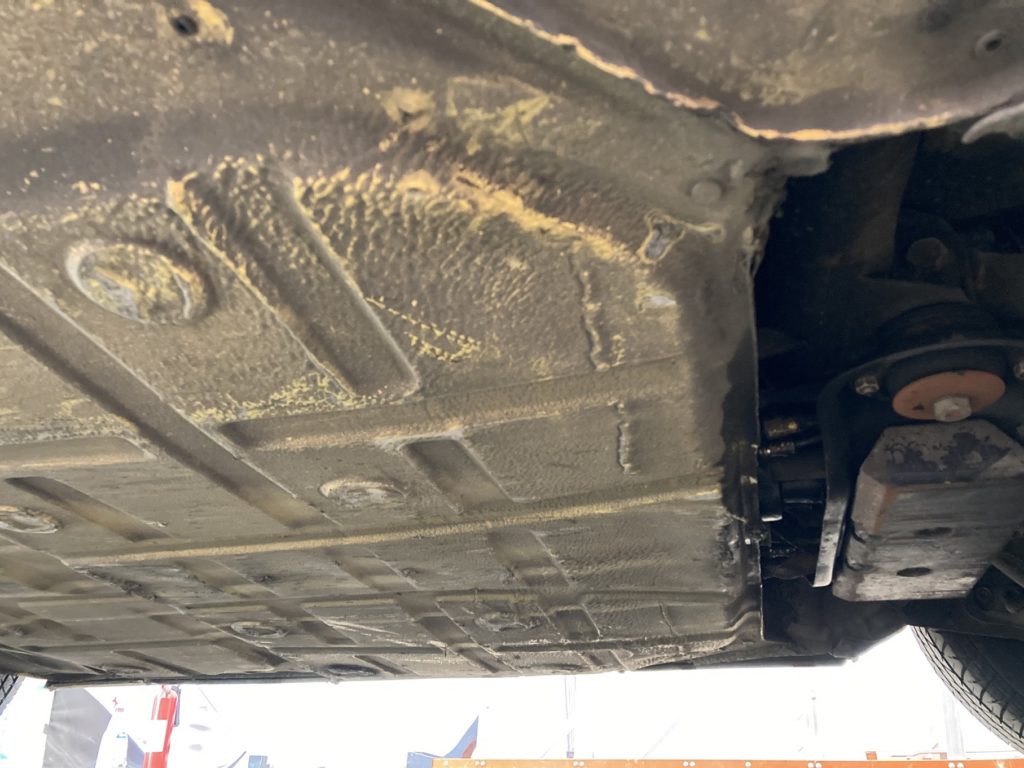 Rear of pan, taken from left side.
End of pan to transaxle, taken from left side.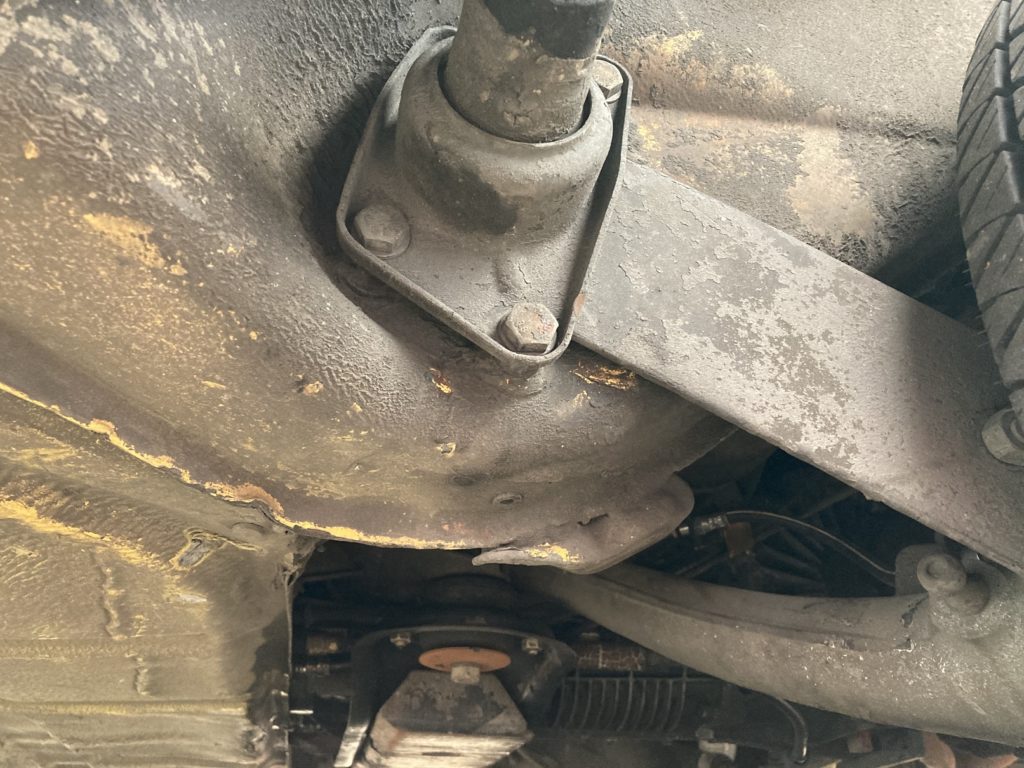 Left side, rear torsion bar.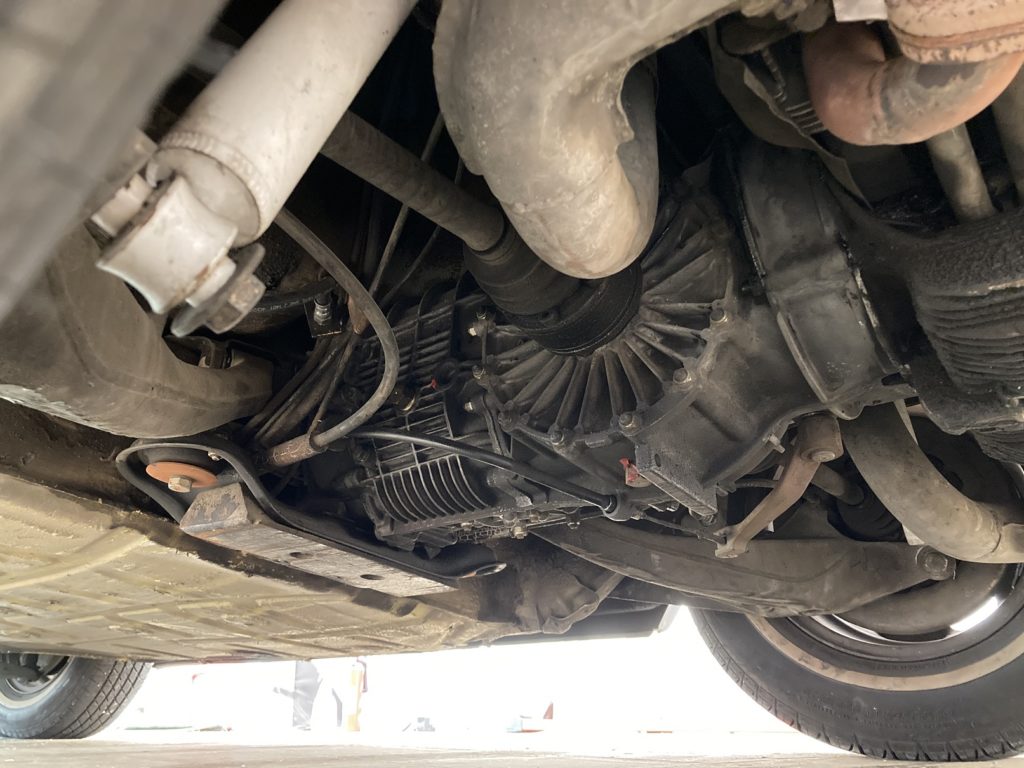 Left rear transaxle.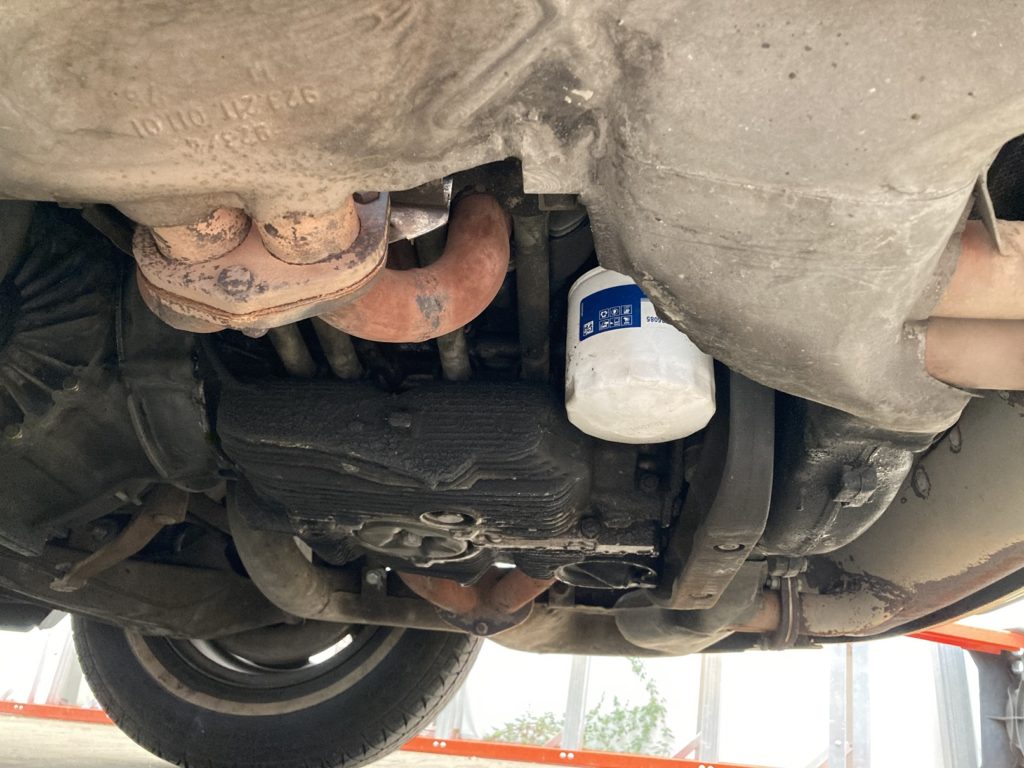 Underneath left side engine.
Underside exhaust, left side.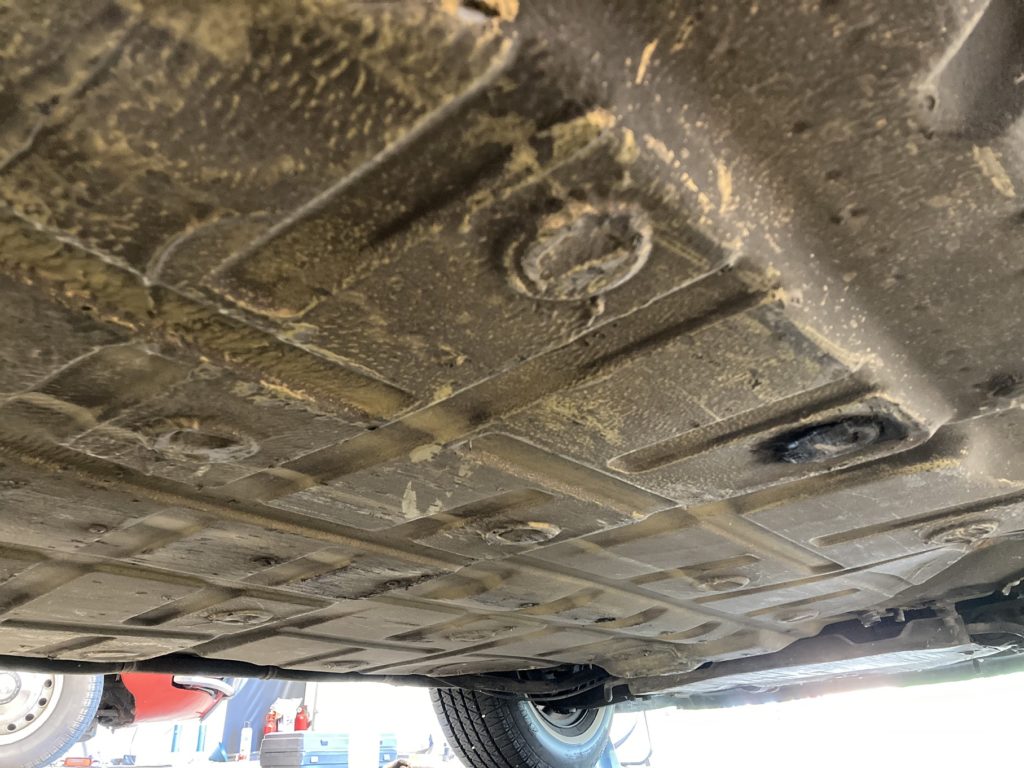 Pan taken from right side, left front tire is in lower center.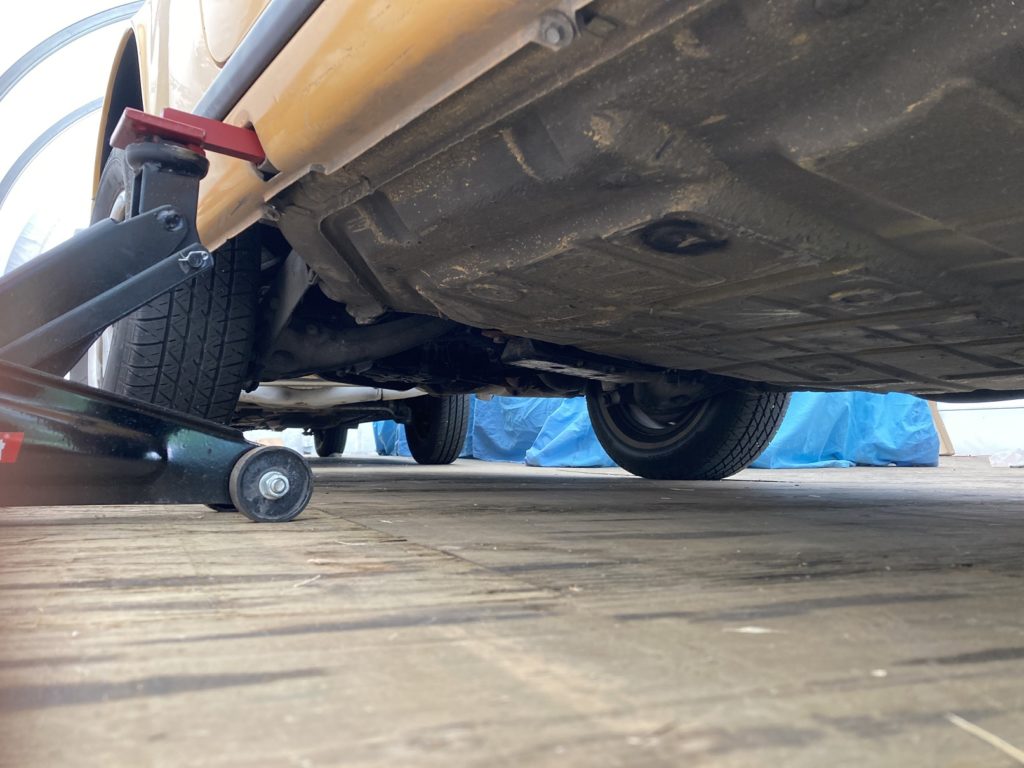 Pan taken from right side, looking towards rear of car. Left rear tire in front of blue background.
Underneath right side rocker, looking front to rear.
Right side rear torsion bar.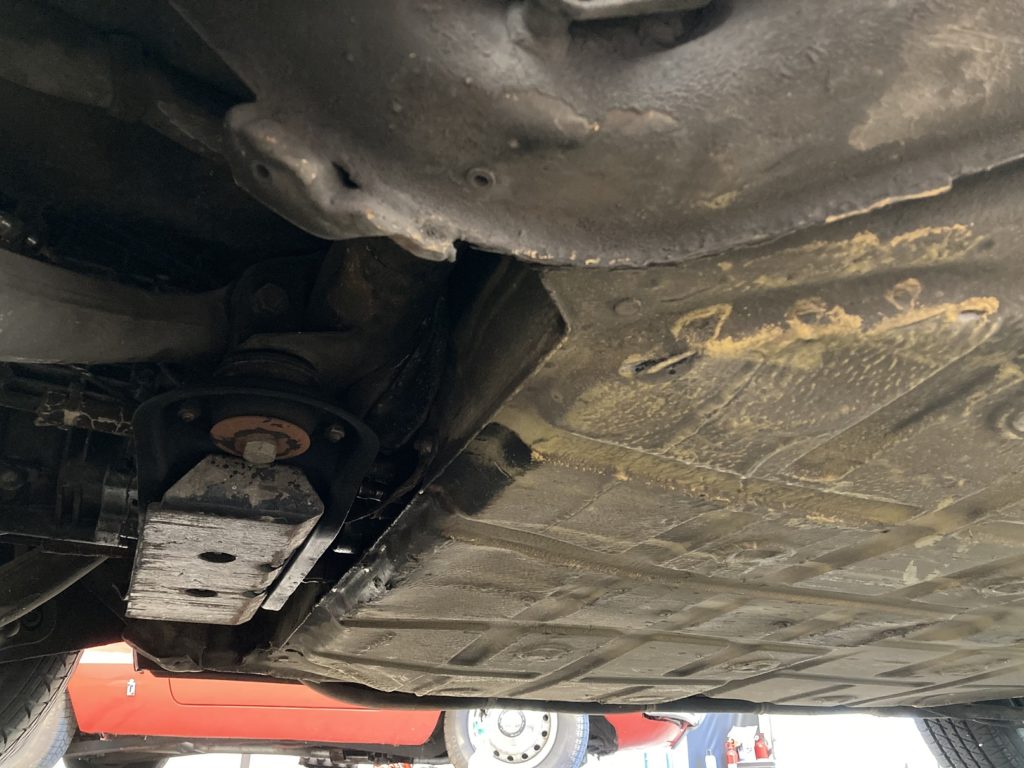 Rear edge of pan taken from right side.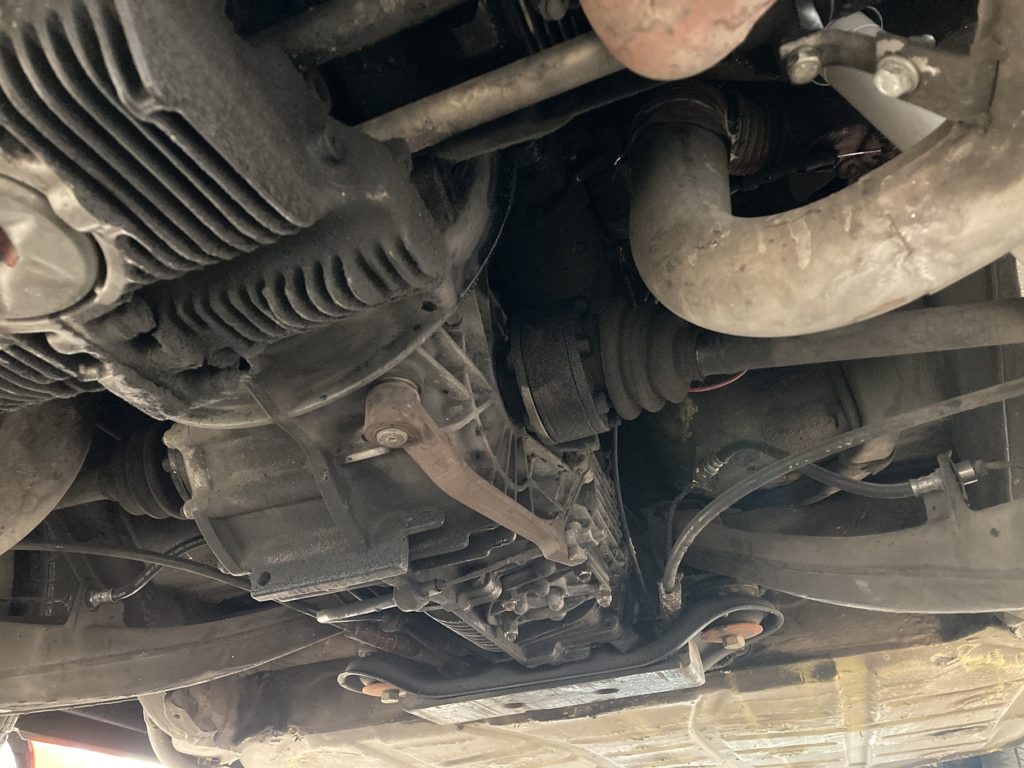 Under right side transaxle.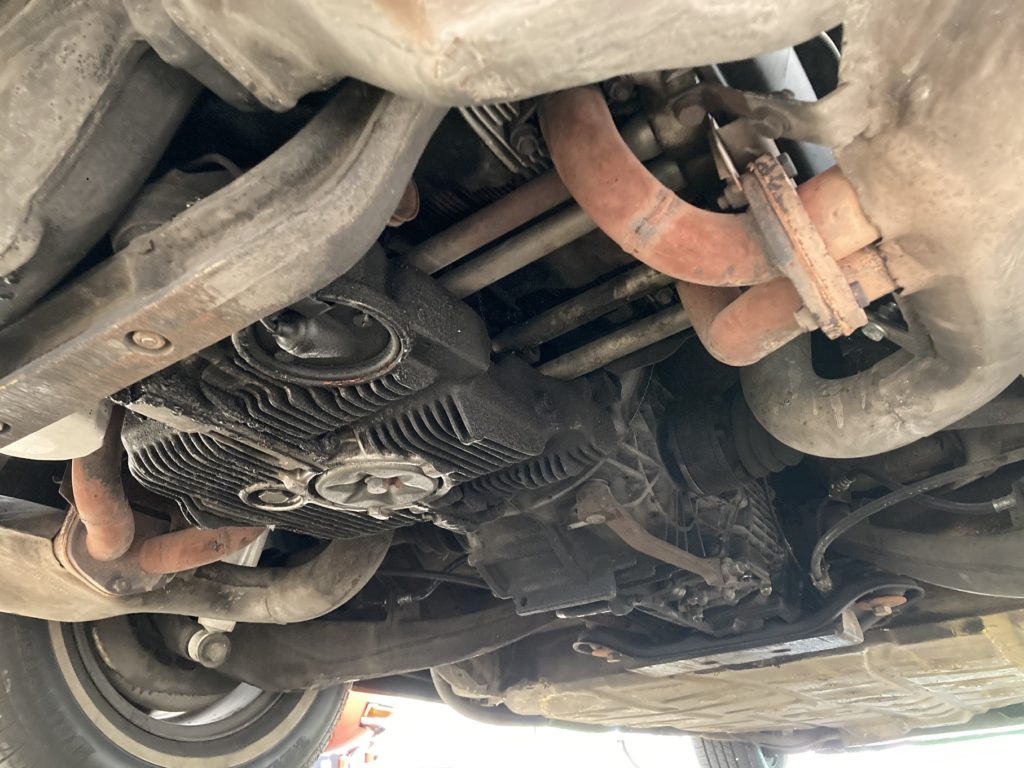 Under right side of engine.
Underside rear valance, exhaust; taken from right rear corner. Tip of exhaust pipe is rusty.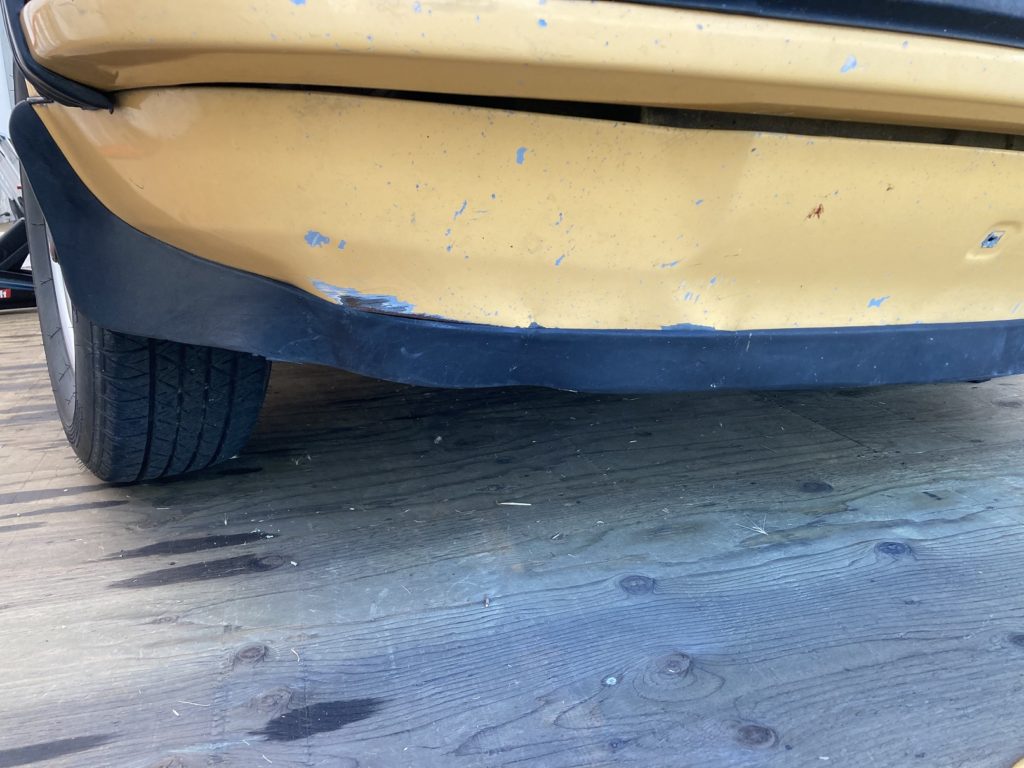 Paint chips, dings on right front valance.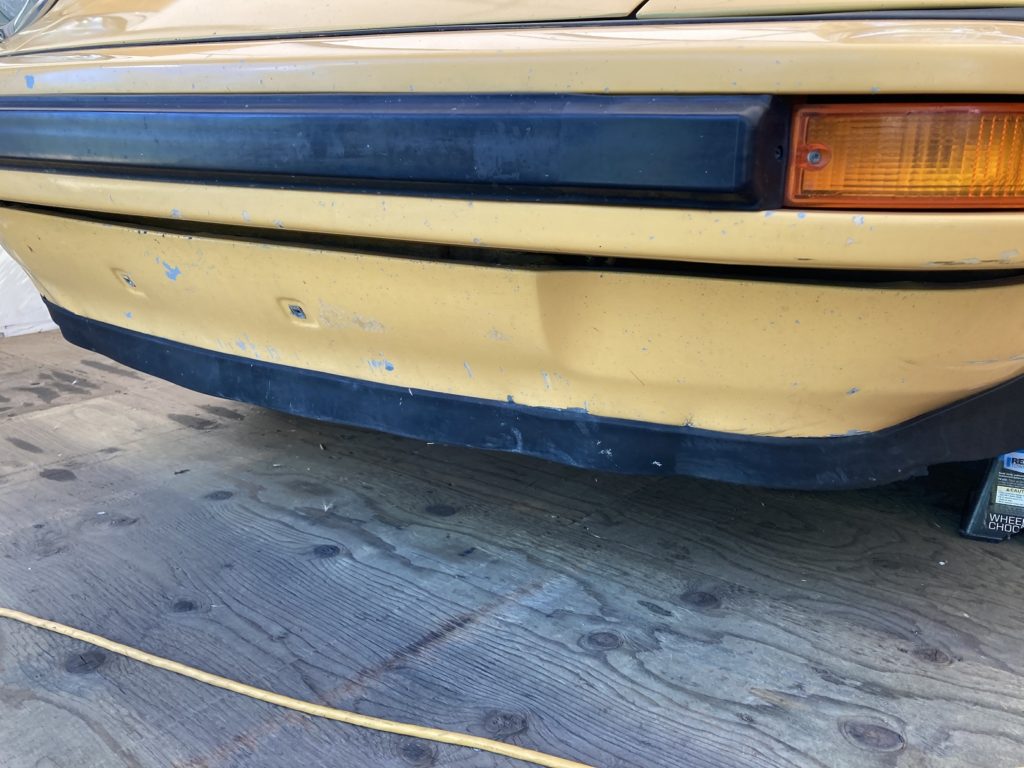 Paint chips on lower front valance, taken from front left corner. Naturally the front of the car has most of the stone chips; which are largely on this valance, the front bumper and hood.