Cars For Sale
Welcome,
Thank you for visiting our site. We hope you enjoy looking at the cars we have for sale on this page as well as the other cars posted throughout the site.
We look forward to helping you with your purchase or sale of a vintage car, truck or motorcycle, and to meeting you at our shop in beautiful Lyons, Colorado.
Thanks again for checking out Vintage Motors of Lyons,
George Raffensperger
We Drive Vintage !™
Please view our current inventory of Cars For Sale by scrolling down this entire page. Cars are listed in alphabetical order as shown below:
Plus the cars "JUST IN" & "CARS COMING" below as well
Please Note: All advertised prices include title, transfer docs. and 60 day temp. tags for in-state buyers; otherwise there is a $ 200.00 charge for same to cover our costs. Any applicable in-state sales taxes are additional cost. Out of state or foreign buyers please inquire; we are experienced with, and are glad to assist you with, shipping cars worldwide.
JUST IN:  
1988 BMW 528e For Sale: One owner car in excellent condition. Impeccable maintenance and care always provided to car, all detailed in a logbook showing every service, maintenance item and even every fueling since new!  Factory 5 speed, AC, leather interior, power seats-windows-sunroof. Just 140,000 miles; these cars, with their bullet-proof in-line six cylinder engines, are known to go to 200,000 – 300,000 miles plus with regular maintenance. No issues, ready to be a daily driver/commuter, Sunday driver, or long distance tourer! Please see post below for more photos. $ 7,950.00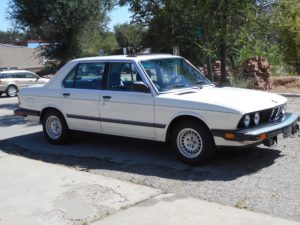 1972 Chevrolet C10 4×4 Pickup For Sale: Very Clean Classic Chevy Pickup in excellent condition. 3 Owner Local Truck, sold new in Loveland, CO. 97,000 Miles. 350 V8, Automatic, Dual Fuel Tanks, Factory Front Disc Brakes, Factory AC Blows Cold, Straight, NO Rust, Garaged When Not Driven. One of Chevy's best pickups! $ 23,900 Please see Post Below for More Photos; Details to follow.
1994 Chevrolet Corvette Convertible For Sale. Very sharp looking Vette in Polo Green with Tan top and tan leather interior. 350/Auto. Just $ 9,250.00
1966 Dodge D100 Utiline Stepside 2WD Pickup For Sale Ex US Forest Service Truck. Please see Post below for more photos and details. $ 7,750.00 Or Best Reasonable Offer.
1960 Triumph TR3A Roadster For Sale, in very good condition throughout. Please see post below for more photos and details. $ 21,500.00
1967 Triumph TR4A IRS For Sale, very nice 4A in Triumph Racing Green. Please see post below for more photos; please email or call for details. $ 28,500.00
1988 Volvo 240 Sedan For Sale, sold new locally, very well maintained and in very good condition, great student or first driver car, very safe and reliable, auto trans. $ 3,950.00
CARS COMING, Please Inquire:
1972 Chevrolet El Camino – last year for the good looking body style; 350/Auto