Cars For Sale
Welcome,
Thank you for visiting our site. We specialize in sourcing and selling good, local Colorado and Western vehicles that benefit from not having the rust issues typically found in older vehicles from many other areas of the country. Many of the cars we sell are original owner, or long time local owner, cars.
We hope you enjoy looking at the cars we have for sale on this page as well as the other cars posted throughout the site.
We have successfully sold many vehicles on consignment and would be glad to speak with you about professionally marketing and selling your vehicle. We also locate vehicles, provide appraisals and State VIN Verifications, arrange pre-purchase inspections and are glad to assist you by recommending the specialty repair and restoration shops that we're familiar with in the area.
We invite you to please stop in anytime you're in the area to say hello, hangout, talk cars and check out our current inventory of vintage cars for sale. Pickup a free shop sticker; browse the car art and memorabilia on display and for sale, along with numerous car books in our free lending library. We also have cool shop T-shirts for sale so folks will know you've been to Lyons and have good taste to boot!
We look forward to helping you with your purchase or sale of a vintage car, truck or motorcycle and to meeting you at our shop in beautiful Lyons, Colorado.
Please contact me anytime and thanks again for checking out Vintage Motors of Lyons.
George Raffensperger  
We Drive Vintage !™
PS: You may find testimonials about us from many of our purchasers and consignors on the "Cars We've Sold" page.
Paying It Forward: We believe in supporting our local and worldwide communities and are glad to make a donation from us in your name to the non-profit of your choice as well as a second donation from us to one of our local Lyons non-profits/charities with each sale.
Please view our current inventory of Cars For Sale by scrolling down this entire page. Cars are listed in alphabetical order as shown below:
Please Note: The "fine print": All advertised prices include title, transfer docs. and 60 day temp. tags for in-state buyers; otherwise there is a $ 200.00 charge for same to in-state buyers to cover our costs. Any applicable in-state sales taxes are additional cost. Out of state or foreign buyers please inquire. We are experienced, and are glad to assist you, with shipping cars worldwide.
NEW ARRIVALS (further details and photos to follow):
1966 Chevrolet Corvette Stingray Convertible For Sale: This is a stunning Vette! Finished in its original and very rare Laguna Blue Metallic paint color (Code 978). Original, optional High Performance L79  327 cu in/ 350 hp (HT code with high lift cam) engine coupled to its original 4 speed transmission. This car has been carefully and professionally restored with new paint, trim and interior in 2012 and a full engine rebuild and new exhaust just last year (all shop receipts and records included along with body/paint shop photos). Same local owner past 33 years. Must see to appreciate the paint color and quality of the entire car; runs and drives better than new! $ 69,950.00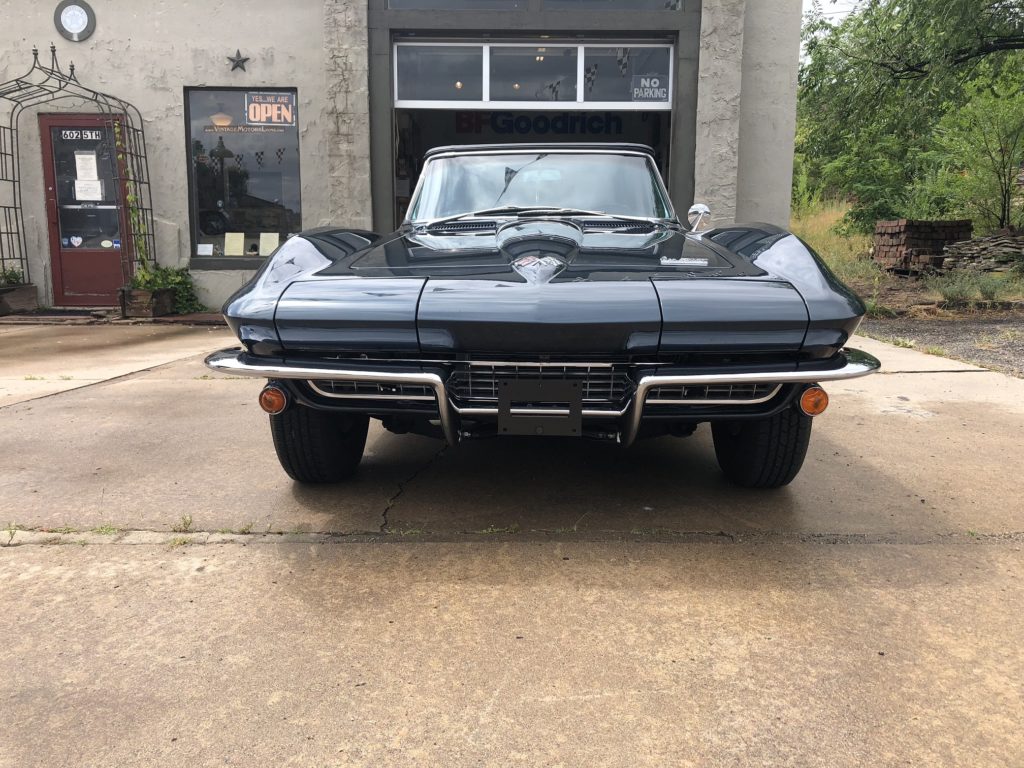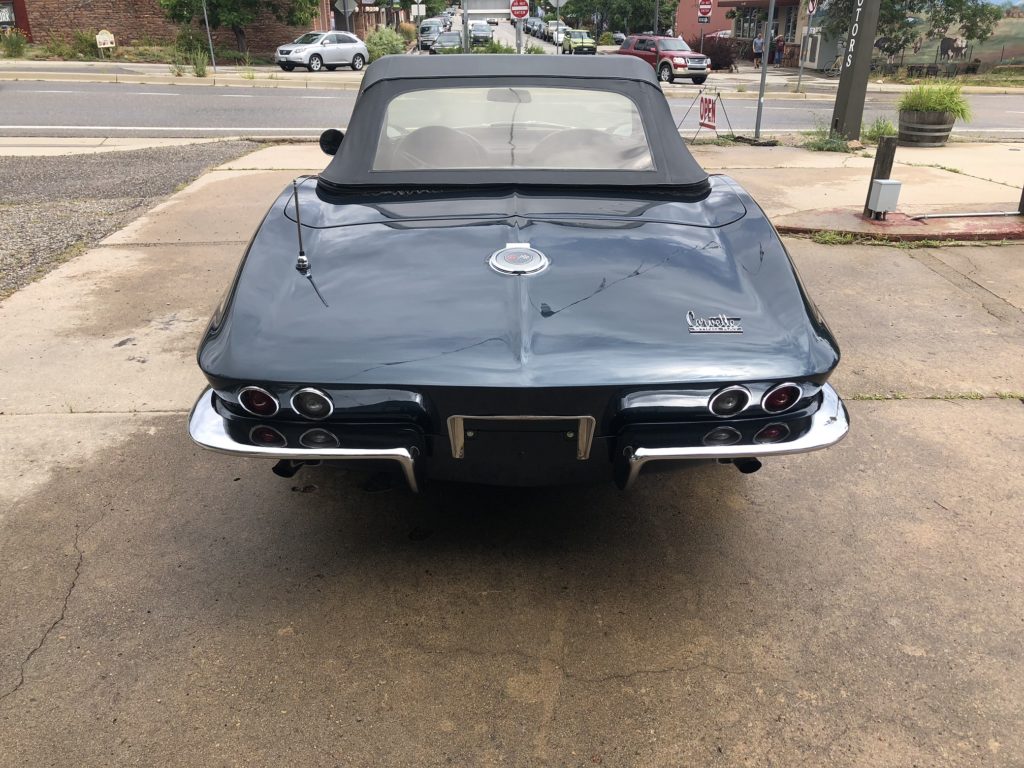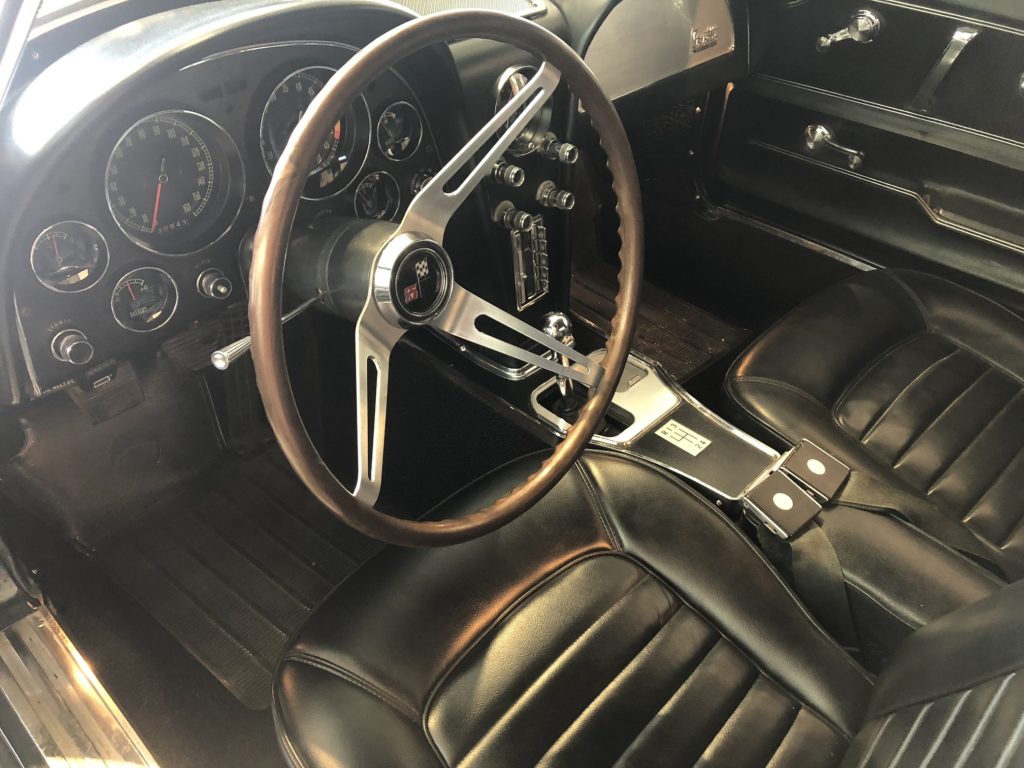 1978 Datsun 280Z For Sale: We are very pleased to present this "time capsule" 280Z for sale. This five speed Z coupe has been with the same owner for the past 34 years and has but 97,355 original miles (is sold with a clear Colorado actual mileage title)! In white (its original color with one high quality re-paint) with brown interior. Period Riken alloy wheels. Original spare, jack, tool kit, manuals, etc. as sold new. Having owned a new Z in 1977 I can attest to what great, dependable driving cars they are and now are also excellent investments as these cars are rapidly increasing in value. The last of the real Z cars. In very good condition, ready to enjoy. $ 25,950.00.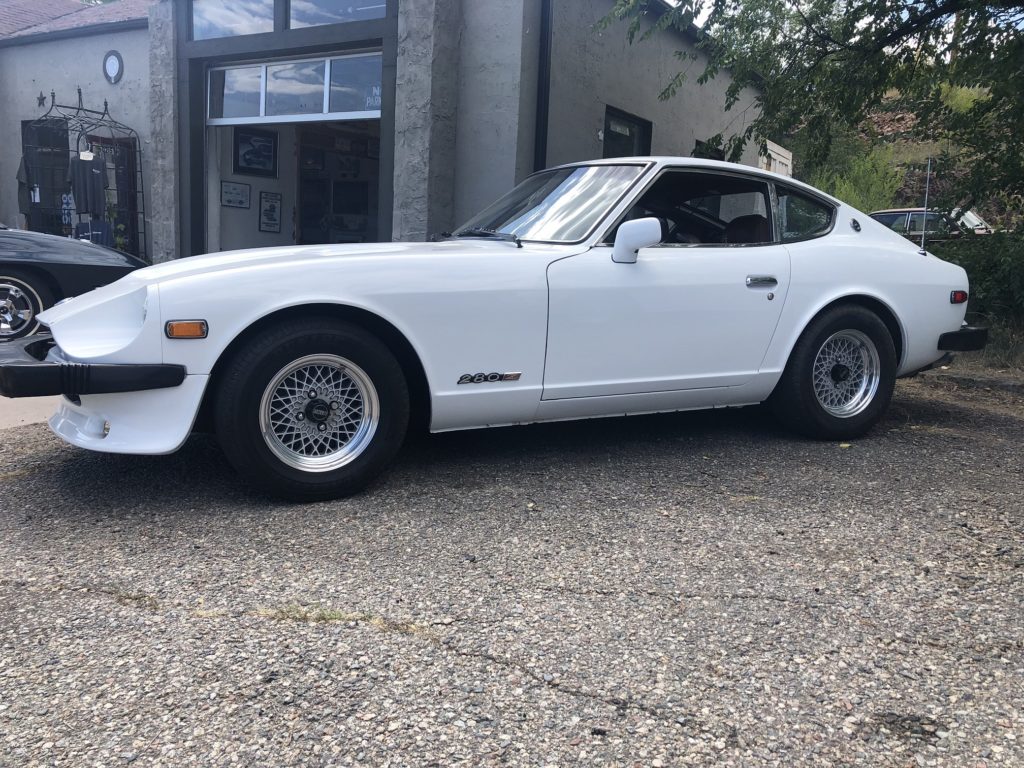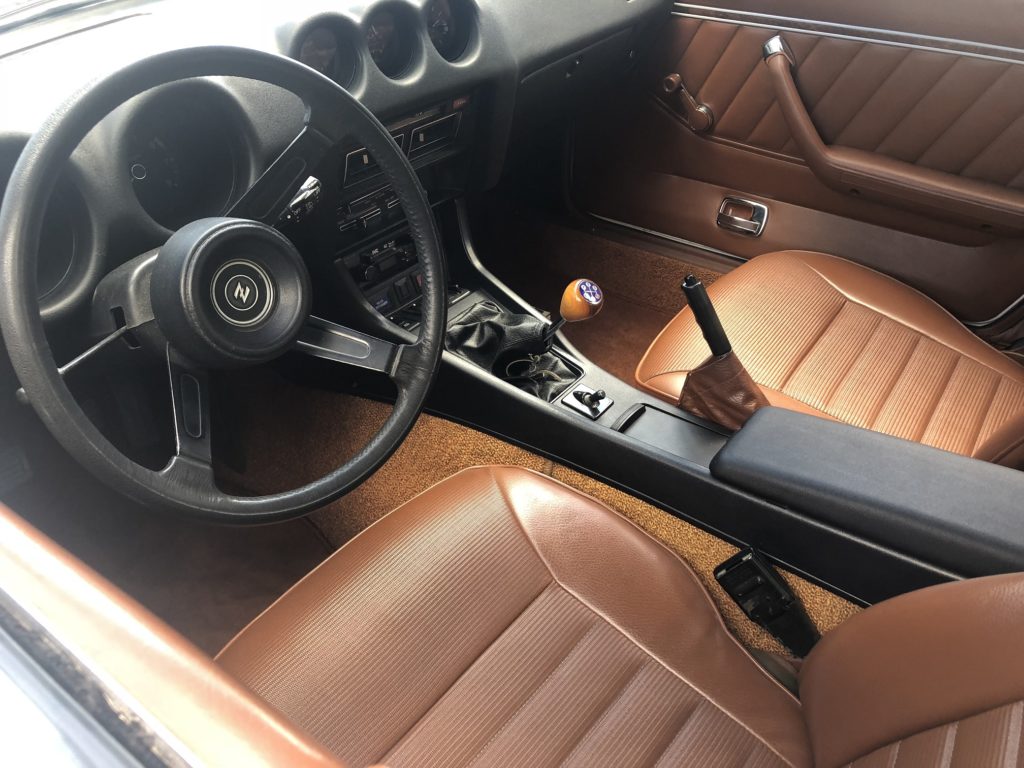 1997 Land Rover Defender 90 Station Wagon For Sale:  The last and best year for the North American Spec. Defender 90 and is one of just 1,300 hard top wagons produced.  These are impressive, true "do-it-all" vehicles which many consider to be the last of the "real" Land Rovers with its short wheelbase, solid axles, aluminum body, English "charm" and looks. This LR is equipped with a 4.0l EFI (gas) V8 engine, full time 4WD, automatic transmission and air conditioning. It seats and buckles six. It was sold new in Denver and has just 88,273 original miles. It is in excellent condition top to bottom and has been with its prior local owner for the past 6 years (service records and Car Fax available). Finished in Alpine White with Slate Gray interior. Several nice options include: an ARB Front Bumper with Warn winch; 2 inch lift kit; air lockers for both front and rear differentials, console mounted Alpine CD stereo (great sound!), stainless steel exhaust and 4 additional LR wheels mounted with studded snow tires.
$ 74,950.00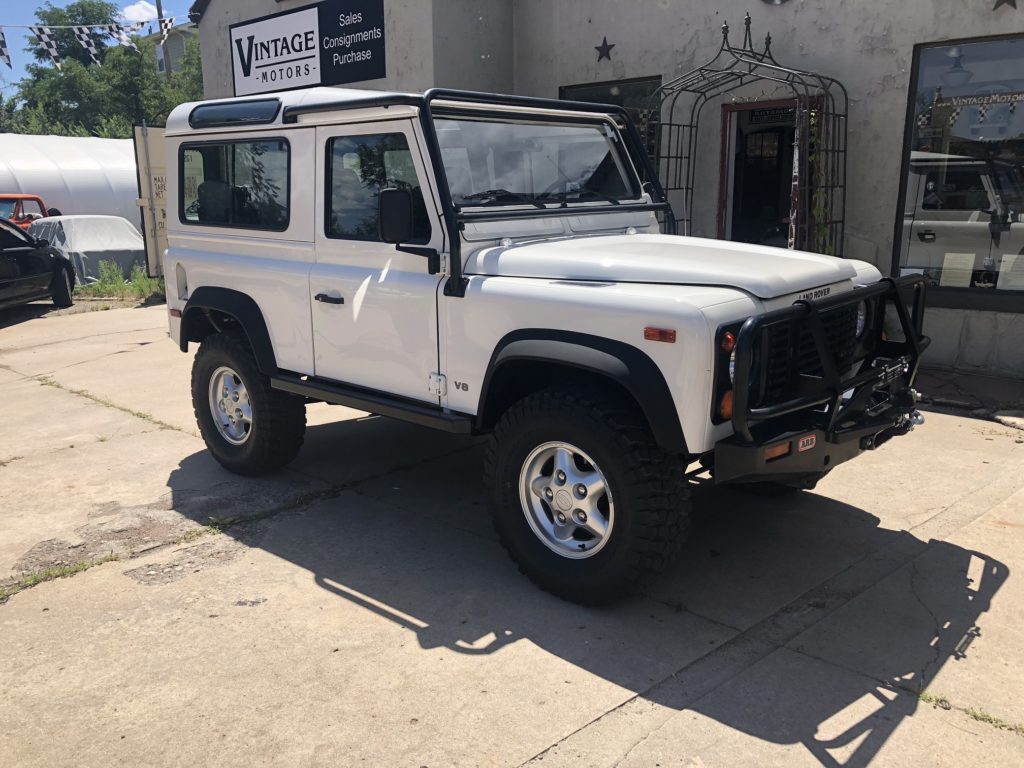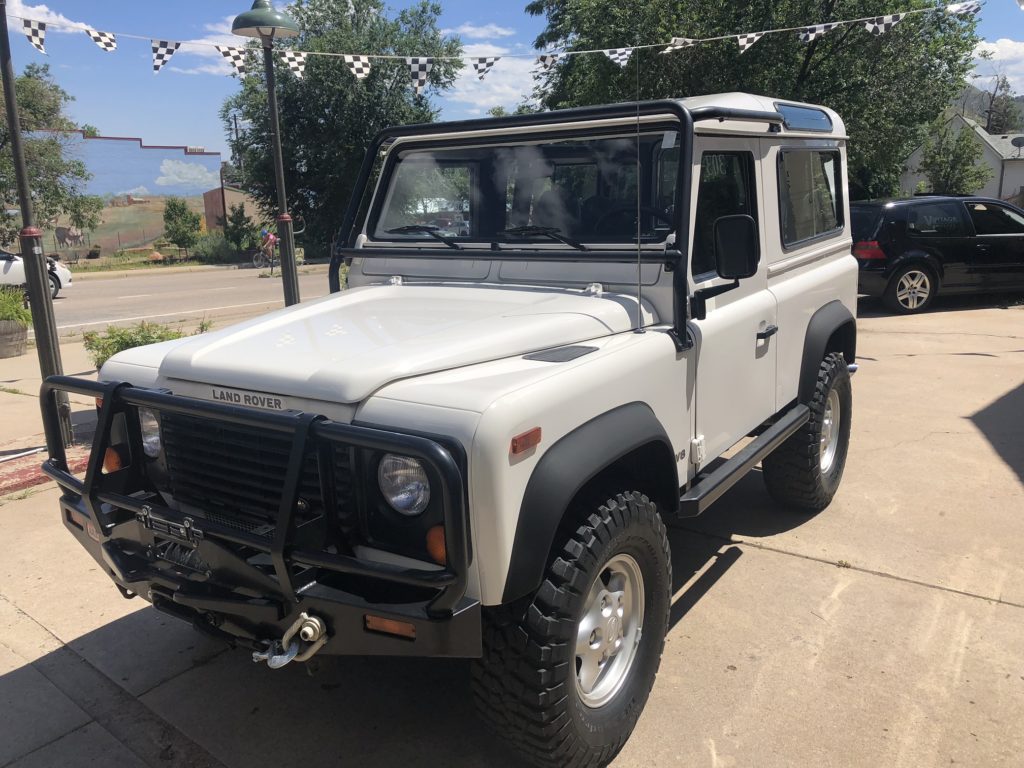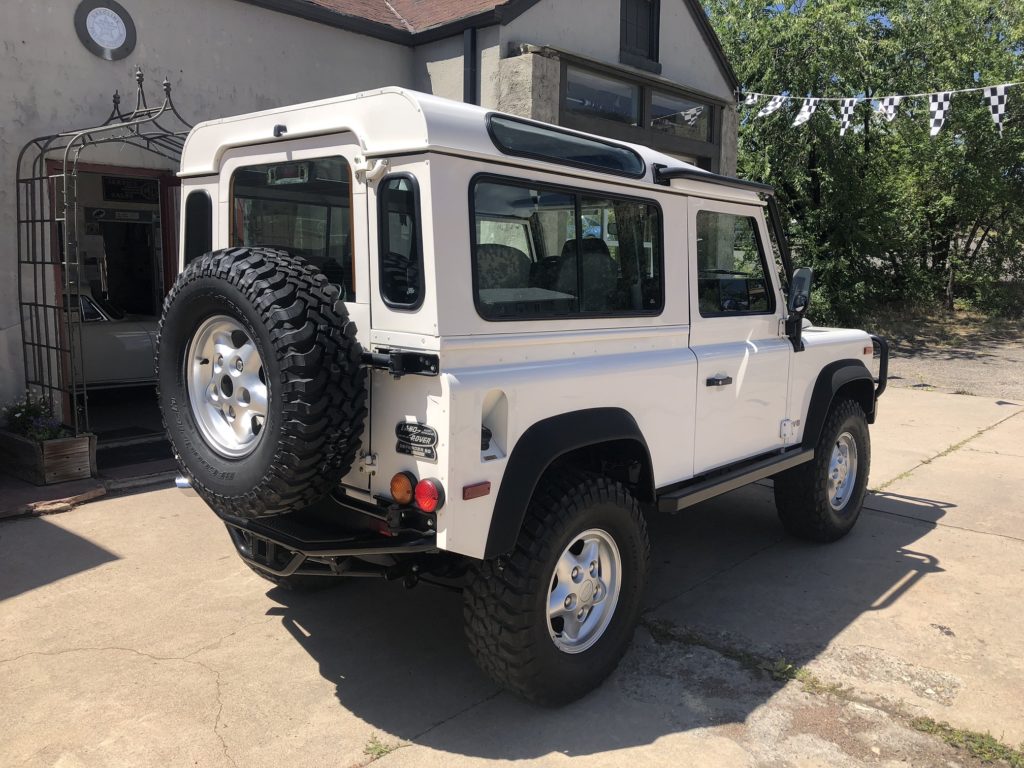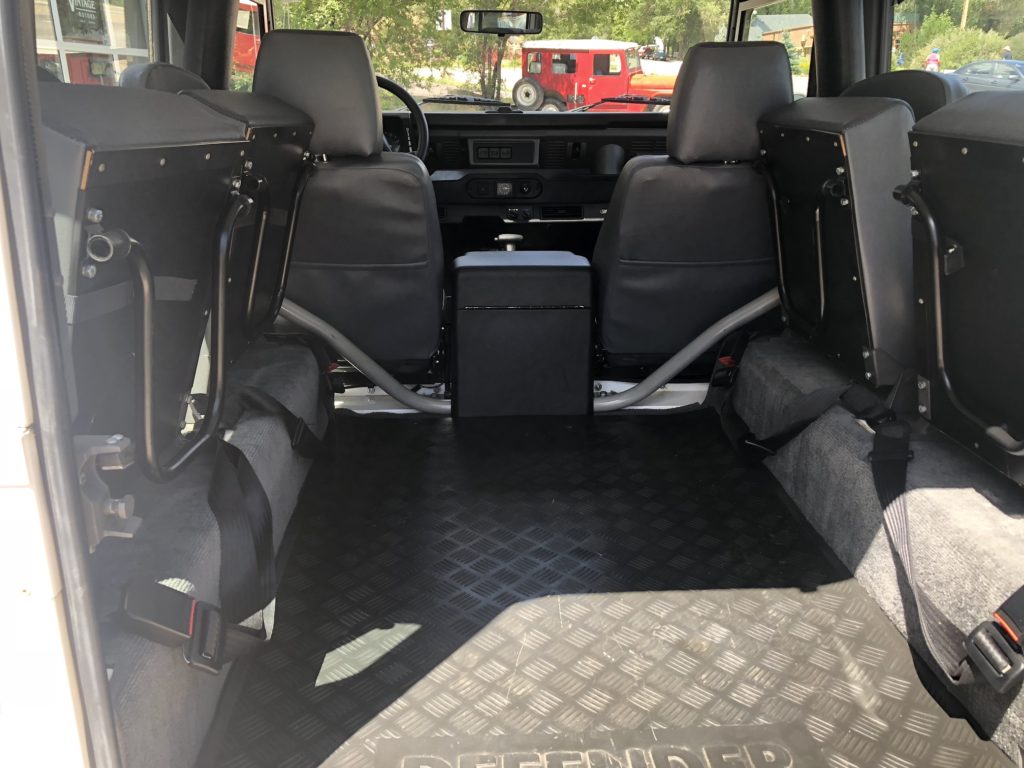 1962 Porsche 356B 1600 Super Karmann Notchback Hardtop (T6) For Sale We are proud to offer this excellent condition, very rare and highly collectible Porsche.  Per its Certificate of Authenticity this car was completed on October 31, 1961 and is finished in its original colors of Ivory # 6204 with Black Leatherette/B interior. This 1600 Super (producing 75 HP vs the 60 HP produced by the standard 1600 engine) is one of the rarer and most collectible of the 356 model cars being just one of 687 cars produced in its only year of production. In excellent condition; with very good service records and receipts, restoration photos, original manuals, tool kit and jack. JUST SOLD – THANK YOU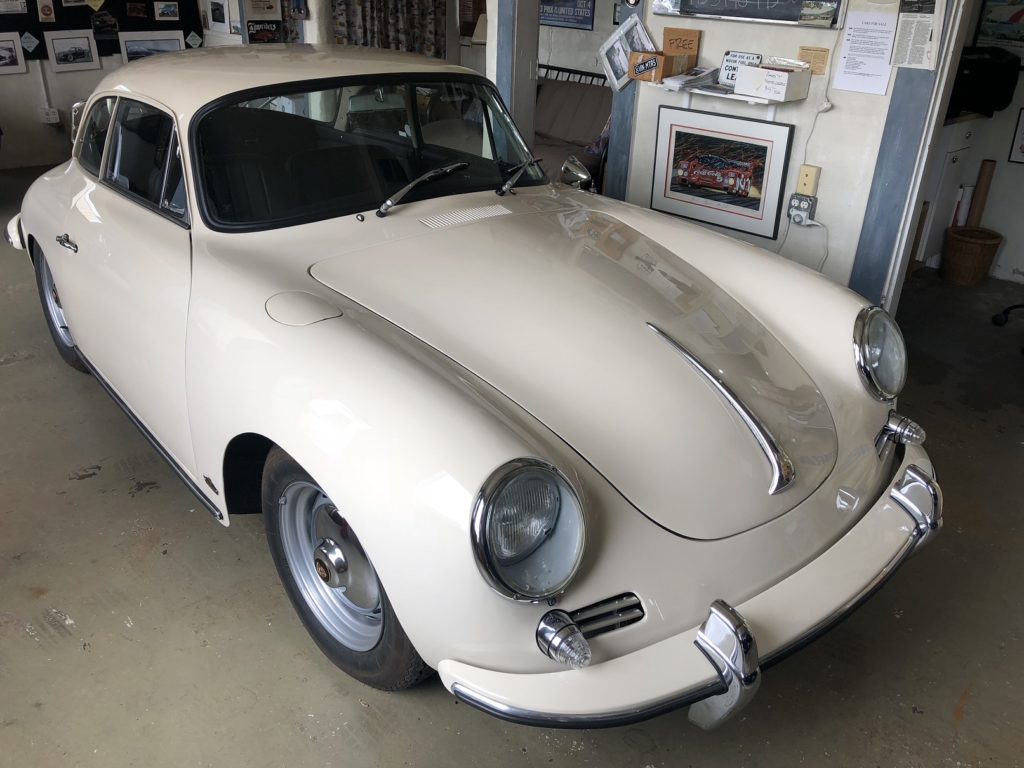 1972 Triumph TR6 For Sale Full body off restoration of this 6 in 2003. Finished in what we find to be one of the most attractive color combinations for 6's: Conifer/Triumph Racing Green (#25) with New Tan (#33) interior and a Tan Stayfast top. In excellent condition; runs and drives beautifully; fastidious care and maintenance. JUST SOLD – THANK YOU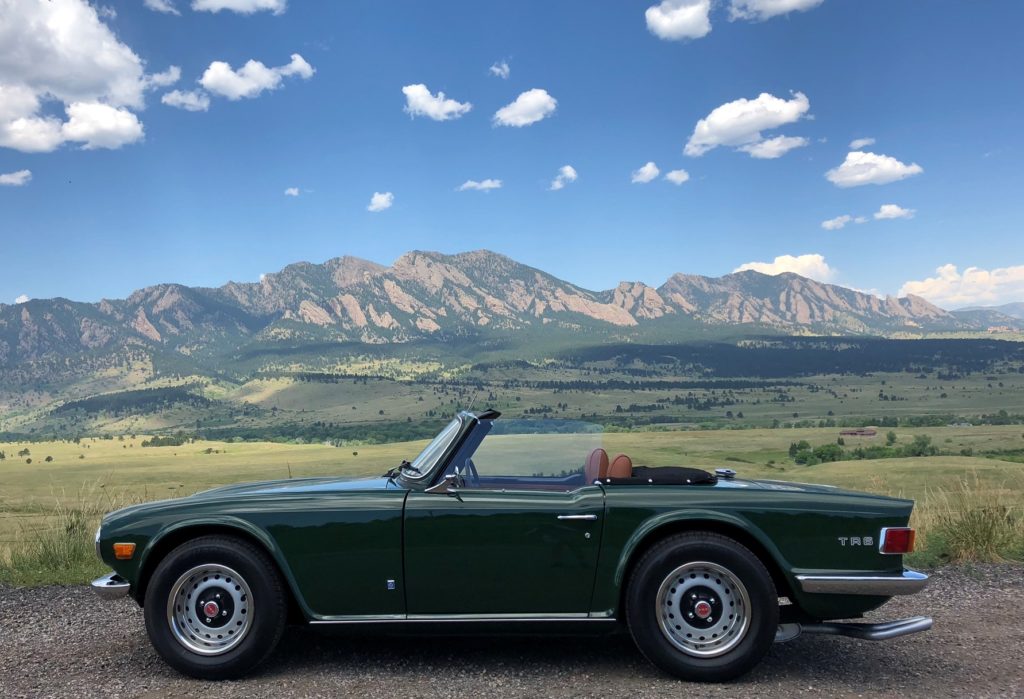 1976 Triumph TR6 For Sale. Last year for one of Triumph's best cars. This is a good, driver quality car. In original colors White (#19) with Black Interior (#11), top, top boot, & tonneau cover. Original engine and four speed transmission. Extra set of very good condition (better than what are currently on car) factory wheels, trim rings, center caps and chrome lug nuts included. $ 12,950.00
1990 VW Vanagon GL Syncro (4WD) Westfalia Camper For Sale. This Westy is ready to take you wherever you'd like to go! Totally upgraded and outfitted by "Go Westy" including a recent 2.5 litre Go Westy engine. This Westy has a lengthy list of practical features and upgrades (please see me for details) including AC, Solar Panel, Side top mount awning and much more. In original "Flash Silver" with Gray cloth interior. $ 63,950.00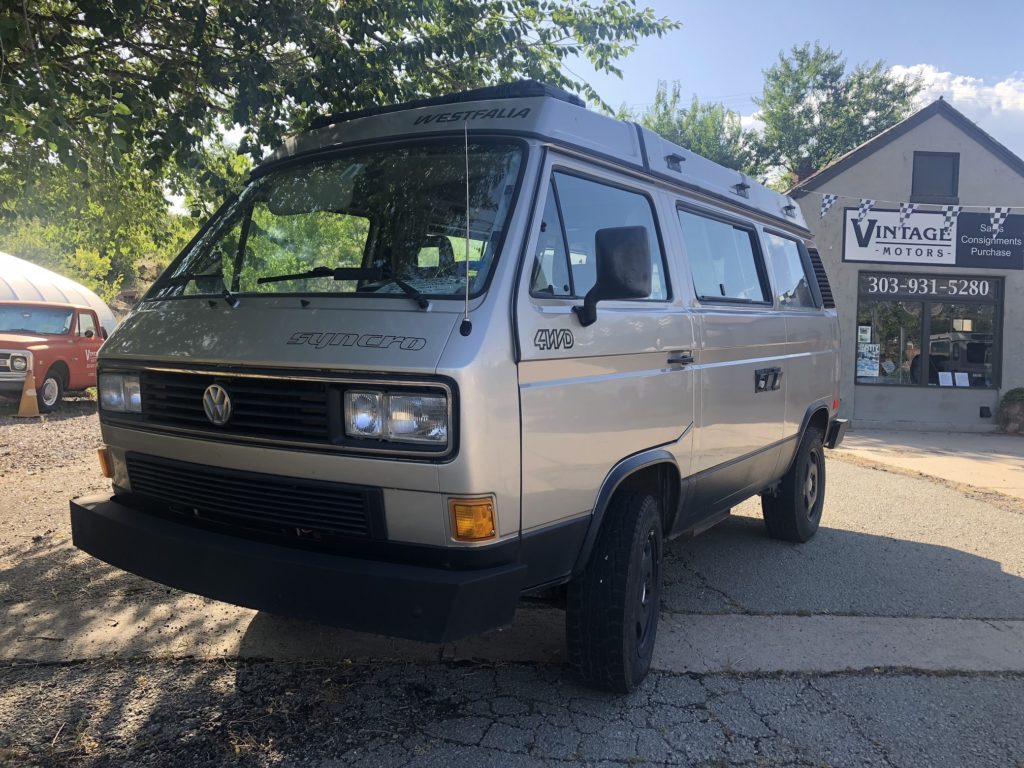 1958 Willys CJ6 4WD Jeep For Sale This is the extended version (101″ WB) of the CJ5 developed for the military. It has a full metal hardtop and was just serviced (new battery, tune up, etc.) and is ready to go. Very original and very little rust. The perfect ranch or mountain goat; Spin and Marty would approve! $ 6,950.00 OBRO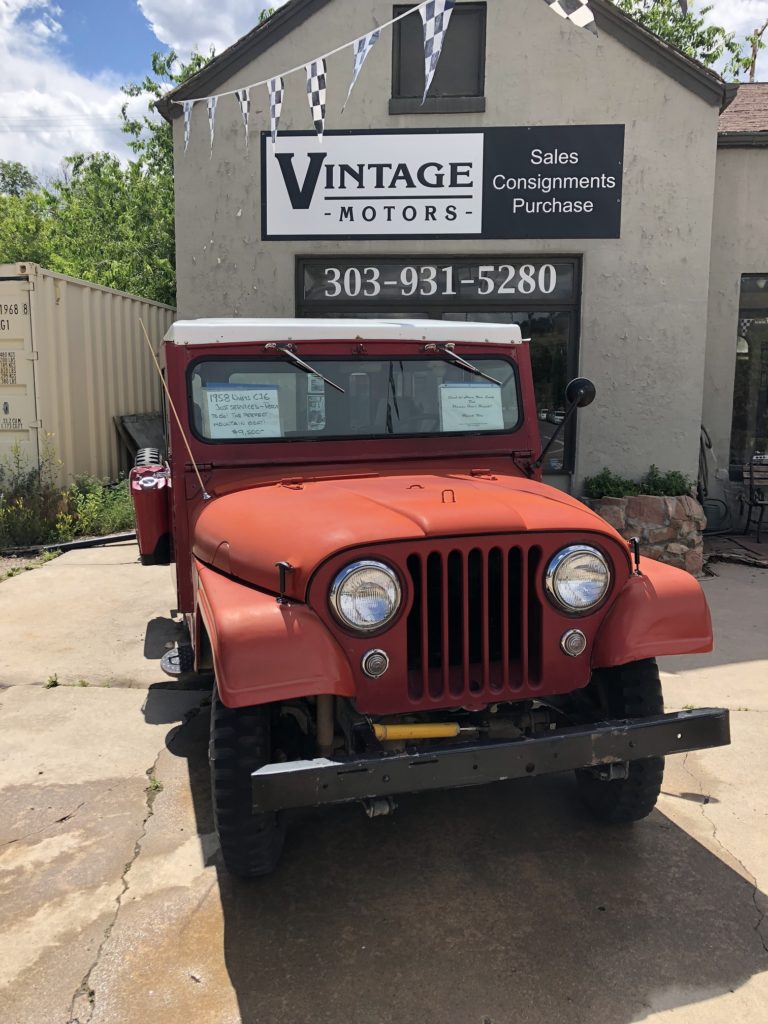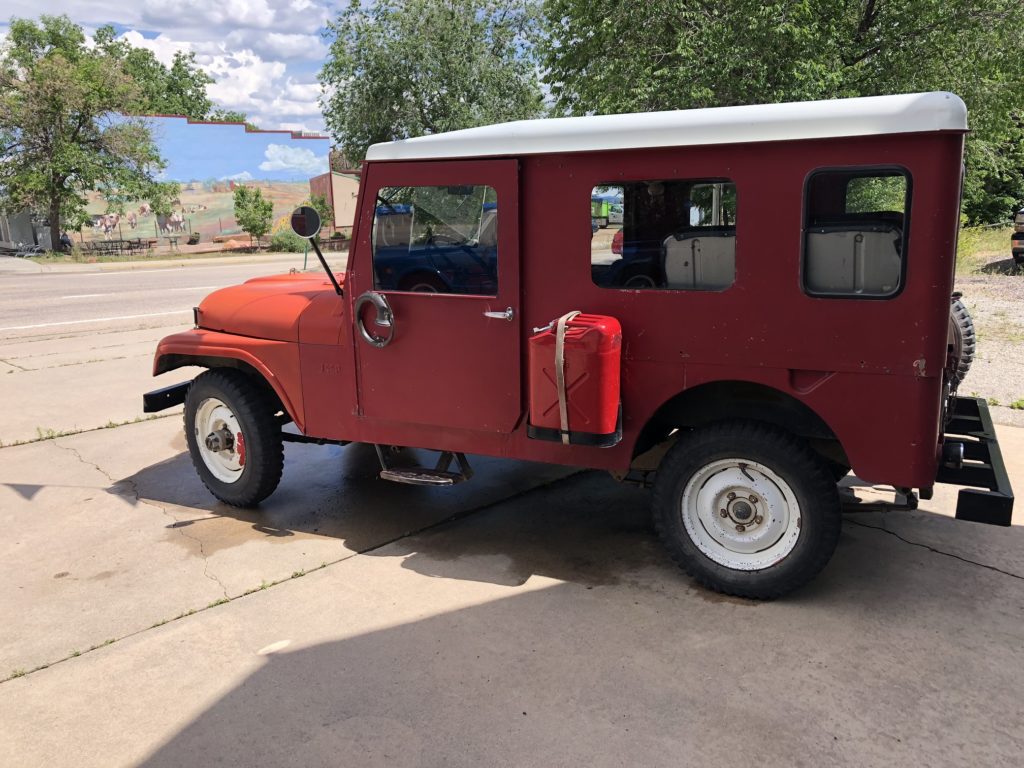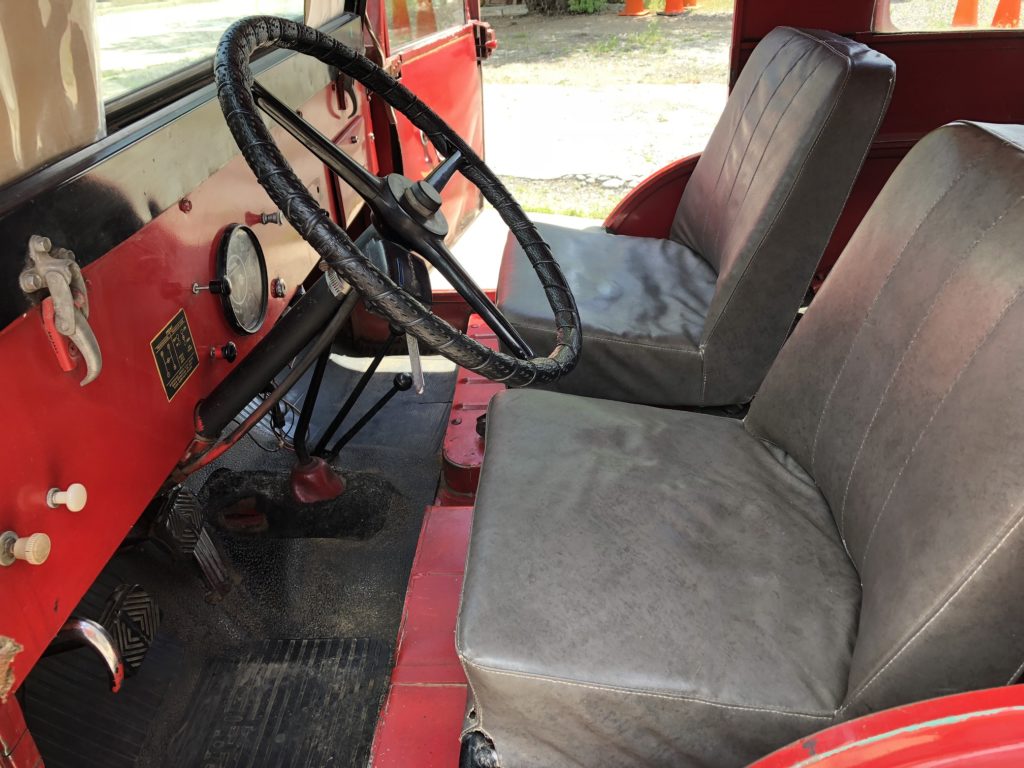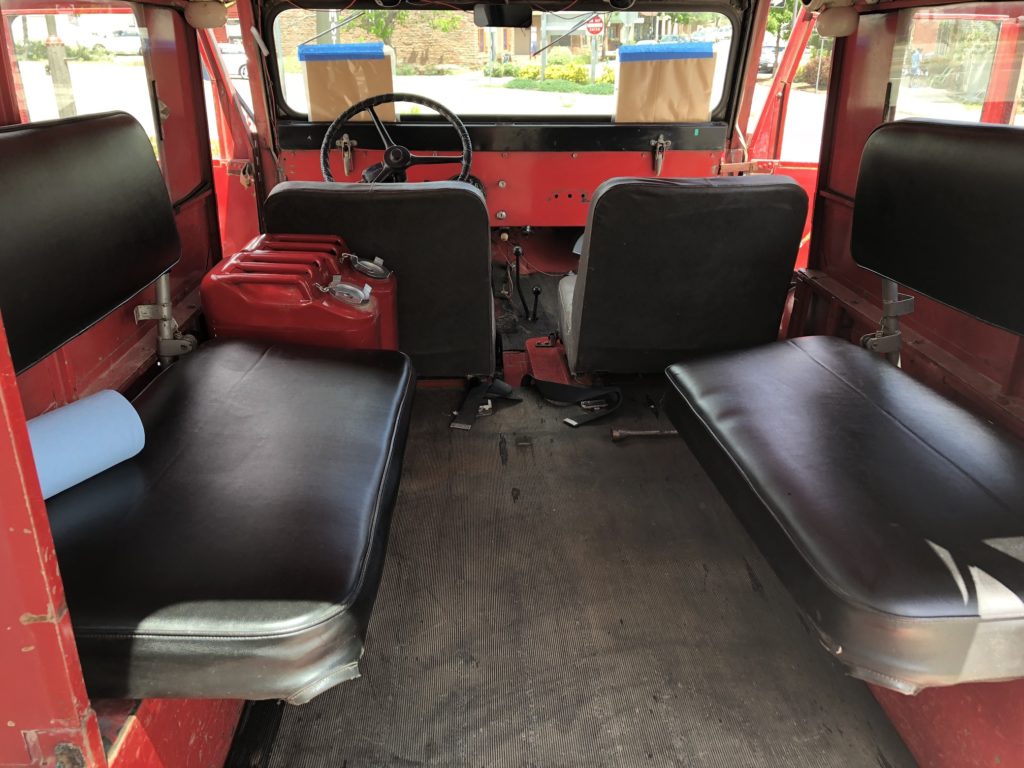 CARS COMING: We like to let folks know of cars coming in next. I'll be posting details and prices after I have them sorted and ready for purchase. Please feel free to contact me about them in the interim if you like, Thanks.
1972 BMW 2002, Unmolested Inka Orange Roundie in very good condition
1935 Chevrolet Pickup, very original truck, not modified! – Just Sold, Thank You
1966 Chevrolet Impala SS Convertible, 4 Speed Car
1969 Jaguar XKE 2+2 Coupe, Beautiful car, Red with Tan Interior – Sale Pending
1992 Maxton Rollerskate
1957 Porsche Speedster, Project Car
1962 Porsche 356B T6, Project Car
1969 Porsche 912, Factory Sunroof 5 Speed Coupe, Project Car
1974 Porsche 914, 2.0 Much New
1966 VW Bug, Built dual port engine with dual Webers, Extractor exhaust