Cars For Sale
Welcome,
Thank you for visiting our site. We specialize in sourcing and selling good, local Colorado and Western vehicles that benefit from not having the rust issues typically found in older vehicles from many other areas of the country. Many of the cars we sell are original owner, or long time local owner, cars.
We hope you enjoy looking at the cars we have for sale on this page as well as the other cars posted throughout the site.
We have successfully sold many vehicles on consignment and would be glad to speak with you about professionally marketing and selling your vehicle. We also locate vehicles, provide appraisals and State VIN Verifications, arrange pre-purchase inspections and are glad to assist you by recommending the specialty repair and restoration shops that we're familiar with in the area.
We invite you to please stop in anytime you're in the area to say hello, hangout, talk cars and check out our current inventory of vintage cars for sale. Pickup a free shop sticker; browse the car art and memorabilia on display and for sale, along with numerous car books in our free lending library. We also have cool shop T-shirts for sale so folks will know you've been to Lyons and have good taste to boot!
We look forward to helping you with your purchase or sale of a vintage car, truck or motorcycle and to meeting you at our shop in beautiful Lyons, Colorado.
Please contact me anytime and thanks again for checking out Vintage Motors of Lyons.
George Raffensperger  
We Drive Vintage !™
PS: You may find testimonials about us from many of our purchasers and consignors on the "Cars We've Sold" page.
Paying It Forward: We believe in supporting our local and worldwide communities and are glad to make a donation from us in your name to the non-profit of your choice as well as a second donation from us to one of our local Lyons non-profits/charities with each sale.
Please view our current inventory of Cars For Sale by scrolling down this entire page. Cars are listed in alphabetical order as shown below:
Please Note: The "fine print": All advertised prices include title, transfer docs. and 60 day temp. tags for in-state buyers; otherwise there is a $ 200.00 charge for same to in-state buyers to cover our costs. Any applicable in-state sales taxes are additional cost. Out of state or foreign buyers please inquire. We are experienced, and are glad to assist you, with shipping cars worldwide.
NEW ARRIVALS (further details and photos to follow):
1960 Austin Healey 3000 Mk1 BN7 Roadster For Sale Beautiful two seater Healey. Just one of the 2,825 open two seaters built. Among the best of the Big Healeys the way it looks, drives and sounds. In very good condition, w/Overdrive. $ 58,950.00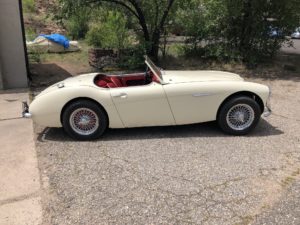 1970 Chevrolet C10 Shortbed Stepside Pickup For Sale It is time for us to let our shop truck go to someone that will use and drive it more than we do!  Very stock, local truck (sold new in at Roth Chevrolet in Lakewood, CO) wearing its original Light Red paint. Much new mechanically; it is a great running and driving truck. New tires. Rust in cab corners and right rocker but underside and door bottoms good; have new steel replacement panels to go with it if you care to make the holes go away! Very good interior with rare radio delete plate. 250 cu in / 155 hp straight six; manual 3 speed on column. Call me for full details. $ 12,250.00 OBRO.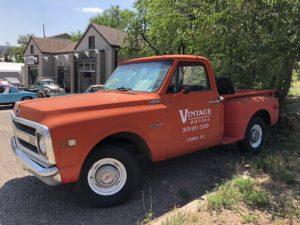 1973 Porsche 914 For Sale – Please see post below
1988 Toyota Land Cruiser FJ62 Wagon For Sale Good running/driving Cruiser. 163,000 miles (low for a Cruiser this vintage); well maintained; recent new battery and transmission (auto); just passed emissions. Typical surface rust; tool kit; jack; owners manual. Champaign Exterior (27G); the original brown/tan interior is in very good condition. Sold new in Albuquerque, NM. $ 6,995.00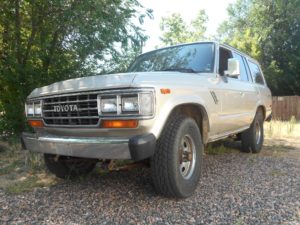 1967 Triumph TR4A For Sale A very original survivor! Purchased new on July 27, 1967 at Boulder CO. Import Motors; original purchase document with car. Original paint, un-modified car. Always well maintained, runs and drives very well. 67,919 miles. JUST SOLD – THANK YOU
1978 Triumph Bonneville 750 For Sale. In excellent condition. Great looks and handling from this Triumph twin. $ 7,495.00
1978 VW Beetle Convertible For Sale. "Little Miss Sunshine" is in very good condition throughout: body, paint, mechanically, excellent interior with new Coco mats, very good top, trim, etc.. Local car, purchased new at Continental VW in Denver on 11/1/1977. Original stamped dealer service maintenance book plus detailed service records back 31 years. Always very well maintained. Original owners manual & a factory workshop manual; original top boot (cover for top when down), original tool kit and Bilstein jack. Very clean, straight & NOT rusty. New brakes, just serviced at one of our area's best VW shops. Very dependable and fun! JUST SOLD – THANK YOU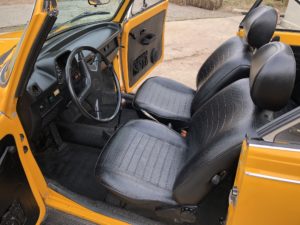 CARS COMING (please inquire):
1967 Porsche 5 Speed 912. Colorado car from new, very good condition, fresh engine and transmissions rebuilds; in Light Ivory with black interior
1974 Porsche 914 2.0.Very good driving & looking car. Silver w/Black interior. COA; much new.
1968 Triumph TR250. In Triumph Racing Green, new wire wheels, matching numbers w/Heritage Trust Certificate, more
SEE MORE CARS CURRENTLY FOR SALE BELOW