Cars For Sale
Welcome,
Thank you for visiting our site. We hope you enjoy looking at the cars we have for sale on this page as well as the other cars posted throughout the site and on our Facebook page.
We're very much looking forward to the New Year and bringing some exciting new developments to Vintage Motors and our customers.
The roads into Lyons and those from Lyons to Estes Park and Allenspark are all open, so please come in and say hello whenever you're in the area. We look forward to meeting you and please let us know anytime we may help you in regards to a vintage car, truck or motorcycle.
Thanks again for visiting,
George and Taylor Raffensperger
Please view our current inventory of Cars For Sale by scrolling down this page (cars are listed in alphabetical order; please left click on any of the photos to enlarge them for closer viewing) and please be sure to use the "Click Here to view more cars" tab at the bottom of this page so that you view all the cars for sale.

In addition to the cars shown here on our website, we have the following cars in our current inventory for sale at this time, just not posted online yet. Please call for details and an appointment to see them as well:
1954 Jaguar XK120 SE Open Two Seater. Low mileage, original example, all matching numbers, Heritage Trust Certificate, runs/drives well. $  47,500.00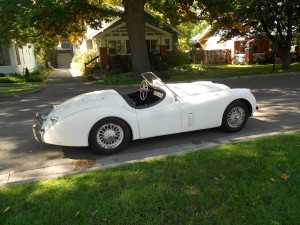 1965 VW 1500 Karmann Ghia Coupe (Rare, Type 34) We purchased from original owner and have completed mechanical overhaul. $ 12,500.00
" Cars Coming" in the future include: 1959 MGA Roadster; 1977 Porsche 911S Targa; 1980 Volvo 242 (4 speed, factory sunroof coupe); 1970 Pontiac GTO "Judge" Convertible; 1971 Honda CT-90 Trail Bike; 1961 Rambler Classic Deluxe; 1984 Porsche 944.