Cars For Sale
Welcome,
Thank you for visiting our site. We hope you enjoy looking at the cars we have for sale on this page as well as the other cars posted throughout the site.
We look forward to helping you with your purchase or sale of a vintage car, truck or motorcycle, and to meeting you at our shop in beautiful Lyons, Colorado.
Thanks again for checking out Vintage Motors of Lyons,
George Raffensperger
We Drive Vintage !™
Please view our current inventory of Cars For Sale by scrolling down this entire page. Cars are listed in alphabetical order as shown below:
Plus the cars "JUST IN" & "CARS COMING" below as well
Please Note: All advertised prices include title, transfer docs. and 60 day temp. tags for in-state buyers. Any applicable in-state sales taxes are additional cost. Out of state or foreign buyers please inquire; we are experienced with, and are glad to assist you with, shipping cars worldwide.
JUST IN:  
1959 Austin Healey Bugeye Sprite For Sale, They still make us smile when we see them and are a blast to drive! Pure, British sports car fun. $ 10,950.00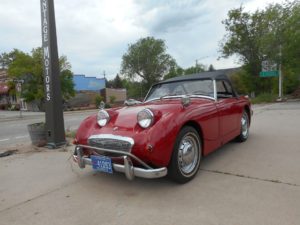 1976 Ford Mustang II For Sale, Ghia Edition with 302 V8. In very good condition: straight, rust-free body, good paint and vinyl top, interior very good, no cracks in dash, automatic floor shifter between front buckets, factory AC (needs refreshed). I think we all knew cute gals that had these! Very drive-able Mid seventies Americana. $ 4,900.00
1977 Porsche 911S Targa For Sale, With optional Brown Copper (# 443) metallic paint;
Fuchs. Very good running, driving car with good cosmetics too. All service records, logbook back to 2001. $ 28,750.00
1958 Triumph TR3 Roadster For Sale, Patina! You want patina? We got your patina right here! This is actually a pretty solid TR3 that runs and drives much better than it looks. Very good drivetrain, top, side curtains, tires, unmolested, interior all there, ditto all four orig. logo'd hub caps. Track down those loose grounds and get the lights working properly; then drive it as is without worrying about any nicks or dings; or restore as you go (shiny good ones in the mid-twenties now). Same owner since '74 and also comes with a rare factory metal hardtop. $ 9,900.00
1971 Triumph Stag For Sale, Rare luxury performance grand tourer from Triumph. 3.0l V8 with fully synchromesh 4 speed Overdrive transmission, rack and pinon steering, independent suspension all around. Both soft and hard tops. Styling by Michelotti looks especially beautiful on this car in Triumph Laurel Green offset by chrome wire wheels. Very well sorted and maintained car. Excellent records, all manuals, tools, jack, spare (also chrome wire wheel). British car club members prior owners. $ 17,900.00 See post below for additional photos (more details and photos to come).
CARS COMING, Please Inquire:
2003 Acura 3.2 CL "S" Coupe – Hi Performance 3.2l, 260 HP VTec V6 coupled to a rare, optional six speed transmission. One Owner; 95,700 miles, very well maintained local car. Handsome coupe in Black Metallic with Parchment Leather interior; all factory options, Bose sound system. Just Sold – Thank You
1966 Dodge D100 Stepside Utiline Pickup – Ex Forest Service Vehicle, Delivered in Denver 9/29/66. Original 318A Wideblock V8/4 Speed, 92,000 Miles, Runs/Drives, The Perfect "Beater" (lots of patina!)
1954 Jaguar XK120 SE OTS – All Matching Nos. Heritage Certificate, 54,000 Original Miles; Records from 1968; one of just 1,197 SE (Special Equipment) 120's. Runs/Drives well. Certainly one of the most beautiful British sports cars ever created!
1963 MG 1100 Two Door Sports Saloon – Body Off Restoration of this car. Originally sold new in Colorado. Rare, Alec Issigonis designed car in excellent condition; roomy interior with greenhouse glass, FWD, Hydrolastic Suspension, 4 Speed, Twin SU's, engine by Prather Racing. A blast to drive! Just Sold – Thank You
1980 Volvo 240 Coupe – Factory four speed with Overdrive & Sunroof
1988 Volvo 240 DL Sedan – Very good condition, solid and dependable
1978 VW Bug Convertible – Marino Yellow with Black Top & Interior!