Cars For Sale
Welcome,
Thank you for visiting our site. We hope you enjoy looking at the cars we have for sale on this page as well as the other cars posted throughout the site and on our Facebook page.
Lyons is coming back from last years flood better than ever. The roads into Lyons and those from Lyons to Estes Park and Allenspark are all open, so please come in and say hello whenever you're in the area.
We look forward to helping you with your purchase or sale of a vintage car, truck or motorcycle.
Have fun out there,
George and Taylor Raffensperger
We Drive Vintage!
Please view our current inventory of Cars For Sale by scrolling down this entire page. Cars are listed in alphabetical order (not including "Just In" Cars) and you may left click on any of the photos to enlarge them for closer viewing.
JUST IN:
1988 ALFA ROMEO 2.0 SPIDER VELOCE FOR SALE $ 7,750
1988 MAZDA RX 7 COUPE FOR SALE, ONE OWNER, JUST 34,826 MILES! $ 7,250
1980 TRIUMPH TR8 CONVERTIBLE FOR SALE $ 9,950
1974 VW BEETLE CONVERTIBLE FOR SALE JUST SOLD – THANK YOU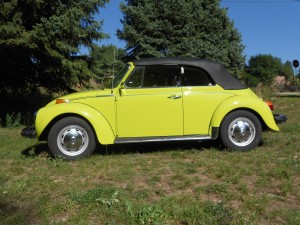 1962 TRITON MOTORCYCLE FOR SALE $ 12,500.00
1958 NASH METROPOLITAN FOR SALE $ 9,850.00
1977 FIAT 126P ABARTH RALLY TYPE FOR SALE (650 CC'S OF AIR COOLED FUN!) $ 5,900.00 Sale Pending
1954 Jaguar XK120 SE Open Two Seater For Sale. Low mileage, original example, all matching numbers, Heritage Trust Certificate, runs/drives well. $  51,000.00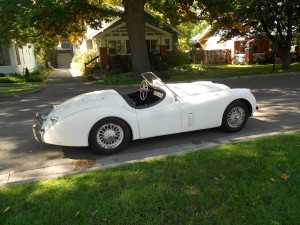 CARS COMING in the future include: 1959 & 1962 MGA Roadsters (Sale Pending on '62); 1977 Porsche 911S Targa; 1980 Volvo 240 Coupe (factory four speed with overdrive, sunroof);  1970 Pontiac GTO "Judge" Convertible
This Chevelle has been built to run, and run Fast, which it does! Super clean, super straight and bad to the bone!
Built small block 400 fuel injected V8. Total restoration of this Chevelle includes beautiful Viper Red paint on very straight body; chrome; interior; wheels; tires all like new (see specs below). Well documented with all restoration receipts to go with car.You cannot duplicate the build quality of this car for this price. JUST SOLD – THANK YOU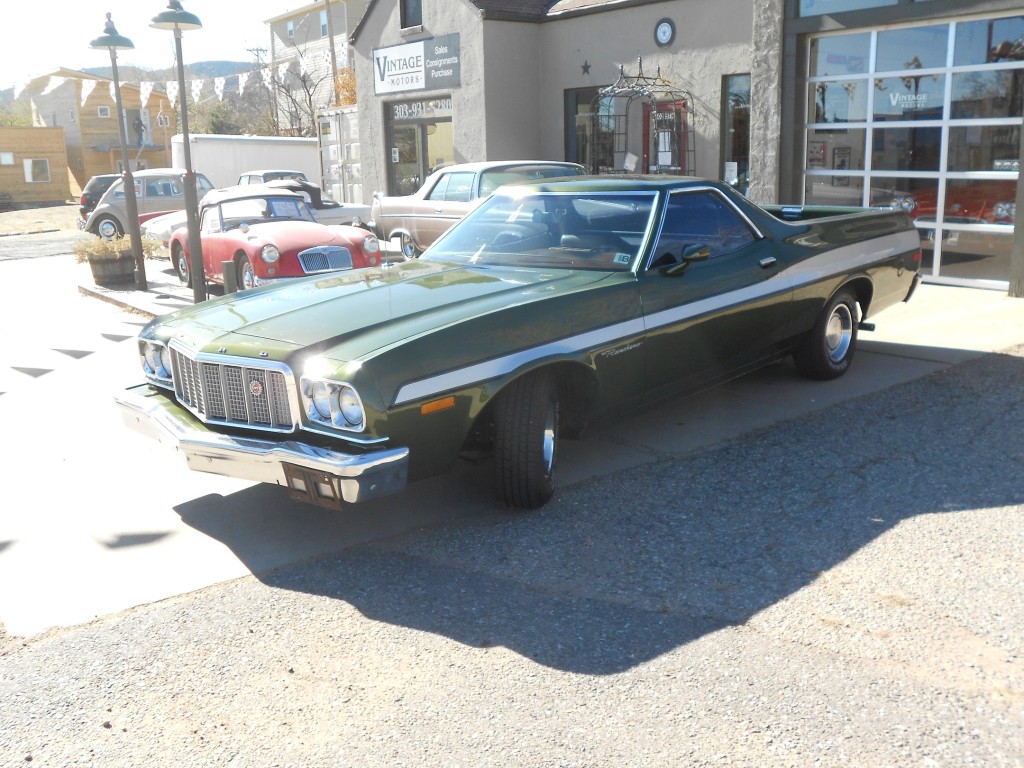 1975 Ford Ranchero GT. Incredibly clean and straight local, Colorado car. Same owner since Feb. 1976!  98,254 Original Miles, always well maintained. Beautiful,quality re-paint in original color. NO Rust. 351 V8, Automatic, AC. JUST SOLD – THANK YOU

Beautiful 1954 MG TF. Professional Body Off Restoration. Show winning condition, complete records and receipts. "T" Registry car. Please come in and see how nice this TF is. $ 24,500.00
This Porsche has been fastidiously maintained and cared for by the same owner for the past 28 years! It has 82,454 original miles and is in fantastic shape. This car has very complete service records and is equipped with many upgrades (see below). Often looked upon as the poor step child in the Porsche line the 924 is an excellent value. "With the gearbox located in the rear, the near perfect 50/50 weight distribution gives them handling and steering abilities that few other sports cars can match.  So if you're looking for an affordable well-built sports car,  with low maintenance costs, is ergonomically comfortable, has inspiring handling and can be driven every day without fear of breakdowns, then consider the 924." (Hemmings Sporst & Exotics July 2013).  Priced below NADA average at $ 5,500.00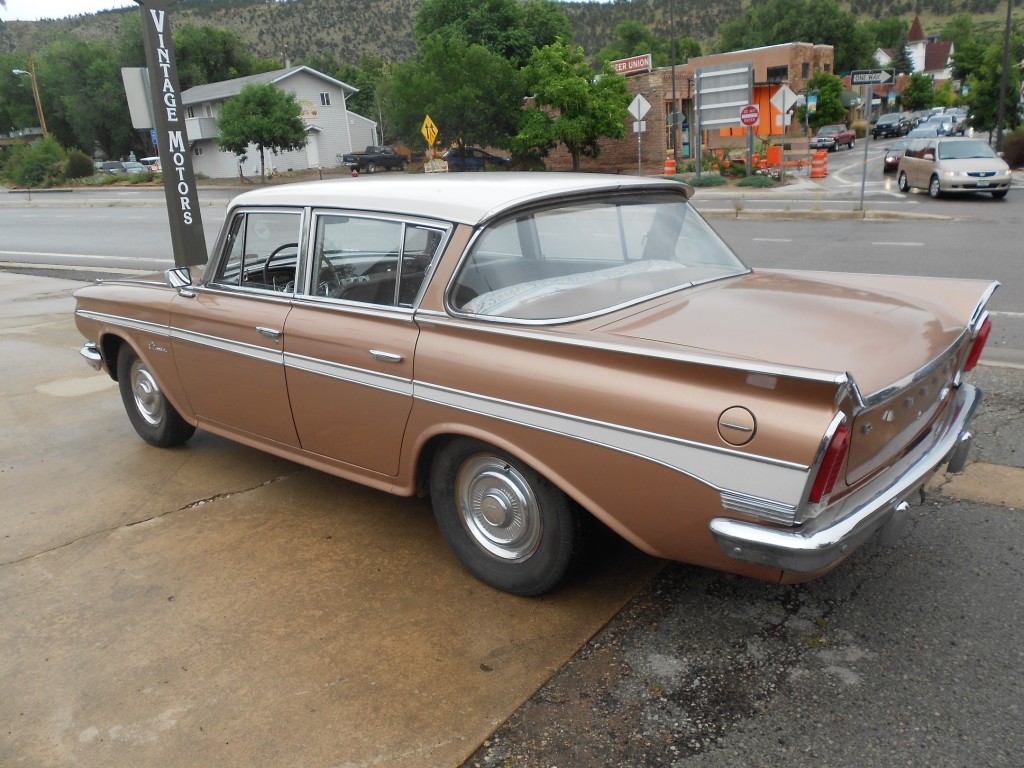 Here is a very cool affordable classic.  Ramblers just say "Nostalgia" when you see one. This 1961 Classic Custom is in very good mechanical condition and we're told it was previously owned by a body and paint shop man which explains the good condition of its exterior as well.  So many great styling cues on this car from the two tone paint, trim moldings at rear edge of roof and topside to the way cool tail fins! Ride in vintage style for just JUST SOLD – THANK YOU
This is a project car; not running nor fully assembled at this time. It is car # CT73348L and has a clear Colorado title. The car is complete; has its original engine and drivetrain (intact in car). This is a solid or live rear axle car (as were 25% of TR4A's – SCCA favorites) sitting on its original steel disc wheels. Very handsome, classic Michelotti body style combined with torquey TR power for a great driving experience. JUST SOLD – THANK YOU
1974 Triumph TR6 (#CF1426OU). This TR6 had  a Complete Professional Body Off Restoration in 2005. Please see a sampling of the photos from the restoration here. The car is like new throughout. Features include an Overdrive Transmission, Chrome Wire Wheels. New Stayfast top and tonneau; built in battery trickle charger. Rare Color Combination of New English/Triumph White and Shadow Blue Interior per its original factory colors. One would be hard pressed to find a finer TR6 anywhere. It is a show winning condition car that provides a fantastic British roadster motoring experience. $ 28,000.00