Cars For Sale
Welcome,
Thank you for visiting our site. We specialize in selling local Colorado and Western vehicles that benefit from not having the rust issues typically found in older vehicles from many other areas of the country. We hope you enjoy looking at the cars we have for sale on this page as well as the other cars posted throughout the site.
We look forward to helping you with your purchase or sale of a vintage car, truck or motorcycle. We also provide appraisals and pre-purchase inspections; we're also glad to assist you by recommending to you the specialty repair and restoration shops that we're familiar with in the area.
You may find testimonials about us from many of our purchasers and consignors on the "Cars We've Sold" page.
I look forward to meeting you at our shop in beautiful Lyons, Colorado. Please contact me anytime. Thanks again for checking out Vintage Motors of Lyons,
George Raffensperger                
We Drive Vintage !™
Please view our current inventory of Cars For Sale by scrolling down this entire page. Cars are listed in alphabetical order as shown below:
Please Note: All advertised prices include title, transfer docs. and 60 day temp. tags for in-state buyers; otherwise there is a $ 200.00 charge for same to cover our costs. Any applicable in-state sales taxes are additional cost. Out of state or foreign buyers please inquire; we are experienced, and are glad to assist you, with shipping cars worldwide.
New Arrivals (further details and photos to follow):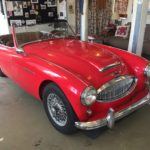 1962 Austin Healey 3000 MkII BT7, 4 speed with Overdrive, Rare tri-carb car with both soft top and factory hardtop plus tonneau. Dry and solid. Runs and drives well; new tires; poor paint but body is very straight with good gaps all around and is Not rusty at all. 45 years with prior owner. Some very good spares as well. $ 28,000.00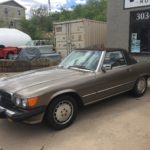 1982 Mercedes Benz 380SL Arizona & Colorado car; both soft (new) and hardtops. Very handsome color combination (Desert Taupe Metallic with Palamino leather);in good condition. 131,012 original miles. Very well maintained with service records/receipts. $ 9,250.00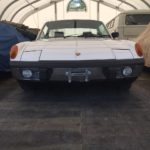 1973 Porsche 914  2.0 Excellent Condition; if you're looking for a really nice 914 this is it! No rust, fresh restoration with all records. $ 19,950.00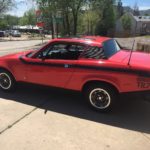 1976 Triumph TR7  Very original, rare 4 speed coupe (most were convertibles); in excellent condition; 16,000 original miles! $ 8,950.00